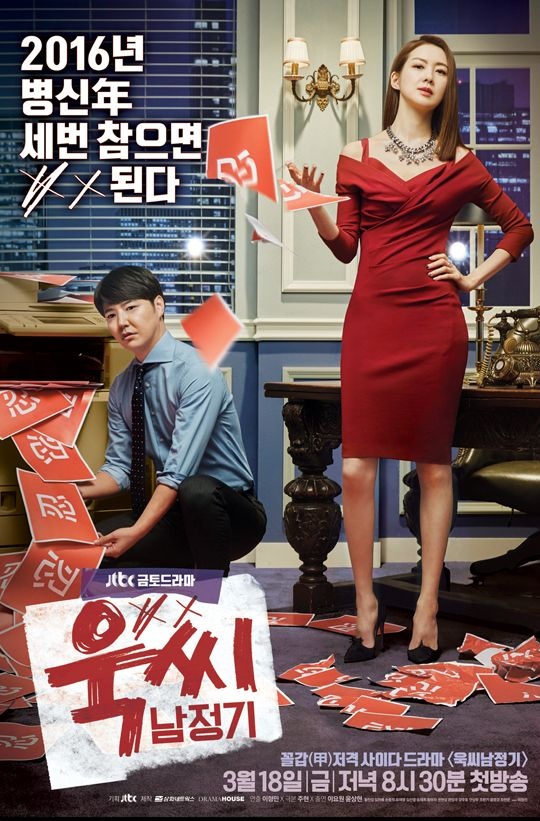 Ms. Temper and Nam Jung-gi (욱씨남정기)
Do you like money?
Hello guys~! LookUp again here :3 After more than two months didn't write a blog, this time I came back with a blog that is already saved long time in draft but has not been finished. The topic is not much different from my previous blogs, yup, still about Korean drama. :D I will review about Korean drama titled Ms. Temper and Nam Jung-gi that I watched a couple of months ago. The main reason why I watched this drama is actually due to its main actress Lee Yo-won. Because she is one of my favorite actress since her big hit drama tittled The Great Queen Seondeok. Although she has aged but still look charismatic and beautiful. This review may contain spoilers, so avoid reading if you don't want spoiler, happy reading~!
"Ms. Temper and Nam Jung-gi (욱씨남정기) Trailer Video"
About
Ms. Temper and Nam Jung-gi (욱씨 남정기) is a South Korean drama that aired on cable network JTBC. This drama has been running since March 18, 2016 and ended on 7 May 2016 every Friday and Saturday at 20:30 KST (Korea Standard Time). With a total of 16 episodes, the drama lasted about 60 minutes each episode. This drama comes from director Lee Young-min were already pretty well known by his previous drama project like Winter Sonata, Sorry, I Love You, Bad Guy, etc, and Joo Hyun as the screenwriter.
"Ms. Temper and Nam Jung-gi (욱씨남정기) Poster"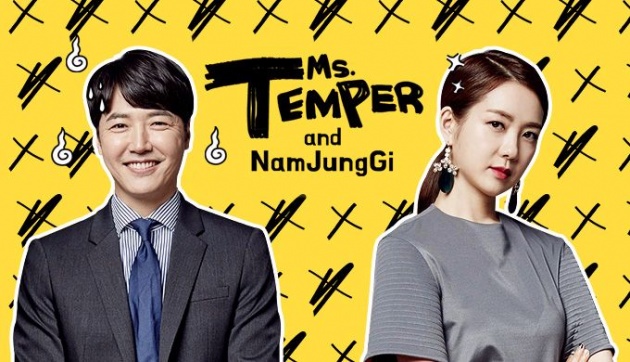 Image Source: Google.com
With the genre of comedy, family, and drama, Ms. Temper and Nam Jung-gi (욱씨 남정기) will tell about the life of a cosmetics company worker named Lovely, the relationship between the workers and their families, and their struggle to survive and realize their dreams.
Story
The story in the first episode is more about introduction of each character and its background. Opened with the introduction of Nam Jung-gi's character, an employee of a cosmetic company that has too good personality and timid. Although many people look down on him but he is not easily angered, and prefer to avoid conflict for self-defense. He can not say anything that makes others uncomfortable. That's why even though he was diligent and smart at his work, he was never get promoted.
"Nam Jung-gi vs Ok Da-jung"
Image Source: Google.com
On the other hand there is a woman worker who works in a different cosmetic company, named Ok Da-jung. He was a team leader who is known to have bad temper. One day the two of them met in a meeting event, but the meeting became a terrible tragedy because of Nam Jung-gi's mistake. And Nam Jung-gi's fate changed since he met with Ok Da-jung.
Cast & Character
"Ms. Temper and Nam Jung-gi Cast and Characters"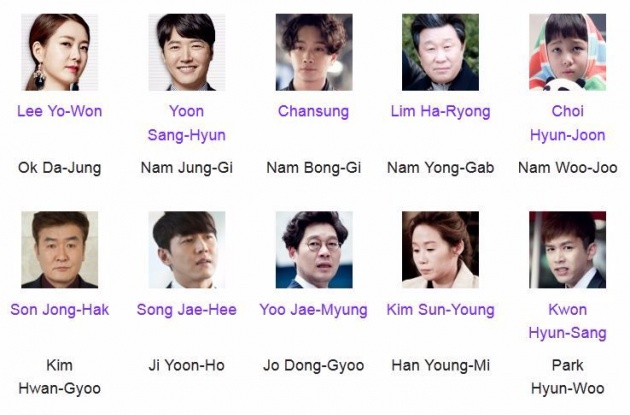 In terms of acting, you don't need to worry. With Lee Yo-won and Yoon Sang-hyun as a the main cast, they showed their acting skills which are no doubt. They did a good job in performing their role. Other than that, I can see a different side of the figure of Lee Yo-won in this drama.
"Nam Jung-gi's Co-workers"
Image Source: Google.com
Nevertheless, there are still some players who need to improve their acting skills. Like Hwang Bo-ra which acts as Jang Mi-ri, I think her acting still a bit stiff and for some people might find it to be a bit annoying. The same thing is applied for some players that I think they are still new in the world of drama. But all that didn't affect me to keep watching this drama until the end because its story.
Better Story Each Episode
Honestly, when I saw the first two episodes of this drama, I almost want to dropped this drama because its boring story. But I discourage it and continue watching this drama and glad I did it because the story keep going better each episode. The story raised about the life of a worker is quite new for me and it became one of the attractions of this drama. Although there are people who think that this drama is mimic the idea of the famous drama "Misaeng" with the same story, but because I have not finished watching Misaeng so I can not think like that. And, yeah, I'm sure every drama usually has its own uniqueness.
No Forced Love
If you are accustomed to watching Korean dramas, you'll definitely see where there is a story about love that seem forced, but not in this drama. You will not find a love story that was forced in this drama, because the core of the story in this drama is not about love but about the life of workers and the relationship between workers.
"Nam Jung-gi Plead to Ok Da-jung"
Image Source: Google.com
Actually there was a bit of a love story in this drama as a side story, like the love triangle between Nam Bong-gi, Jang Mi-ri, and Park Hyun-woo. So this drama will be suitable for you who are not too concerned about love as main story. As for me, I'm not too concerned about the absence of a love story in this drama, because I still enjoyed it until the end.
Started with Debt
Started with debt. Yeah, it sounds cliché indeed. Many Korean dramas have used this idea in the beginning of story, where the main cast get to know each other through the debt, but this drama has its own way to develop the story to capture the audiences and make the story more interesting.
"Nam Jung-gi's Family: Little Brother, Son, Father"
In this drama, for several reasons, the leading male players, Nam Jung-gi owes some money to Ok Da-jung in large numbers. Ok Da-jung is willing to reduce the debt of Nam Jung-gi with the condition that he has to agree to anything said by Ok Da-jung, and in the end Nam Jung-gi willingly to do it even though he really hate and scared of her. Because of this they are slowly get to know more about each other as co-worker.
Although it's cliché, but I do not object about this and even able to make me laugh watching their interaction.
Pride and Greed
One of the worst of human nature is to be greedy, whether it relates to money or position. But for some people sometimes their pride does not allow them to make themselves low by being greedy. As depicted in this drama, as a worker they are often faced with a difficult problem. Life difficult and poor conditions sometimes made them willingly to do anything for the sake of money or positions. The battle between pride against greed in this drama is very interesting to follow. With the addition of a story about revenge, Ms. Temper and Nam Jung-gi manages to always intrigued me in every episode.
"Nam Jung-gi and Ok Da-jung Forced to Entertain Their Boss"
Image Source: Google.com
The Life as Worker
Indeed, life as a worker may be quite severe, and this is what the drama is trying to describe. Inside Ms. Temper and Nam Jung-gi there are various types of workers, which has its own story. There was a widower with one child, a housewife, contract workers, and others. They all have a part of the story that quite interesting to follow. How do they cope with problems in their families and in their working lives, how they maintain their pride and dignity even in hardship, and how they trying to achieve their own dream.
"Nam Jung-gi Seek Out The Justice As Worker"
Ms. Temper and Nam Jung-gi is not just a drama about working life but more than it. Some of the story may be relatable to your life and may be can help you to overcome your own problem or just cheer you up.
Although some scene of the comedy sometimes seem excessive with some visual effects that make it meh. But in spite of the flaws of this drama, I still recommended this if you're fans of the main cast or if you like humanity drama which not too serious. Maybe some of the early episodes will seem boring, but after some episodes it will get better and you will be drifting in the story of this drama.
"Ms. Temper and Nam Jung-gi (욱씨남정기) NG Special"

Regards
LookUp
©2016 LookUp. All rights reserved.