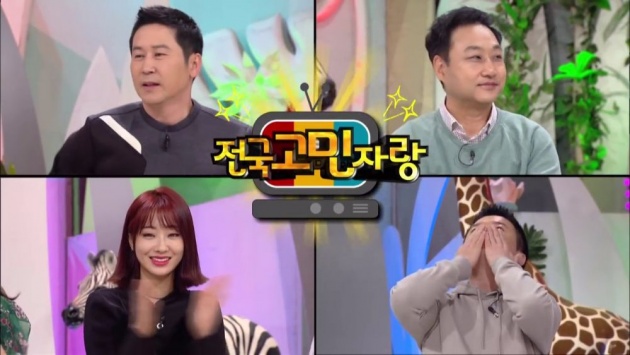 Image Credit: Snapshot from Youtube video
Korean Reality Show Review: Hello Counselor - A Man in Fear
Hello guys~ LookUp again here :3 In my previous blog, I have discussed the first concerns of "Hello Counselor" about "It's Really Over", and now I am going to discuss about the second concern, "A Man in Fear". If you want to know more about "Hello Counselor" you could read my old blog about it titled "Hello Counselor: The Problem Solver TV Show". Once again, do not be bored with my blog because I still have so many things to review :D I hope you could enjoy it. Happy reading~!!!
"Watch this episode of Hello Counselor below"
About Hello Counselor
Hello Counselor (Hangul: 안녕하세요; RR: Annyeonghaseyo) is a South Korean reality show first that debuted in November 2010. It is hosted by Shin Dong-yup,[2] Lee Young-ja, and Cultwo (Jung Chan-woo, Kim Tae-gyun). Choi Tae-joon joined the show as host starting August 29, 2016. According to the show's official description through KBS, Hello Counselor is a talk show with an emphasis on regular people, regardless of age or gender, that aims to help take down communication barriers by sharing stories about life.[1] The program airs every Monday on KBS World. -wikipedia
2nd Concern: "A Man in Fear"
The second concern comes from a 20-year-old man from Jinhae, Choi Ji-yong. He is a college student in sports university. He comes to "Hello Counselor" because he has a problem with himself. He is always sweating cold, unable to speak, and sometimes hiccup whenever she meets or is close to a woman. In other words, he is afraid of women except his mother and sister. Though there are many woman audience members in "Hello Counselor", but he take the courage to come up to the show with the hope that he can fix this excessive fear.
"The man with fear: Choi Ji-yong"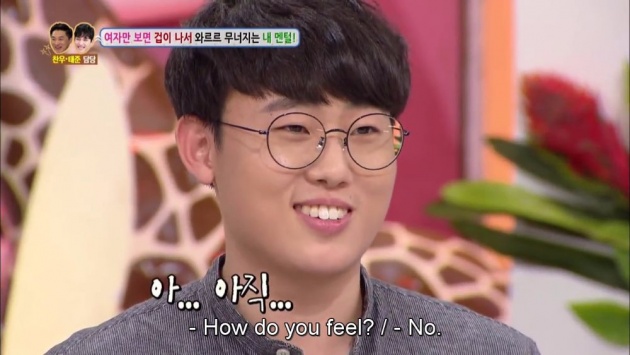 Image Credit: Snapshot from Youtube video
Well, this concern is quite unique. Somehow, I can relate to this, because I am a shy person even more so among women or when talking in front of many people, although it is got better than before. Fortunately, I did not experience anything like Jin-yong, such as cold sweats, hiccups, etc, maybe just my heart was beating fast and did not know what to say when dealing with women.
Image Credit: Snapshot from Youtube video
My first impression when I saw him, he looked fine just like any other normal man. But he looked clumsy when he first entered the stage and we can see it clearly that he was very nervous. Initially, he even had trouble speaking when asked to introduce himself. He can not see people on their faces and always look to the floor. His hands shaking when he drank the water, but in the end he could manage to handle himself.
When he is asked to greet Gyeongree, he can not do that, he can not even turn his face and say hi to her, he closes his eyes when he was forced to turn his face. Even when he was asked to do the same to Yeong-ja, he still could not do it. As he talks he always faces one direction where there is no woman.
"Choi Ji-yong can't look at Gyeongree"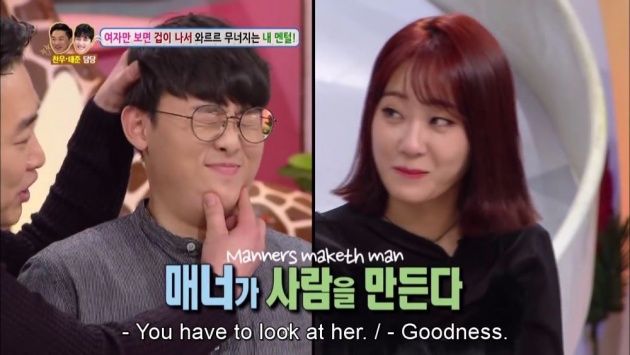 Image Credit: Snapshot from Youtube video
He then tell his experiences when meeting women on the street. When a woman walks toward his, his hands will start sweating and sometimes hiccup, even if she just passes by and does not talk to him or greet him. To hide his nervousness he usually go around and avoids her, and it's done whenever he meets a woman in the street. When a woman asks for directions to him, he never gives the right direction because of his nervousness and his mind becomes blank. He always tells them to take a detour or go the wrong way. When there was a woman sitting next to him while on a public transport, because of his fear, he was sweating a lot and even took off his jacket when it was winter.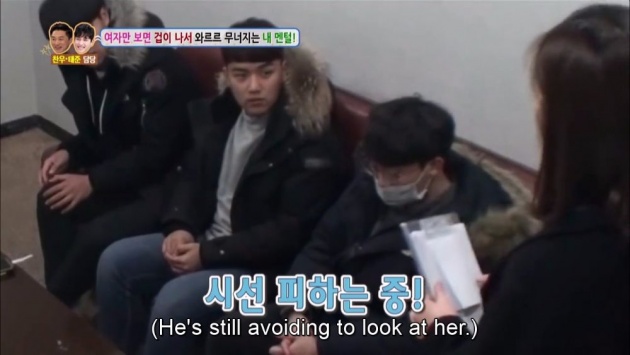 Image Credit: Snapshot from Youtube video
Then they found out that he is not afraid of an old woman like a grandmother or a woman younger than himself. He is only afraid of women who are at same age or an woman who at least 15 years older than him. And the fact that he had problems like this turned out to be unknown to his family. "Hello Counselor" then aired a video while he was in the waiting room and was given instruction by a female writer. He becomes nervous when a woman comes into the room, he also wears a mask and does not dare look at her. And when the female writer left he became relax again and even smiled.
"Choi Ji-yong's friends"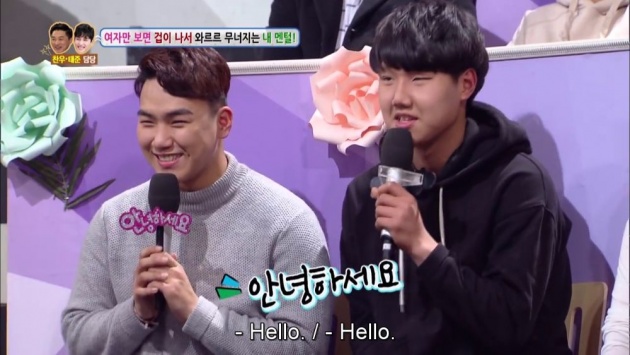 Image Credit: Snapshot from Youtube video
He then goes on with his story that there have been some bad events in the past that made him like this. Back then when he was in school, there was a rumor involving him with a girl and because of that, his relationship with his best friend became bad. He had tried to explain that the rumor was not true but it did not work. An almost similar incident also occurred back then. After that, he always crying in the shower before went to school. The incident made him traumatized until now. He is afraid that if he is involved with a woman, then something bad will happen because of it and that makes him think a lot about nonsense things.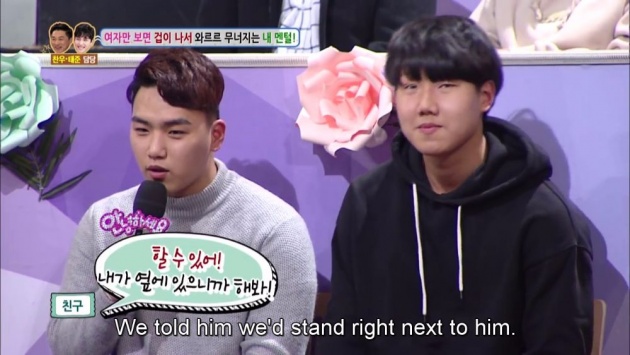 Image Credit: Snapshot from Youtube video
Both his friends came to "Hello Counselor" to give testimony of how his daily life. One of his friends said that he could not do anything without the help of his friend. For example when ordering a meal, if the serving is a woman he can not even order properly because he is nervous and stuttering when speak. In the end, it was his friend who ordered his food. Another friend said that he was even afraid of his female teacher.
"The female audience giving encouragement to Jin-yong"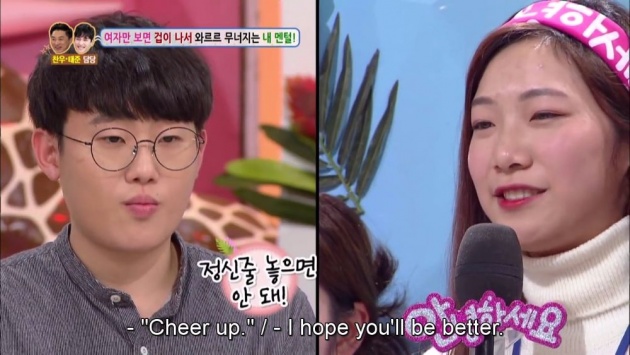 Image Credit: Snapshot from Youtube video
Actually, the fact that he took the courage to come to "Hello Counselor" is a big step toward his changes. Because more than half the audience is a woman and he has the courage to speak on the stage even though still nervous and continue to avoid looking at women. Some female audiences were also asked to cheer him up and talk to him, although it still looked awkward. His friend said that in fact he is talkative when he is with guys. He just needs to be himself when he is around women.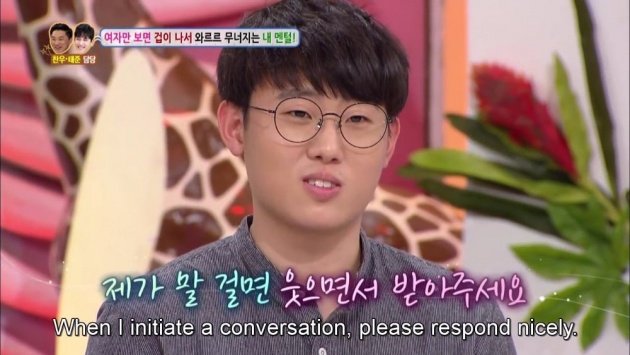 Image Credit: Snapshot from Youtube video
Overall, I would vote this problem as a serious concern to support him to change. I'm sure he can change and fix his problem easily if he takes more courage just like when he comes to this show. He just need to stop thinking about negative things and be more positive. Of course, his friend and people around him should help him and be more supportive because after this show aired many people will know about him and his problem. With this, he earned 101 votes out of 200 audiences.
"The final result: 101 votes"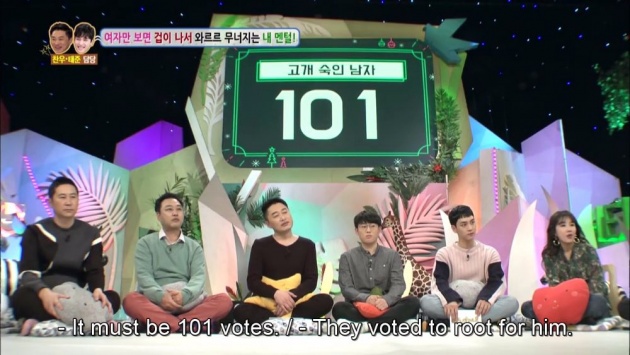 Image Credit: Snapshot from Youtube video
To be continued. . .
That's it my simple review about the second concern of "Hello Counselor" this episode, "A Man in Fear". I will discuss the last concern on my next blog which is about "They Don't Move". Read my previous blog about the first concern, "It's Really Over". I hope you enjoy this boring blog. Well, actually I can't focus while writing this blog, so many things happened inside my brain :D See you next time~
Regards
LookUp
©2017 LookUp. All rights reserved