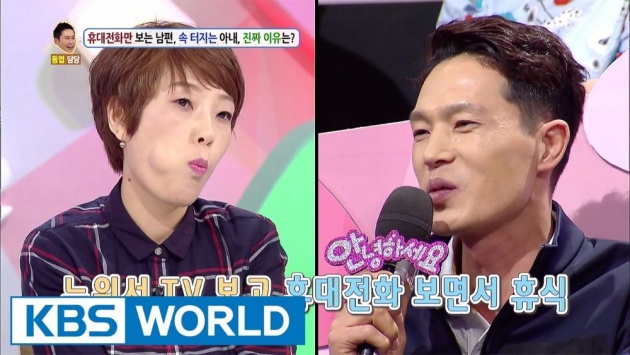 Korean Reality Show Review: Hello Counselor - I Want to Smash It
Hello guys~ LookUp again here :3 In my previous blog, I have discussed the first concerns of "Hello Counselor" about "A Fake Husband", and now I am going to discuss about the second concern, "I Want to Smash It". If you want to know more about "Hello Counselor" you could read my old blog about it titled "Hello Counselor: The Problem Solver TV Show". Once again, do not be bored with my blog because I still have so many things to review :D I hope you could enjoy it. Happy reading~!!!
"Watch this episode of Hello Counselor below"
About Hello Counselor
Hello Counselor (Hangul: 안녕하세요; RR: Annyeonghaseyo) is a South Korean reality show first that debuted in November 2010. It is hosted by Shin Dong-yup,[2] Lee Young-ja, and Cultwo (Jung Chan-woo, Kim Tae-gyun). Choi Tae-joon joined the show as host starting August 29, 2016. According to the show's official description through KBS, Hello Counselor is a talk show with an emphasis on regular people, regardless of age or gender, that aims to help take down communication barriers by sharing stories about life.[1] The program airs every Monday on KBS World. --wikipedia
2nd Concern: "I Want to Smash It"
The second concern comes from a wife, Kim Soo-jeong. She comes to "Hello Counselor" because she has a problem with her husband. They have been married for ten years and whenever at home, her husband rarely talk and he is always busy with his smartphone. When she asked her husband something, he only answers briefly and short which made her stress out. He even once said the word divorce so easily. When she asked the reason why he's like that, he didn't give respond, instead he yell at her. She comes to "Hello Counselor" with hope to make their relationship better.
"The wife: Kim Soo-jeong"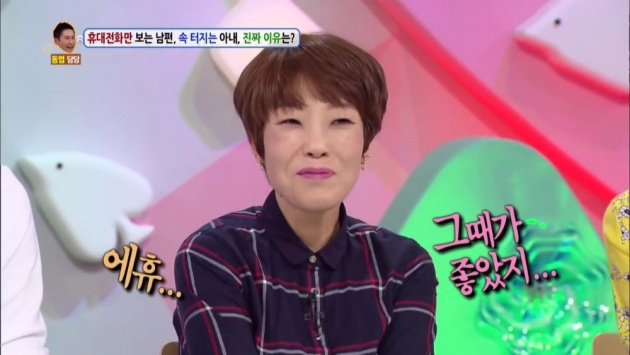 Image Credit: Snapshot from Youtube video
Well, another problem about marriage relationship and household. Actually, I don't have a qualification to give comments about this concern, since I am still single :D But for the sake of bitlanders, I will give some comments from my perspective about this concern which is a bit heavy topic for me.
"Kim Soo-jeong's husband"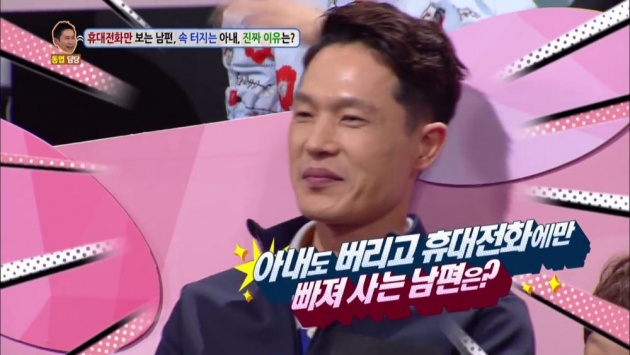 Image Credit: Snapshot from Youtube video
The wife says that her husband was not like that when they were dating. Her husband even often said sweet words from the movies. She had tried to talk to him and asked him why he was like this. She once told her husband that she was unhappy with their marriage, instead her husband packed his stuffs and he said they should get a divorce. In the end, she just cried in the bathroom because of it.
"Father and sons when at home"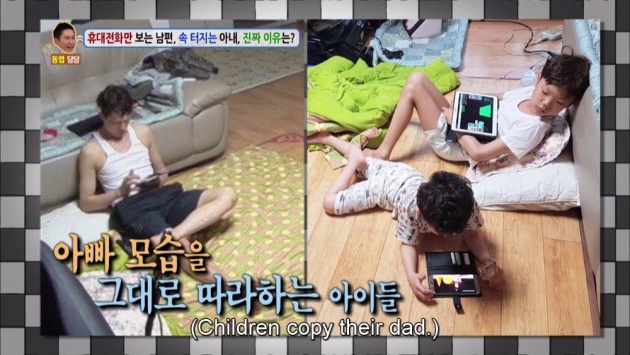 Image Credit: Snapshot from Youtube video
We meet with the husband. He admits that most of the time he rarely talks and busy with his smartphone when at home. He reasoned that he was tired from working as an auto mechanic. His work is so taxing and when he get home he almost pass out and just want to lie down while watching TV or playing with smartphone. That's what makes them rarely talk. He also said that talking with his wife used to annoy him and he felt like he couldn't communicate with her and makes him angry. About the divorce thing, he said the he didn't have any intend to get divorce, he just want to show the authoritativeness as a man.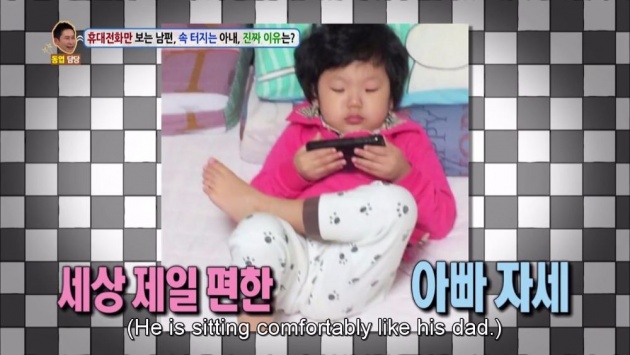 Image Credit: Snapshot from Youtube video
So far, still unsure which side is wrong or right. At first, I thought this problem arose only because of her husband, but after hearing some explanations from him, I changed my mind. The wife is also wrong. Somehow, I could understand the husband behavior. Actually, he is not a quiet type and rarely talk, in fact he can talk well, shown by the way he answering the question.
"The sons: Jinwoo and Gunwoo"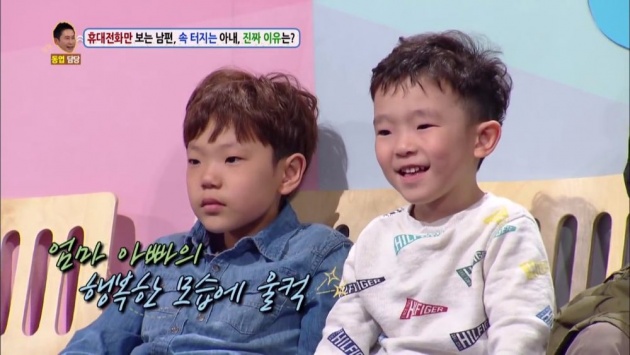 Image Credit: Snapshot from Youtube video
They have fought a lot since the beginning of their marriage because of small things. And whenever that happens, the wife often brings up the husband's family matter and sometimes talk bad about them. This is what often makes the husband angry and reluctant to talk to his wife, even when the wife wants to talk seriously. I'm sure you'll agree with the husband about this. Who is not angry or upset when there is someone talk bad about our parents or family, especially by the closest person to us. That's why I could say that the wife was also wrong on this matter.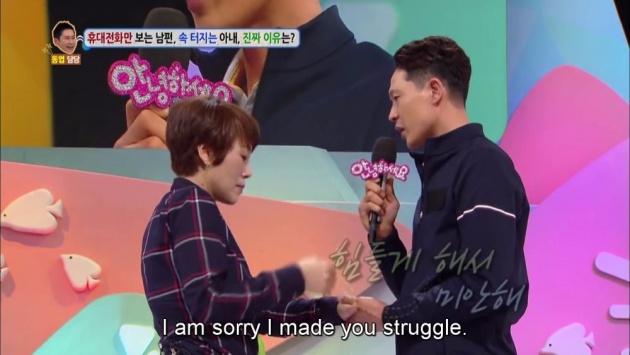 Image Credit: Snapshot from Youtube video
When the parents fighting, it is the child who suffers the most and the memory will stay on the child's mind. Their eldest son even said that he felt like crying and sad when he saw his parents fighting at home. Another thing is both of son start to copy their father behavior which is busy playing with smartphone. When that happens, then their father will scold them and beat them with a stick. The funny thing is, the eldest son said that his mother was the one who beat him the most than his father :D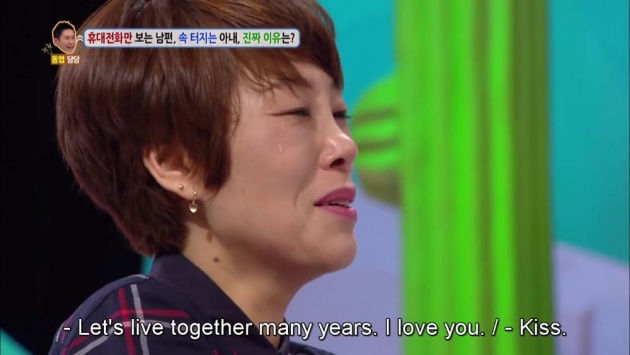 Image Credit: Snapshot from Youtube video
Actually, the husband really loves his wife, and so does the wife, she really loves her husband too. As a closing, the host asked them to talk face-to-face on stage. Awww~ that's really sweet.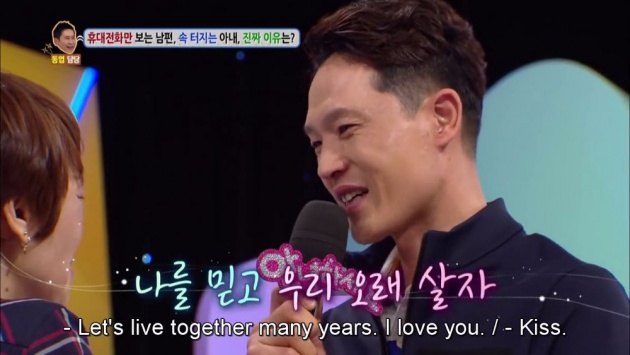 Image Credit: Snapshot from Youtube video
Overall, I would votes this matter as a not serious concern. The both of them is love each other, but because of lack of communication and less express love, they end up here. Since they agree to be here, it means that they want to changes. I'm agree with what Park Dool-seon said, that they can resolve this matter with their love. With this, she earned 130 votes out of 200 audiences.
"The final result with 130 votes"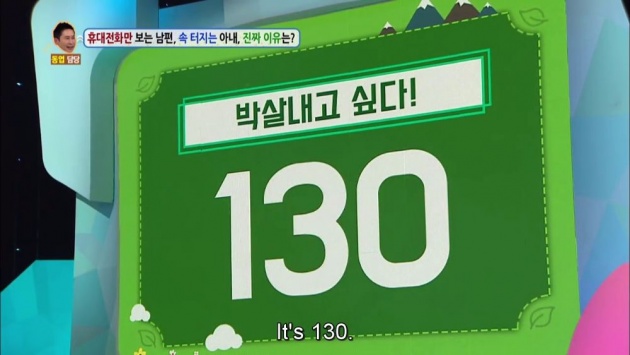 Image Credit: Snapshot from Youtube video
To be continued. . .
That's it my simple review about the first concern of "Hello Counselor" this episode, "I Want to Smash It". I will discuss the third concern on my next blog which is about "I Beg of You". I hope you enjoy this boring blog and see you next time~ :D
Regards
LookUp
©2017 LookUp. All rights reserved