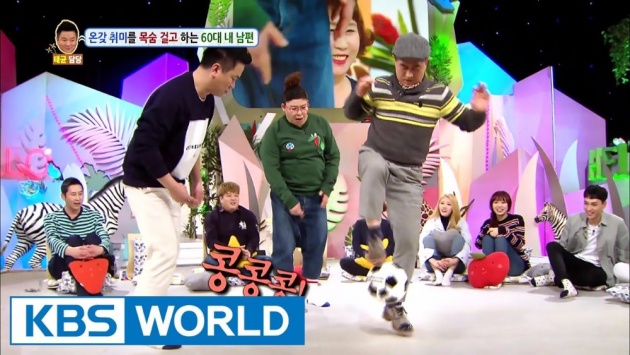 Korean Reality Show Review: Hello Counselor - I'm Frustrated to Death!
Hello guys~ LookUp again here :3 In my previous blog, I have discussed the first and second concerns of "Hello Counselor" about "Oh, My Baby" and "The Farmer's Dream", and now I am going to discuss about the third concern, "I'm Frustrated to Death!". If you want to know more about "Hello Counselor" you could read my old blog about it titled "Hello Counselor: The Problem Solver TV Show". Once again, do not be bored with my blog because I still have so many things to review :D I hope you could enjoy it. Happy reading~!!!
"Watch this episode of Hello Counselor below"
About Hello Counselor
Hello Counselor (Hangul: 안녕하세요; RR: Annyeonghaseyo) is a South Korean reality show first that debuted in November 2010. It is hosted by Shin Dong-yup,[2] Lee Young-ja, and Cultwo (Jung Chan-woo, Kim Tae-gyun). Choi Tae-joon joined the show as host starting August 29, 2016. According to the show's official description through KBS, Hello Counselor is a talk show with an emphasis on regular people, regardless of age or gender, that aims to help take down communication barriers by sharing stories about life.[1] The program airs every Monday on KBS World. -wikipedia
3rd Concern: "I'm Frustrated to Death!"
The third concern came from a 65 year old mother, Kwak Jeong-hee. She came to "Hello Counselor" because of her frustration toward her husband who is loves to play soccer and risk his life because of it. Since playing soccer he has undergone many operations because of his injuries, such as cheekbone dented, cast on his arm, fractured ribs, broken nose, etc. Other than playing soccer, he also has a hobby that is also dangerous. He likes to go to dangerous places just to take photos. And whenever her husband came out, she could not reach him. The wife has been frustrated by the husband behavior and came to "Hello Counselor" in order to persuade her husband to stop.
"The wife: Kwak Jeong-hee"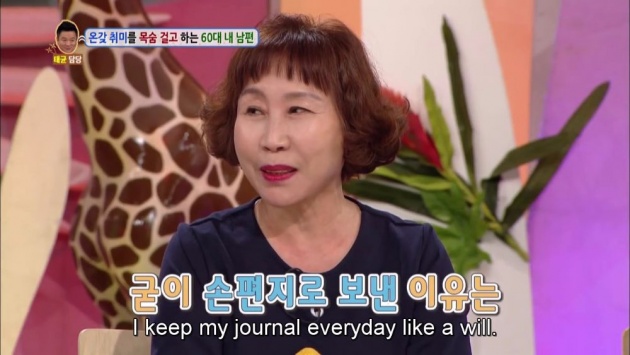 Image Credit: Snapshot from Youtube video
Well, another concern about wife and her husband. As far as I watch "Hello Counselor" many of the relationship issues between husband and wife are discussed here. And most of the problem is the husband. In this case, I think this couple is married for a long time because they are over 60 years old, which is almost the same age as my parents. It must be hard for the wife to the point she come to "Hello Counselor" to get a help. Even she wrote her story by handwriting not computer.
"The husband: Lee Hong-nam"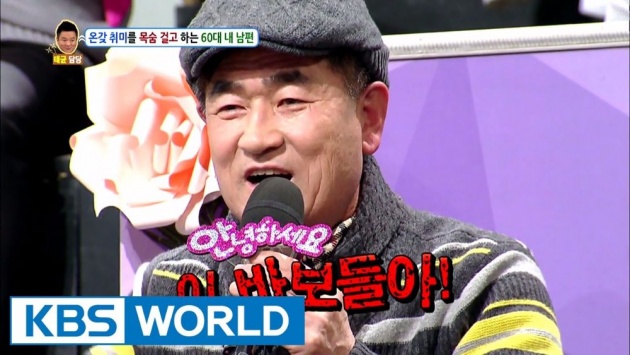 The wife says that her husband has been in public office for over 40 years but now he's retired. The husband can either live or die by soccer. He is a player and a coach even though he has over 60 years old, and he thinks that nobody can beat him. Since he is a good player, many other players targeted him when playing soccer which often lead him to got injuries. Even so, he still played soccer with his bandage on. He got another injury after one injury but he still didn't stop to play soccer which make the wife frustrated and worried about him.
"The husband's cameras set"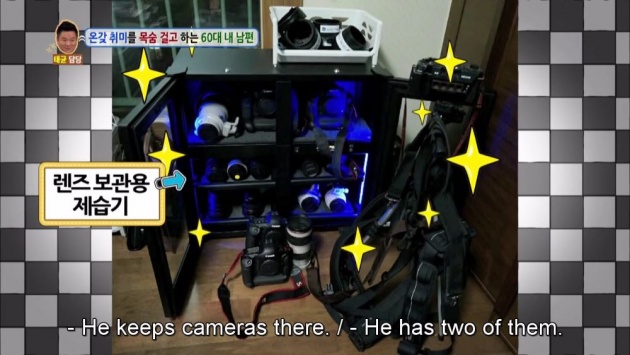 Image Credit: Snapshot from Youtube video
About the husband's other hobby which is likes to take photos, the wife says that he left early in the morning and the wife can not reach him for most of the day. He just wants to take photo which exceptional unlike others, that's why he went to dangerous places. He took a photo on the edge of a cliff where he could have fallen, or he stopped the car in the middle of the highway just to take photo.
"Photos of the husband's work"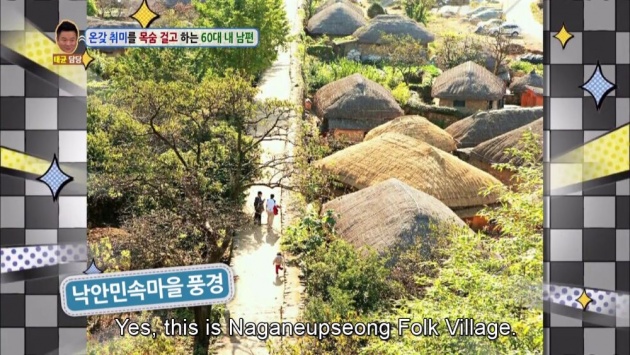 Image Credit: Snapshot from Youtube video
Finally we meet with her husband, Lee Hong-nam. He said that his rules is "I must do what I want to do". He also said that he is a good player, that's why many of his opponents are after him. When he was asked why he could not be reached when he left home, he was give excuse that he was too focused on taking photos so there was no time to pick up the phone and busy to go to another location. With a full of pride, he said that his photo had been chosen to enter the contest. He even said that he took a loan from bank just to bought his camera equipment.
"The husband's closet"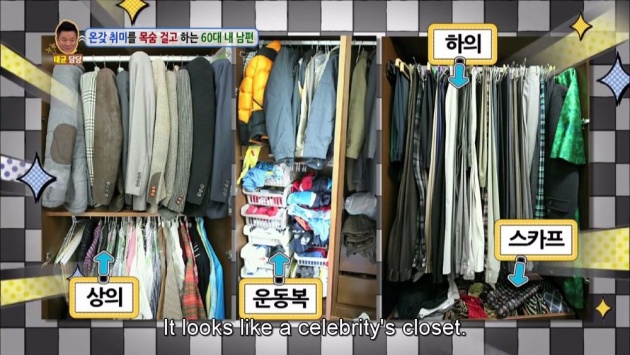 Image Credit: Snapshot from Youtube video
Well, I can not blame him completely for this. Yeah, he has the right to do whatever he wants, because he's old so he has to enjoy his life now. But it will be wrong, when he ignores the people around him and only cares about him, especially his own family. He has spent a lot of money buying his camera equipment, but he has never bought a present for his wife who has always been with him all along.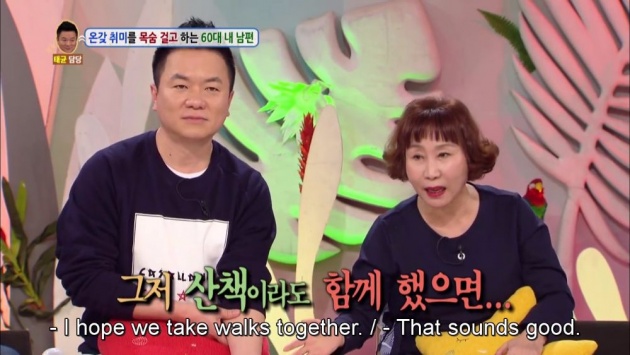 Image Credit: Snapshot from Youtube video
The husband is the perfectionist type and obsessed with his clothes. The wife even says that they have to move to a bigger house because of her husband's clothes. He has a habit to always well-dressed, wear matching outfit, etc, he even criticized his wife for not wearing proper dress when they went to chicken restaurant. The wife says that he just do what he likes to do. He even can't use washing machine and turn on the stove. He would starve if his wife did not cook for him and his wife always have to take care of him even though she just got the surgery.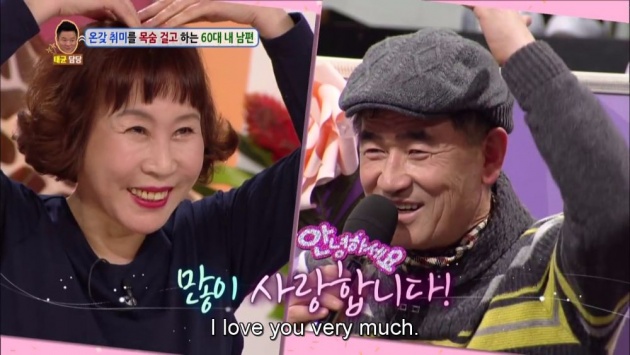 Image Credit: Snapshot from Youtube video
In my opinion, it is clear whether this concern is a serious problem or not. The husband is obviously concerned only with his personal interests and did not consider his wife. Though the wife just wants to do simple things like walking together and doing something together. Yeah, it's just a simple thing in the eyes of others, but for the wife, it's something she really wants. The wife also just wants that her husband can stop with his hobby which often makes her worried. But it seems the husband is still stubborn with his decision, although he promised to treat his wife better. I just wish he could keep his promise.
"The final result with 158 votes"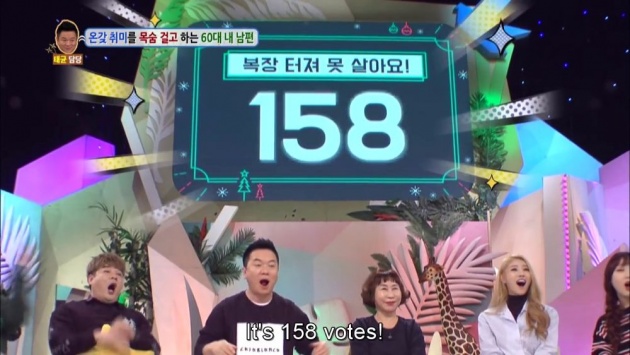 Image Credit: Snapshot from Youtube video
Overall, I would vote this matter as a serious concern. I hope the husband can pay more attention to his wife. It would be better if they could do together a hobby that they both love. With this, she earned 158 votes out of 200 audiences.
Today's Winner
In the end, "I'm Frustrated to Death!" come out as the winner of this episode with 158 votes and "Hello Counselor" will give $1000 gift certificate to the winner as the prize.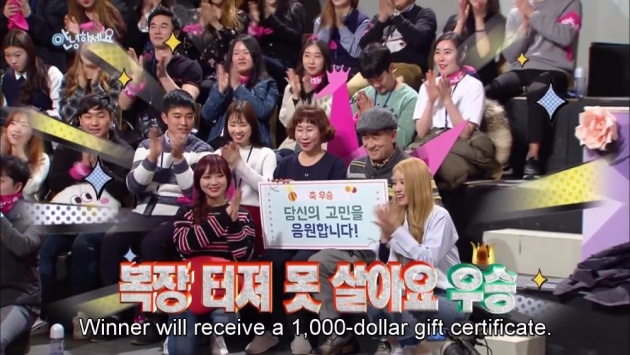 Image Credit: Snapshot from Youtube video
That's it my simple review about "Hello Counselor". Wait for my next blog about "Hello Counselor" and see you next time :D
Regards
LookUp
©2017 LookUp. All rights reserved