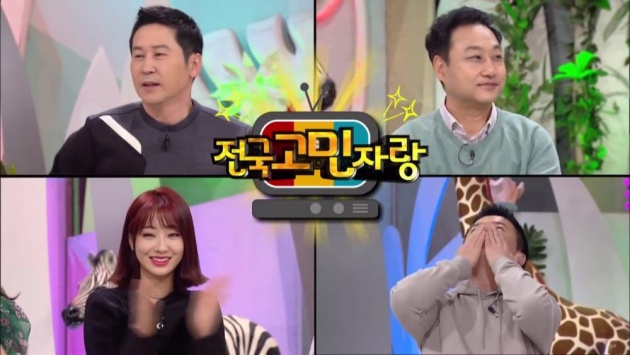 Image Credit: Snapshot from Youtube video
Korean Reality Show Review: Hello Counselor - It's Really Over
Hello guys~ LookUp again here :3 I come with new blog and new episode of "Hello Counselor" to review. In this blog I will discuss about the first concern, "It's Really Over". If you want to know more about "Hello Counselor" you could read my old blog about it titled "Hello Counselor: The Problem Solver TV Show". Also read my review about other episode in here or here. Once again, do not get bored with my blog because I still have so many things to review :D I hope you could enjoy it. Happy reading~!!!
"Watch this episode of Hello Counselor below"
About Hello Counselor
Hello Counselor (Hangul: 안녕하세요; RR: Annyeonghaseyo) is a South Korean reality show first that debuted in November 2010. It is hosted by Shin Dong-yup,[2] Lee Young-ja, and Cultwo (Jung Chan-woo, Kim Tae-gyun). Choi Tae-joon joined the show as host starting August 29, 2016. According to the show's official description through KBS, Hello Counselor is a talk show with an emphasis on regular people, regardless of age or gender, that aims to help take down communication barriers by sharing stories about life.[1] The program airs every Monday on KBS World. -wikipedia
"Nine Muses: Gyeongree"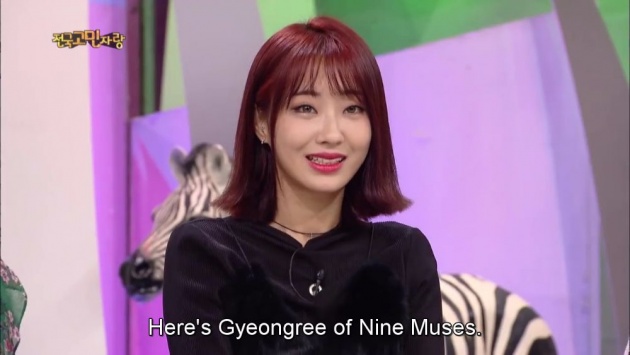 Image Credit: Snapshot from YouTube video
Special Guest: Gyeongree, Kim Soo-yong, Lee Hyun-kyung
On this episode, "Hello Counselor" invites three special guests, Gyeongree, Kim Soo-yong, and Lee Hyun-kyung. Based on kpop.wikia, Gyeongree is a South Korean singer and the main vocalist, main dancer and visual of the girl group Nine Muses. She is also a member of the trio Nasty Nasty with group member Sojin and ZE:A's Kevin. Meanwhile, Kim Soo-yong is a comedian who a few months ago his name rose in Korea. And last, Lee Hyun-kyung is an actress who has played many Korean dramas or movies, such as "Sea of the Woman (2017)", "The Queen's Classroom (2013)", "Small Town Rivals (2007)", etc.
1st Concern: It's Really Over
The first concern came from a 40s year-old wife, Kim Jeong-hee. She comes to "Hello Counselor" because she has a problem with her husband and always feels anxious because of him. They open a business, but her husband is always changing the business, ranging from braised chicken restaurant, then turned into a Chinese restaurant, and changed into convenience stores, etc. The problem is, the husband often changes business just because they were popular at that time. When he feels bored or unsuitable with the business, he will change it with another business. The wife wants "Hello Counselor" to stop her husband to change their business again.
"The wife: Kim Jeong-hee"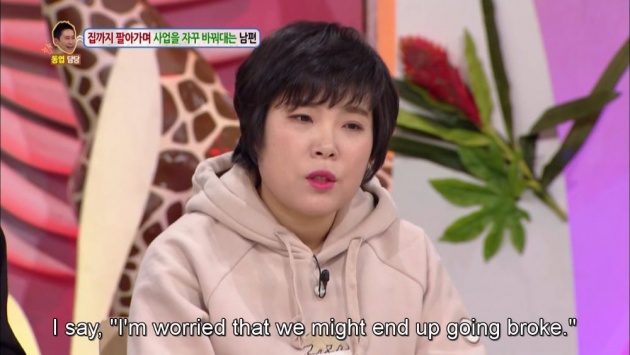 Image Credit: Snapshot from Youtube video
Well, this concern is kind of heavy for me to discussed since it involved the issue between husband and wife, and here I am just a young single man :D But I will try my best to give my opinion and my views about this concern, and who knows I can get a lot of lessons from this concern.
Then, the wife mentioned the list of businesses they had run. The first is a burger place, then turned into a braised chicken restaurant, a Chinese restaurant, a convenience store, a dakgalbi place, and the last is the octopus restaurant which is just opened around 2 weeks ago. The Chinese restaurant is the longest running business they had which is about 10 years. After the husband changed it, he keeps changing their business once in every six months or a year.
"The Husband"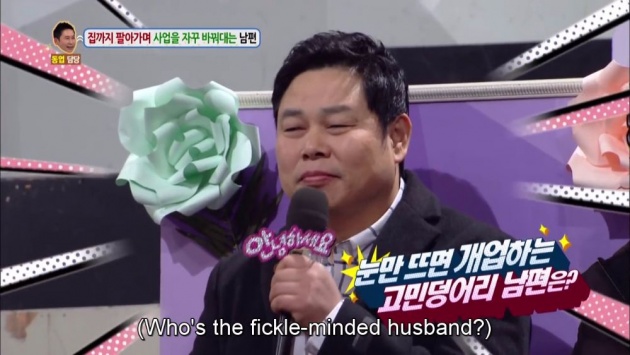 Image Credit: Snapshot from Youtube video
The wife also said the reason why the husband changed his business even though the business was going well. She said that her husband wants to try something new, and he sometimes did not have any logical excuses, like at first he thought that the business would be easy but the business does not fit him, or he was just tired of his business, etc. And because of this they have to spend a lot of money to start a new business, and the wife said they have savings of 400,000 dollars but now only half of them are left. The wife had tried to stop her husband, but he did not want to hear and even angry at her and did not want to talk for days.
OK, I can understand the wish of the husband to try new things, but let go of a business that has been going well for years and open another new business, I do not agree with this. Moreover he has family and children, so he must also take into account about the daily expense. I prefer to keep running the business that has been running well, and open another business at once. I know, maybe it will take a lot of effort and take time to keep it going. However, it is better than having to let go of a business that is already going well.
"The mother-in-law"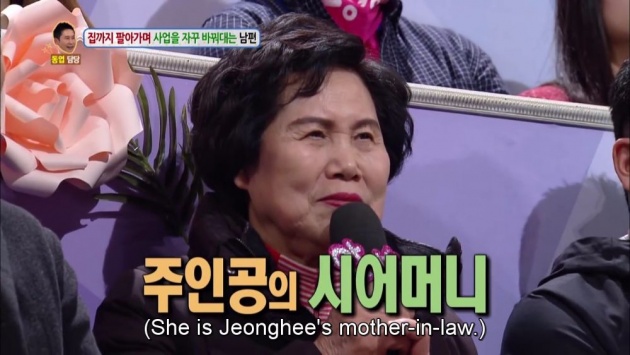 Image Credit: Snapshot from Youtube video
Finally we meet with the husband. The first of some questions which the host ask to the husband is whether he is interested to open new business. The husband replied that he was interested to open donkatsu restaurant, although his octopus restaurant was just opened a few weeks ago, because it was the latest food trend. He also said that he is not very good at doing business and making a profit in business is not his top priority. He did not really think about money and he was only interested in how to make good food with heart. He believes that if the food is good then the customer will come naturally. But the problem is that he often changes business, so when will he get customers? :D
"The husband's brother"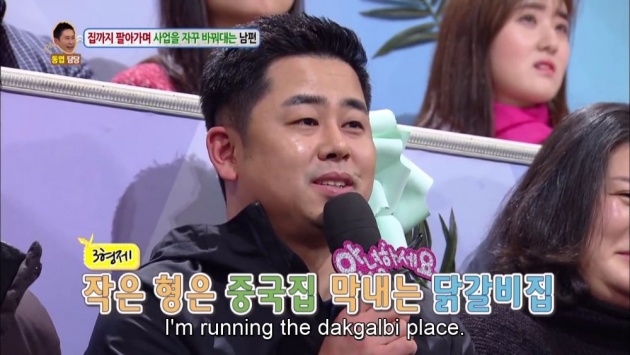 Image Credit: Snapshot from Youtube video
Later they found out, actually the store is still exist and he gave the store to his brother or his mother. But the problem is, they do not get the proper money out of it, so they do not have enough money to open a new business. His mother and the people around him also have advised and stopped him, he only listens to it but still ignores it and insist to changed the business. I am glad that his mother-in-law is very understanding about this problem and she is on her side on this matters. She said that she was very proud of her daughter-in-law.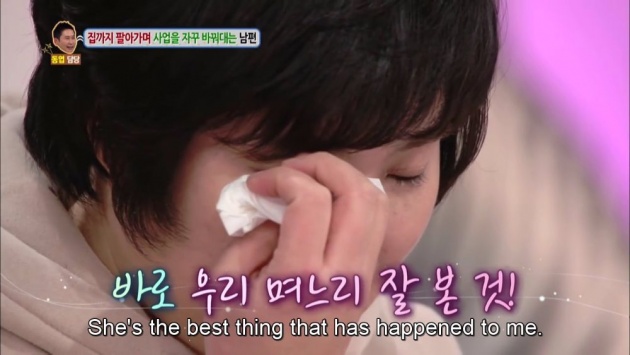 Image Credit: Snapshot from Youtube video
The worst part is, the husband never consulted with his wife when he wanted to change with a new business, he just told his wife afterwards.He is afraid that the people around him will against it and run his plan without telling anyone. The wife also tells that her husband is also inconsiderate toward her. He never apologized or admitted his mistake.
If based on his outward appearance, in fact he is not a bad person, he looks kind and hardworking. I agree with what Shin Dong-yup said, "You can curse him if he's a bad person or if he does stupid things, but he's a hardworking person and tried his best. That would drive her crazy."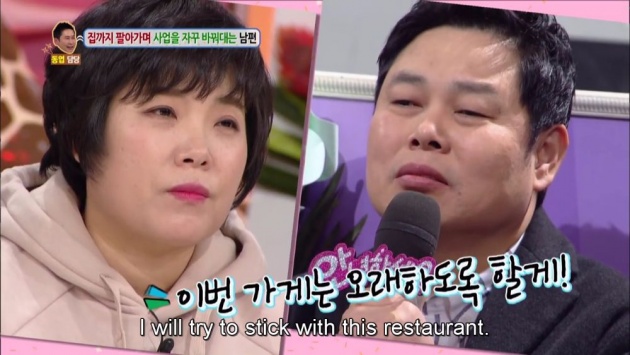 Image Credit: Snapshot from Youtube video
In the end, the wife just want her husband to be considerate of her, and like other women, she would like to be able to enjoy a cup of coffee at a cafe and chat with her friends. Fortunately, the husband admit his fault and apologize to his wife. He promise to talk with his wife more often and to enjoy fun live with her. He also promise that he will try to stick with current restaurant.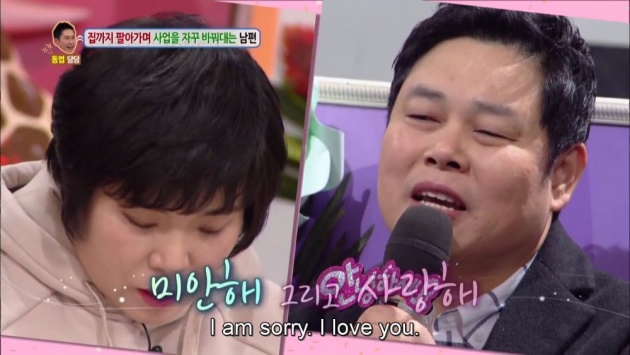 Image Credit: Snapshot from Youtube video
Overall, I would vote this problem as a serious concern. It is wrong when the wife or the husband are not considerate with each other in a marriage relationship. I hope the husband would keep his words and can change his behavior. I know it will be hard, so he need help from the people around him like his mother or his brother. With this, she earned 140 votes out of 200 votes which is mean many audiences vote this as serious concern.
"The final result with 140 votes"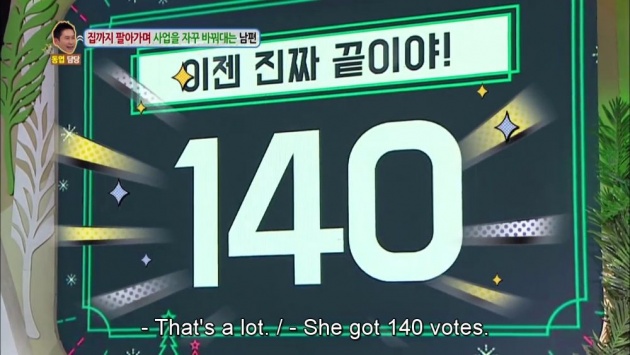 Image Credit: Snapshot from Youtube video
To be continued. . .
That's it my simple review about the first concern of "Hello Counselor" this episode, "It's Really Over". I will discuss the other two concern on my next blog which is about "They Don't Move" and "A Man in Fear". I hope you enjoy this boring blog and see you next time~ :D
Regards
LookUp
©2017 LookUp. All rights reserved