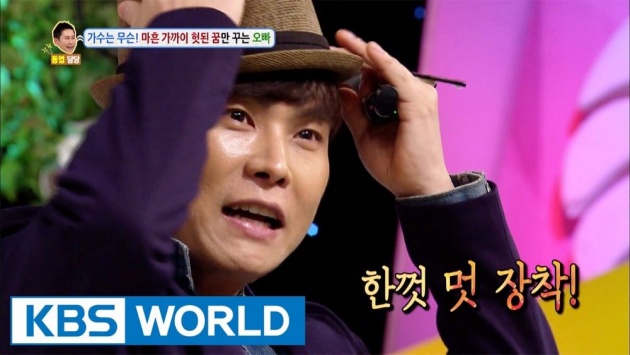 Korean Reality Show Review: Hello Counselor - Let Go of Your Dream
Hello guys~ LookUp again here :3 In my previous blog, I have discussed the first and second concerns of "Hello Counselor" about "The Unbelievable Man" and "Can you taste it?", and now I am going to discuss about the third concern, "Let Go of Your Dream". If you want to know more about "Hello Counselor" you could read my old blog about it titled "Hello Counselor: The Problem Solver TV Show". Once again, do not be bored with my blog because I still have so many things to review :D I hope you could enjoy it. Happy reading~!!!
"Watch this episode of Hello Counselor below"
Video Credit: KBS World TV via Youtube
About Hello Counselor



Hello Counselor (Hangul: 안녕하세요; RR: Annyeonghaseyo) is a South Korean reality show first that debuted in November 2010. It is hosted by Shin Dong-yup,[2] Lee Young-ja, and Cultwo (Jung Chan-woo, Kim Tae-gyun). Choi Tae-joon joined the show as host starting August 29, 2016. According to the show's official description through KBS, Hello Counselor is a talk show with an emphasis on regular people, regardless of age or gender, that aims to help take down communication barriers by sharing stories about life.[1] The program airs every Monday on KBS World. --wikipedia



3rd Concern: "Let Go of Your Dream"
The third concern comes from a 30s year-old woman who is the youngest child of five siblings, Kim Yeon-soo. She came to "Hello Counselor" because she has problem with her fourth brother who has pursued his dream for 20 years. Her brother's dream is to become a trot singer. For the sake of being a singer he went to Seoul alone 20 years ago. Now, he's almost 40 years old, but his dream has not been achieved. All his family had tried to stop him, but failed, especially his 80-year-old parents who were always worried about him. She came to "Hello Counselor" with hopes of stopping his brother's obsession.
"The sister: Kim Yeon-soo"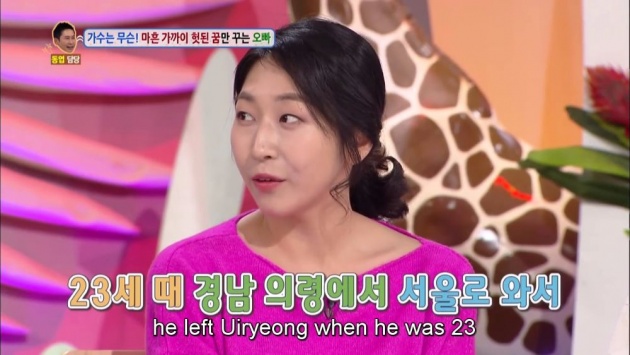 Image Credit: Snapshot from Youtube video
Well, another concern about someone's dream. It is not wrong for someone to have a dream to achieve in their life. But if the dream has become an obsession and can not be stopped which ultimately hurt the people around them, then I do not think that's the right way.
She said that her brother left his city since he was 23 years old to become a singer, but until now nothing really worked out. The reason why she came to "Hello Counselor" because of her parents desire. However, because both parents are currently sick so they can not come. She also said that all her siblings were married and had children, except his brother. This is one of the reasons that makes her parents upset to him. And in her opinion, her brother is bad in singing. Since he went to Seoul, his main goal was not to be trot singer. He just wanted to be a singer and he's been changing his work ever since.
"The brother: Gangwon"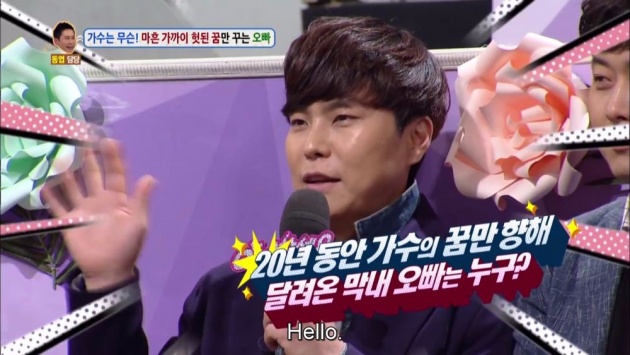 Image Credit: Snapshot from Youtube video
We meet with her brother, Gangwon. Gangwon is his stage name which means "One strong man of trot singer". He claimed that he is not that bad in singing. Even though he is old now, he says that right now he's happy with music and has no intention of getting married. On the subject of his fickle work, he says that he usually works full-time for a year and with the money he saved up, then he will focus on his music the following year.
"Gangwon shows his singing skill"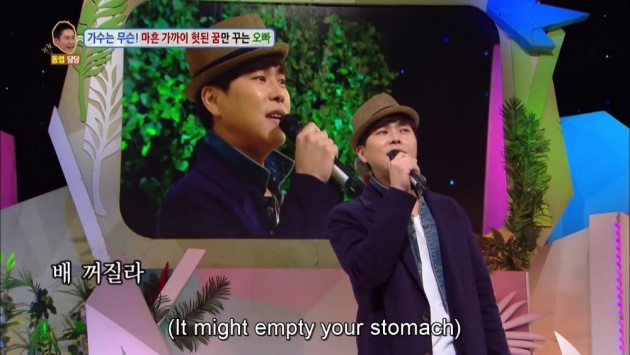 Image Credit: Snapshot from Youtube video
The other problem is, she said that her brother has been scammed many times because of his obsession. They promise to make him debut with the cost of some money, but in the end he was scammed. Once, his friend told him that he will help him release his album if he work for his friend, but after 2 years of work, it was just a lie. Because of this, now he has a load of debt to paid off.
To prove his talent in singing, "Hello Counselor" asked him to sing on stage. Everyone has low expectation about his singing, but it turned out to be not bad. I am agree with them, to be honest, he is not that bad in singing like his sister said, but also not that good.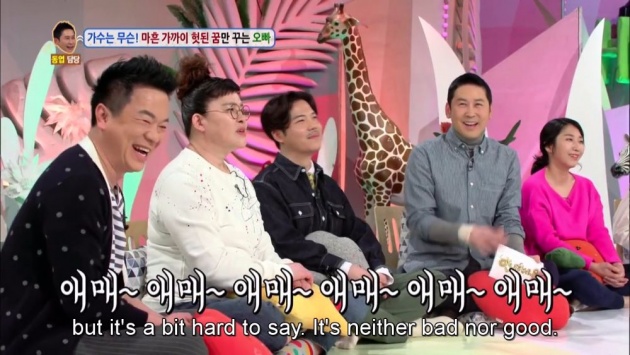 Image Credit: Snapshot from Youtube video
Apart from the above things, the thing that makes his family upset the most is, that he is rarely in touch with his family even to his sick parents. When he left, he said that he will succeed and help his family. However, he had a fight with his brother because of it too, and had not been in contact for 3 years.
"Gangwon and his older brother"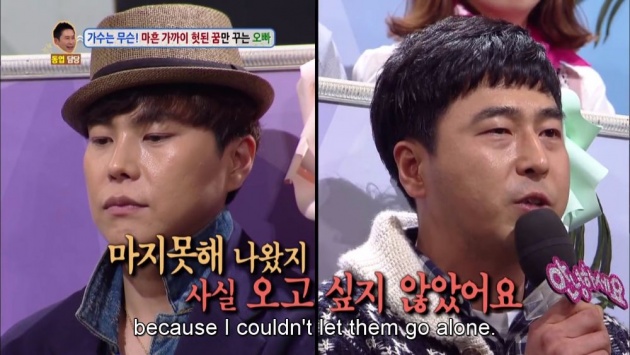 Image Credit: Snapshot from Youtube video
Well, I do not have the right to judge his dream or tell him to stop his dream, though I would stop him if his singing is bad. And I am agree with what Shin Dong-yup said, "the difficult thing is when an unknown person sing an unknown song." It is difficult to be successful in music in South Korea, especially if he does not have a prominent ability. Yeah, some of them are successful in music at late age, and some of them give up on it.
"Shin Dong-yup give advice to Gangwon"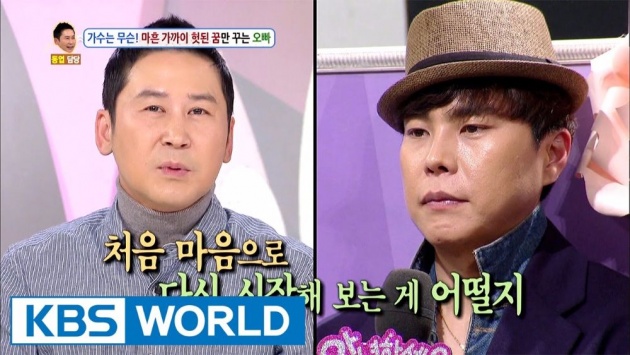 He's stubborn enough, if I were him, I might have given up long ago. His short-term plan is, he's making a song now, and hopes to be successful with it. And although if he fails later, he will continue to fight for his dream until he succeeds.
It seems that no one can change his determination to be successful in music. However, if I were him, I would accept the advice from one of the hosts about setting a time limit to myself. Like if I couldn't make it in two or three years, I would give up on my dream, and maybe just makes it as hobby.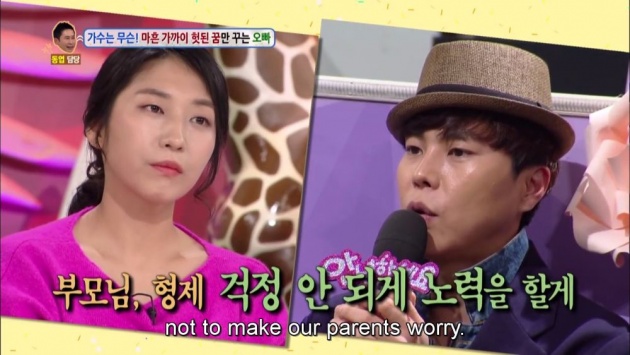 Image Credit: Snapshot from Youtube video
What his sister wants most or even her family is not his success, though it would be good if he did. They just want him to spend more time with his family. It's good that he promise to consider his family more instead of his dream.
"The final result with 125 votes"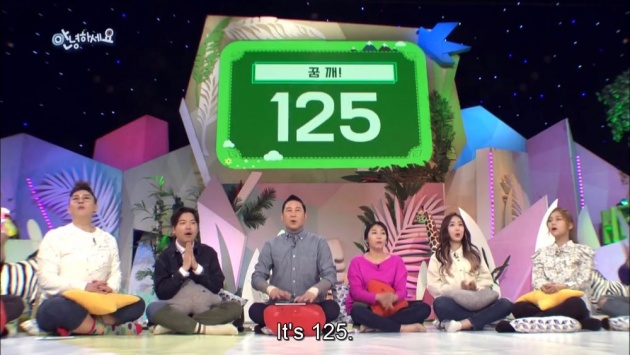 Image Credit: Snapshot from Youtube video
Overall, I would vote this matter as a serious concern. Everyone has the right to dream and make it happen. However, if the way of achieving his dream can hurt the people around him, then I could not support him. And every parent also wants the best for their child. I hope he can find another way to achieve his dream which can make both of him and his family happy. With this, she earned 125 votes out of 200 audiences.
Today's Winner
In the end, "Let Go of Your Dream" come out as the winner of this episode with 125 votes and "Hello Counselor" will give $1000 gift certificate to the winner as the prize.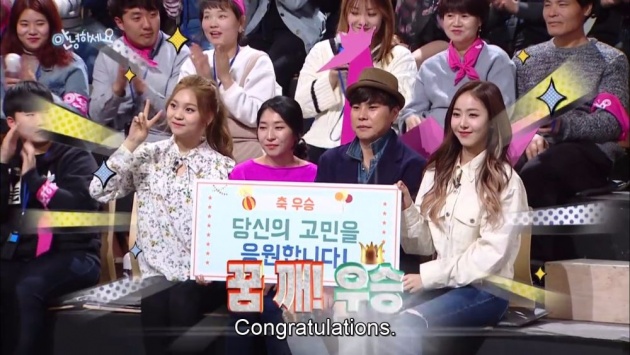 Image Credit: Snapshot from Youtube video
That's it my simple review about "Hello Counselor". Wait for my next blog about "Hello Counselor" and see you next time :D
Regards
LookUp
©2017 LookUp. All rights reserved