Image Credit: Snapshot from Youtube video
Korean Reality Show Review: Hello Counselor - MC Gree, Hong Jinyoung [ENG-2017.02.20] Part. 2
Hello guys~ LookUp again here :3 Again, I will continue to discuss about "Hello Counselor" from my previous blog. If you want to know more about "Hello Counselor" you could read my old blog about it titled "Hello Counselor: The Problem Solver TV Show". Also read my review about previous concern in here "Korean Reality Show Review: Hello Counselor - MC Gree, Hong Jinyoung [ENG-2017.02.20] Part. 1" or you could read my review about other episode in here or here. Once again, do not be bored with my blog because I still have so many things to review :D I hope you could enjoy it. Happy reading~!!!
"Watch this episode of Hello Counselor below"
About Hello Counselor
Hello Counselor (Hangul: 안녕하세요; RR: Annyeonghaseyo) is a South Korean reality show first that debuted in November 2010. It is hosted by Shin Dong-yup,[2] Lee Young-ja, and Cultwo (Jung Chan-woo, Kim Tae-gyun). Choi Tae-joon joined the show as host starting August 29, 2016. According to the show's official description through KBS, Hello Counselor is a talk show with an emphasis on regular people, regardless of age or gender, that aims to help take down communication barriers by sharing stories about life.[1] The program airs every Monday on KBS World. -wikipedia
2nd Concern: "My Ugly Dad"
"The father: Seo Sanghwa"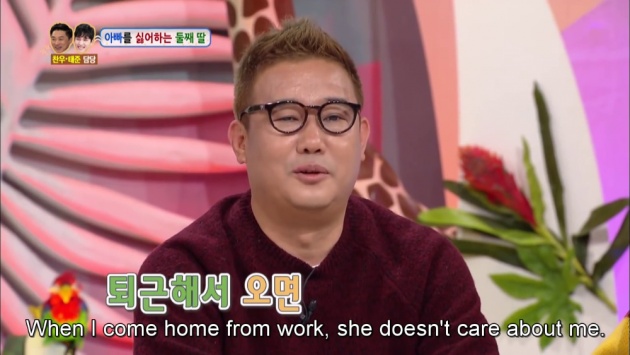 Image Credit: Snapshot from Youtube video
The second concern comes from a father with two daughters, Seo Sanghwa. He comes to "Hello Counselor" because he has a problem with her five grade second daughter who is always stay away from him and treat him worst than bug. Based on his story, this began since her daughter was still in kindergarten. When he went to pick her up in her school, her daughter tells him to go and get away from her. And even when his daughter was inside the elevator, her father told her to wait for him but she hurried to press the up button because not wanting to be with him on the elevator. He said that his wish is to be able to ride along the elevator with her daughter. His daughter never tell him the exact reason why she hate his father so much and comes to "Hello Counselor" to find out the reason.
"The daughter: Haeun"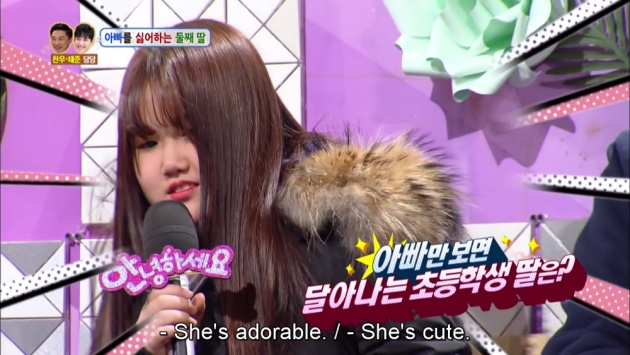 Image Credit: Snapshot from Youtube video
Well, when I see the father, I also feel curious about the reason why his daughter hate him so much, because the father looks good and kind from outside. Whenever the concern involved the kids sometimes I feel excited, because the kids always give funny statements or comments about the concern with their innocent and naive looks. And yeah, there is nothing different with this concern too.
"Haeun told her father that he's fat when in kindergarten"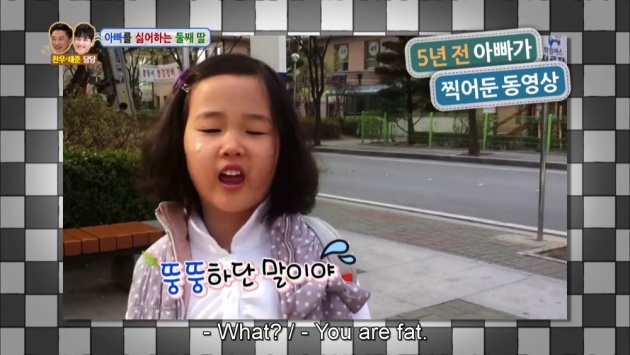 Image Credit: Snapshot from Youtube video
The daughter explained that there is misunderstanding between them and that is why she agree to come to the show. The first reason why she hate her father is because he looks old compared to the fathers of her friends'. That's why she embarrassed whenever she going outside with her father. The second reason is, because her father always showing the daughter's photo when still young and the father's photo when still young too and telling people that they are look alike. The worst part is when they showing the video which recorded near her school where the daughter told her father to go away and hide, when the father ask the reason, her daughter said that he is fat then she run away.
"Haeun decide to come because she thinks there's misunderstanding"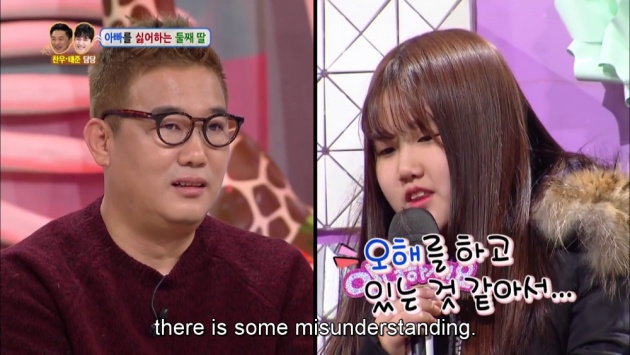 Image Credit: Snapshot from Youtube video
Actually, I think the daughter acts is understandable because she is still kids. But I do not think that his father is old or fat based on his looks even though he is already 52 years old. But yeah, if it is in here, Indonesia, especially my region, that age is considered as old to have a grade five kid. I do not know why Korean tend to get married late or at old age, even I know some old artist which is still single in their 40s or 50s.
"The father trying to mimic her daughter's favorite idol group"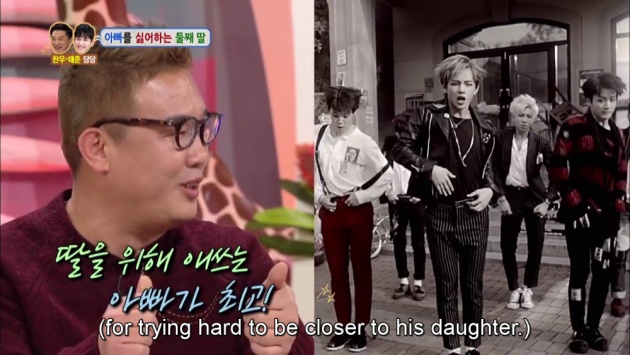 Image Credit: Snapshot from Youtube video
The father also have put some efforts to get closer with her daughter like he lose some weight, always listening to his daughter's favorite song and sing along, etc, but the daughter said to him not to ruin her favorite song :D and the problem is the daughter could not understand her father feeling and intention. Later it found out that the daughter hate of becoming the center of attention and looked by other kids. And the daughter hate his father act which always bring attention from other kids like shouting the daughter name in her class and she also did not like her father to touch her like give a kiss or hug because he smells of cigarette. OK, I am agree that this is the father fault. He should change his behavior if he want love from her daughter.
"Haeun said that her father smells of cigarette"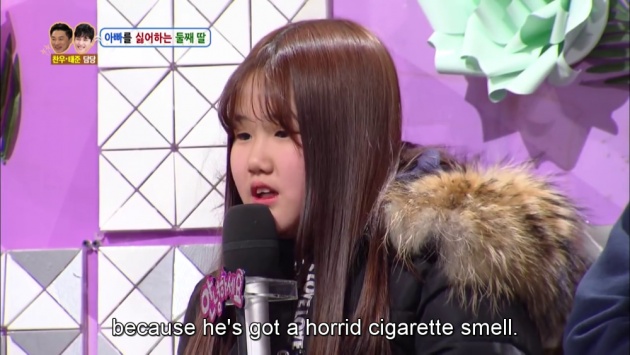 Image Credit: Snapshot from Youtube video
Another mistake of the father is that he always teases his daughter like posting an embarrassed things about her daughter on social media where many people know about it and her daughter really hates it, even though she has told him to stop but the father still teases her and makes it as a joke. Again, the father is at fault here. Boy and girl are different, he should consider his daughter feeling and learn to understand girls better.
"The father and the daughter photo when still young"
Image Credit: Snapshot from Youtube video
With this, I think it's clear who is at fault and what to do from now on. And yeah, the father also admit it and I think the daughter also has fault too even though not big as the father. And finally, this concern get solved as they both has cleared the misunderstanding this whole time. The father and daughter has promise to get along each other as long the father could change the way he acts toward her.
"Haeun gives heart sign to her father"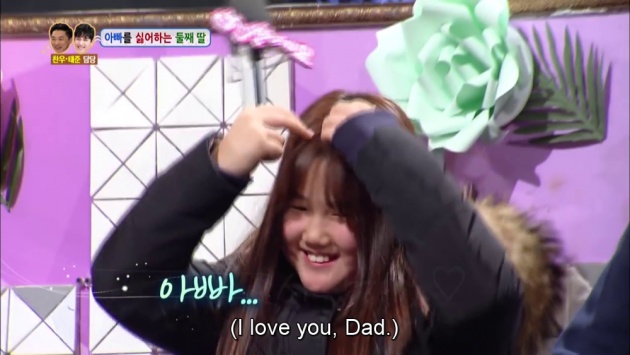 Image Credit: Snapshot from Youtube video
Overall, I would vote this matter as concern to support them to get along together. Later, when the daughter has grown up maybe she will understand her father intention and feeling and thank him. And the father should change the way he treat her daughter and consider her feelings too. With this, he gets 118 votes out of a total of 200 votes, it means many audiences also support them to get along with each other.
"The final result with 118 votes"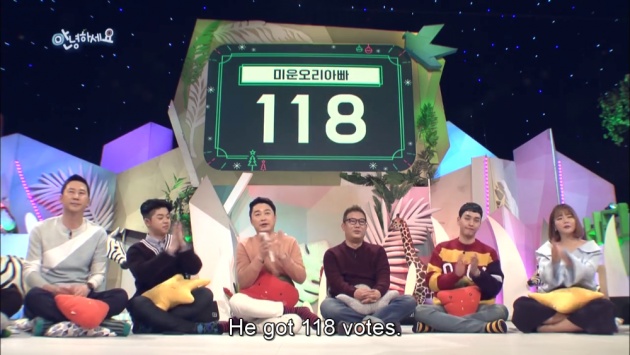 Image Credit: Snapshot from Youtube video
To be continued. . .
That's it my simple review about "Hello Counselor". I don't know if this blog would be this long :D I will discuss the third concern later on my next blog which is about "Just Listen to Me Once". I hope you enjoy this boring blog :D.
See you next time~!
Regards
LookUp
©2017 LookUp. All rights reserved