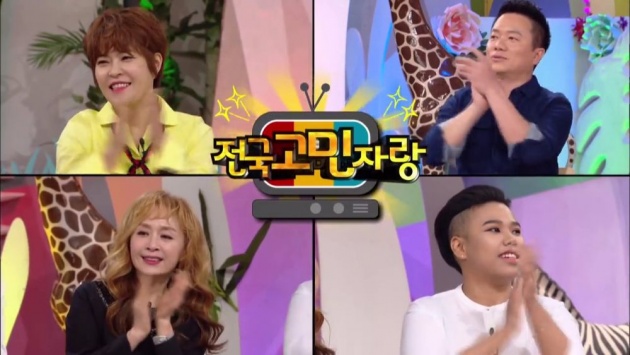 Image Credit: Snapshot from Youtube video
Korean Reality Show Review: Hello Counselor - My Excruciating Love
Hello guys~ LookUp again here :3 I come with new blog and new episode of "Hello Counselor" to review. If you want to know more about "Hello Counselor" you could read my old blog about it titled "Hello Counselor: The Problem Solver TV Show". Also read my review about other episode in here or here. Once again, do not get bored with my blog because I still have so many things to review :D I hope you could enjoy it. Happy reading~!!!
"Watch this episode of Hello Counselor below"
About Hello Counselor
Hello Counselor (Hangul: 안녕하세요; RR: Annyeonghaseyo) is a South Korean reality show first that debuted in November 2010. It is hosted by Shin Dong-yup,[2] Lee Young-ja, and Cultwo (Jung Chan-woo, Kim Tae-gyun). Choi Tae-joon joined the show as host starting August 29, 2016. According to the show's official description through KBS, Hello Counselor is a talk show with an emphasis on regular people, regardless of age or gender, that aims to help take down communication barriers by sharing stories about life.[1] The program airs every Monday on KBS World. -wikipedia
"Cho Hyeryeon, Park Haemi, Lee Michelle"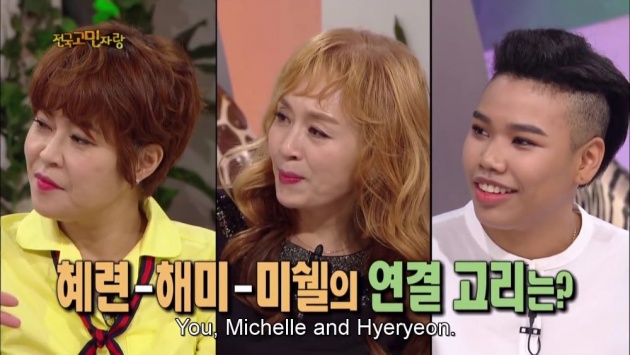 Image Credit: Snapshot from Youtube video
Special Guest: Park Haemi, Cho Hyeryeon, Lee Michelle
In this episode, "Hello Counselor" invites three special guests, Park Haemi, Cho Hyeryeon, and Lee Michelle. Park Haemi is an actress who has played in several Korean dramas and musical plays. Cho Hyeryeon is a comedian and MC, she has appeared on several variety shows in Korea. While Lee Michelle is a solo singer, and her name is known since she became a participant in "K-pop Star Season 1". Actually I do not know them, because I rarely see them on TV, maybe just Park Haemi whose face looks familiar because I've watched some of her dramas. It is great to have them on "Hello Counselor", because they are already old and certainly have a lot of experience in life, so they can be help in this episode.
1st Concern: "My Excruciating Love"
The first concern came from a 24-year-old boy, Kim Jeonghoon. He came to "Hello Counselor" because he had a problem with his girlfriend. From the outside, his girlfriend is a beautiful woman with pretty smile who will make every man fall in love. However, her true personality is very different from the her beautiful appearance. She curse a lot and use violence towards her boyfriend, like smack his head without reason, kick him, slap his face, etc. But the boyfriend still keeps with it and patient with her, because he loves her so much. So he came to "Hello Counselor" with the hope he can change his girlfriend's attitude.
"The boyfriend: Kim Jeong-hoon"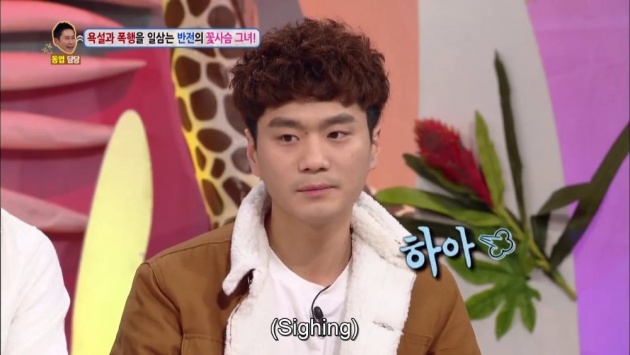 Image Credit: Snapshot from Youtube video
There is a saying that "love is blind". I think that's true and maybe the saying is perfect for describing the love relationship in this case. I just wondering why he still loves his girlfriend and still keeps her even though with her bad attitude toward him. If it is just because of her pretty looks, I could not agree with him and support him. OK, I admit that I never be in madly in love with someone, and yeah I am still single now :D So I do not know how to react to this concern. And I think the story on this issue is similar to the popular Korean movie titled "My Sassy Girl (2001)" where the girlfriend always use violence toward the boyfriend :D
"The girlfriend: Hyeon-jeong"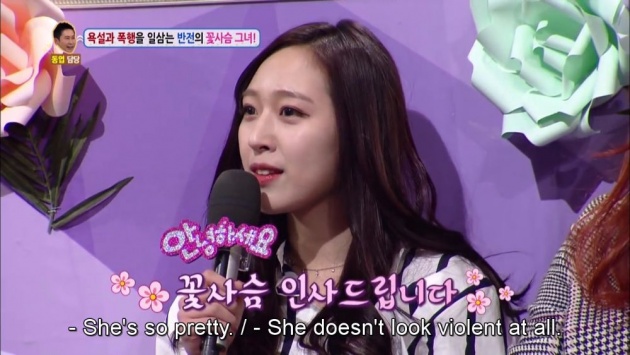 Image Credit: Snapshot from Youtube video
The boyfriend told that she has started using violence ever since they first met. And just because of her pretty looks the boyfriend said that he could put up with her and change her. But in fact, he could not do it. My first impression when looking at the girlfriend is, she is not the type of woman who will use violence or have a bad nature, and I am sure you will agree with this. OK, I admit that she looks pretty and I think I know the reason why the boyfriend still could not let go of her. But still I could not imagine that she has bad behavior.
"The girlfriend smacked her boyfriend's cheek"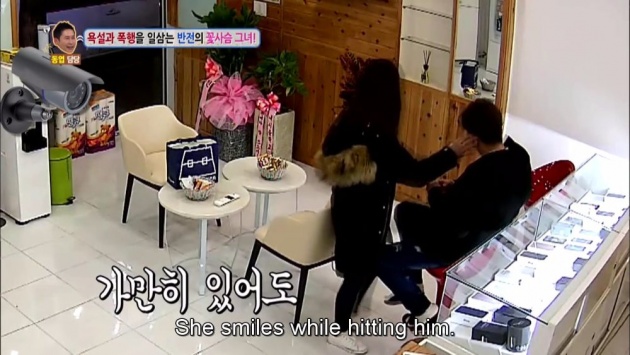 Image Credit: Snapshot from Youtube video
After seeing the girlfriend's beautiful appearance, the audience may not believe what her boyfriend has said. Therefore, "Hello Counselor" shows a valid proof which is a video recording between the girlfriend and the boyfriend in the store where they work together. The recording is taken from the security camera footage with the permission of the owner and of course without the girlfriend knowing. And we can know clearly how the girlfriend treats her boyfriend. First, she suddenly kicked the boyfriend's leg while she was on the phone and then smacked his cheek with a smiling face. On the second video, the girlfriend pull out boyfriend's hair suddenly and we can see how hurt it is. And when the boyfriend was still in pain she hit his head. Even after the incident, the girlfriend still can smile and joke by hitting him. Is it normal? :D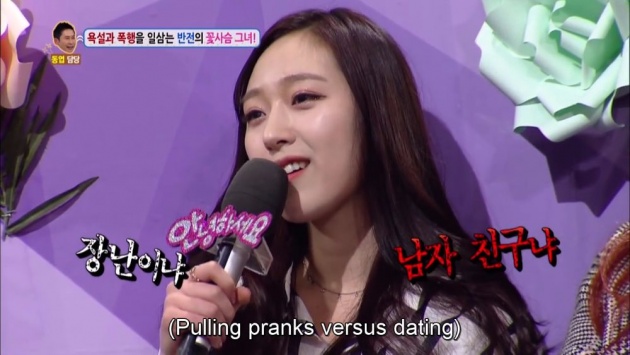 Image Credit: Snapshot from Youtube video
We can see clearly how the boyfriend reacts when he is being hit. He looks calm and does nothing, as if he's used to it and just let it go.And the girlfriend did that without a clear reason. I do not have much experience about love, but if I was treated like that, I would be very angry and would probably break up with her. I would not be concerned about it if it was just an occasional joke but it would be different if it had become a habit. If she does not want to change her attitude then I will leave her.
"The boyfriend got teary after hearing his girlfriend answer"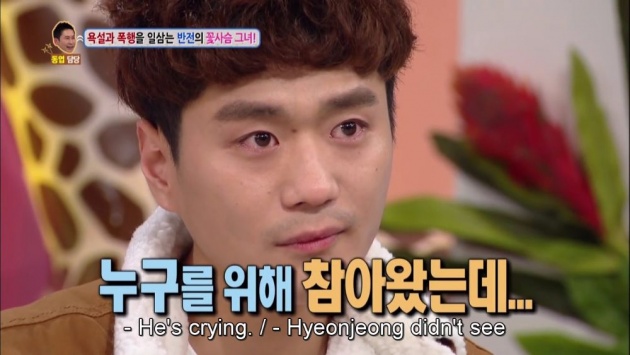 Image Credit: Snapshot from Youtube video
It was truly sad, because the boyfriend looks very love her and is afraid of losing her. Even when the girlfriend is asked if she chooses to change her attitude or break up with her boyfriend, she seems to have difficulty answering and is full of doubts. It shows that she did not love her boyfriend enough. The boyfriend even cried after hearing this. But, after a long enough conversation, it is nice to see that the girlfriend is finally willing to change her attitude with the help of her boyfriend and try to improve their relationship.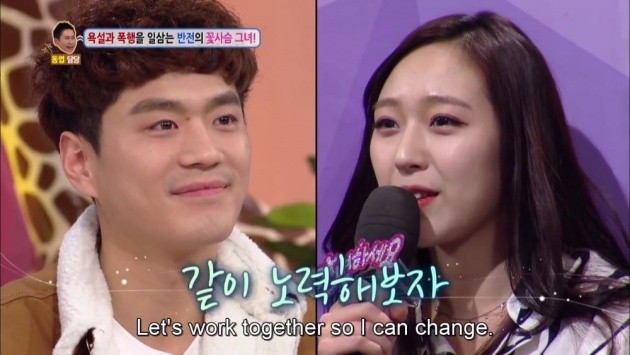 Image Credit: Snapshot from Youtube video
Overall, I will vote this matters as a serious concern. The girlfriend really need to change her behavior. Of course all people around her should help her and correct her wrong doing. If she still can not change her behavior, I think the boyfriend must break up with her because it indicates that she is not serious with their relationship and her love is questionable. With this, he earned 146 votes out of 200 votes from the audiences, which indicates that this concerns are really a serious problem.
"The final result with 146 votes"
Image Credit: Snapshot from Youtube video
"How dare you think you could leave me?"
"That's why I can do this to him."
I believe that's the cruelest thing in the world. -Shin Dong-yup
To be continued. . .
That's it my simple review about the first concern of "Hello Counselor" this episode, "My Excruciating Love". I will discuss the other two concern on my next blog which is about "Endless War" and "Don't Run Away". I hope you enjoy this boring blog and see you next time~ :D
Regards
LookUp
©2017 LookUp. All rights reserved