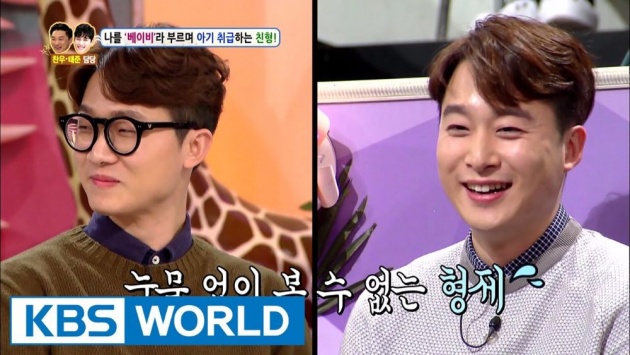 Image Credit: KBS World via ytimg
Korean Reality Show Review: Hello Counselor - Oh, My Baby
Hello guys~ LookUp again here :3 I come with new blog and new episode of "Hello Counselor" to review. In this blog I will discuss about the first concern, "Oh, My Baby". If you want to know more about "Hello Counselor" you could read my old blog about it titled "Hello Counselor: The Problem Solver TV Show". Once again, do not get bored with my blog because I still have so many things to review :D I hope you could enjoy it. Happy reading~!!!
"Watch this episode of Hello Counselor below"
About Hello Counselor



Hello Counselor (Hangul: 안녕하세요; RR: Annyeonghaseyo) is a South Korean reality show first that debuted in November 2010. It is hosted by Shin Dong-yup,[2] Lee Young-ja, and Cultwo (Jung Chan-woo, Kim Tae-gyun). Choi Tae-joon joined the show as host starting August 29, 2016. According to the show's official description through KBS, Hello Counselor is a talk show with an emphasis on regular people, regardless of age or gender, that aims to help take down communication barriers by sharing stories about life.[1] The program airs every Monday on KBS World. -wikipedia



"Mijoo, Shindong, and Sujeong"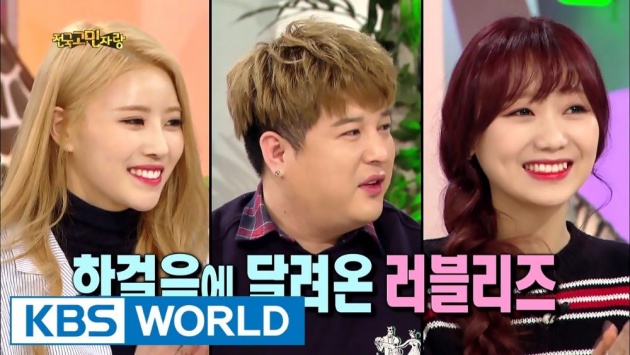 Special Guest: Shindong, Mijoo, Sujeong
On this episode, "Hello Counselor" invites three special guests, Shindong, Mijoo, and Sujeong. Shindong is a member of famous Korean boy group idol, "Super Junior". He is also an MC and also a DJ radio. His name is on the rise because he has recently finished his mandatory military service. Meanwhile, Mijoo and Sujeong are members of the Korean girl group idol, "Lovelyz" which debuted in 2014 under Woollim Entertainment.
1st Concern: Oh, My Baby
The first concern comes from a man in his 20s, Jang Tae-won, who is stressed out by a man which loves him very much which is his own older brother. Her brother always treats Jang Tae-won like a child even in a public place. He always calls him "Baby" or "Prince". Sometimes his brother even wants to sleep with him and when he refused, then his brother will force to enter his room and eventually they sleep together. He came to "Hello Counselor" because he wanted his brother to stop treating him like a kid.
"The younger brother: Jang Tae-won"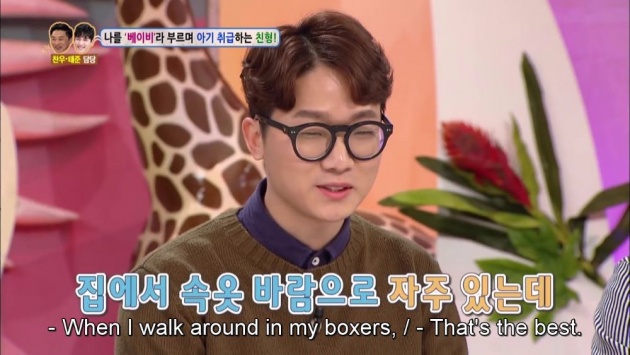 Image Credit: Snapshot from Youtube video
Well, this concern is quite unique and make me cringe when writing this blog :D If you are a bromance lover then I bet you will like this story :D This is quite weird to see when there is older brother who treat his younger brother very affectionately and he show it clearly, especially when their age is no longer considered as young anymore. I think people would find it natural if they were sisters but not if they were brothers.
"Jang Tae-won's older brother"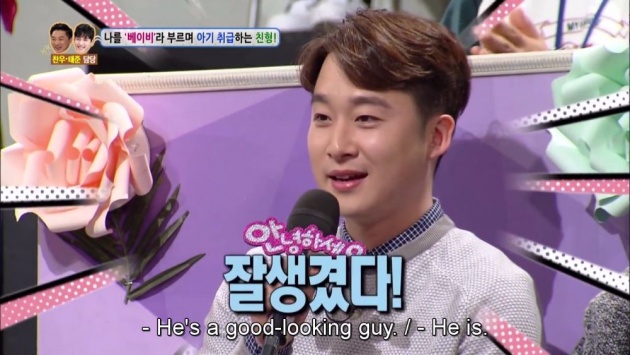 Image Credit: Snapshot from Youtube video
Jang Tae-won then explains that the age gap between him and his brother is 4 years old, he's 24 years old while his brother is 28 years old. Although after he finished his military service, his brother still treats him like a child to the point where he wants to avoid his brother. When he was using the boxer pants, his brother liked to pat his bottom and it's not like usual pat, but his brother slip his hand under Jang Tae-won's pants. And when they eat together, his brother always stare at Jang Tae-won because he find him adorable when eating. Sometimes, his brother even whispered "Tae-won, I love you", right in Jang Tae-won's ear. When Jang Tae-won gets angry at his brother and tells him to stop then his brother will start crying and upset.
"Jang Tae-won and his older brother when they were kid"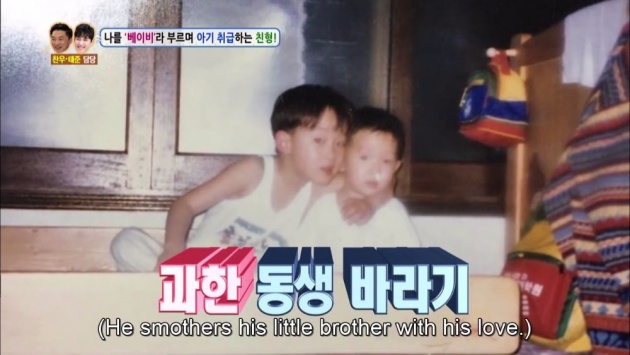 Image Credit: Snapshot from Youtube video
Finally we meet his older brother. He explains that his brother is really his apple of eye. And because he has parental mindset, he always find his brother cute when he is eating. He then explained about the problem when he wanted to sleep next to his brother. He said that once, he missed his brother very much when he woke up in the middle of the night. And when his brother stopped him, he will sneak into his brother room and sleep under his blanket.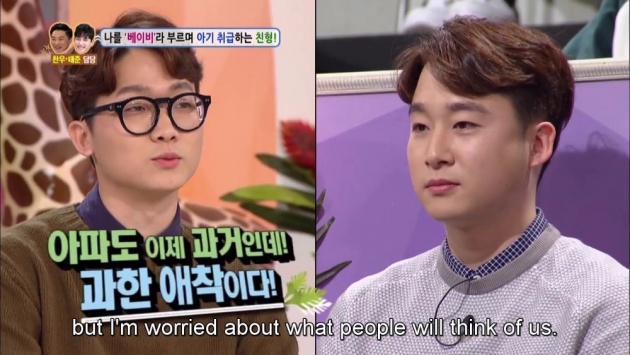 Image Credit: Snapshot from Youtube video
Fortunately, the older brother said that he has girlfriend at the moment. So we do not need to questioned "his preference", right? :D "Hello Counselor" then asks the older brother to give an example on the stage of how he usually treated his brother. And we can see clearly, how much he loves his younger brother. Even he demonstrated the way how he whispered "I love you" to his brother's ear :D
The brother then tells why he loves his younger brother so much. He says that he is afraid of losing his brother from his life. When Jang Tae-won was 10 years old, he was involved in a serious accident that almost killed him. And from then on he was worried that his brother would leave him. Now, I can understand him :(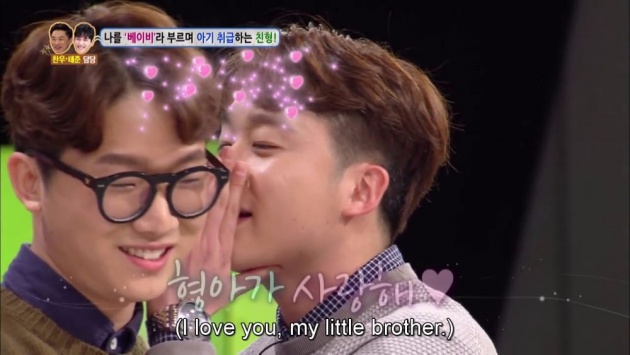 Image Credit: Snapshot from Youtube video
Other than above issues, there are other issues discussed on the show, but I will not discuss it further here. Watch it if you're curious.
Actually, I feel envious with this kind of brothers relationship. Because in here still hard to show the affection between sibling. I mean, the visible affection like saying "I love you", console each other, etc. That's why I find it awkward when I have to show my affection to my brothers or sisters physically. And I think they do the same even though I know they love me.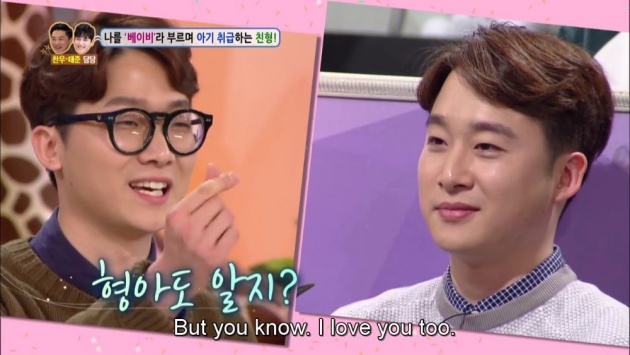 Image Credit: Snapshot from Youtube video
In the end, Jang Tae-won just wants his older brother to stop smelling him and patting his bottom. Since he is an adult now he just wants his brother to watch him from his side. The older brother promised that he would try to less bothered him. He just wants his brother to be able to manage his school life well and always be healthy.
Image Credit: Snapshot from Youtube video
Overall, I would vote this matters as a not serious concern. It's lovely to see their relationship and as long as the older brother does not cross the line, I think it does not matter. With this, he earns 69 votes out of 200 audiences.
"The final result with 69 votes"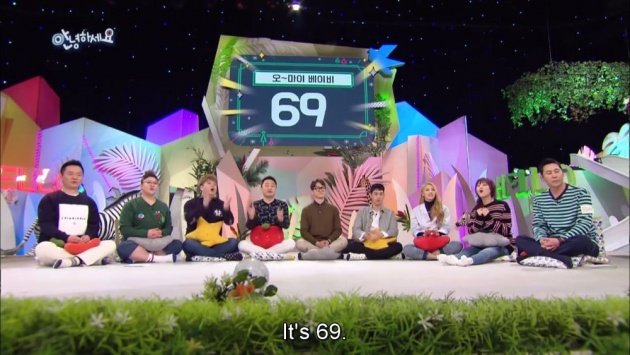 Image Credit: Snapshot from Youtube video
To be continued. . .
That's it my simple review about the first concern of "Hello Counselor" this episode, "Oh, My Baby". I will discuss the other two concern on my next blog which is about "The Farmer's Dream" and "I'm Frustrated to Death!". I hope you enjoy this boring blog and see you next time~ :D
Regards
LookUp
©2017 LookUp. All rights reserved