Korean Reality Show Review: Hello Counselor - Please Fix The Flaws
Hello guys~ LookUp again here :3 I come with new blog and new episode of "Hello Counselor" to review. In this blog I will discuss about the first concern, "Please Fix The Flaws". If you want to know more about "Hello Counselor" you could read my old blog about it titled "Hello Counselor: The Problem Solver TV Show". Also read my review about other episode in here or here. Once again, do not get bored with my blog because I still have so many things to review :D I hope you could enjoy it. Happy reading~!!!
"Watch this episode of Hello Counselor below"
About Hello Counselor
Hello Counselor (Hangul: 안녕하세요; RR: Annyeonghaseyo) is a South Korean reality show first that debuted in November 2010. It is hosted by Shin Dong-yup,[2] Lee Young-ja, and Cultwo (Jung Chan-woo, Kim Tae-gyun). Choi Tae-joon joined the show as host starting August 29, 2016. According to the show's official description through KBS, Hello Counselor is a talk show with an emphasis on regular people, regardless of age or gender, that aims to help take down communication barriers by sharing stories about life.[1] The program airs every Monday on KBS World. --wikipedia
"Hwang Chi-yeul, Hyo-jung, and Jiho"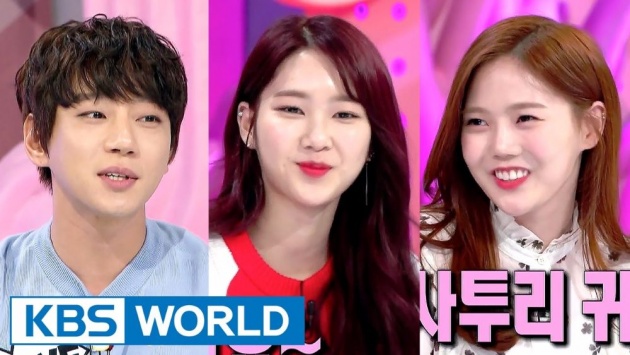 Special Guest: Hwang Chi-yeul, Hyo-jung, Jiho
On this episode, "Hello Counselor" invites Hwang Chi-yeul, Hyo-jung and Jiho as the special guest. Hwang Chi Yeul is a South Korean singer. He became known after his appearance in a variety show "I Can See Your Voice" despite his debut since 2007. Since then, he has appeared on many TV programs such as "Happy Together", "Immortal Songs 2", "Radio Star", etc. He is now a co-host on TV program called "Immortal Songs 2". Meanwhile, Hyo-jung and Jiho is a member of the girl group from South Korea, Oh My Girl or OH!MYGIRL. The group was formed by WM Entertainment and debuted on April 21, 2015, with an eponymous mini-album
1st Concern: Please Fix The Flaws
The first concern came from a 30s year-old housewife, Kim Jeong-nim. She comes to "Hello Counselor" because she has a problem with her husband. Her husband drinks alcohol every single night and the food to pair with it must be meat at all times. She has to grills meat for him by his side while he drinks. One day, she complained to her husband and asked him to grilled the meat by himself because it was tough for her. However, because of that her husband did not talk to her for a whole week. She came to "Hello Counselor" with hopes to fix her husband.
"The wife: Kim Jeong-nim"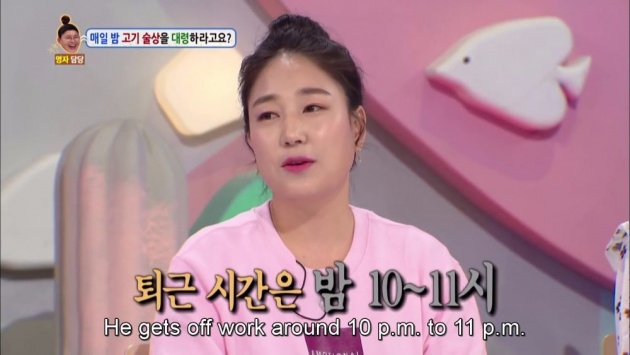 Image Credit: Snapshot from Youtube video
Well, who would not complain if a wife had to serve and grills the meat for her husband every night? It's a tough job and a wife is not the same as a servant. It's OK if it just twice or thrice a week, but doing it at all days is crazy, right?
She said that usually her husband gets off work around 10 p.m. to 11 p.m. And once he comes home, the meal has to be prepared on the table so he can eat it right away. Her husband usually drinks 2 bottle of soju everyday and a pitcher of beer. She has to grills the meat by his side while standing so she can place the meat on her husband plate while it still hot. She does it while standing because it's easier for her if her husband want her to bring stuff for him quickly. The other problem is, her husband eat all the meat alone. When she asked him to give her some meat, he said that the meat was not enough for him and he didn't offer the meat for her.
"Kim Jeong-nim's husband"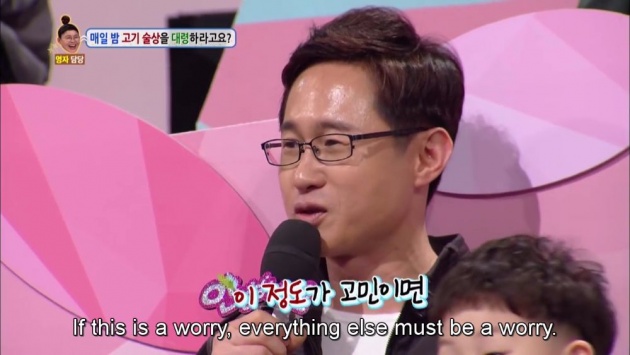 Image Credit: Snapshot from Youtube video
We meet with the husband. He said he didn't understand why this is a worry. He reasoned, grilled meat is the best food to pair with alcohol because other than it his hangover would last longer in the next day. He also said that it's tough for him if he has to grills the meat by his own hand and doing it after working would be too sad for him. About being sullen and didn't talk to his wife for whole week, he reasoned that he become quiet when he feel unpleasant :3
"Kim Jeong-nim's husband and their childs"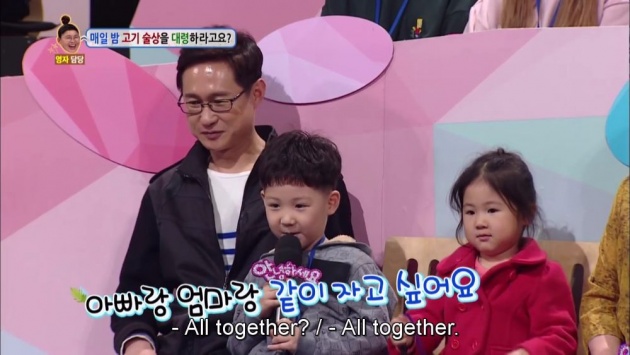 Image Credit: Snapshot from Youtube video
Well, I can feel that the husband is stubborn type of person and he thinks all husband would act like him to their wives. Yeah, it has become a wife's duty to serve her husband, but still this is not right. It's common if the wife prepares a meal every day for her family, but in this case the husband is so demanding and imposing his own will. Although the wife complained that she had tough time to this, but it seemed the husband did not care about it.
"The husband's mother"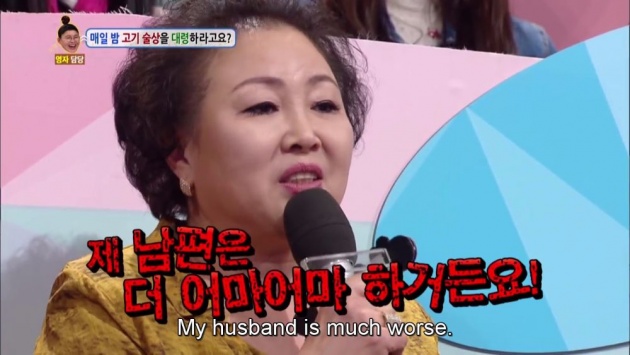 Image Credit: Snapshot from Youtube video
Based on the husband's mother statement, it turns out he imitates his father's habits. The mother said that she has served her husband for 30 years with the same case. So this could have an impact on the mindset of the husband which based on him this kind of treatment is common and normal between husband and wife.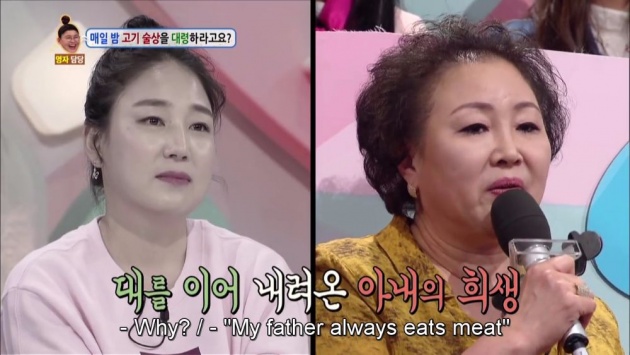 Image Credit: Snapshot from Youtube video
The other problem occurs regarding the financial part. For every month, he needs two boxes of soju or around 60 bottles, 30 pitchers of beer and 6 kg of meat to be with it. In total, they have to spend around 1000 dollars every month just to fulfill the husband's wishes. Even so, the husband refused to cut down it even though the wife stated that she hasn't bought clothes for five years.Isn't it unfair? :3 He reasoned that he can't relieve his stress if he has to reduce the budget and can't eat meat and drink alcohol everyday. While the wife has to struggle saving money and find it a waste if she just use it for her stress reliever. And yet, the husband still couldn't understand this :3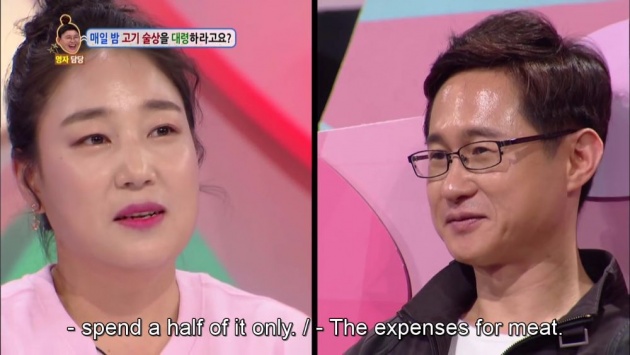 Image Credit: Snapshot from Youtube video
In the end, the wife just want her husband to wash the grill he uses every night. She also want him to give her a day to where she can relieve her stress. For the food expense, she want her husband to cut it down half. And yet, the husband still didn't understand why this is a worry. Instead he make a deal, if the audiences vote it as a serious concern or get more than 100 votes then he will try hard to change and he will agree to what his wife wants.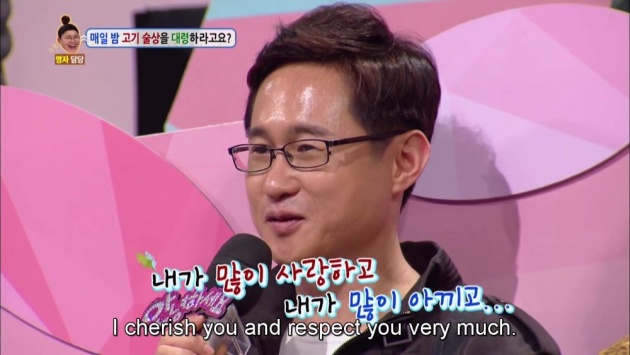 Image Credit: Snapshot from Youtube video
Overall, I would vote this matter as a serious concern. It's frustrating when watching this segment. The wife treats her husband too well and yet the husband just take her for granted. Even he still couldn't empatize with the wife and make a deal with her, but of course many audiences will think this matter as serious concern. With this, she earned 132 votes out of 200 audiences and the husband agrees to fulfill his wife's wishes.
"The final result with 132 votes"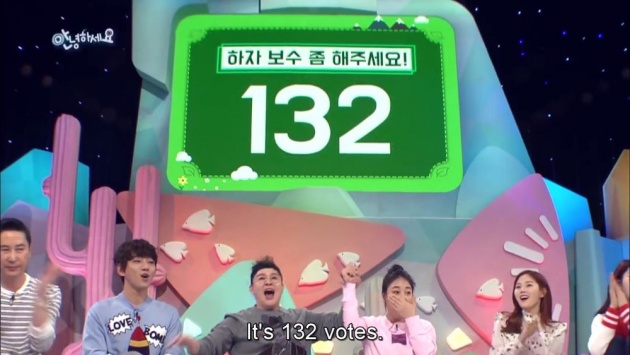 Image Credit: Snapshot from Youtube video
To be continued. . .
That's it my simple review about the first concern of "Hello Counselor" this episode, "Please Fix The Flaws". I will discuss the other two concern on my next blog which is about "Where Did You Come From?" and "Good Guy, Bad Guy". I hope you enjoy this boring blog and see you next time~ :D
Regards
LookUp
©2017 LookUp. All rights reserved