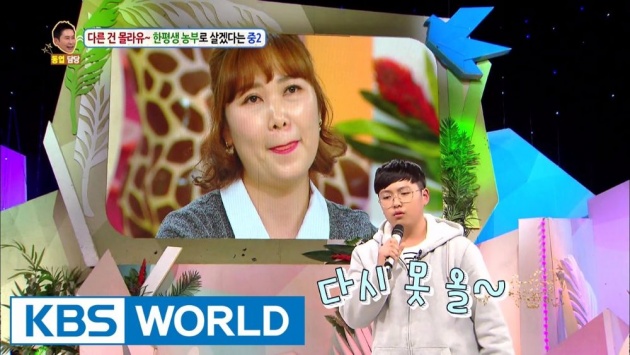 Korean Reality Show Review: Hello Counselor - The Farmer's Dream
Hello guys~ LookUp again here :3 In my previous blog, I have discussed the first concerns of "Hello Counselor" about "Oh, My Baby", and now I am going to discuss about the second concern, "The Farmer's Dream". If you want to know more about "Hello Counselor" you could read my old blog about it titled "Hello Counselor: The Problem Solver TV Show". Once again, do not be bored with my blog because I still have so many things to review :D I hope you could enjoy it. Happy reading~!!!
"Watch this episode of Hello Counselor below"
About Hello Counselor
Hello Counselor (Hangul: 안녕하세요; RR: Annyeonghaseyo) is a South Korean reality show first that debuted in November 2010. It is hosted by Shin Dong-yup,[2] Lee Young-ja, and Cultwo (Jung Chan-woo, Kim Tae-gyun). Choi Tae-joon joined the show as host starting August 29, 2016. According to the show's official description through KBS, Hello Counselor is a talk show with an emphasis on regular people, regardless of age or gender, that aims to help take down communication barriers by sharing stories about life.[1] The program airs every Monday on KBS World. -wikipedia
2nd Concern: "The Farmer's Dream"
The second concern came from a mother, Choi Bong-ran which come from Anseong, Gyeonggi Province. She came to "Hello Counselor" because she had a problem with his 15-year-old son who always did farm work every day. Her son always plows and manures a field, plants chilies, feeds animals, etc, since the dawn. He only cares about farming and study always comes last. Whether there is bad weather or special occasion, farming always be his main priority. The mother hopes that her son can stop doing those things.
"The mother: Choi Bong-ran"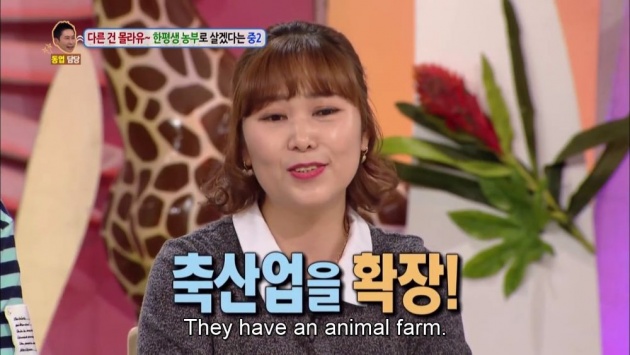 Image Credit: Snapshot from Youtube video
Well, another unique concern about the dream of a young man. Based on the little description above, I doubt if this is a serious concern. Because you know, there are many boys in his age who is still looking for identity and did not know their dream or their goal in life. Actually, this is quite a rare thing, where there is a young man who dedicates his life to do farming. Even this is hard to find in my village where I live which most of people are a farmer.
"The son: Han Tae-woong"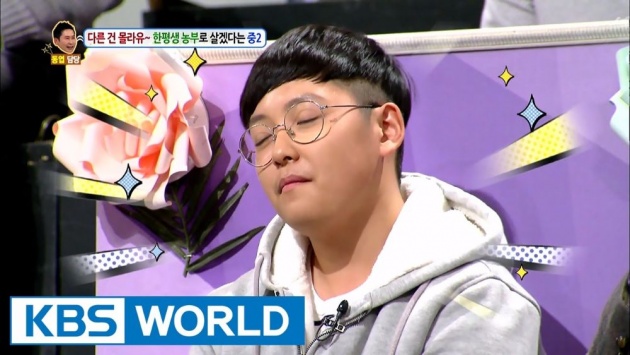 According to the mother, her son becomes interested in farming because of the influence of his grandfather who is a farmer. He used to follow his grandfather to farm even since he was nine years old. And since then he has decided that he will live as a farmer. The mother then recounts her child's routine. The child wakes up at five in the morning every day, harvests chilies and sesame seeds, plants beans, and help his grandfather clean the cow shed. He even has his own animals farm which consists of 100 chickens, 10 goats, 6 dogs, and 2 rabbits.
"The son feeding the chickens"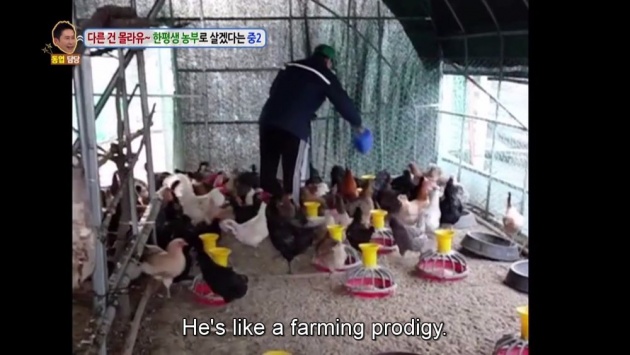 Image Credit: Snapshot from Youtube video
The most worrying thing based on the mother is about his study, because he is still a student. He even once skipped school when he learned that his goat gave birth and searching about goat in the internet all day. Even the teacher had called the mother, and told her son to use his time to study.
Finally we meet the son, Han Tae-woong. He said that he want to try hard to do farm and revive the agriculture industry. And he admitted that his grandfather had a big influence why he enjoyed farming. "Hello Counselor" then aired a video recording of the son's daily activities, ranging from cleaning shed, feeding goats and chickens, even plowing using tractors.
"The son driving the cultivator"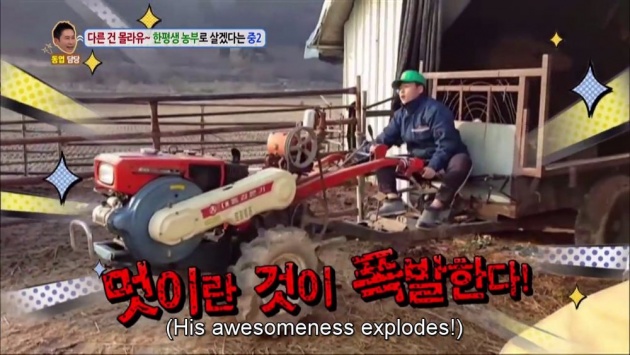 Image Credit: Snapshot from Youtube video
When the host was mentioned about the study, the son replied that there farmer who are good at study but there are also farmer who are not good at study. He just want to be good person and good farmer.
The grandfather also admitted that his grandson was talented in farming, even better than him. He just worried about him while driving the tractor and other family members also have same worry. The son has experienced several accidents and sometimes did not tell other family members about it.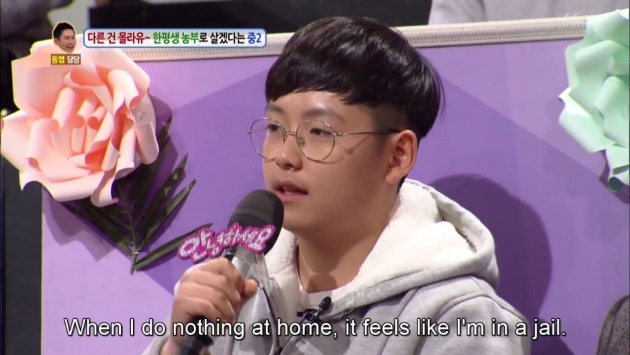 Image Credit: Snapshot from Youtube video
Well, the son gave a startling impression when he first introduce himself. He is only 15 years old but his way of speaking is like an old man from village. If you often watch Korean dramas, then I'm sure you know what I mean, and that's funny :D And based on his video recording, he looks enjoying his job as a farmer. About his study, I can't say much about it and I am agree to what he said that there are farmers who good at study and not good at it. I just hope that he is a little more concerned about his study to ease his mother mind. And I hope he also listen to his mother words about his safety while driving.
"The son's grandfather"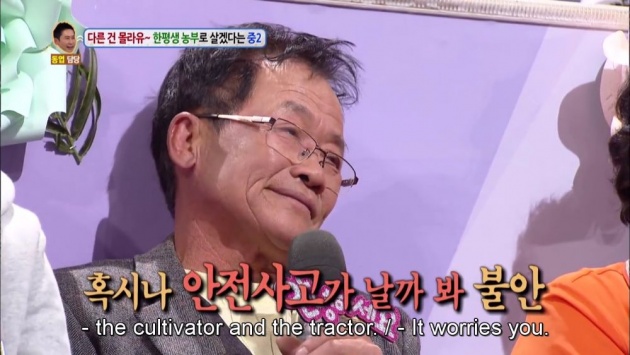 Image Credit: Snapshot from Youtube video
Actually, he is a wonderful son and I'm sure many parents want a son like him. He is self-sufficient and knows what he will do in the future, even he can buy farm equipment that is not cheap with the money from his farming. He is more talented than he looks and he just need guidance from the people around him. Because too much focus on one thing is not good and otherwise.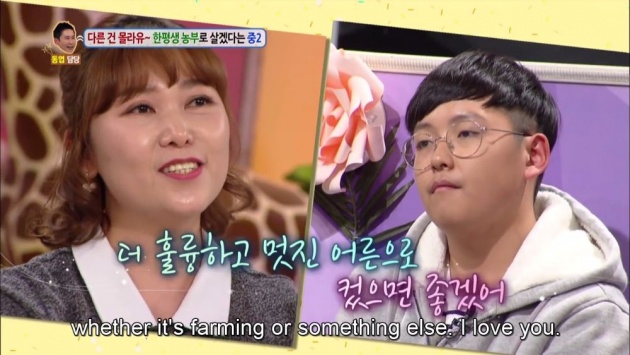 Image Credit: Snapshot from Youtube video
In the end, the mother simply hoped that her son will pay more attention to his study and his safety when he works. The son just want his mother to support his dream. He also promised that he will put more attention to his safety while working and will put a little more effort to study.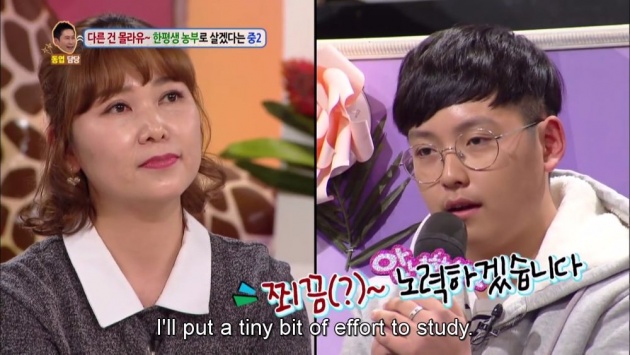 Image Credit: Snapshot from Youtube video
Overall, I would vote this matters as a not serious concern. He is great as he is now. He just need to put more attention to other people advice and consider it. I hope he could manage his time and divide it not only for farming all day but also enjoy the time with his family. With this, she earned 113 votes out of 200 audiences.
"The final result with 113 votes"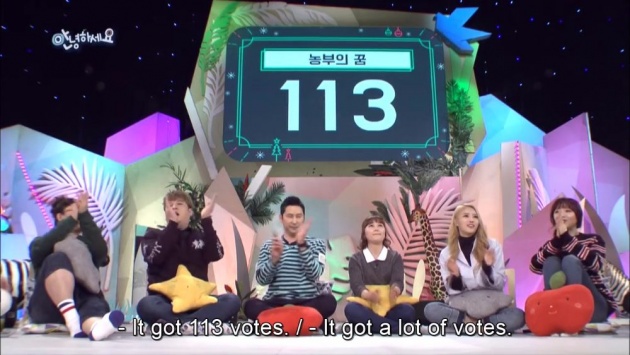 Image Credit: Snapshot from Youtube video
To be continued. . .
That's it my simple review about the first concern of "Hello Counselor" this episode, "The Farmer's Dream". I will discuss the last concern on my next blog which is about "I'm Frustrated to Death!". I hope you enjoy this boring blog and see you next time~ :D
Regards
LookUp
©2017 LookUp. All rights reserved