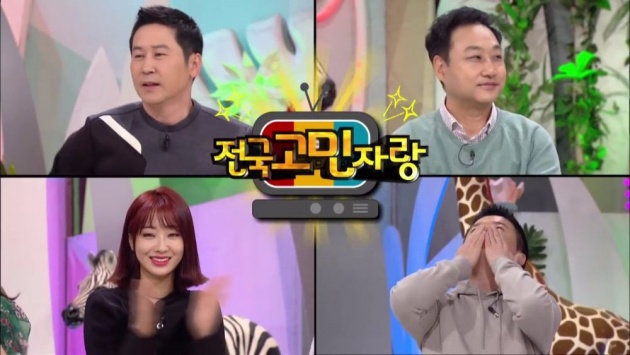 Image Credit: Snapshot from Youtube video
Korean Reality Show Review: Hello Counselor - They Don't Move
Hello guys~ LookUp again here :3 In my previous blog, I have discussed the first and second concerns of "Hello Counselor" about "It's Really Over" and "A Man in Fear", and now I am going to discuss about the third concern, "They Don't Move". If you want to know more about "Hello Counselor" you could read my old blog about it titled "Hello Counselor: The Problem Solver TV Show". Once again, do not be bored with my blog because I still have so many things to review :D I hope you could enjoy it. Happy reading~!!!
"Watch this episode of Hello Counselor below"
About Hello Counselor
Hello Counselor (Hangul: 안녕하세요; RR: Annyeonghaseyo) is a South Korean reality show first that debuted in November 2010. It is hosted by Shin Dong-yup,[2] Lee Young-ja, and Cultwo (Jung Chan-woo, Kim Tae-gyun). Choi Tae-joon joined the show as host starting August 29, 2016. According to the show's official description through KBS, Hello Counselor is a talk show with an emphasis on regular people, regardless of age or gender, that aims to help take down communication barriers by sharing stories about life.[1] The program airs every Monday on KBS World. -wikipedia
3rd Concern: "They Don't Move"
The third concern comes from a mother in her mid-30s, Park Eun-ji. She comes to "Hello Counselor" because she has a problem with two "sloths" who live in her house. They are her husband and her 15-year-old daughter. Her husband did nothing while lying on the bed, while her daughter did nothing while lying on the couch. Because of this, her daughter's weight rose 20 kg just in a few months. She comes to "Hello Counselor" with hope that they can move around again.
"The mother: Park Eun-ji"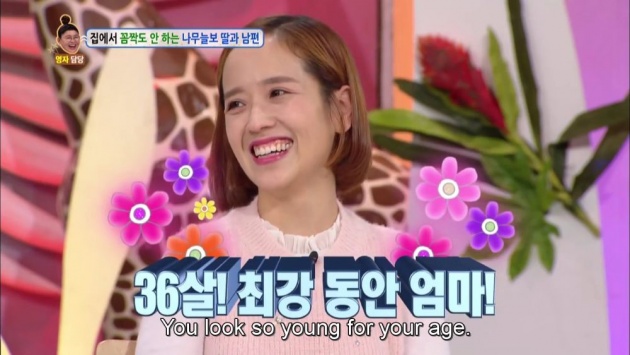 Image Credit: Snapshot from Youtube video
Well, I think this concern is a common thing that happens to young people nowadays. Sometimes I also do that, lying around on the bed while playing phone and lazy to move or to do anything :D But I am not as bad as her daughter who always tells people to get anything for her while she just lying on the couch and watching TV. I was surprised when the mother, Park Eun-ji appeared. Because she does not look like a mother who is 30 years old and already has a 15 year old daughter. She just looks too young for her age.
"The daughter and the father"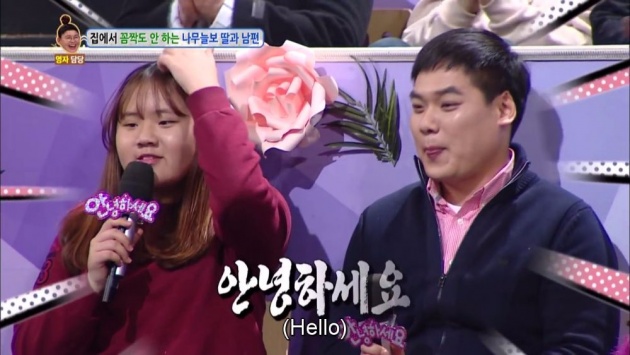 Image Credit: Snapshot from Youtube video
The mother explained that her daughter had changed since the winter break. She always lies on the couch and watch the TV without doing anything. Even she always asked her mother or her little sister to get something for her. She also added that her daughter used to be active and positive child. Like she used to walk to her school though far away and she even performed girl group dance at the festival. Her daughter did not give a clear reason when asked by her mother why she was like that. She just replied because she was lazy and it was annoying to do something. I can feel you :D The more surprising thing is, based on the story of the daughter's schoolmate, the daughter never used the bathroom even once and just sat in her chair until school finished.
"The daughter before gained weight"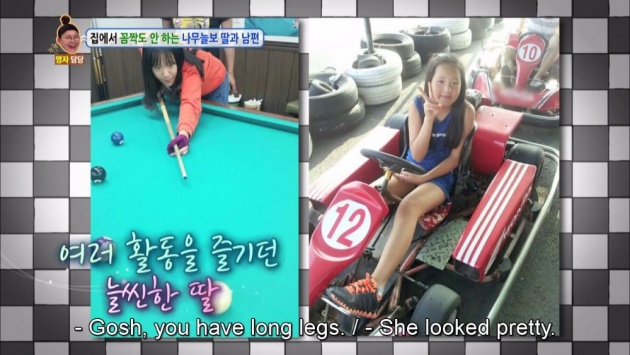 Image Credit: Snapshot from Youtube video
Somehow I can relate to her laziness :D I used to rarely use the bathroom in school. The reason is because, I did not have the urgent need to use it, maybe because I'm not the type who likes to eat and drink :D Another reason is, I did not like the public bathroom which mostly dirty, smell, and not enough water. But I have no choice if it really can not be tolerated:D
Finally we meet with the lazy daughter. She then recounts her daily activities. Since she woke up in the morning, she then watched TV by sitting or lying on the couch. She then eats, lies down again, watches the TV, and lies down again, and leaves for school. When asked about her laziness at school, she says that she does not have urge to go to bathroom and she does not drink water since it is far from her :D She also said that she also often asked her friends to get something for her.
"The daughter while at home"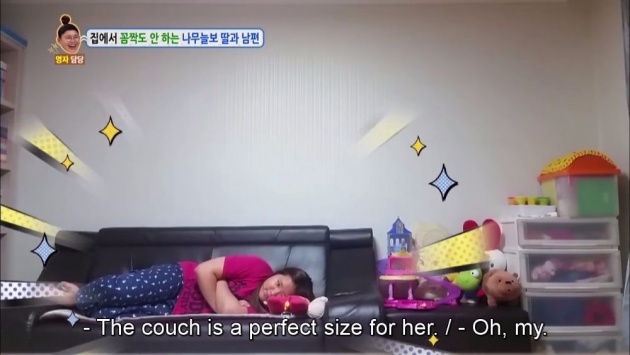 Image Credit: Snapshot from Youtube video
"Hello Counselor" then played a recording of a hidden camera that was deliberately recorded by the mother to know how the daughter's activities at home. In the video recording, the daughter clearly visible lying on the sofa while watching TV and she did it for hours. She looks very comfortable and even hardly moves at all :D The daughter then said that her habit is the influence of the father who also often lying on the bed. And yeah, the father admit it, but he said that he has changed. Now he also helps with daily chores.
Being lazy is not the only problem. Later, the mother said that her daughter can't do anything on her own. The mother always did everything for her daughter. And then we know that actually the mother is kind of perfectionist type which always do everything according to her. The daughter also said that she once tried to do something on her own but her mother did not satisfied with it and in the end the mother always do everything for her.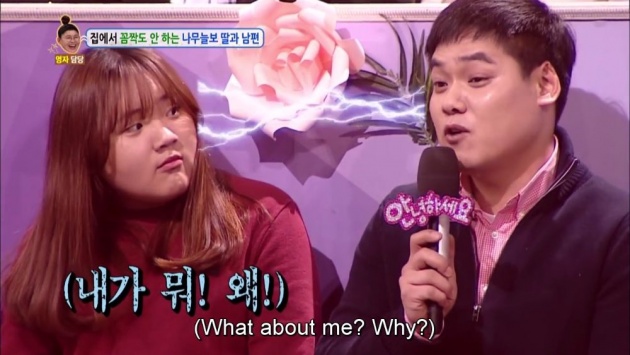 Image Credit: Snapshot from Youtube video
In my opinion, the parents is at fault here, and they admit it. As parents, they should not spoil their children by doing anything for them on the pretext that they are valuable or precious. Give the children a chance to do something on their own and guide them.
The problem is not over, the mother said that her daughter also sometimes said rude things or show tantrum to her even in public place which is even made her cry. When the husband was asked about his daughter's attitude, he replied that it was also a parent's fault. He explains that he and his wife are the same age and when they talk they do not keep their language even though there are children around them, so it indirectly affect their child behavior too and they also often spoil his daughter. In addition, the daughter is in her puberty period.
I am glad that the husband realizes that the parents play an important role in the growth of his daughter and he admits that they are at fault for spoiling his daughter. The daughter is also in puberty period which I think it's natural if she behaves like that. As the parent they just need to watch her and guide her if she do something wrong.
"The daughter tried to mimic comedian"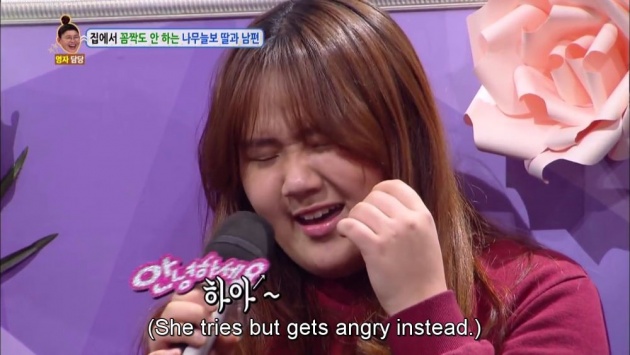 Image Credit: Snapshot from Youtube video
The mother is also wrong in this case, because she has high expectation from the daughter's grade which can make the daughter feeling pressured. The daughter said that she has a different dream from what her mother dreamed of. And she was afraid that her mother could not accept her dream. The daughter said that she wants to be a comedienne.Of course, the mother was surprised to hear this because her daughter never told her about it.
It seems that they has known each other's faults now, whether the father, mother, or the daughter. In the end the mother hopes that they can share more and more considerate with each other. The daughter also said that she will try to speak politely from now on and will try to be more active.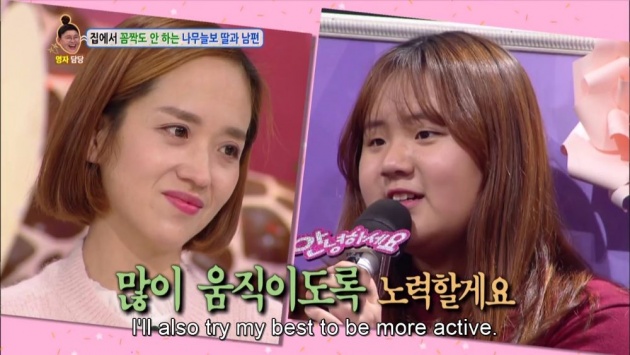 Image Credit: Snapshot from Youtube video
Overall, I would vote this matter as a not serious concern. As a parent they should give good example to her daughter and do not have high expectation about the daughter's grade which can pressure her. Because not all children are good with their education's grade and I am sure she has good things in other field. With this, she earned 45 votes out of 200 audiences.
"The final result with 45 votes"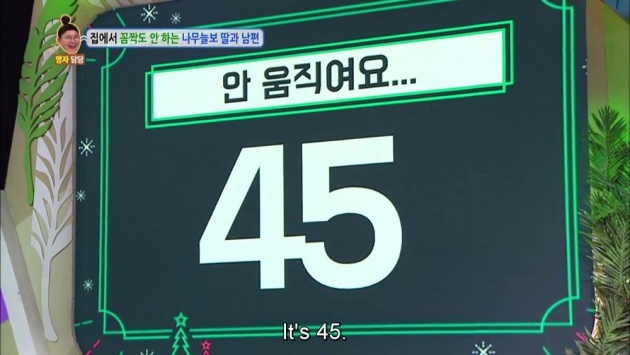 Image Credit: Snapshot from Youtube video
Today's Winner
In the end, "It's Really Over" come out as the winner of this episode with 140 votes and "Hello Counselor" will give $1000 gift certificate to the winner as the prize.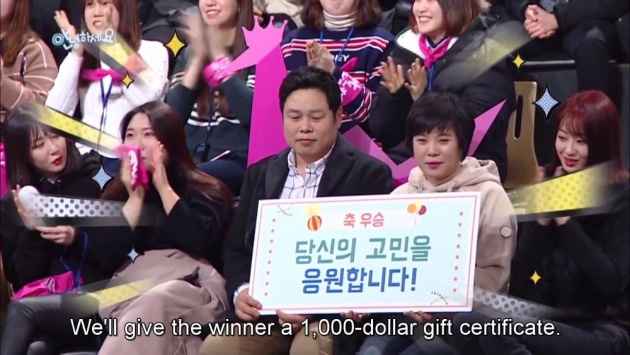 Image Credit: Snapshot from Youtube video
That's it my simple review about "Hello Counselor". Wait for my next blog about "Hello Counselor" and see you next time :D
Regards
LookUp
©2017 LookUp. All rights reserved