Late Lunch at Alamat Restaurant, Tagaytay
It's about 3 in the afternoon. This was after our visit at Yoki's Farm and we hadn't had lunch yet. We also had no clue where we'd go next--we scrapped the idea of going to Sonya's Garden. Well, were else would be go but at one of Tagaytay's popular sites?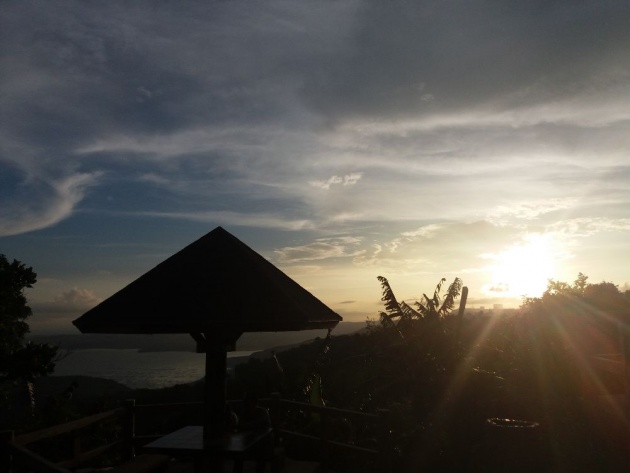 View at Picnic Grove. Photo credit: lapiz-lazuli
We've been there a few times already, mostly when we were little. But the place gradually changes from time to time. A new attraction inside this place pops every now and then, until it has really gotten crowded with both tourists and vendors with their merchandise.
I wasn't expecting an eatery inside Picnic Grove, because the usual setup would be to bring your own food, find your spot, and cook or eat it in there. But we were famished and we were tired; we tested our luck of looking for a restaurant, not just some food kiosk. Lady luck might have heard us because we saw Alamat Restaurant.
Alamat Restaurant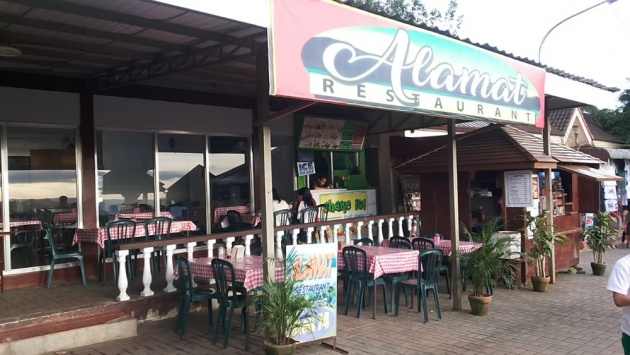 Photo credit: lapiz-lazuli
There's not much to be said about the place. It looks like a typical Filipino-style restaurant, with wooden tables, wooden chairs (some, plastic) and wooden frames.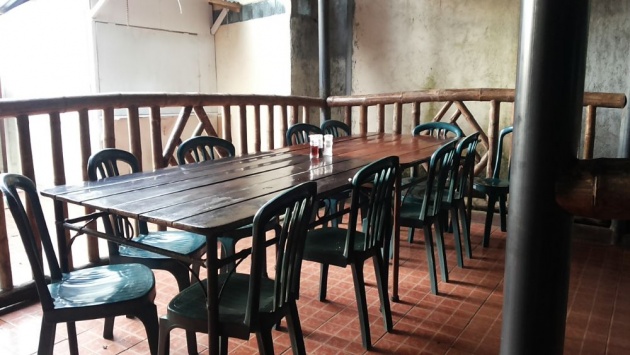 Photo credit: lapiz-lazuli
But I kinda like the aesthetic, as it might draw in curious and excited foreigners while enjoying the view of Taal volcano (after they've had their fill). You can't see the lake when you're inside the restaurant, but step outside and move a little, and you can savor the fresh air and the breathtaking sight of Taal.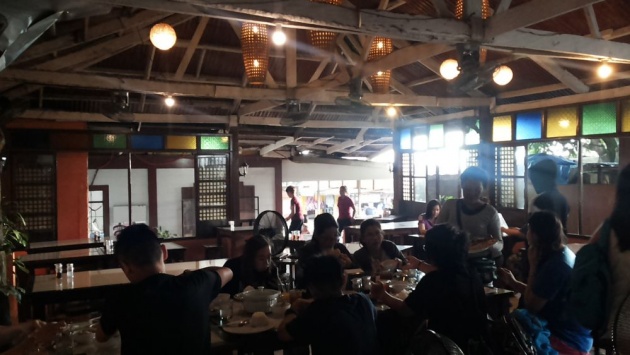 Photo credit: lapiz-lazuli
Alamat Restaurant is a little roomy with good ceiling height. It didn't feel claustrophobic nor suffocating inside. It's well ventilated because most of the areas' windows aren't covered with glass, it's very open (and IIRC, there was air conditioning at some areas). On top of these, the back side was surrounded by trees.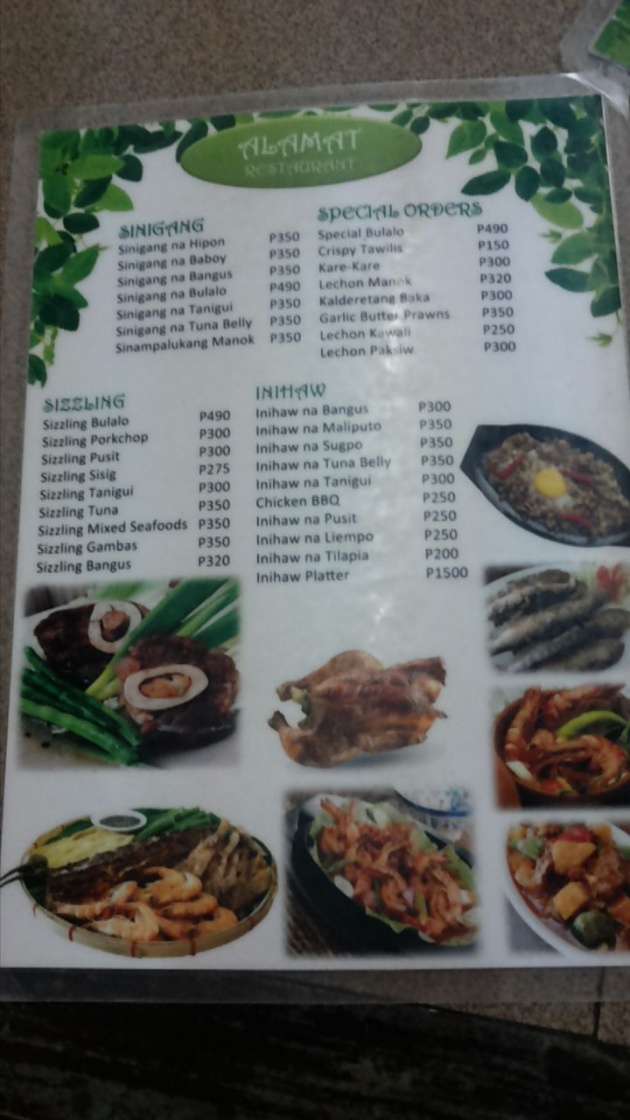 The Menu. Photo credit: lapiz-lazuli
I just wished it had a lounging area so I could at least take some powenapping, but only monoblocks and benches without backrests (called bangko in Filipino) were available.
Video credit: lapiz-lazuli via bitlanders.com
Everything was tolerable except their restroom. Jollibee restrooms were more presentable than theirs. But from the restroom selection in Picnic Grove, you'll plunge in, for the sake of nature's call.
Food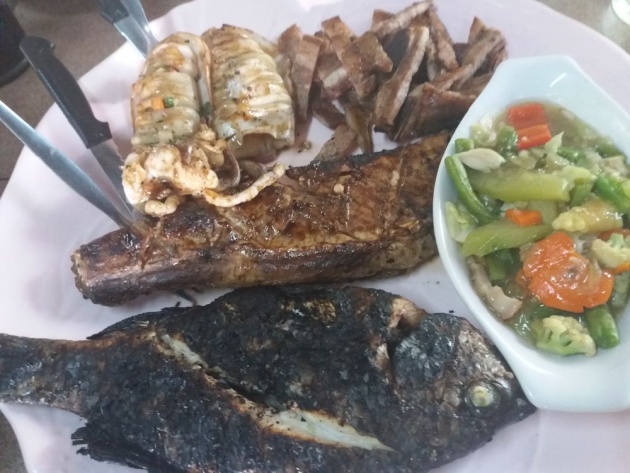 Grilled Platter. Photo credit: lapiz-lazuli
Squid
I suggested squid on our platter. The size reminded me of a nautilus, eventhough it looked medium-sized. They had onion-garlic stuffing, and something else I can't pinpoint (probably chili? Or was it tomato?). I kind of gobbled up one whole squid--slowly--completely cutting it little by little on its cut up areas but had this work cut out for me as it was hard to cut it bit by bit (haha). I, however, didn't remember it very gooey or hard to chew, but it also wasn't soft and not a melt-in-your-mouth delicacy. I guess it was so-so.
Shrimp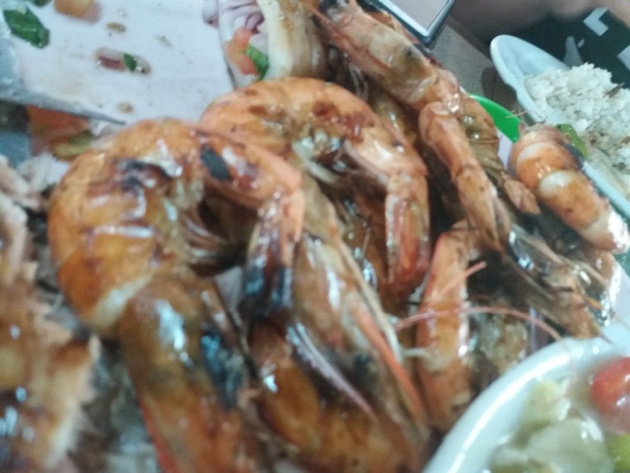 Photo credit: lapiz-lazuli
Originally, this was pork on the platter, but since we just had lechon kawali at Charito, we all decided to change it to seafood. The waiter must've forgotten so he served our platter with pork instead of shrimp. Kindly and patiently enough, they've changed the pork into our intended order.
Hmm, what can I say about their shrimp? Maybe they were cramming so it wasn't cooked well, or rather it was cooked too much! It was hard to skin the shrimp because it latched on to the flesh. The cook probably turned the heat up to maximum, unminding (or forgetting) to remove the shrimp at an earlier time.
Tilapia
So much seafood in our platter and you can't go wrong with this one. It's a simple fish, but many people are gaga over tilapia. But did you know that some fish-farmers feed their tilapia with chicken sh*t? It was news...
Alamat Restaurant's tilapia is an ok dish. It can be memorable to some and can be forgettable to others. There's no secret marinade or sauce that came with it, but tilapia's flesh has a unique flavor that everyone likes so order this one up if it's your favorite.
Tanigui
Tanigui/e is Filipino for Spanish Mackerel. This fish is rich in omega fatty acids which are very good for one's overall health, escpecially the circulatory system.
I also recommend you to try this dish out when you're at Alamat Restaurant. Like tilapia, it is delicious on its own, without the fuss of marinating or even basting. Yum!
Chop Suey
I kind of explained what this dish is. The verdict is that the resto's take on this dish is so-so, with a little more of greens and a little less of other chop suey colors.
Sisig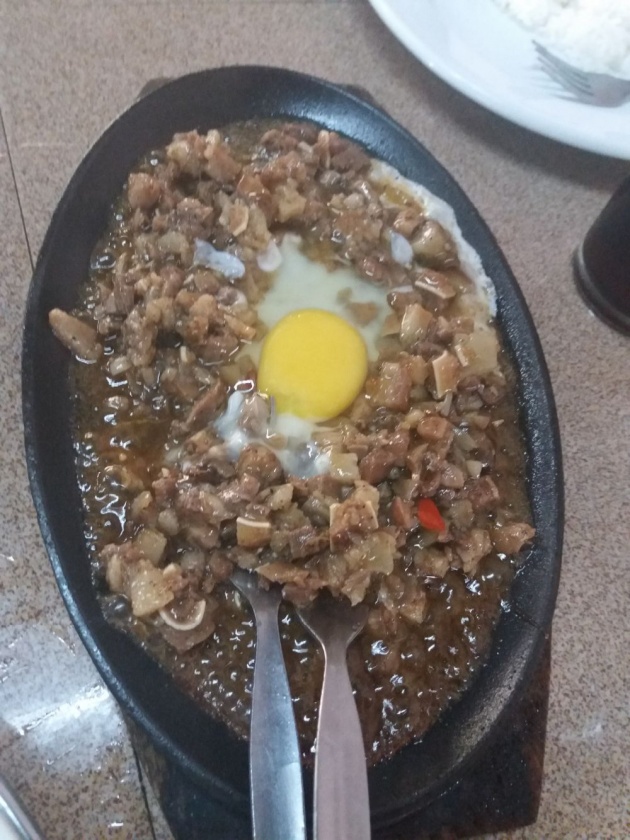 Photo credit: lapiz-lazuli
If your group has 4 or more members, and if you want to try their sisig, order at least 2 plates because their portion size is small. If you don't want it spicy, you can ask the waiter to ditch the green chilis and just serve it with raw egg. Sisig can really set your tongue aflame (not exaggerating). Trust me, don't tread this dark water.
If you still followed your heart and braved those spoonfuls of green devils, don't worry because their water is cold, purified and bottomless.
Bulalo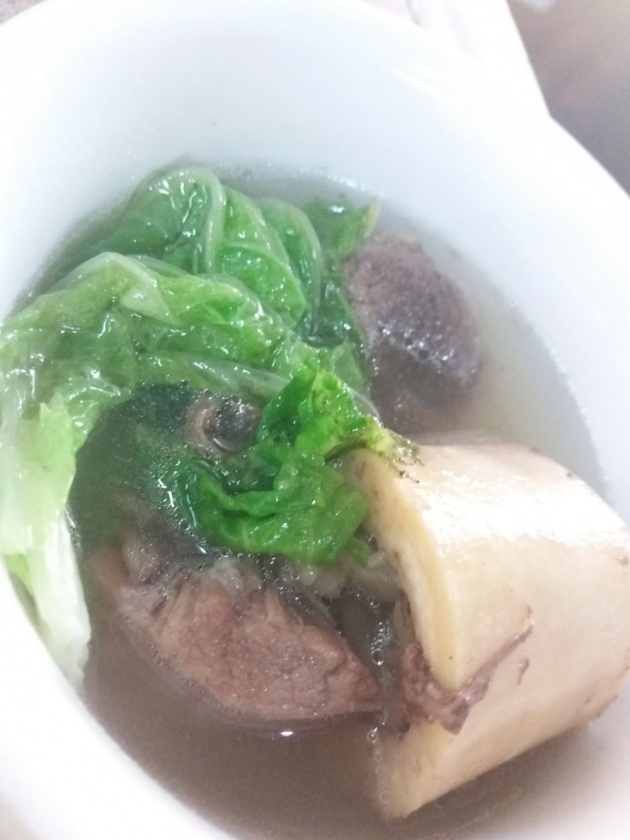 Photo credit: lapiz-lazuli
When visiting Tagaytay, do put in your checklist to order Bulalo from any restaurant, but reputable restaurants have better tasting bulalo. Have I described what is bulalo? Yes? No? Anyway, bulalo is beef soup with shanks, marrows, corn on the cob, potatoes, cabbages and bok choys. It is cooked for a long time so the flavor would seep out on the broth.
I tasted better bulalo but their version isn't that bad. The good thing is that they would refill the broth if you ran out of it; worse is that the flavor thins out until you're sipping oily water and cabbages.
Drinks
Water
Water is bottomless and is self served. Cold and seemed purified.
Gulaman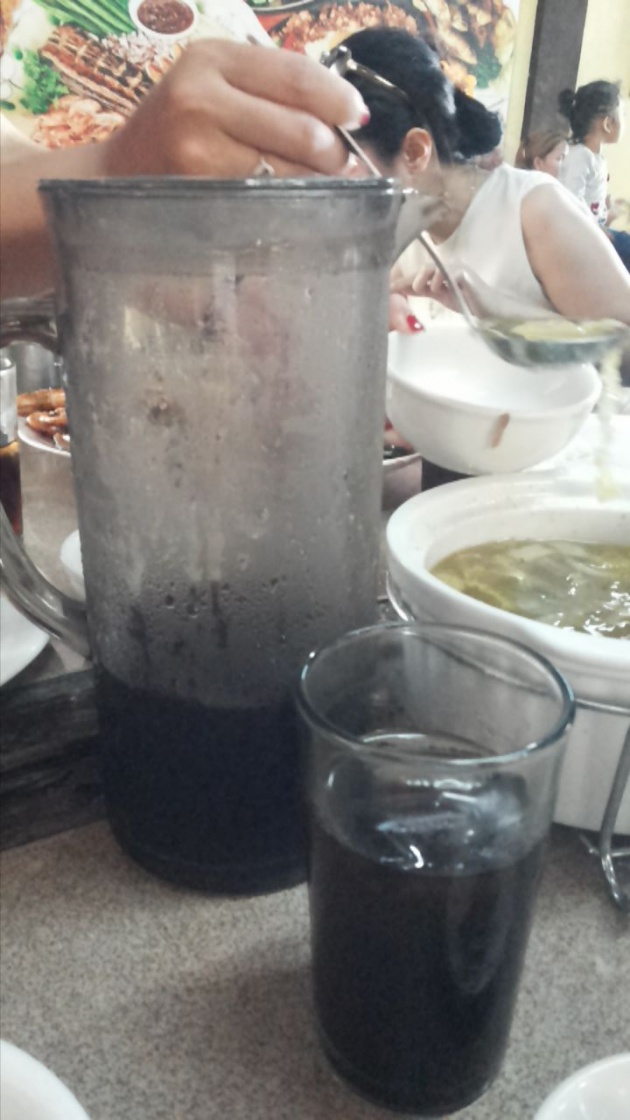 Photo credit: lapiz-lazuli
The filled-to-the-brim Gulaman pitcher was said to fill out around 8 glasses but we managed to fill out 2 more. Bang for the buck, I guess. And it was very sweet and cold.
Service
There were no rude servers; a certain waiter was even generous to allow us to (re)use their washroom even if we left the place after a few hours already. I take it as a kind gesture because there were paid restrooms at Picnic Grove and he allowed us entry for free!
Pictures Slideshow. Video credit: lapiz-lazuli via bitlanders.com
I had very fun memories while were at Alamat Restaurant. We had quite a laugh because of...ok, I won't tell, it's embarrassing and funny at the same time! Food wasn't spectacular but not bad either. Service was good! Overall, a nice place at Picnic Grove.
Disclaimer: Pictures, videos and write-up are originally made by lapiz-lazuli, unless otherwise stated. Views and opinions in this blog post are truthful but subjective and are not influenced by sponsorship of any sort.