Video credits: Eye Recommend via YouTube
Last Saturday, as my husband and I, were done with our dinner from Cabalen, an Eat All You Can type of dining, we agreed to first walk and do window shopping because we were both full and we need to burn some of those Bangus Sisig we had devoured.
I somehow settled up buying my first set of Faber Castell Ecco Pigment Drafting and Sketching pens from 0.1 to 0.8 tip sizes. Then James found Artistich where he embroidered @steemspots in his black cap and then lastly since we had to wait for two hours for the cap to be finished, we ended up at George Optical.
What is George Optical?
Image credits: practo
Fifty percent of my colleagues are already wearing eyeglasses, my parents are both wearing one, my husband as well and I had been having issues with blurry vision and headaches and this, I needed a remedy for these symptoms that my eyesight is not the what used to be the perfect 20-20 vision.
It has been months that I had planned on getting my eyes checked but I never really thought about it until that day. So, when I found George Optical had no other customer inside their clinic, I asked James if we could get my eyes checked first.
Image credits: yourhungrybaker
"We uphold our commitment to giving our patients a more personalized experience and accurate clinical practice that goes beyond vision – eye care beyond eyewear." - Information Reference: www.george-optical.com/about
George Optical takes pride in their many service options to suit each customer's needs. Few of the many services they offer are the following:
- Comprehensive Eye Exam
- Complete Eye Examination + Glaucoma Screening
- Complete Eye Examination + Color Vision Test
- Complete Eye Examination + Cycloplegic Refraction
- Orthokeratology
- Myopia, Hyperopia, Glaucoma, Astigmatism Treatments
Aside from those, they also do specific professional services such as frame repairs, lens cutting, follow up checkups, consultations, and a lot more.
But what really encouraged me to get my eyes checked is the fact that there was not even a single customer inside while when we passed by EO Optical, there were hundreds of people around so I believe that the optician can provide me with better service when he or she isn't pressured.
What is a Comprehensive Eye Exam?
Video credits: Davis Vision via YouTube
As per Doctor Zonie, the Doctor of Optometry available at the time of visit that they are the only optical clinic in Cebu City which offers this Comprehensive Eye Exam.
This type of exam is far more than just the simple read the letters at a distance type of examination. My husband James had only that check when he got his personal eyeglasses and he literally said that what I went through during this type of examination was far better than just reading and then proceed with getting a new lens.
So What does a Comprehensive Exam compose of?
Image credits: rd.com
Parts of it includes a case history if there are any visual issues of the direct family, parents, or even grandparents. Another set of questions asked was to analyze the visual requirements of the patient, the doctor will ask what are the daily activities of his or her patient so the provided lens and frame suit well to the demands.
Visual Acuity is also included. This means each eye will be tested with reading letters near and far as well as the vision capabilities for both eyes. This is what the normal eye exams perform.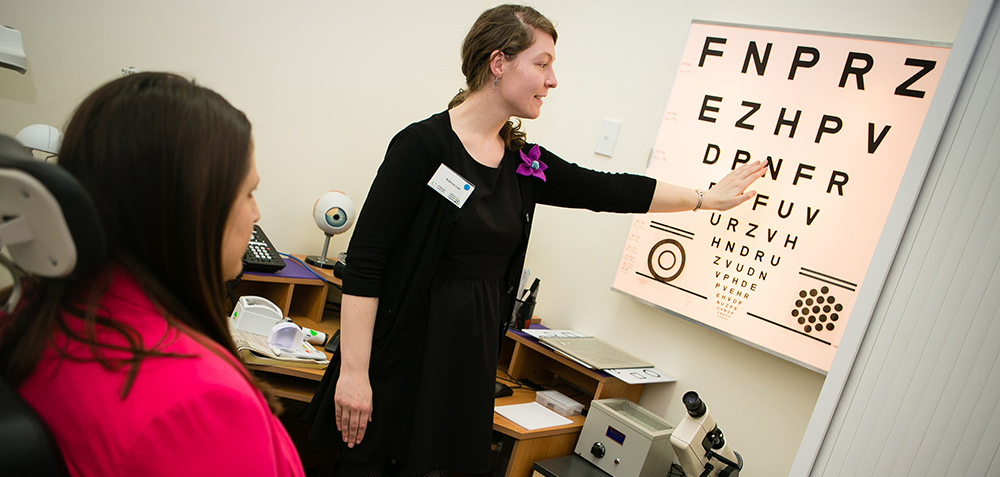 Image credits: visionaustralia
Refractive Status Diagnosis is the test done to check the focusing status of the lower eye. Then comes the Binocular vision assessment which covers the hand-eye coordination of the patient while using the test lenses. Also, color vision is tested here at the same time.
Overall Eye Health assessment comes next which includes checking the overall condition of both eyes using certain materials for both outside and inside of the eyes.
Image credits: portjefferson.greaterlongisland
Glaucoma Screening will include peripheral vision tests, the checking of the optic nerve and eye pressures. This will help assess and detect early signs of glaucoma.
All of these tests will result in the proper selection of lenses which is most suitable per patient.
My First Comprehensive Eye Exam
The eyes are very important part of the body. It allows us to see the world and perform specific activities, all that we do depends on what we are seeing thus investing in the health of our own eyes is a very important thing to do.
Image credits: eyewearunltd
When I had been feeling headaches and blurry visions, I knew right away that my eyes isn't that healthy compared to decades ago and since I am not getting any younger, I just have to follow my intuition and get my eyes checked which I know will also result to buying a new set of eyeglasses.
After I signed the needed information, I was brought to the examination room by Doctor Zonie. She let me sit in a blue chair with a Retinal Camera right in front. I placed my chin and forehead into the machine and she took photos of my eyes. This is to take photos of my retina and this checks if there are any possible eye diseases.
Image credits: isightinfo
Then I moved to another chair, this is an adjustable one which can be fitted so it gets to a higher height. I then went to the eye test, reading and identifying certain alphabet letters. I missed reading a few letters at this stage. She then presented a Phoropter, I was behind it and when I looked into the lenses, she adjusted and placed different types so that she can determine the right lenses for me. I was amazed that when she let me see the eye exam again with the right lenses, I can see it clear and sharp!
Doc Zonie revealed that my eyes have a 50-50 grade at this time. This isn't that serious yet and can still be cured with the constant use of glasses and proper eye care.
Image credits: heine
Then she had to use a Retinoscope to checked the reflection off the retina of my eyes. She said my eye lens is not in its perfect form caused by the improper posture when reading like lying in bed while reading or looking at a cellphone of which I was guilty.
Another case was the eye dryness, she used a strip to further test how many seconds will my eyes dry out. According to her, a person with healthy eyes when he or she blinks, the water that covers the eyes dries in 10 seconds but for my case, it dries every three seconds which is a short time.
Image credits: drweil
Thus, I have dry eyes, this is caused by too much rubbing of the eyes, too much use of radiation devices and forgetting to blink and stressed eyes.
She recommended that I use some eye drops so they are lubricated every four to five hours. Also, eyelid scrubbing was recommended as my eyelids tend to gather a lot of dust and dirt.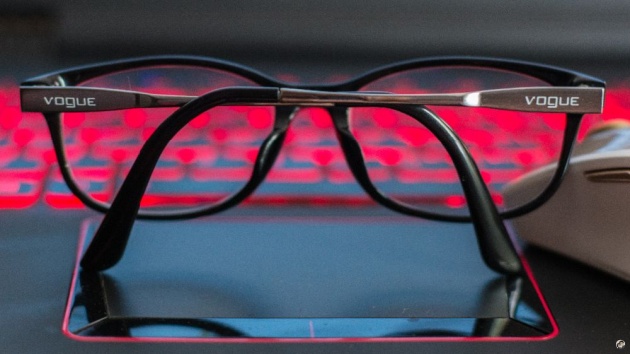 Image credits: Jean Beltran via bitLanders
After all the tests, she recommended lenses and I had to choose the frame. I chose the Vogue eye frame this time. I am a happy camper now that I am seeing things clearly now. I had spent almost six thousand pesos for my glasses and of course, I have to take care of my vision. Thanks to George Optical for helping me out on this venture.
This blog entry was written and published by Jean Beltran-Figues for bitlanders.com.
Join me, click here to sign up.