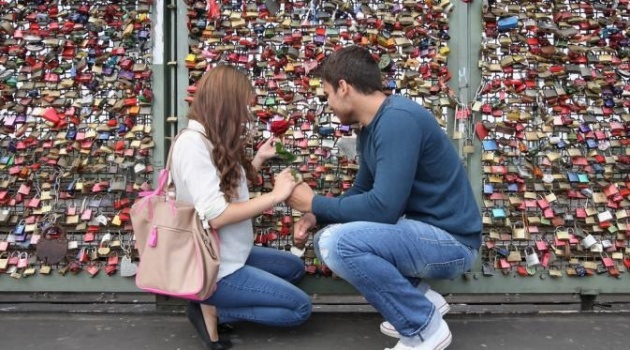 Many lovebirds are pinning 'love padlock' at the bridge in Paris as a symbol of fidelity in love.
Paris - The pair of lovers who become tourists in Paris today may be disappointed. Because they could no longer bind their love in a symbolic bridge Pont des Arts. Why local authorities now have to replace the barbed panels on the side of the bridge with plastic panels that will not likely be installed 'love padlock'.
"Two-thirds of our parts are changing. Remainder we will change a few days later," the official City of Paris, Bruno Julliard, as published by France24, Sunday (21/09/2014).
This step is not without reason, since the idea of ​​'romantic' is rolling in 2008, many lovebirds are pinning 'love padlock' in the bridge as a symbol of fidelity in love.
The tourists and teenagers who have visited this regard scenic bridge in the Seine River bridge is one of the most romantic in the world. Up to make the number of locks in the hundreds of thousands.
In effect, the last in June 2014, one part of the bridge collapsed because it would hold 700 thousand padlocks are very heavy. Therefore, to ensure the safety of tourists, the local government decided to replace the side panel of the bridge.
Paris authorities try to install previous announcement to take pictures selfie or together with a partner rather than installing locks of love. But the move was not successful. Number padlock is still increasing.
A tourist from Chile, Javiera Pacheco said he was disappointed with the decision of the panel side of the bridge replacement. For the woman who came with her boyfriend named Marco, "Installing a padlock on the Pont des Arts is the most romantic thing."
Thus even for Sharry Singh. Seller padlock Indian origin was admitted business should be stopped since barbed panels replaced. He considered, how it can also erode the power of the tourist travelers.
"It's the end of my small business and also the end of the tourism industry in Paris," he complained.
Actually the Pont des Arts bridge is not the only place to put the padlock of love. There is also a bridge that is used as the location Venice embedding loyalty by placing a padlock.
However, the local government issued a rule a fine of 3.000 euros, as well as imprisonment up to 1 year for couples desperate to attach 'love padlocks' on the bridge Venezia.