Lunch at Sambokojin, SM Megamall
A Quick Note...
I planned to combine my dining experience at Sambokojin SM Megamall and West Avenue branch but it was kind of hard as I typed away. So I realized that I'll be making two separate blog posts because I find it more fitting and I can relax and not worry if I go over the 2000-word mark. There were differences between the two branches, anyway.
About the Sambokojin Restaurant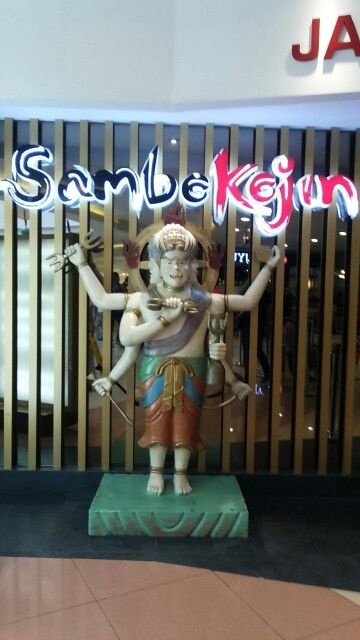 Photo credit: lapiz-lazuli
Who or what is Sambokojin? Why the name? According to their official site, Sambokojin is:
SAMBO KOJIN, The Fire Diety

Protector of the three jewels, Guardian of the three Buddhist treasures: the Buddha, the Dharma (Buddhist law), and the Sangha (community of Buddhist believers).

The God of the Cooking Range, Kamado-no-kami, is the God who purifies whose effigy occupies a place of honor beside the cooking stove.

The six-armed deity representing both Female and Male, bestowed fire upon mankind to drive away impurity and evil. Worshipped, revered, feared, and invoked upon to guide over the stove and ensure the blessing of a good meal.

Fire brings to mind images of destruction, anguish, and pain. But in the hands of SAMBO KOJIN, the Japanese Kitchen God, fire creates, gratifies and protects.

Sambo Kojin takes the lead in satisfying Japanese and Korean grill diners not only with its top grade US Beef and premium seafood main features, superior grilling and food safety technology, complete newly-cooked Japanese and Korean culinary favorites but by bringing in the authentic features and origin of Japanese yakiniku houses.

- from Sambo kojin, The Fire Deity
Getting There
My cousin treated us lunch as her farewell treat mini-party (called despedida) with close relatives who were available. Our initial plan was to eat at the nearest Sambokojin, but they only cater up to around 3 pm. I researched online and stumbled upon the SM Megamall branch in Ortigas, called them to confirm that they accept late lunch diners up to 4 pm, then hurried off to the mall.
Parking was a pain as we went on a weekend. It was located in a big mall after all so dad had a hard time because of the many cars queueing on designated parking areas.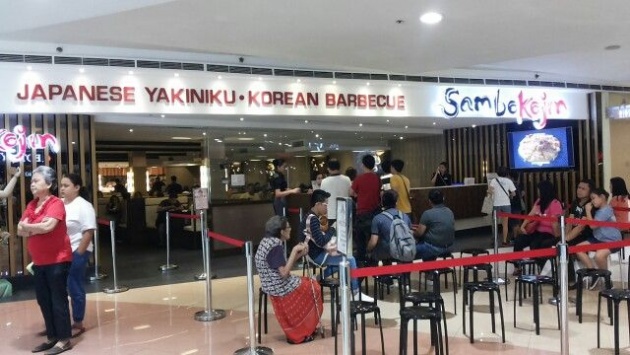 Photo credit: lapiz-lazuli
Grandma was with us so getting to the 3rd floor, Atrium was as slow as a turle. But it was OK, as there were few (as 10 people) people waiting outside the restaurant, waiting to be served in. Yet, the receptionist told us we should wait for 45 minutes!
I thought it was still a little OK, because we were also waiting for our other group stuck in busy streets of the Metro. But only 20 minutes had passed, and the receptionist called out my cousin's name. We were really famished so we hurried to our seats, let grandma watch over our belongings and proceeded in collecting our foodgasmic loot!
The SM Megamall Branch
The place was really huge! As is the food selection. But I wasnt able to try some interestingly named dishes because we arrived a bit late and they haven't refilled the dishes.
A Little Buffet Tip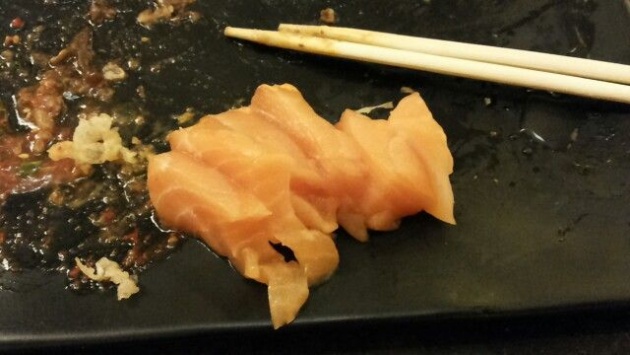 Photo credit: lapiz-lazuli
If you'll dine at a buffet restaurant, the trick is to get seafood as it is not filling to the stomach (so you can go for as many servings), and because they are pricey on the market (like salmon, tuna and shrimp, even oysters). So I filled my plate with these.
But I also try out some meat, especially if they were thinly cut, like in Sukiyaki, and hard to find on the grocery, like lamb, and because they are also pricey. I don't get a bowl of noodles, pasta, and rice, or whatever food that easily fills the stomach because my gut capacity is really small.
So there goes my tiny tip...
Table and Plates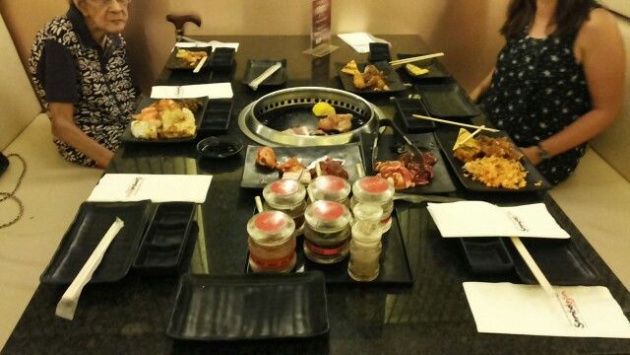 Photo credit: lapiz-lazuli
There is a smokeless grill on every table; we've always needed assistance to ran one of these, eventhough the mechanism have only a switch and a turner. It heats up fast, though. Every table has also 5-6 different sauces.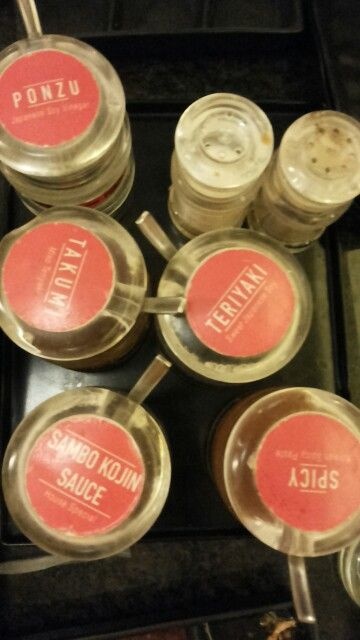 Photo credit: lapiz-lazuli
Six people can fit in every table, three on each row, and each would have a set of chopsticks, a sauce plate, and the regular eating plate, but a pair of spoon and fork can be requested.
I find the regular plate useless however, because in a buffet restaurant, there are plates under the dishes already, where you stack up your grub as you go around every food station.
In this place, plates are colored black and they were not heavy so they were not stressful to the wrist. But the plates, rectangular in shape, were a bit small, in my opinion. Probably it was made that way so people need to only take what they can and not or reduce the amount of leftovers, and to encourage them to get another serving and try out a different dish... just my two cents.
Food and Drinks
Video credit:
lapiz-lazuli
via
bitlanders.com
The dishes were really finely flavored and the cooked ones have a good texture. As far as I can remember, I ate a spicy tofu, a ball of corn with meat inside, sushi, sashimi, some meat and uncooked seafood. They all taste good.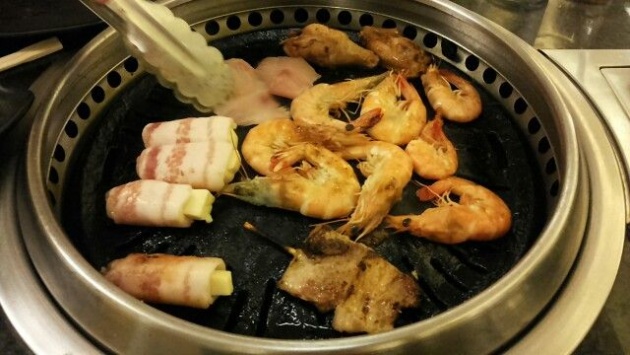 Photo credit: lapiz-lazuli
It looked like the to-be-grilled dishes were fresh from the market, but the texture as you eat them depends on how good were you at cooking stuff, especially seafood. My other cousin, who's hobby is cooking, managed to come up with an interesting basting for his meat, but I wasn't able to taste it because they were late and I was already stuffed.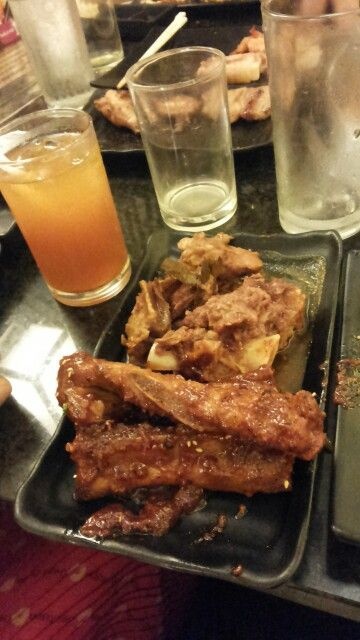 Photo credit: lapiz-lazuli
Cousin got cheese rolled with bacon and it sure took longer to grill than those shrimps (by the way, it was my first time to eat that dish and it was so good). I also got to taste their baby back ribs, taken from my dad's plate (haha); it was flavorful but a little dry to chew on, if you get what I mean.
You also have a decent selection of drinks and you can request for juices and shakes to be served at your spot. However, hot tea isn't included in the buffet fee and not bottomless.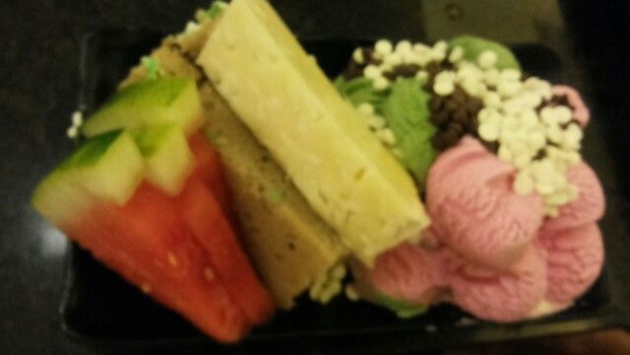 Photo credit: lapiz-lazuli
As for the desserts, they were generally good. I loved their carrot cake because it wasn't sweet but it has good flavor. The Japanese cheesecake, however, was quite salty for my taste and crumbly. I kinda got dismayed that they ran out of froyo that time, so I settled with ice cream. I felt really relieved.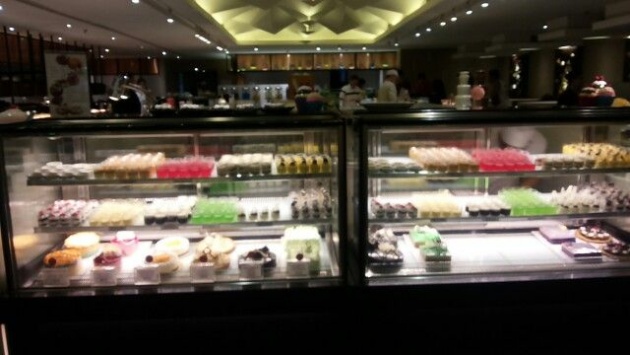 Photo credit: lapiz-lazuli
Some desserts, especially the ones on glass containers, are in glass shelves so you need to ask if you want one or a couple.
Promos
Video credit:
lapiz-lazuli
via
bitlanders.com
There are promo packages that you can avail when you qualify for one. I guess the Birthday promo was the most popular because I heard crew members singing every half hour or so. You have to avail it within 3 days, on, before or after you or one of your groupmates' birthday. They also have senior citizen's and PWD's discount and the kids have a lower price rate.
Treat cards are also handed where you can collect up to ten stamps and your next meal would be free. If you have 6 or more people in your group, one person gets a free pass.
Last Thoughts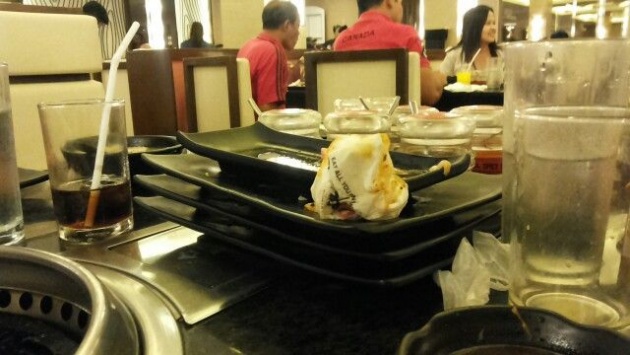 Photo credit: lapiz-lazuli
If you're in the Metro, you should try out this restaurant. It has a wide selection of food so it's not as cheaply priced as Yakimix but not as expensive as Vikings. But you should come at opening time so you won't run out of dishes you like.
If you missed my last blog post, you can still answer a chat survey about restaurants:
Disclaimer: unless otherwise stated, photos and videos are property of lapiz-lazuli. This is also lapiz-lazuli's original write up.