Hello Bitsers, I wrote merely one Blog here and once again I am going to publish another Blog about The Legend Mohammad Ali, who does not need any introduction. Normally I don't write any blog about sports on bitlanders ever but today I could not stop myself paying tribute to this big boxer.
First of all I would like to tell you the biggest bad news about his death. The former heavy weight champion has said goodbye to the world at the age of 74 years, through a condition that was complicated by Parkinson's disease.
Thoughts of Mohammad Ali about his illness
"Maybe my Parkinson's is God's way of reminding me what is important. It slowed me down and caused me to listen rather than talk. Actually, people pay more attention to me now because I don't talk as much."
"I always liked to chase the girls. Parkinson's stops all that. Now I might have a chance to go to heaven."
Credit: Google.com

Introduction
Voice of the voiceless Mohammad Ali was born in 17th of January 1942. At the time of birth he was named Cassius Marcellas Clay Jr. On 1964 he joined the religion Islam and changed his name to Mohammad Ali. The weird thing I am going to share with you guys is that he married four women and had 9 children. He won his first international match in 1960 and was rewarded with a Gold medal in the Rome Olympics. He had been world heavy weight champion in 1964, 1974, and 1978. He won his first heavy weight championship at the age of 22. Mohammad Ali was also famous in Quotes, his book was released on 9th October, 2003, at Frankfurt city, Germany.
The Fight of the century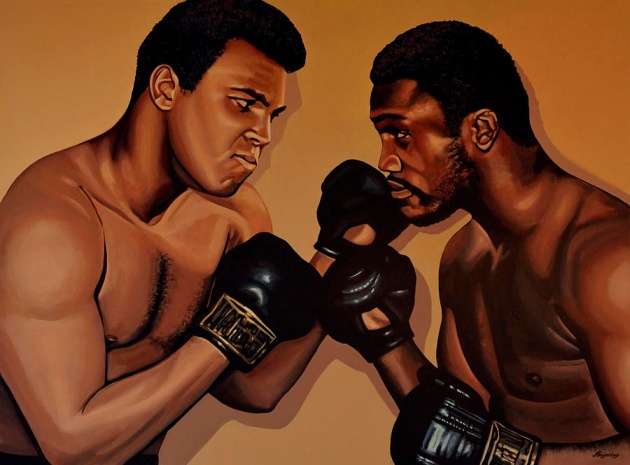 Credit: Google.com
Mohammad Ali did not win fights in just America but in the countries of the world, which was the result of his hard practice.
Anyhow, the Mohammad Ali vs Joe Frazier fight is famous as the best fight of the century. The match was held on March 8, 1971, at Madison Square Garden. The match was unique: Ali was the boxer and Frazier the puncher. The key to Ali's success was his speed. A fight with Joe Frazier was a war of attrition. It was a war he was used to winning. Frazier's best punch was a devastating left hook but his greatest asset might have been his indomitable will.
Mohammad Ali's visits to Pakistan
My grandfather used to tell me stories of his visits when I was a child and I grew up thinking he was Pakistani. Mohammad Ali came into Pakistan on 5th Of October 1987 where he was greeted magnificently at the Karachi airport. He made two memorable visits to Pakistan. Pakistanis often still do not know the names of most American athletes and boxing is still a fringe sport in this country. But Pakistanis embrace him as one of their own. The beauty is that every country he visited saw him as their own.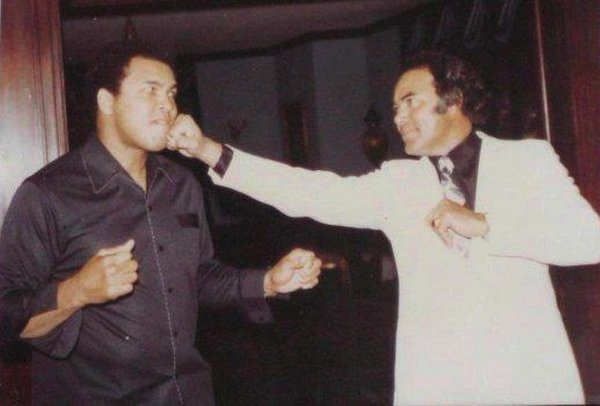 Photo credit: google.com
In this picture the man can be seen landing a punch on Ali's Jaw. He is "Sultan Rahi" the King of Punjabi movies of Pakistan.
The second visit was to Islamabad as a special guest. His visit here was no less than an honor for Pakistanis. The thing that I liked the most is that he also met with common citizens during his visits.
Some Memorable Moments Of The Legend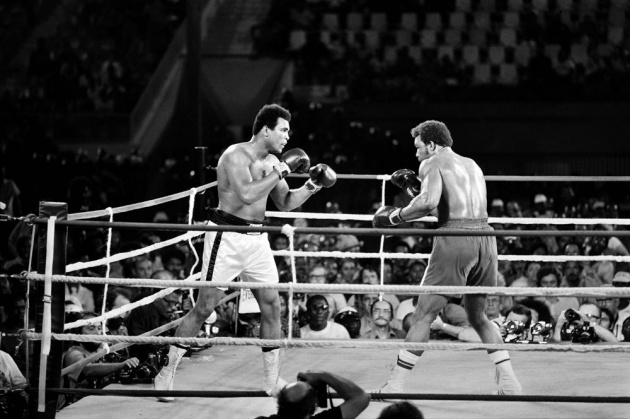 Photo credit: AFP
This picture is about The Epic fight between Two Legendary heavy weight champions, Mohammad Ali and George Foreman, On October 30, 1974. Mohammad Ali got 56 victories from 61 matches and knocked out 37 rivals in the arena. Muhammad Ali lost only 5 fights during his time. He was beaten by Joe Frazier, Ken Norton, Leon Spinks, and Larry Holmes.
Video by youtube.com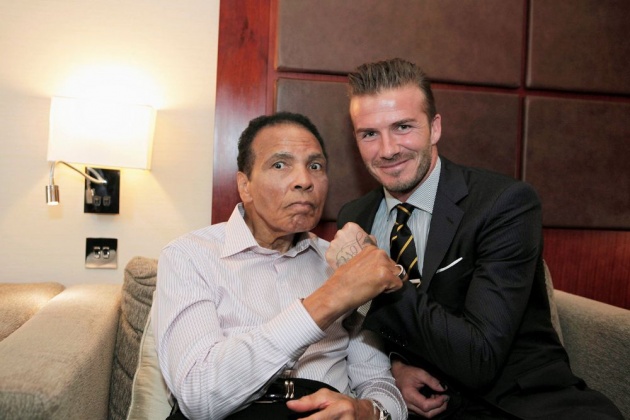 Photo Credit: google.com
Mohammad Ali is not merely famous in boxing but he lives in every heart. As you can see on this picture with David Beckham, an English Footballer, expressing his love for Mohammad Ali.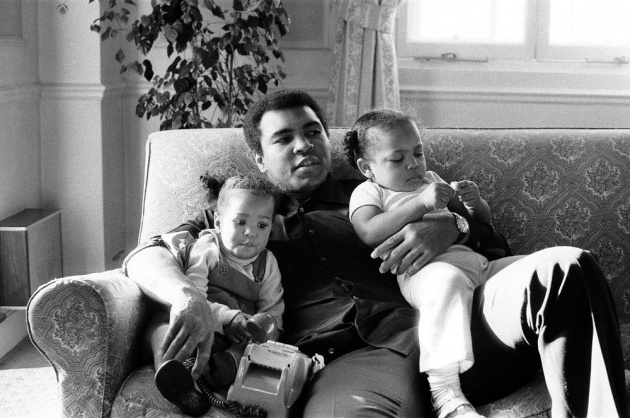 Photo credit: google.com
With his daughters Hana Ali and Laila Ali. Mohammad Ali had 9 kids (7 daughters and 2 sons). Laila was also a professional pugilist. She defeated some of the most prominent names in women's boxing and also won the IBA title in 2002.
He will always remain immortal in the hearts of everyone
After the death of this legendary boxer, lots of famous personalities from all over the world expressed their sorrows and grief on social media.
Here are some screenshots of famous personalities on social media.
Famous Boxer Mohammad Aamir shared his photo with Mohammad Ali on tweeter.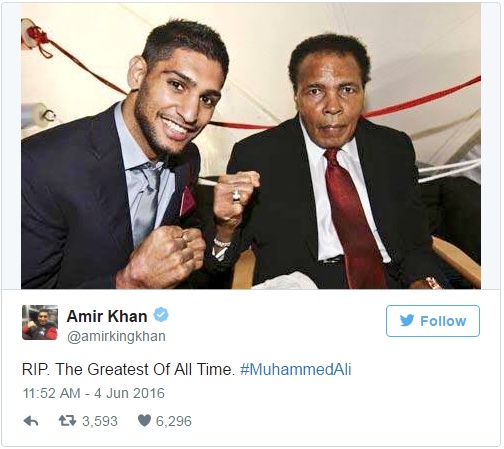 Former Captain of Pakistani Cricket team Shahid Afridi (Boom Boom) adjudged Mohammad Ali as a Hero of all hearts and said:
"Mohammad Ali was a lightning flame for all of us"
A former American boxer, Floyd Mayweather expressed his Melancholy:
"Today my heart goes out to a pioneer, a true legend, and a hero by all means! Not a day went by...."
It was often asked about a person in bitlanders survey chat almost every day in starting days of survey chat, also tweeted about Mohammad Ali. Yes, I'm talking about Donald Trump.

The great former captain of Pakistani cricket team Imran Khan said:
"Sportsmen have a limited career life span in which they can earn & Ali sacrificed it for his beliefs with courage and conviction."
Heart Touching quotes Of Mohammad Ali
The legendary boxer was not only a champion of boxing but also in quotes. His words still can be felt and he left behind a legacy of profound quotes that prove what a wise man he truly was. Pretty much everyone knows the line, "Float like a butterfly, sting like a bee". Here are some of his quotes that I am going to share with you:
"He who is not courageous enough to take risks will accomplish nothing in life"
"I hated every minute of training, but I said, 'Don't quit, suffer now and live the rest of your life as a Champion"
"I know where I am going and I know the truth, and I don't have to be what you want me to be. I'm free to be what I want."
"Champions aren't made in gyms. Champions are made from something they have deep inside them-a desire, a dream, a vision. They have to have the skill, and the will. But the will must be stronger than the skill."
Quotes credit: goodreads.com
A Tribute By Deep-Shelter And Bitlanders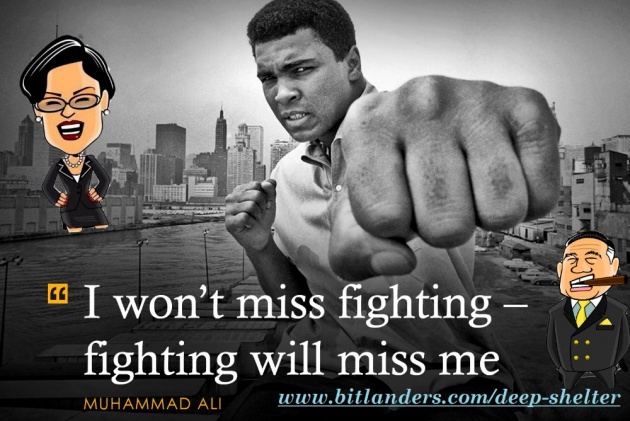 Photo credit: Deep-Shelter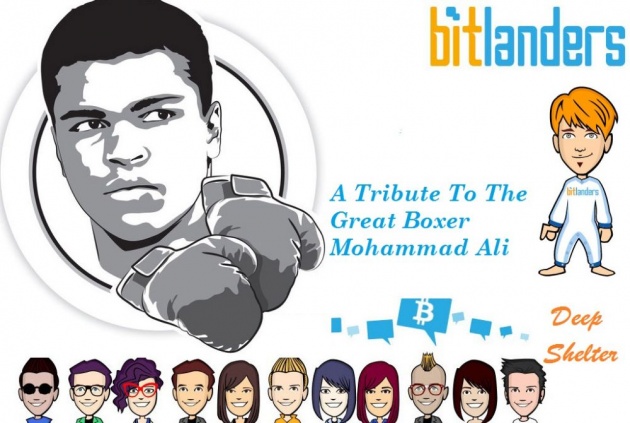 Photo credit: Deep-Shelter
I spent a week going over stuff, reflecting and going over his life; is it just me? I can't think of any public figure in the last 50 years who has accomplished and contributed so much in so many walks of life. I feel privileged to have been born in a time when he was around!
RIP