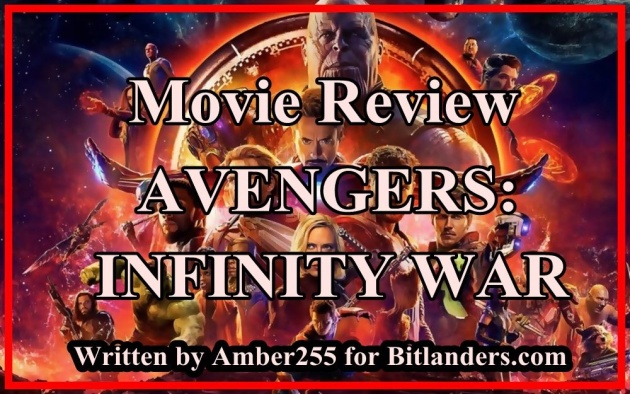 Movie Review: AVENGERS: INFINITY WAR - Photo credit: pagina3.com.br, Edition by Amber255 via bitLanders.com
The fifteen movie in the IMDb list of 50 best movies of 2018 is a crime drama Widows. If you click the title of the movie, you will find my review. The next one is AVENGERS: INFINITY WAR. I thought that I have written a review of this movie and even checked my blogs, but nope. I watched it when we got a premiere, so it's very strange that I missed adding my review. Anyway, I am correcting my mistake now.
The ten-year-long film tour came to an end: the last part of the trilogy Avengers already appeared in cinemas with the name INFINITY WAR. True, the story did not fit in the one film, so the fans of the film are happy to enjoy the sequel of this project.
A breathtaking and insanely fun experience. Avengers: Infinity War is definitely a high point in the MCU, and one of the very best films of 2018.

Credit: metacritic.com
More than 50 Marvel comics heroes take part in this movie. In addition, the latest, most fierce, part of the film was created using the most innovative technologies, so the image will surprise even the most upbeat gourmand of film technology.
The directors of the fantasy adventure movie are the creative duet of Russo brothers: Anthony and Joe are not newcomers to Marvel comic films; they have even directed two Captain America parts, and now they have also taken the Avengers trilogy, which, of course, includes Captain America itself.
The last film of the Marvel Studio AVENGERS: INFINITY WAR has become the most earned film in this film studio and the fourth most earned film in the history of filmography. But the film story is even more important, leaving Marvel fans of the cosmic universe to consider any theory or even rumor about the sequel that will be released in 2019.
Marvel Studios' AVENGERS: INFINITY WAR Official Trailer - Video credit: youtube.com
The Short Story Of The Movie
After the Avengers stood against each other in a fateful war, some time passed. Captain America is hiding somewhere, Hulk and Thor are traveling to the new world after the collapse of Asgard, T'Challa has become a mysterious king of the Wakanda, Peter Parker has returned to school, and Tony Stark is trying to find peace.
But peace cannot last forever. Soon, they will all have to get together again because the planet Earth is facing a serious threat - the cruel titan Thanos, who is destroying everything in his path and hunting for infinite stones, ready to conquer the whole universe.
The Content Of The Movie
Marvel comics fans had waited for this film the decade since 2008, since the first part of the Iron Man, which then captured a lot of film viewers and, of course, critics who didn't spare the film's top scores. But not only comic readers were interested in this great project. However, this film is still very important for the entire film industry as Marvel and Disney studios that live in the golden age of the filmography, have tried to make an unprecedented step to invest around $ 500 million in production. And there was a budget for the film without advertising costs, which could also reach a total of $ 200 million.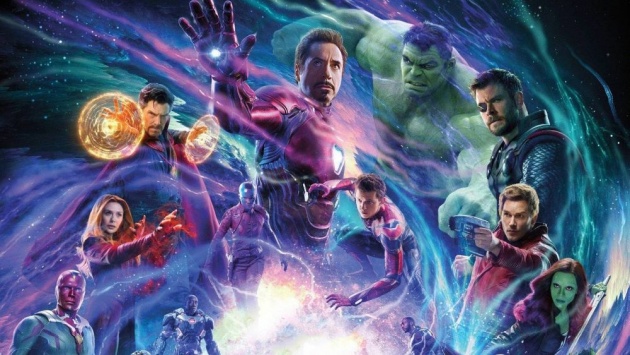 AVENGERS: INFINITY WAR review - Photo credit: hdqwalls.com
I would remind you that up to now, the most expensive projects in the history of cinema were the three Caribbean Pirates and the League of Justice, whose budgets without advertising costs were $ 300 million.
This is what has become the subject of much discussion in Hollywood. However, investing much money in even a very successful series project is risky. Let's not forget that in most cases, 40-75 percent of the earnings take the cinemas, and there are also taxes and other nuances still as percentages for actors and producers.
However, it looked that the studies were not worrying, as they were convinced of the success of the film. And it's not surprising. A week before the premiere, there was prognosis the film expected to earn $ 250 million in the first weekend in the US. It was an all-time record that surpassed the unprecedented start of the seventh episode of Star Wars - $ 247 million during the prime weekend.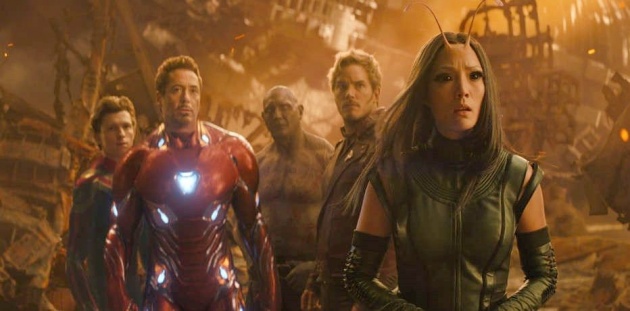 AVENGERS trilogy: INFINITY WAR - Photo credit: altfilmlens.wordpress.com
We talked about the money because it was quite important for the studio and for us, the audience. Imagine you are paying a few euros for a movie ticket, and you get a movie like Avenger, which gives you the most amazing entertainment in the cinema. On the other hand, for the same amount of euros, you can buy a ticket to the dumb movie and will be not able to sit up to half the movie. That's why I think that movies like Marvel's production are really worth every penny spent.
Like many fans of this kind of film project, I was looking forward to it, because I was just curious how all the events that were shown so far now will be set in one of the great clashes with Thanos, the most important antagonist of Avengers franchise. And you know what? Marvel and the Russo brothers working for this film studio have once again proved that they are able to synchronize everything so precisely and attractively that it is impossible not to feel surprised.
The best Marvel movie to date was the film Captain America: The Winter Soldier directed by Russo brothers in 2014. It is a perfect film in every sense: with a well-written script, great heroes, amazing acting and a breathtaking approach to reality.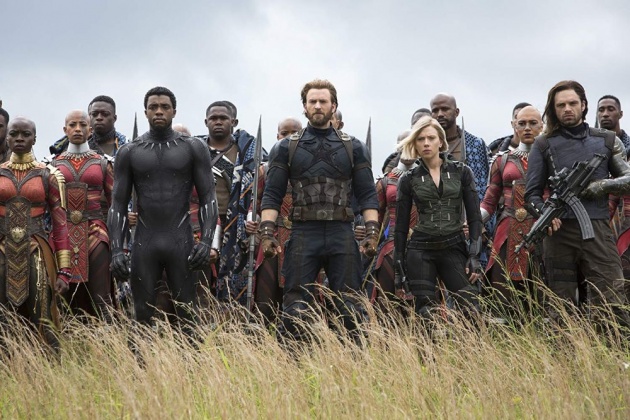 Marvel comic film AVENGERS: INFINITY WAR - Photo credit: imdb.com
There's a lot of Marvel's movies that I could praise, but none of them can match that great epic movie. Frankly, I have not seen a film project of this scale since 2009 and James Cameron's Avatar, which then made a major breakthrough in the film industry due to innovation and 3D technology. This is something like this.
Before starting the mini-film analysis without any spoilers, I want to recommend that you must see all of Marvel's cinema universe films that were created so far before watching AVENGERS: INFINITY WAR. There are 18 of them, and each of them makes it possible to grasp the essence of this project. And yet, if you watch those movies, don't hurry to turn them off and wait until the end of the titles, as some parts will reveal details related to Thanos and his infinity glove. This is really important.
And now about the movie itself. The tape consists of several narrative perspectives and several essential locations where the main action takes place. And those places are New York and Wakanda. I can't disclose why those places are important because it would be very bad to do it for the people who might not have watched several of the last series of films. But anyone who has seen all the previous Marvel films will understand why Wakanda and New York become a battlefield with Thanos and his army of death.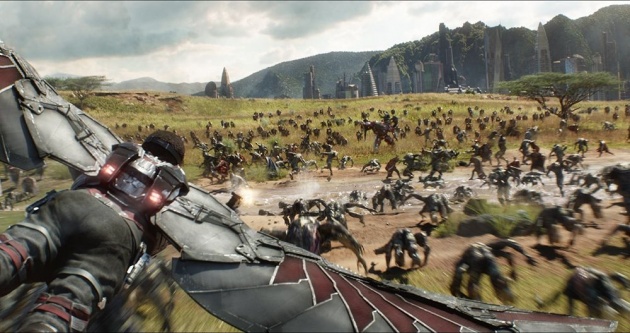 Avengers franchise - AVENGERS: INFINITY WAR - Photo credit: hdqwalls.com
There's plenty of action here, so you won't get bored at any moment, even though the movie's duration is over two and a half hours. Both the small battles and the dueling will make you sigh of the pleasure and surprise of its presentation, and the majestic battle in the Wakanda's land will surprise you so much that you don't want it to end. No previous Marvel movie boasts such a magnitude. And I am not yet talking about the individual missions that some positive heroes had to do to make their plan work against the irresistible titan.
What's more, the film has the same atmosphere as almost all Marvel films, so if you expect a very dark and serious toned movie, don't be fooled. The anons did not reveal it, but the movie is full of humor, but such rich and marvelous humor that each of the 18 films is decorated. It is that the audience has fun laughing at some nonsense. Do not forget that two comedies masters appear in the movie - Peter Quill and Tony Stark.
I definitely don't want to tell anything more because there is one of those movies that can only be discussed when many have already seen it. Of course, I recommend watching this unique film that is one of the last projects of the Avengers Team. Let's wait for the last part of the Avengers, which will finally complete the story we know and at the same time, lay the foundation for a new era of superheroes.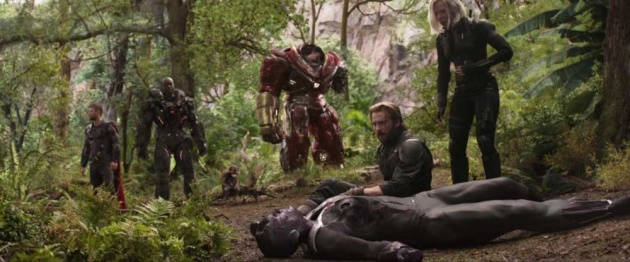 Movie Review: AVENGERS: INFINITY WAR - Photo credit: imdb.com
The Personages Of The Movie
The film has a record number of heroes - about 50. I was very interested in how the filmmakers will be able to not only insert them all into the storyline but also give them enough screen time. But they coped perfectly with this task. Most importantly, in previous films, a significant number of the heroes of this film have been thoroughly presented to us so that we do not turn our heads on what they are and what powers or abilities they have. So don't expect any acquaintance with them here. In particular, I give these words to those viewers who will come to the movie without seeing the previous films.
This is a film about Thanos, who is confident that he is doing good, which, in his opinion, cannot be without violence.
Thanos : I know what it's like to lose. To feel so desperately that you're right, yet to fail nonetheless. It's frightening, turns the legs to jelly. I ask you to what end? Dread it. Run from it. Destiny arrives all the same. And now it's here. Or should I say, I am.

Credit:imdb.com
Thanos performed by Josh Brolin turned out being incredibly lively, not devoid of motivation and extremely charismatic. In the very first scene it is clear that he is a complex character, by the middle you begin to understand him, and by the end - to hate and love for his madness. He is at this, perhaps, not just the best villain of the universe of Marvel, but also the most interesting character in general.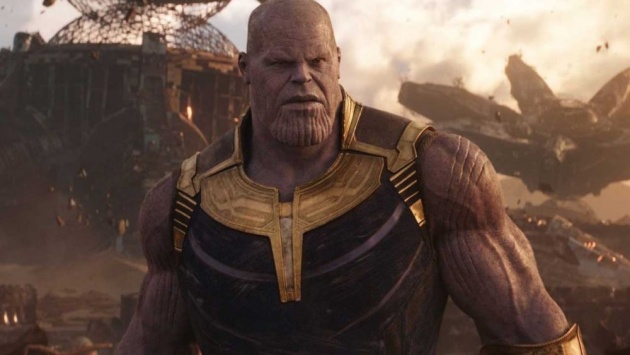 Avengers franchise: Thanos personage - Photo credit: dailymotion.com
It is most enjoyable that this film is no longer just a benefit of Tony Stark alone, as was the case in the Civil War or previous Avengers. There are a lot of charismatic heroes in this film, who have really fascinating from their first screenings, radiating charisma no less than the most popular character of this film universe.
Captain America and his new, turbo, and much more powerful shield was presented very well and interestingly. I would also point out Vision (Paul Bettany), and Wanda Maximoff (Elizabeth Olsen), who's part of the storyline made us feel the smell of romance before Thanos arrived at the planet Earth.
The Galactic Guard Team, Thor, Hulk, Doctor Strange, Black Panther, and Spider-Mann also had their own moments.
However, in my opinion, the most awaited character of this film has become the long-awaited Thanos, whose first appearance in this cinema universe took place in 2012 in the Avengers film. Then he was introduced to the storyline of this series film as a major antagonist. And you knew it was worth the wait. The Marvel studio films cannot boast of exceptional antagonist apart from Loki, Killmonger, Hela, and Ego.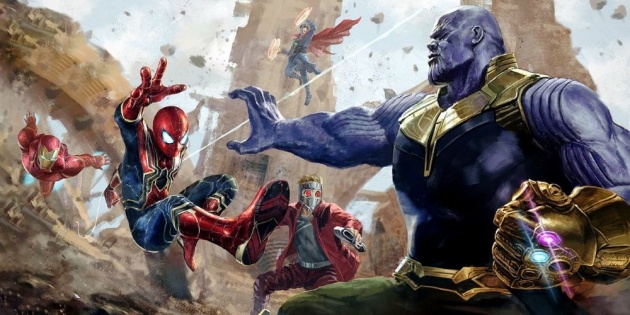 50 best movies of 2018: AVENGERS: INFINITY WAR - Photo credit: twitter.com
All other Avengers franchise's antagonists were soulless and grayish and completely not memorable characters, who faded in the background of superheroes. I cannot say that about Thanos, which was presented as the real incarnation of evil. The film revealed not only his origin and the principle of power but also its destructive power. So far, no evil one has caused so much pain to the Avengers as Thanos. And it was amazing because the hero who has lost all hope is the most enjoyable moment while watching such movies.
The Technical Side Of The Movie
As for the technical advantages of this band, I would like to draw attention to two very important nuances, which make it a must watch in the IMAX cinema. Firstly, it is the first movie in film history that was filmed with powerful IMAX/Arri 2D cameras, giving a very bright and ultra-natural picture. The second - it's the first film with a resolution of 8K.
The film boasts excellent and very eye-catching special effects that decorated not only heroes but also a large part of the environment in which the main action and the most powerful clashes with the bad guys took place. All this is perfectly surrounded by three-dimensional space, allowing you to enjoy the displayed scene even further with a slightly darker-looking image.
The work of the camera was something that persecuted me so far. Wonderful and incredibly engaging filming angles have made me feel the adrenaline. I'm not joking; I had a very good impression of filming. The film was fresh from the beginning to end, and the last battle was worthy of big ovations.
AVENGERS: INFINITY WAR - Official Movie Soundtrack - Video credit: youtube.com
Soundtrack - flawlessly beautiful. The epic Avengers trilogy's main composition and several extremely epic sounds dominate in this film and make it even more sensational. Throughout the film, just because of musical insertions, you could feel as if you were sitting on some needles. The shudder runs through the body; so cool was the view.
Video and audio editing is good. There's not even anything to complain about, as the storyline is presented with great precision, and the sound is magnificent allowing you to feel the power of an unprecedented scale in the most important battle scenes. I sympathize with those people who watch the film at home, not at home, even with the best equipment.
The Collective Work Of The Movie
Actors! Here I think if I started to name all the actors in this movie, the text would double. So I will name just a few who, in my opinion, have done the most work here.
Chris Evans, who played Captain America, drastically changed the character's image and, at the same time, played the best role in his career. His Steve Rogers has become one of the most intriguing personages. That's why it was nice to watch his every step - a real leader.
Robert Downey Jr. also changed. He was no longer a self-satisfied and comic guy, but a serious and even a desperate character. And it's all thanks to a great dramatic actor's abilities.
I also like Thanos, who first got the chance to show up. He was played by a magnificent dramatic actor Josh Brolin, who truly succeeded to intimidate by his incarnated evil one. This is a completely different level than the previous antagonists in Marvel's films.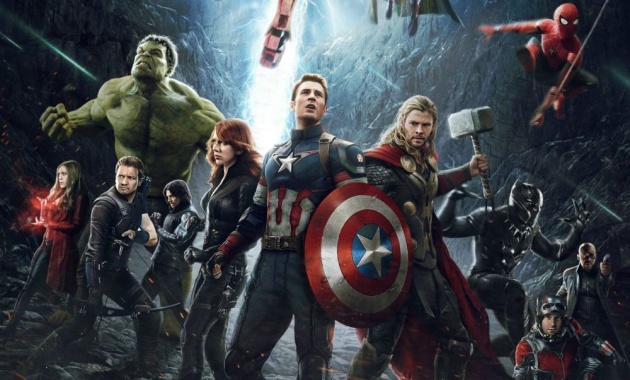 Avengers franchise, AVENGERS: INFINITY WAR - Photo credit: twitter.com
Out of the better performances, I would like to distinguish Benedict Cumberbatch, who played the role of Dr. Strange, Tom Holland who embodied Peter Parker or Spider-Man, and Chris Pratt, who played Peter Quill's character.
Of course, I must mention Thor's performer Chris Hemsworth, Tom Hiddleston as Loki, and Mark Ruffalo, who embodied Hulk; they also put great efforts. It was nice to watch them.
Other actors were also in their places; they played their heroes perfectly, but there was no big WOW on their side. I really do not want to name them because, as I wrote earlier, it would take a lot of space.
On The Final Note
AVENGERS: INFINITY WAR is, without doubt, the most marvelous film of the Marvel comic films' universe, which for two and a half hours surprised us by its incredible scenes and breathtaking technical solutions of the directors' Russo brothers.
This truly true awaited for ten-years historical comic film event is also great proof of how to work with franchises and how to develop stories correctly so that they do not become boring after a while and give great entertainment to every film fan who wants to relax from serious dramas and author's festival films.
We can talk a lot about AVENGERS: INFINITY WAR. This is a fascinating, beautiful, a film full of events and characters, which is a real film comic with the right level of epic and unrealistic moments. This is a unique event in the world of blockbusters, which rewarded its fans for the wait.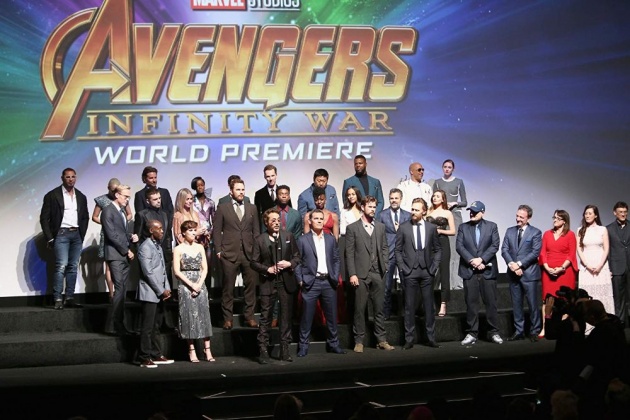 AVENGERS: INFINITY WAR premiere - Photo credit: imdb.com
Perhaps the main drawback of the new Avengers is that they are not the last film. The INFINITY WAR is not over, but its culmination has already passed. This is the peak point for the entire universe of Marvel. To fans of these films, it will give everything they love so much: immaculate action, a combination of light humor with pertinent pathos, live characters.
Colorful and at the same time gloomy, hilarious and at the same time shockingly cruel - the Russo brothers were able to adequately complete the ten-year-old arch of the Marvel cinema universe.
A triumph for Marvel, Disney and blockbuster filmmaking. By fusing the best parts of the 18 movies behind it, the sum is considerably greater.

Credit: rottentomatoes.com
My rating: 9.0/10
Rotten Tomatoes: 71/100
Metacritic: 6.8/100
Critics average: 9.1/10
IMDb: 8.5/10
HAVE FUN!
**********************************************************************************************
Thank you for stopping by and reading my blog
2019, All Rights Reserved.
You are very welcome to join Bitlanders and share your valuable knowledge and opinion.
***********************************************************************************************