Movie Review - Ready Player One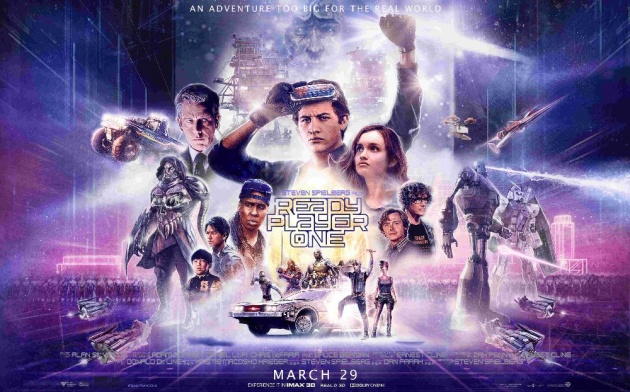 Image Credit: en.tempo.co
✔ Introduction
Dear Friends, I hope you are doing fine and having fun in your lives. Today, I have come up with my another new blog with the title of "Movie Review - Ready Player One" which is actually a movie review of new Hollywood movie which is another addition in movies related to science fiction and virtual reality. Friends, this movie "Ready Player One" is a science-fiction movie and is based on Ernest Cline's 2011 novel which had similar title i.e. Ready Player One. This is an action, thriller movie and keeps its audience attracted to the seats and attracted throughout its duration. This movie has been directed by Steven Spielberg who needs no introduction in the Hollywood movie industry. He is considered to be one of the most experienced Directors in the industry because of his versatile movies. He has a huge experience in filmmaking related to Science Fiction and Adventure Films and Adventure Fiction. This is a wonderful movie and one should watch this with their friends and family members in order to have a good and quality time. If you are that type of person who likes to watch Science Fiction and Thriller movies, then this movie is for you. I also like science fiction, suspense and action movies and therefore I found this movie such an entertainment that I would say that one should not miss it at any cost. Let's have a deeper look into this Science Fiction, thriller movie and review its content, picturization and production.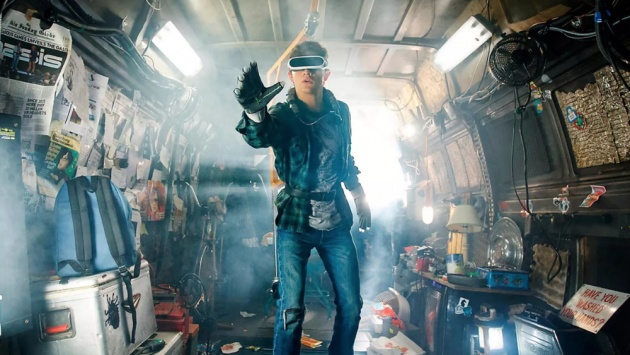 Image Credit: www.theverge.com
This movie has been released on March 29, 2018 in the United States under the banner of Warner Bros. Entertainment Inc. The details of cast of this mind blowing movie is as under:
✤ Tye Sheridan as Parzival / Wade Watts
✤ Olivia Cooke as Art3mis / Samantha Cook
✤ Lena Waithe as Aech / Helen Harris
✤ Ben Mendelsohn as Nolan Sorrento
✤ T.J. Miller as i-R0k
✤ Simon Pegg as Curator / Ogden Morrow
✤ Mark Rylance as Anorak / James Halliday
✤ Win Morisaki as Daito / Toshiro
Three months after delivering "The Post" in time for Christmas, Steven Spielberg is back with another parcel, bearing the label "Ready Player One." Nothing will ever match his uncanny—and, you might say, disturbing—transition from "Jurassic Park" to "Schindler's List" within a single year, but it's still quite a hop from "The Post," a soaring liberal anthem in praise of print, to "Ready Player One," a film in which nobody gives the faintest sign of needing or wishing to read. The screenplay, by Zak Penn and Ernest Cline, is based on Cline's novel of the same name, but there ends any connection with the written word.
Information Source: www.newyorker.com
Video Credit: Screen Master via youtube.com
✔ Plot Of The Movie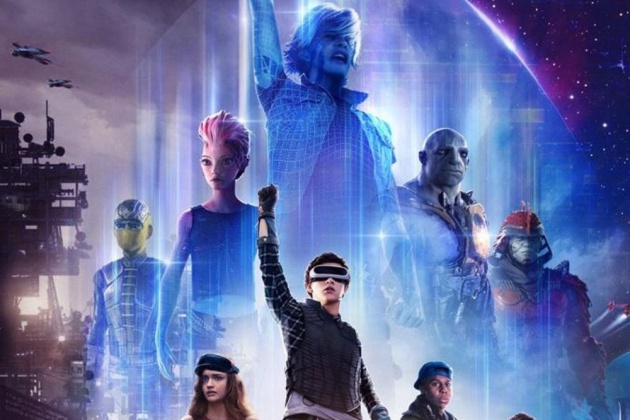 Image Credit: www.polygon.com
The movie starts by showing the year 2045 in which all the earth has become a slum area because of ever-increasing pollution and global warming etc. People on earth don't like to live in original and natural world and like to go in a Virtual Reality world which is known as OASIS and which has been created by Mr. James Anorak. This creator announces a contest in which he declares that the contestants must find an Easter Egg. The one who finds it, will be awarded huge amount of money as well as control of OASIS. In the contestants, there is one Villain, Nolan Sorrento who is a rich man and owner of a Scientific company known as Innovative Online Industries (IOI) in the movie. Hero of the movie, Wade Watts is also a keen participator in this game and enters into OASIS with the intention to win the game. He soon saves a lady who is heroine of this movie Art3mis i.e. Samantha from a King Kong in the game and they befriends.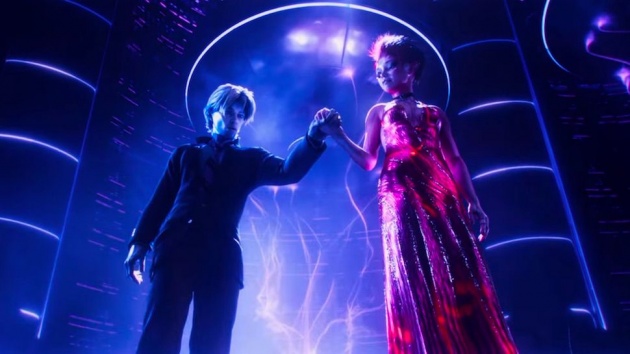 Image Credit: nerdist.com
Since the participants have to find three keys in order to find the Easter Egg, therefore, Wade Watts also tries to find keys and he successfully find the first key by taking part in race and manipulating an underground short cut to the finish line in order to acquire the first key. On the leader board of this game, there are now top 5 position holders (including Wade Watts) who are known as High Five in the movie. Later one, Mr. Nolan Sorrento wants Wade Watts to join his company in order to win the game, however, Wade Watts declines the offer. In anger and frustration, Mr. Nolan Sorrento kills Wade Watts's aunt Alice and his neighbors. Now, the movie progresses and the High Five make a lot of efforts to reach a lady named Kira in order to attain the second key and they successfully achieved this task as well.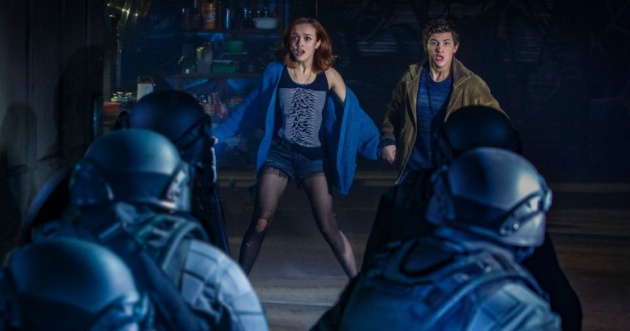 Image Credit: www.vulture.com
Now the hunt is on for the third key, at this time, the Innovative Online Industries (IOI) employee i-R0k activates a force field around the location of the third key which is inside a fortress. After a lot of efforts, Wade Watts managed to release Samantha from enemies who is among his team High Five. Samantha helps Wade Watts to find the third key by hacking Nolan Sorrento's station and then shutting down the force field around the fortress. After a lot of hectic efforts and help of a bit of luck, Wade Watts manages to find the third key despite strict resistance by Mr. Nolan Sorrento who deploys different measures to stop him. Eventually, Wade Watts is officially awarded the Golden Egg as the winner of the contest by Mr. James Halliday.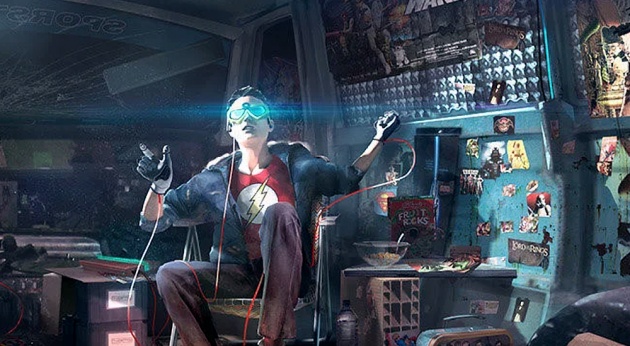 Image Credit: comicbook.com
Now, since Wade Watts has won the contest, therefore, all the games of Nolan Sorrento end and he gets arrested by Police for his involvement in the bombing that took place. All the Online Industries (IOI) players are set free as the main culprit has been arrested. The winning team High Five now has full control over the OASIS and Wade Watts hires Ogden Morrow who is a co-creator of the OASIS and who had left the company before when he saw that this game was causing negative activities and feelings. The OASIS starts its operations again but the management decides to shut the game for at least two days in a week. they think that it is important in order to make people spend more time in the real world. The film ends as Wade Watts and Art3mis who is also known as Samantha start their new life as life partners.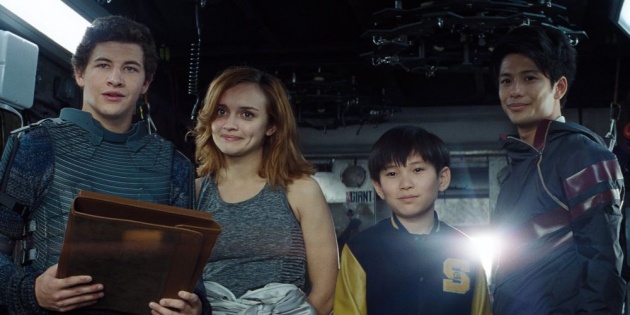 Image Credit: comicbook.com
✔ Here is

Querlo Chat

for you. Isn't it fun to chat with a Chatbot ?
✔ My Movie Review - Conclusion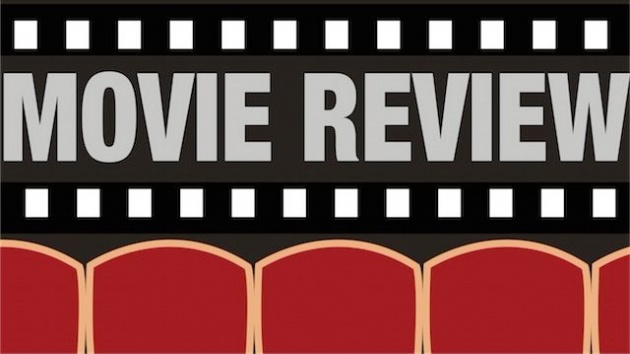 Image Credit: www.goodnightjournal.com
Friends, this movie "Ready Player One" is an incredible science fiction movie. It takes it audience to a new world where it is a lot of fun, thrill, suspense, action and technology. The Director Steven Spielberg who is famous for making Science Fiction movies and has bene giving wonderful movies to the audience has come up with another masterpiece. This movie is a must watch for the ones who like to watch Science Fiction, Thriller and Suspense movies. On the whole, the movie is very entertaining and interesting and does not have any negative aspects and feelings. Generally, the picturization of the movie is awesome and the camera work is outstanding. For camera work, Steven Spielberg heavily relies on his old and famous counterpart Janusz Kaminski who has been associated with Steven Spielberg since 1993 and has been giving wonderful movies with great camera work. Virtual Reality is the future and this movie depicts the future in an amazing manner. The plot has been filmed in such a manner that it keeps all the audience glued to the movie throughout its duration. The expressions and sequences portrayed are very interesting and mesmerizing to watch. The cast of this film is not very big, however, all the characters made full justice with their characters, and therefore they made this movie worth-watching. All the main characters of this movie have been outstanding in their performance and filled the characters with mind blowing acting. I shall recommend the movie to all Hollywood Films lovers and I hope you will like this movie as well. The film has so far made more than USD 525 Million on the box office and has been one of the best movies under the banner of Warner Bros. Entertainment Inc. Although all the movie is filled with best scenes, however, a short interview of the main characters in this movie is appended below for your entertainment.
Video Credit: MTV International via youtube.com
✿✸✔✤✪ - - - - - - - - - - - - - - - ✿✸✔✤✪ - - - - - - - - - - - - - - - ✿✸✔✤✪ - - - - - - - - - - - - - - ✿✸✔✤✪

Thanks for Reading.


This Blog was written by Rafaquat Noman (a Resident of Saudi Arabia and a Traveler) for bitlanders. If you wish to join bitlanders.com, Click Here. This is the author's original work, therefore, please do not plagiarize.


DISCLAIMER: The contents of Blog above are that of the author and does not represent his company or agency. The sites, videos, and photos used in this Blog are for information purposes only and links are available for direct access. The author does not receive any monetary benefit from those companies or sites.
✿✸✔✤✪ - - - - - - - - - - - - - - - ✿✸✔✤✪ - - - - - - - - - - - - - - - ✿✸✔✤✪ - - - - - - - - - - - - - - ✿✸✔✤✪