As an independent animator, there are many people who inspire and influence my work.
As for Canadian independent animators who inspire me, I really admire the work of National Film Board animators, Norman McLaren, Marv Newland, Ryan Larkin, Sheldon Cohen and Cordell Barker for being such brilliant and influential animators. I was very blessed recently to have actually worked with Marv Newland and Cordell Barker when they animated a segment on my upcoming short animation, Yellow Sticky Notes | Canadian Anijam. This is what I love about the independent animation scene...so many cool legendary animators who have no egos or attitudes...just down to earth and willing to help people like myself out!
As far as mainstream animation directors I look up to, Brad Bird and Hayao Miyazaki are amazing. As well, animation legends such as Frank Thomas and Ollie Johnson push me to strive to create magic on paper and remind me to study the illusions of life happening all around me and Chuck Jones reminds me to always inject a little humor in your work.
Joseph Conrad, Franz Kafka, Friedrich Nietzsche, Jean Paul Sartre, and Joseph Campbell inspire my storytelling. I'm an existentialist at heart and each of my films feature what I would consider an existentialist character or story. For example, in my short stop motion film, Ode to a Post-it Note, the little Post-it goes out on an existential journey to discover who he really is…and to find the person who created him.
I realized early on that I didn't have a Disney style of drawing and I embraced that by developing my own sketchy and busy drawing style that I use in my animated films. My personal drawing style is influenced by children's book illustrators like Maurice Sendak and Dr. Suess. I love their sketchy and imaginative styles, their love of lines and cross-hatching. The imagination of Dr. Suess fuels my passion for crazy ideas and reminds me that imaginations can still exist after childhood. Maurice Sendak's drawings inspire me with their amazing appeal, character design and storytelling. He is why I wanted to become an artist.
My animation style of creating characters has lead me to what I have coined as "Hapanimation" which is a blend of Japanese anime with North American cartoon styles. Growing up I loved watching Japanese Anime and reading Manga...Astro Boy, Robotech, Kimba the White Lion, etc. As well, I was inspired by the Saturday morning cartoons and American comic books I grew up with. Therefore, my character style is a mix of Japanese and North American animation styles. The 'Hapa' in "Hapanimation" comes from the Hawaiian word for mixed or blended. Even though 100% Canadian, my ethnic background is part Japanese and part European descent so a lot of the work I create also looks at multiethnic identity…which is inherent in my own personal animation style.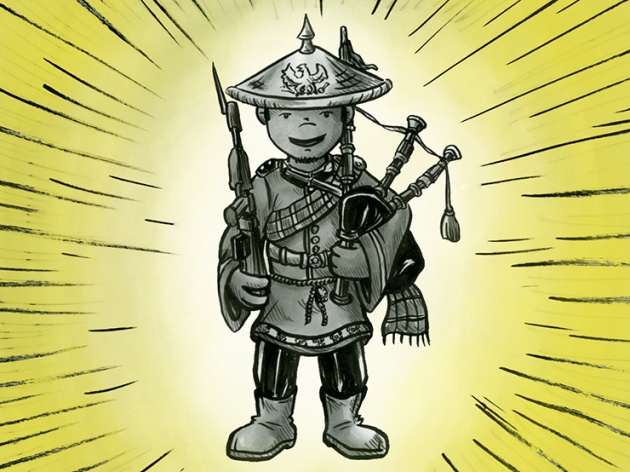 An example of my "Hapanimation" style from my 2005 short film, "What Are You Anyways?"