Hello friends its me Gemisoul came with my second blog. Now, I want toll tell you guys about my beloved city Karachi, The city where i born, the city where i live, the city that gave me lot of memorable moments of joy here's the blog about one of the biggest city of the world KARACHI (the city of lights).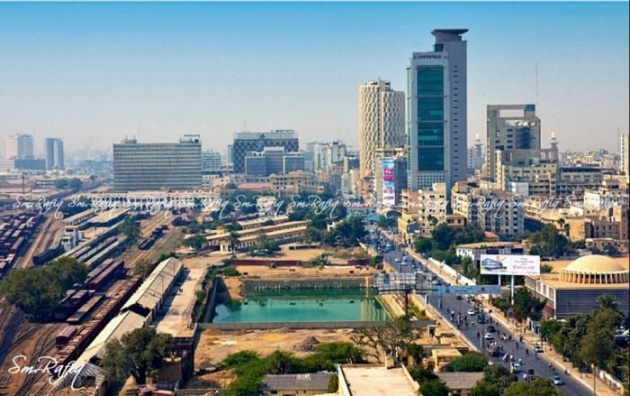 picture credits: taken from google http://wikimapia.org/5793129/Karachi
Interesting facts about Karachi
* Largest city in Pakistan
* Main seaport of Pakistan
* Capital city of Sindh province
* One of the world's largest cities
* Main centre of banking, industry, and trade in pakistan
* Was the capital of Pakistan until 1960 when Islamabad was created as a new capital city
* Is called the 'City of Lights' due to its liveliness
* people who live in the city known as Karachiites
Location:
Karachi is in the south of Pakistan, on the coast of the Arabian sea. The land in the area is mainly flat but there are some hills on the western and northern parts of the city. Two rivers flows through Karachi the River Malir and the River Liyari.Karachi harbour is in a sheltered bay in the south west of the city. It is protected from storms by Sandspit Beach,Manora Island, and Oyster Rocks. There are dense mangrove forests and creeks in the south - east in the Indus River
delta.
The coast of Karachi:
The Karachi coast has low rocky cliffs and sandy beaches. Sea caves and arches are formed by the erosion of the sea. When waves crash against the land, they erode the rocks. Over a long period of time, this forms a steep landform called a cliff. If there is a weak part of the bottom of a cliff, the waves erode this area more quickly, forming a hole or cave.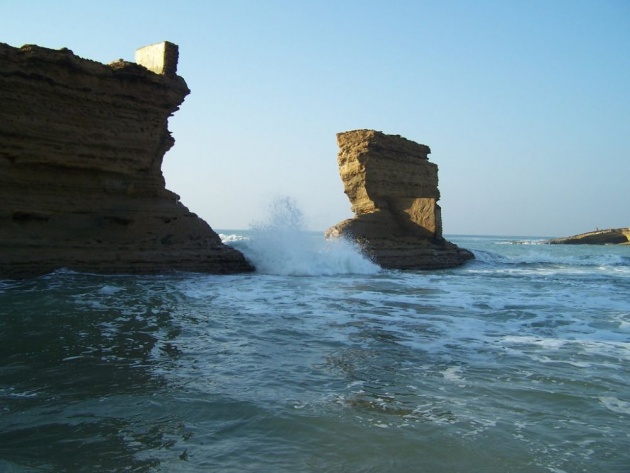 taken from google : https://www.flickr.com/photos/bilalmirza/2634778794
A headland is land that juts out in the sea. Sometimes, caves forms on both sides of the headland. Each cave is eaten away by the waves and a hole forms all the way through the headland. This is called an arch. Over time, the thin strip of land above the arch is worn away by rain and wind. It falls into the sea. The bit of land left in the sea is called a stack. There is a stack at Paradise Point in Karachi.
A bay is a sheltered coastal inlet. It has land on three sides. Karachi is in a bay.
Facts: sandspit beach is a nesting ground for green and olive ridley turtles.both are endangered species and need protection.
Climate:
Karachi has fairly mild climate. The annual rainfall is quite low (about 220 mm or 9 inches per year). Most of this rain falls during monsoon season from July to August. Winters (November to February) are mild and dry. Winter is considered to be the best time to visit the city so this is the time when most tourist visit Karachi. Summers (April to August) are hot and humid. Temperatures range from 30-44 centigrade.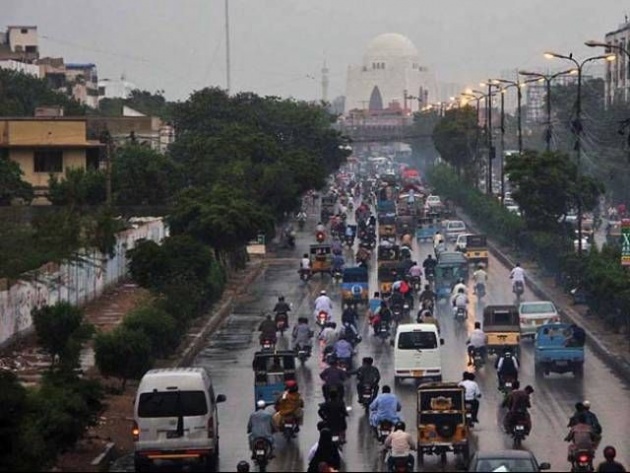 picture credits: https://tribune.com.pk/story/1156612/monsoon-spell-rain-hits-karachi/
The port of Karachi :
The port of Karachi Is Pakistan's largest and busiest seaport. The port is in a deep,natural HARBOUR. It has a long. Sheltered channel for ships to move safely into the port.
Many of Pakistan's IMPORTS and EXPORTS are handled by the port. Imports are goods and services that are bought from other countries. Exports are goods and services that are sold to other countries.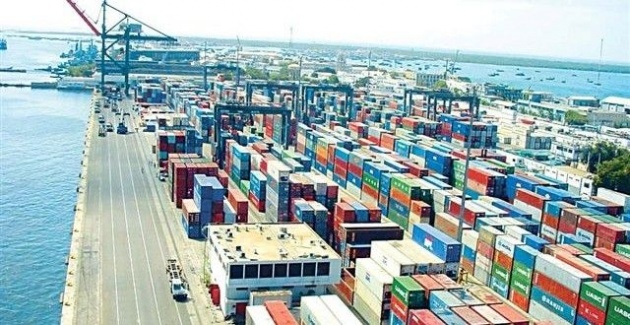 taken from google : http://www.customstoday.com.pk/shipping-activity-at-karachi-port-port-qasim/
Facts
Petroleum is the name of crude oil.it is used to make petrol and many other things.
Pakistan's first oil well was drilled much before partition in 1866 at Kundal. In the upper part of the Indus Valley.
Goods And Services In Karachi :
Karachi is a modern,fast growing city. It is the largest city in Pakistan and a very important manufacturing city. It produce 30% of Pakistan's manufactured goods. The main goods made in Karachi are textiles (such as cotton cloth and Clothes), chemicals,and medicines, steel and cars. Car manufacturers include Toyota and Suzuki. Trucks and buses are also made in the city such as those made by Daihatsu, Hinopak buses, and Millat Tractors.
Most of Pakistan,s banks have their headquarters in Karachi as do most of the insurance companies. ICT (Information and Communications Technology) electronic goods, and call centers are very important, fast growing buisinesses in Karachi.
Mort of Pakistan's television channels are located in Karachi. These include CNBC Pakistan, Dawn News, TV One, Indus Media Group, ARY Digital, KTN News, and Geo TV.
Karachi airport, Jinnah international Airport, is the largest and busiest in Pakistan. Road and railway transport is also very important as goods are transported to all parts of Pakistan from the city.
Karachi has the biggest fishing fleet in Pakistan. It employs many thousands of people and fish products are sold to other parts of Pakistan as well as to other countries.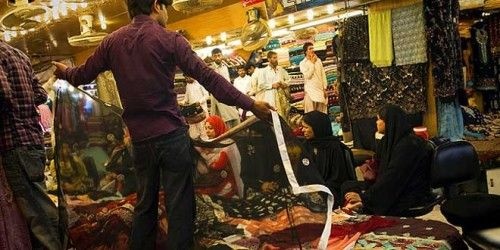 http://www.city21.tv/2012/04/page/7/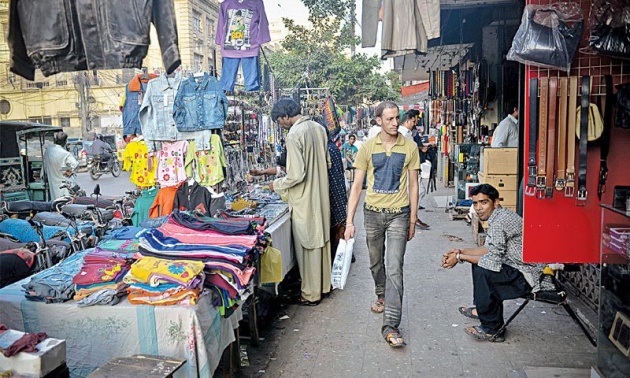 http://www.webchutney.pk/19-places-in-karachi-that-host-treasures-you-would-never-find-at-a-mall/
https://www.youtube.com/watch?v=m_lSXpfkO60
Big City Problems :
Karachi is one of the world's largest cities. It has a population of approximately 15 million people.
Like other big cities in the world, many of Karachi's problems are due to overcrowding. Such large numbers of people cause problems such as traffic jams, not enough houses, and not enough electricity and water for everyone's needs. There's also the problem of trying to dispose of all the waste produced by so many people. As a result pollution is a big problem in Karachi. The air, land,and rivers are polluted by the waste from all the factories and the people.
Thousands of people from other parts of Pakistan come to Karachi looking for work. Unfortunately there are not enough jobs for everyone so some people have no choice but to live in areas where living conditions are very poor.
In Karachi, as in other parts of the world, pollution can harm the coast too. Oil from ships, waste from factories, and sewage from homes can flow into rivers and oceans. This pollution can kill animals and plants. It can also cause diseases. Humans, too, can become ill or die from this pollution. The coastline of Karachi is becoming more polluted. The Karachi strategic development plan 2020 has been created to try and solve some of these problems.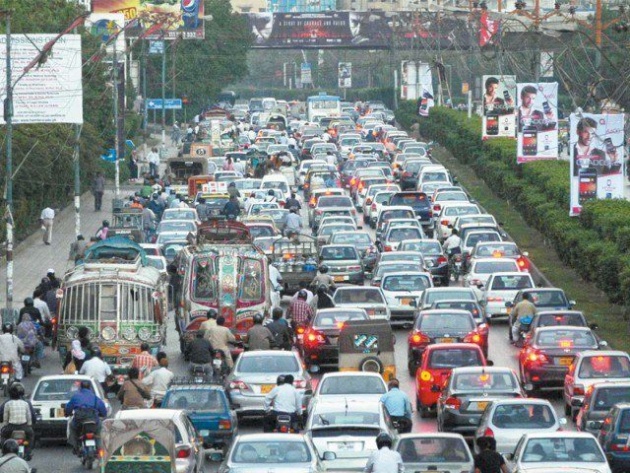 https://tribune.com.pk/story/649242/urban-planning-transport-sector-in-karachi-fails-to-plan-for-the-common-man/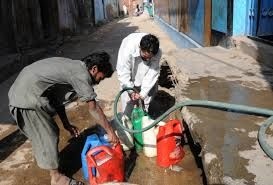 https://excellencecoachingcentre.blogspot.com/2015/10/problems-of-karachi-city-second-year.html
And last but the bestest part of my city is food. The heavenly delicious food of Karachi is famous in all over the world the tempting taste of food is attracted to everyone who visits Karachi.
Karachi have the best places to serve the quality food. From Biryani to Karahi you can get all desi Pakistani food items in Karachi at the low rate. Food streets of Karachi are famous in all over the world. People can visit bot basin and Port grand food street. Karachi serves all the best cuisines from Chinese to Continental.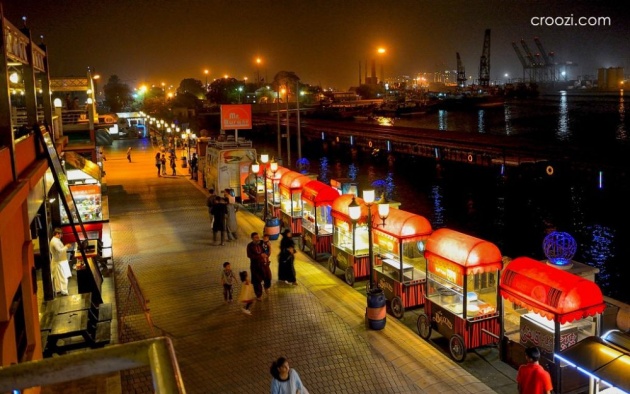 https://www.croozi.com/port-grand-food-street-karachi-pakistan
video taken from youtube : https://www.youtube.com/channel/UC66w5K_bMD3C0R46gId0kmw
well guys, thats all from my side hope you all get to know more about my city Karachi, and wanna visit some day :)
Happy reading
Regard, gemisoul