Video Credits: Caitlin Bea via Youtube
It seems like yesterday that we were rejoicing and leaping as we welcome 2019. And just like a flash, January 2019 has come to an end and it's already February. Even though it's the mid-month of the first quarter, setting up goals or vision board (or blog) is never too late. It's only too late when you decided not to make one, right?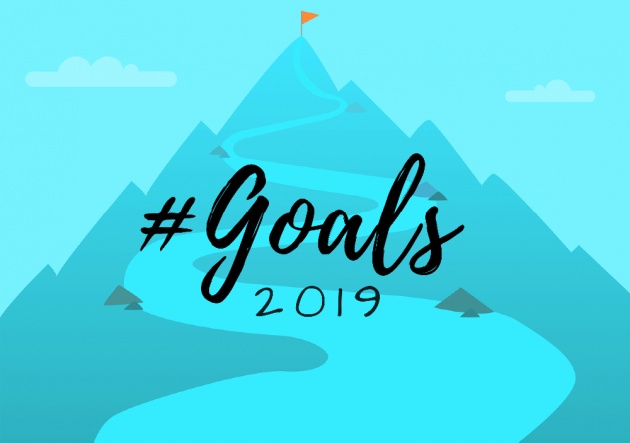 Image Credits: ijmaki edited via Canva.com
Last year, I made my very first Vision Board and shared it on the other blogging site. I'm a person who does not claim that "Oh this year will be my year!", I am more of a fish who swims naturally with the river's flow of current! I don't know what lies ahead my future and I'm trusting God on that. You can say that I'm a Steady Person.
A Vision Board is a collage of images or words to represent a person's wishes or goals. It is a tool that serves as inspiration or motivation to help a person clarify, concentrate and maintain focus on his/her goals in a specific span of time.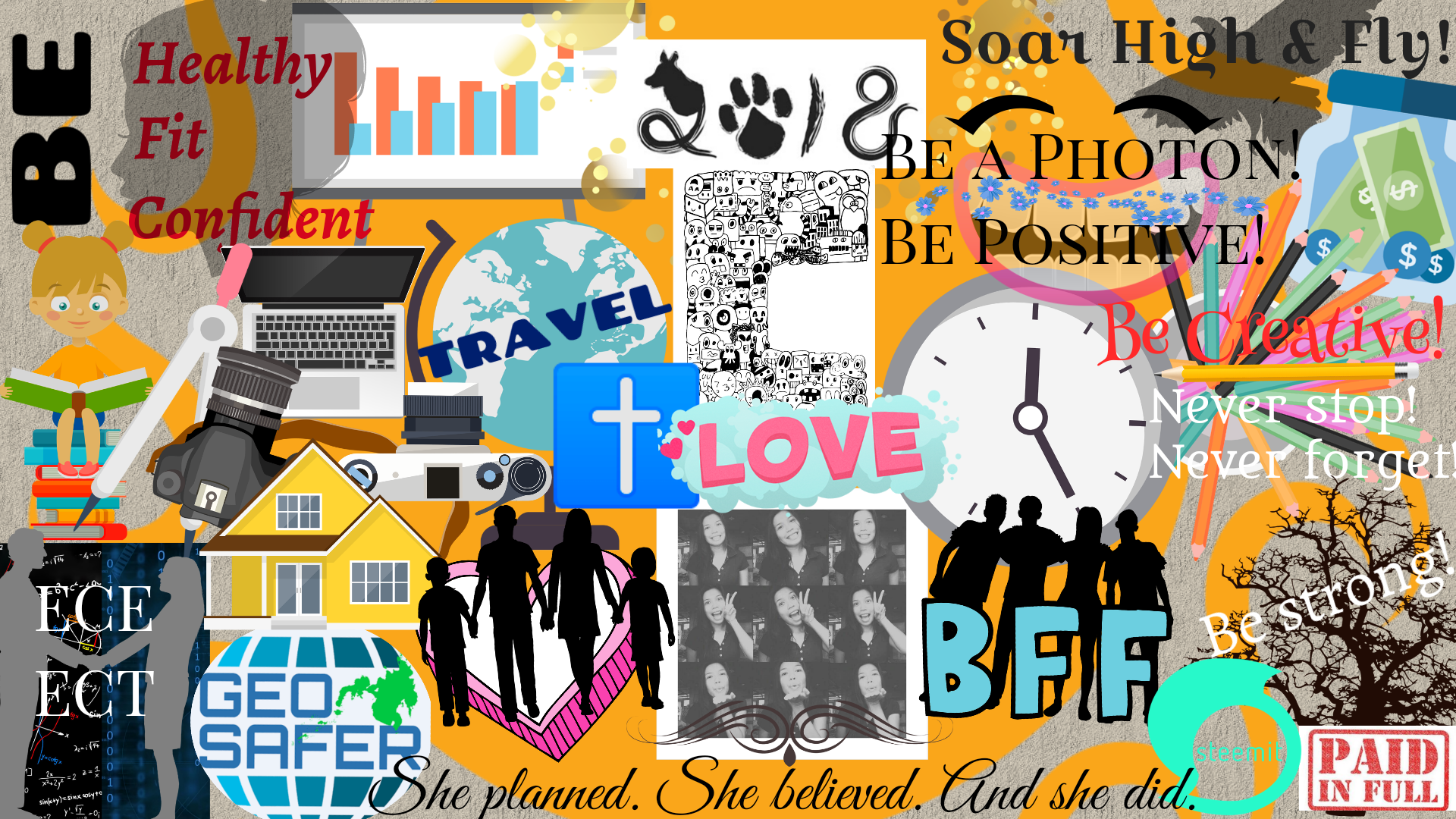 Image Credits: kneelyrac via Steemit
But, there's this Filipino saying, "Nasa tao ang gawa, Nasa Diyos ang awa.", meaning you have to work for it, like work hard, and God will do the rest. It may not be as soon as possible but it will come in God's perfect time. You will be surprised that it comes at your door knocking vigorously.
Now, I'm saying this thing because I'll be sharing to you some of my goals in 2019.
My Six (6) Goals
I have decided to share only six goals I've set because I want to have them for myself only. So here are the six out of the many goals I want to achieve this year.
1. Read 40 Books
Image Credits: Now Magazine
I started the Goodreads Reading Challenge in 2016. I set 40 books in 2016, 30 in 2017 and last year, it was only 15 books. There's a major exponential decay happening in my reading habits. I couldn't agree that it's because I'm busy. I have been a very busy person since the day I decided to take an engineering course. Before, I read even when I'm riding a jeepney, when I'm on my way home while waiting for my friends, during weekends and before going to sleep. Thus, I need to get back on the track and read more books. That's why I set 40 books for this year.
2. Pass The EPS-TOPIK
Image Credits: theweek.in
When I was studying in college, I said to myself that I don't want to work abroad but now that I'm already an employee, all I can think of is I want to work abroad even just for a year or two.
Last year, I enrolled in a Korean class. My main goal at first was to learn a new language but I was encouraged that I should try to take the EPS-TOPIK (Employment Permit System). passing this examination will give you a chance to work in Korea. Also, it's a good thing that I can speak another language besides English and Filipino.
3. Find a new job
Image Credits: Ipswich Community Media
I have been in the Research and Development for almost 3 years, and the project I'm in right now is about to end this coming June 2019, so I guess it's time to hunt new jobs. I'm thinking of applying to another kind of work for me to learn and grow as an individual. But, I'm not going to close my doors for work under Research and Development.
4. Review for Board Examination
Image Credits: TheBestSchools.org
One thing that keeps me from flying is the fact that I'm not yet a Registered Electronics Engineer. I decided to work since I'm the eldest and a six-month-long review is expensive. My plan was to save money for 2 years for the expenses of the review but I wasn't able to do it. It was hard even though I have a full-time and part-time job. Hopefully this year, I'll be able to take the Board Examination but if not, taking the ECT (Electronics Technician) Examination will do then ECE Board Exam will be the next.
5. Be an artist, again.

Image Credits: PRX Exchange
I claim to be an artist because I love art and I do art. It's just that I'm an artist that needs to bloom even more. Thus, I decided that I will enroll myself in an art class, buy more materials, and have extra time to practice every day.
I have already gone to a Calligraphy workshop, my next target is Charcoal Drawing and Painting using different kinds of medium. I really want to learn different kinds of arts and how to use different kinds of medium. It's never too late to learn them all.
6. Be fit
Image Credits: www.gymfitoutdubai.com
I'm not getting younger. My age does and so my body and health. With that, I decided to be active again just like in my teenage days where I dance from Mondays to Saturdays. This year, I have decided to go back to the gym, then try Boxing or Muay Thai and also go back to my passion, dancing. It's quite impossible to do them all but with proper scheduling, I can make this happen.
The "Be" Advice
Inspirations are needed to be motivated to pursue your goals in life. That is why, in this blog, I include the "Be" advice for myself for me to achieve my goals. These are not just for me, but for everyone else, too.
Be a Photon, Believe in Yourself!
If you want to soar high, you need to be more positive in every way. Believing in yourself that you can do it is the key! No matter how difficult the trials are, believe that you can overcome and know that the Almighty One is with you always!
Be Brave and Strong!
You need to have a strong mind and heart to pursue and do what you love the most! You must neither bend nor break. Yes, it is inevitable because we are all humans, but remember, bend a bit but never break.
Be an Eagle, Soar High!

Image Credits: craftsmendevelopers.com
Fly high! Go out of your comfort zone. Go beyond your borders! Wings might get broken but it will heal. When it heals, strive harder and harder so your wings will not get broken again. Your competition is yourself. Be a better version of your yesterday self.
Summing Up
If and only if, some of these will not be accomplished, there will be another year to start. So I just need to cheer up and strive harder and remember to be strong and "Never stop and never forget" phrase!
Never stop believing.
Never stop learning.
Never forget to cheer up.
Never forget that God is with you.
Never stop pursuing what you love.
Never stop growing.
Image Credits: Fotostrap
Before I end this blog, I want you to watch this video on how to achieve your goals.
Image Credits: Psych2Go via Youtube
How about you? Have you already set your goals in 2019?
☀☀☀
THANKS FOR DROPPING BY!
☀☀☀
CARYL KEEN
☀☀☀
2019, All Rights Reserved.