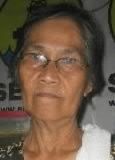 That is my mom, my best friend and my number 1 enemy because she is my 1st destruction, she always gets me down, she always said I can't do this and I can't be that but she's contented on my grades when I was a student and she never pushes me to study hard. Now I am older she never appreciated most of the things I done until it becomes the best and perfect especially on cooking and washing cloths she said I could never be passed even as a house maid because I always never follow her and the things supposed to be done.
I also remembered she said that I will be a cross for them to carry, my life is almost a burden but things went easy because of her, she just want me to learn everything on my own, and might she want me to be strong, she let me down because she just wanted me to get up on my own to learn on my mistakes.
She's always a Woman to Me.
https://www.youtube.com/watch?v=gI-7lvnAlYw
She can make the wrong and lies to be right, I can never win over her. She said she is Darna (the local super hero of the Philippines) because her name is Bernarda and Darna is also Narda as an ordinary human character in the story. My Nanay does and try anything/everything as she can and never stop until she get accomplished on her work, she is strong, I seldom saw her crying, but I know she is soft hearted and easy to be hurt by my words when we argue, I inherited the sharpness of her tongue. She always wanted me to be like her but I always said I am not Darna I am me, I want to be Wonderwoman it might not the best as Darna but much famous and much high tech.
Today she turns 74 y/o, she's wearing eye glasses but still it seems her sight was still blurred, she begins to hardly hear and understand things and forget some details on many things, it's hard to accept it more because even her she resisted she is... she even begun to move slower due to her accident 3 years ago, her right leg broke and now it has a titanium steal inside which she said made her more like superhero/stronger but the hurtful fact it made her gradual on making things. I still thankful she still strong and healthy but every year she gets aged, I am afraid that her age will still it to us . At my age I can't still able to live without her, probably I will miss soon her loud voice. Because even she's always bring me down , she's also their to pick me up. Because of her my life might be difficult but I may say I live in richness as any other child who grows with her mom my life is the best, I do glad I had this super Nanay/mom, I never felt less in life, in love and attentions. I may loose my spirit and confidence sometimes and I do afraid to live on my own I do understand my mom she just over protected, she just want me to be beside her as her youngest child. I hope we can still be together and more patience for each other.
Happy Birthday Nanay ko, you always said mana ko sa Tatay pero mana din ako sayo noh mag-kamukha nga tayo dito.