I guess it was in 2007 when I first joined Facebook. It was pretty fresh and new during that time, when the good ol' Friendster was still on its peak. Yes, I used Friendster back then too. I can remember it was one of my first experiences of the virtual social life.
(image courtesy: whenintime.com, Jonathan Abrams)
That's roughly a decade ago, and I have to say I don't regret my experiences. Social media back then was pretty cool, fun and so positive. A great way to reach your friends even especially when physical connection is not available at the moment. A cool medium to get your thoughts out of your head. Communicate. Socialize.
So unlike now...
Undeniably, social media still paves way for convenient communication and socialization among people. However, to what several people, including me, have noticed, it has since changed from the "mere social platform" to something that feels like negatively saturated place. I'm not pertaining to the ever-growing number of users who join in it. You know what I'm saying? Honestly, I don't even know how to describe it into words.
This is a personal opinion, and I really don't like to offend anyone at all. Today, social media just feels so bizarre. There are those who seem to have different reasons for using it aside from communication and socialization. What's wrong about that? Well, these "different reasons", I shall say, are associated with bad intentions. I can list things, but I would rather not. I will just say, all these things are in the expense of being true to oneself.
With this, I almost decided to stop with the social media thing. I got long time off of it. But I did not completely cut off ties. There were still a couple of things I considered useful about it that I can benefit with. So after some time, I went back on it again. But my approach to it had really changed.
FACEBOOK
(image courtesy: blog.storyful.com, Elie Lichtschein)
Prior to being fed up about it (sorry, it really happened), I was pretty active at Facebook. I used to post and share even nonsensical stuff, create notes, comment and converse with my friends in there. Goodness, I would lie if I say I didn't enjoy those times.
Fast-forward to right now, I am pretty much not like that anymore. Yes, no more posting and sharing of a lot of stuff (although once in a blue moon I get to share some things that I really consider worth breaking this kind of self-imposed rule). No more note-writing. Barely commenting on other's stuff.
FACEBOOK CHAT
What I do make use of Facebook after this transition is its private messaging or Facebook chat feature. I don't even have to elaborate on this one. And the fact that I barely use my mobile phone to text or call people (I only have one whom I regularly talk to on the phone).
(image courtesy: fbza.net)
TWITTER
Unlike with Facebook, I really decided to go off Twitter few years ago. No more tweeting. No more logging on. I don't even think I have gone to its very homepage for years. Back then, I used Twitter to follow celebrities I like. I used to tweet too. I was pretty active, especially during American Idol period. And then I decided to just stop and leave.
(image courtesy: themeexpert.com)
STANNING AND SPAZZING AND TWITTER DIRECT MESSAGE
It's very recent that I decided to go on board again. I got into this Korean actor that I thought going back to Twitter would be really helpful to satiate my growing fan-feels. It was. And then my bias shifted directions, still with celebrities but Hollywood. I still am into this Korean actor but right now, I am so stuck on CHRIS PINE (I really had to mention it, yes).
So, Twitter to me is for... Stanning. Spazzing. If you haven't heard of these words yet, they are related to fangirl thing. If you're interested to know, take about ten or twenty seconds of your time and google, as it will really bea long if I would explain it.
And just about a month ago or two, I discovered direct messaging is as neat as Facebook private messaging too.
(image courtesy: google plus, ibrahim Dağduran)
YOUTUBE
Oh. YouTube. Of course, it has always been the go-to by many of us for music. That was also the very first thing I made use of YouTube for. However, I started using it actively as social media since I was introduced to movie-and-celebrity-related clips like press junkets, celebrity interviews, documentary, talk shows, etc.
(image courtesy: YouTube.com)
Lately, since I started spazzing over Chris Pine (and Chris Evans, before him actually), I really got so into press junkets and talk show guesting. Pretty much a part of fangirling mode-on, although I wouldn't really categorize myself as a fangirl compared to those that I have seen and met. Anyway...
YOUTUBE CHANNELS AND TALK SHOWS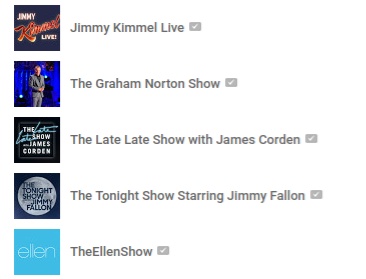 (image courtesy: screen cap from my YouTube page)
Aside from these, I would love to point out my growing interest on talk shows in general, and by that, I mean even if Chris Pine happened to be not a guest. Why? I really genuinely find all of them hilarious, fun and enjoyable. In YouTube channels of popular talk shows, they don't get to post entire episodes but more of clips of the day's episode. This makes it easier to watch and indulge in. Although sometimes I wished they would just upload an entire video of a specific episode. Obviously, the times when Chris Pine was guest were the episodes I would want to see full videos of.
I started getting into "The Ellen Show" and I still consider it the dearest to my heart. I just love Ellen Degeneres so much as a person and as a part of the entertainment industry. Then there are the Jimmy's: Jimmy Fallon with "The Tonight Show Starring Jimmy Fallon" and Jimmy Kimmel with "Jimmy Kimmel Live". Honestly, I found Fallon more appealing to me first, with all the crazily funny concepts and his talent as a comedian. However, just the past few weeks, I started feeling like more drawn to Jimmy Kimmel. That is after I watched some of his skits which are all (those I had watched) hilarious. His approach to his skits, being so composed and keeping a serious face even with a very hilarious dialogue, was very, very, very funny to me.
(image courtesy: thewrap.com)
Pictured above are (from left to right) the hosts of the three talk shows I mentioned above: Jimmy Fallon, Ellen Degeneres and Jimmy Kimmel.
Check this video clip below of one of his skits featuring Matt Damon. If it interests you, this Kimmel-Damon joke thing had been running for years and it had been really funny... up until now!
(video courtesy: YouTube, Jimmy Kimmel Live)
There's also Graham Norton with "The Graham Norton Show" which I absolutely love. To me, Graham Norton is the best among the rest at least in terms of his interviewing skills and approach. He makes sure everyone in his guest list is properly accommodated. He is incredibly funny too.
Below image is Graham Norton in his show The Graham Norton Show with guests (from left to right) Paul McCartney, Chris Hemsworth, Natalie Portman, Katy Perry, and the host of the other talk show I will be mentioning below, James Corden.
(image courtesy: coolspotters.com)
And there is somewhat considered a newcomer, James Corden with "The Late Late Show with James Corden". I haven't actually come across it until few weeks ago. I first knew of James Corden in the movie "Into the Woods" (which also starred Chris Pine). After watching several clips on their YouTube channel, I would really say he is doing a really great job. Not to mention that he really seems genuinely good at heart. PLUS, check this very hilarious clip of an episode with Chris Pine and Patricia Arquette.
(video courtesy: YouTube, The Late Late Show with James Corden)
Oh God, I should probably stop now before I lose it here in this blog and make this very messy. Now pardon me if it just turned like a fangirl blog about her favorite talk shows. I am just writing spontaneously and these ideas just wanted to come out of my chest and be written into words.
To end this nonsense blog, I would just love to point out that I don't condemn social media which is something that could be mistakenly interpreted based on my opening statements. I really do see the not-so-great side of it. BUT I am definitely seeing the otherwise great side of it too.
And for my own delight, I'd completely end this blog with a picture of the primary reason I am so into these three social media sites these days... CHRIS PINE!!!
(image courtesy: Facebook.com)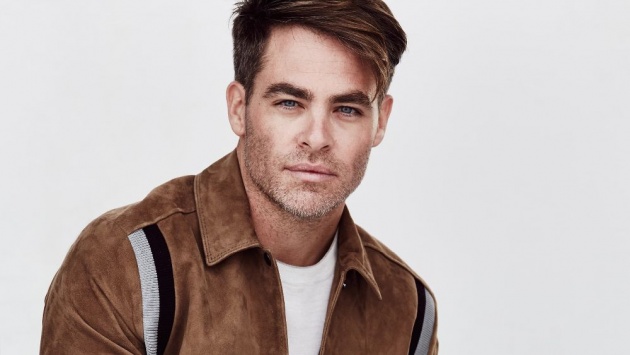 Thanks for reading this blog!