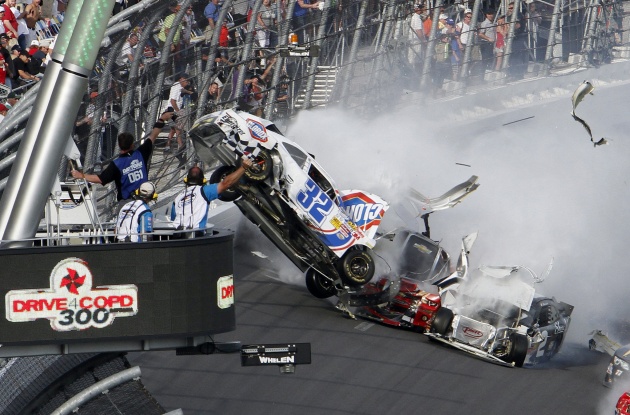 It should've been a beginning with a bang, and so it has been. The first NASCAR race of 2013 ended with the victory of Tony Stewart, but it did not happen just that. In fact at the last corner it triggered a pileup in the top, where the car of Kyle Larson went even over against the nets. The drivers have passed by this incident, unfortunately the same can not be said of the public, in fact 14 people have been taken to hospital. Unlucky the poleman Danica Patrick, betrayed by the engine after just 30 laps.
One thing that has made sensation was the tweet from Brad Keselowski who was also been involved in the accident, that photographed and tweeted Montoya's car caught on fire, which earned him 100 thousand followers in a short time.
Next meeting March 3 in Phoenix.
Final results:
1 Tony Stewart Chevrolet
2 Sam Hornish Jr Ford
3 Alex Bowman Toyota
4 Dale Earnhardt Jr Chevrolet
5 Parker Kligerman Toyota
6 Brian Scott Chevrolet
7 Justin Allgaier Chevrolet
8 Eric McClure Toyota
9 Travis Pastrana Ford
10 Nelson Piquet Jr Chevrolet