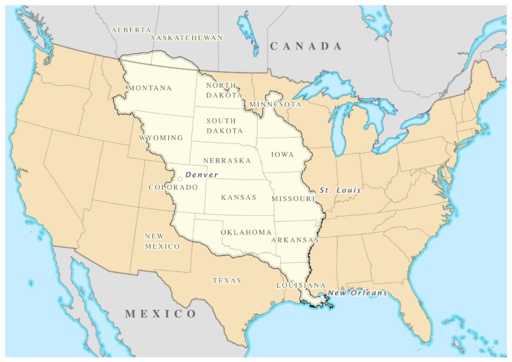 On December 20th 1803, France turned over the city of New Orleans to the United states as part of the Louisiana Purchase. New Orleans was the capital of the colonial territory.
The Louisiana Purchase Treaty itself had been signed in Paris on April 30th, it was announced to the public on July 4th, and ratified by the Senate on October 30th.
The cost of the purchase was 50 million francs ($11,250,000) and the cancellation of debts worth 18 million francs ($2,750,000), roughly $213 million in today's money.
This is actual very little money for what was bought. The Louisiana Purchase wasn't the purchase of the state of Louisiana; it was the purchase of the entire colonial territory, 828,000 square miles, which includes Arkansas, Missouri, Iowa, Oklahoma, Kansas, and Nebraska, parts of Minnesota, most of North and South Dakota, north-eastern Texas, parts of Montana, Wyoming, and Colorado, part of Louisiana itself and parts of the later-Canadian provinces of Alberta and Saskatchewan.
Image: By William Morris [CC BY-SA 4.0 (creativecommons.org/licenses/by-sa/4.0)], via Wikimedia Commons (commons.wikimedia.org/wiki/File:Louisiana_Purchase.png)