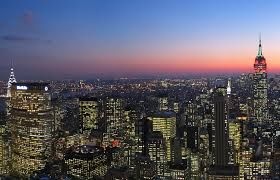 New York is amongst the most popular city in Unites states. A metropolitan city attracts a large number of tourists every year. New York plays a significant role in commerce, media, fashion, art, technology, education and many more. It is a home to approximately 8 million people and it is still increasing. There are innumerable places to visit like the Statue of Liberty, the Empire State Building, the Brooklyn Bridge and many more. This city is the perfect blend of creativity, influence, energy, internationalism that comes together and makes it a great city.
This single city consolidates five boroughs, which may include Brooklyn, Queens, Manhattan, Bronx and Staten Island. There are almost 800 languages, which are spoken here. New York is stated as the financial and cultural capital of the globe. It is ranked as the most photographed cities in the world. This city has encompasses of over 120 universities and colleges, including the New York university, Columbia university and Rockefeller university.
They are amongst the top 35 universities of the world. This city has many skyscrapers, bridges and parks that are famous everywhere. The broadways present here brings the best theaters, music and films. One can have the best shopping experience at Madison and fifth avenues.