Hello, again BIT-yful people of Bitlanders! This is my second blog for this year. Ho-ho-ho! Yeah, I know I was not so active this year. So, before 2016 ends, I hope I can write more. This time, I'm going to share about a blogging site. It's one of my sidelines aside from Bitlanders, as of now. (I just joined a week ago ;-) *wink*) But I'm not so active yet. I can only post 1 blog a day for the mean time. I just can't do multi-tasking (poor me). Now, you know why I have to be inactive here sometimes. Peace!
Okay, back to the topic, I know you're already familiar with this blogging site, NIUME. But for those who doesn't know about it yet, kindly read below. This blog might be helpful for newbies and for those who are interested in joining, I guess.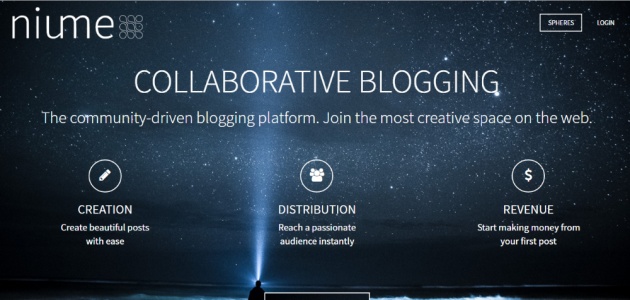 Niume is a Collaborative Blogging Platform. The platform revolves around 20 collaborative blogs called SPHERES which cover different kinds of interest and reach millions of people every month. The purpose of the platform is to allow anyone to become a successful blogger by giving them an instant audience for their content, connecting them with like-minded creators and allowing them to monetise their content automatically.
Niume lets you post your contents and helps you gain more reach and instant audience for free by joining their different spheres where you can meet like-minded creators. You have to join and choose a Sphere relevant to your posts.

What is SPHERE?
A Sphere is an open community of creators who share a common interest where you can collaborate with all kinds of people by sharing your ideas and stories to reach a large audience. Anyone can post, comment and rate in a Sphere and you can join as many as you want.
In short, SPHERE is Niume's term for CATEGORIZED GROUPS, where like-minded creators meet and can post their contents. Are you familiar with the previous blogging site before? If you're thinking about BUBBLEWS, you're right! What I mean is, Niume is similar to Bubblews. They were both blogging and money-making site. Like Bubblews, they also have categories but, Niume have more spheres to choose from!
Photography, Art, Food, Interesting,
Music, Technology, Business, Sport,
Movies, Humour, News, Science,
Travel, Culture, Fashion, Literature,
Games, Animals, Architecture, Lifestyle

See? 20 categories or SPHERES! So, you'll never find UNCATEGORIZED articles in NIUME. Before you hit the publish button, you have to choose the right sphere relevant to your posts because every sphere has moderators that control the contents posted. So, your posts must be relevant in a specific sphere and should follow their guidelines too.
How can I earn in Niume?
Don't worry, Niume will be in-charged in monetizing your posts for free! Once your contents have been published, it's automatically monetized by Niume.
You'll generate revenues based on the VIEWS of your contents and REFERRING other bloggers.
● Revenues for Views - You earn 0.001 per view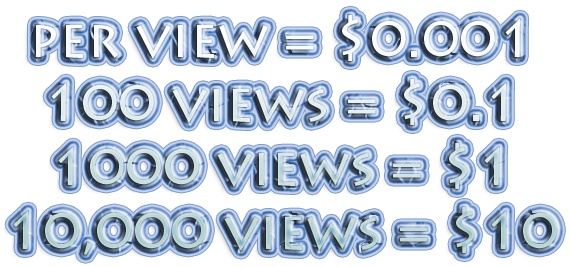 ● Revenues for Referrals
You can also earn through the referral program where BOTH you and your downline will get a one-time reward - $1 RPM (Revenue Per Mille) EACH once your downline published his/her FIRST CONTENT. But, take note, in order to get this referral reward, your downline should sign up using their e-mail address, not Facebook.
● Minimum Withdraw
You will unlock your revenues once your revenue from views and referrals reached $10.
Hype, Status, and Views
This is my own observation and understanding based on Niume Blog & Support Tips.

What is HYPE?
Hype is Niume's term for LIKE or Vote. Niumers can value our posts by liking or voting positive or negative Hype. The more positive like or Hype you get, the higher STATUS you will have.
By getting more hype you will increase the likelihood of your posts appearing on the Sphere's Top Posts Sections, being featured by our staff, and showing up on Niume's Popular Feed, all of which will give your pieces the maximum visibility.
● Create great posts
● Follow Niume's Content Guidelines
● Become a Valued Member of your Sphere - post and comment regularly
What is STATUS?
Status is Niume's term for Leaderboard Rank or Level. Your Hype has something to do with your Sphere Status. The more hype you get in a particular sphere, the higher your status will be. Each sphere has their own Leaderboard or Top Users with Status from 1-50.
What does a higher Status Imply?
● Higher Hyping Power and Influence - As you increase your status, so will the value of your Hype to others. For example, your Status or Rank in a sphere increased to rank 10, your Hype value from 1 will increase to 15 . So, every time you hype or like others' post, you will give it 15 hype. (This is only an example.)
● Increased Visibility - the higher your status in a sphere, the more visibility it will have and the higher chance for your posts to get featured on your sphere.
How do you grow your Status?
● Get more hype on your posts
● Commenting
Views
Revenues are based on your VIEWS (and referrals). The more VIEWS you get, the faster you reach $10. So post as many as you can because there's no limit per day.
Niumers' Helpful Tips
I will share some Niumer's tips which might be helpful to those who are starting in Niume. These have been very helpful to me when I was starting on the site. Just make reading a habit and understand it too so that you'll know what to do next. And most of all, you should read the Niume FAQ & Help.
Read this FAQ first. Maybe, the answers to your questions regarding this matter is already there. Then read this blog to get some tips on creating Niume posts by Niume Blog & Support . I will simplify it here.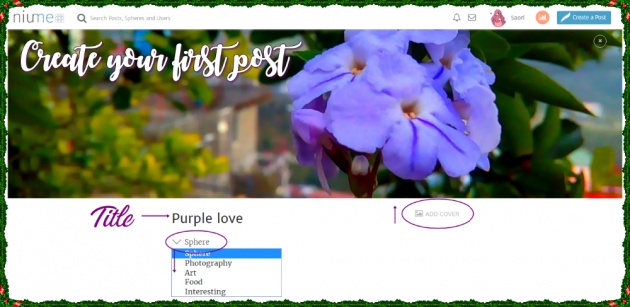 Add an impressive Picture or Video to grab the attention of the Reader
Make your Title Stand out
Include a Background Image on Your Post
Make your text engaging and interesting to read
Highlight the Important Parts of your Text and Add Sub-Titles
Let your readers breathe!
Select the correct sphere and tags for your post
Invite People to Comment to Kick Start a Discussion
Share your post on Social Media
Since Art and Photography were the most popular spheres in Niume, they have their own Facebook pages where you can share your recent posts. Niume Facebook Art Community is moderated by Kalemandra while Niume Facebook Photography Community is moderated by April Bryant. If your focus is on written contents, here's the Niume page that suits you, Niume Writers Community moderated by Tracey Jade Boyer.
Yes, Niume allows us to share our contents on different Facebook pages to help each other.
(Image Credit to Niume Blog & Support)
❀ Niume Checklist: 6 must do's to help you reach 10,000 reads
This might be hard to reach but you have to read this article if you want to reach 10,000 views easily. This was shared by Niume blog & support. I will list down his useful tips and tricks but make sure to read his blog for further explanations together with the visual contents to understand it.
(Image credit to Niume Blog& Support)
Create rich posts from both a visual and textual perspective
Provide Original Content
Promote your work using Flipboard
Instantly share your blog pieces on other social media platforms
Captivate the readers with a catchy headline
Join Facebook Creators Community
Read this blog to understand more about HYPE and STATUS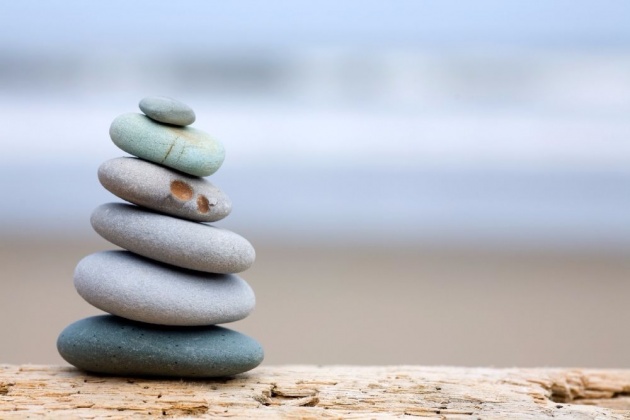 Important to Remember
➊ Register using your E-mail address
Take note that only those who have downlines who registered using their e-mail address will be able to get $1 each. So before they join, tel;l them to sign up using their email address so that you'll both get your rewards within 24hrs after they post their first blog.
➋ Sign up to Niume Revenue
You will need to link your PAYPAL account to your settings in order to start receiving payments. Just go to your Settings> "Payment Details" then input your Paypal email address.
➌ Hype, Status & Views
You need to have more hype or likes first. The higher the hype, the higher the Status will be. The higher the status, the more viewers you will have. The more views, the faster you reach $10.
➍ Post and Comment regularly
Post and comment regularly so that you'll be noticed by your co-creators and hype back or comment back to you. Take note if you're not active, your status will decrease. Remember that you can post contents with at least 5 lines.
If you're interested to join,

now.
That's all folks! Hope this helped you. It's not bad to try and join. Why not give it a try and have time to find something to read about recipes for dessert, tips for blogging, tips in photography and much more that you want to learn. Who knows, you might discover something that you never knew you can and perhaps you can apply it here one day. Like me, I never knew that I will be interested in learning photography by just reading articles.
NOTE: This is my own observation and understanding based on their FAQs.