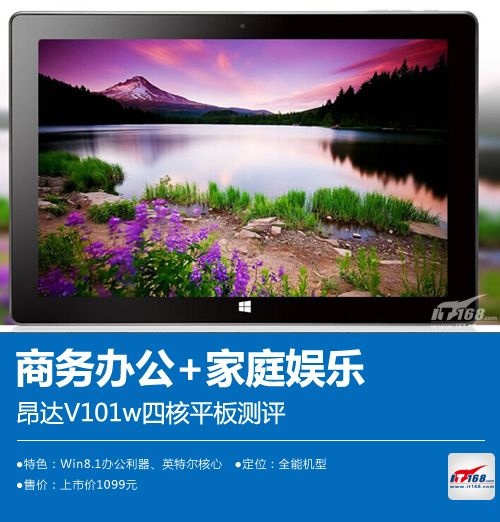 In recent years, ONDA had launched a series of highly-cost effective tablet devices. These products are not bad at all. Today, we will review the ONDA V101W quad-core tablet.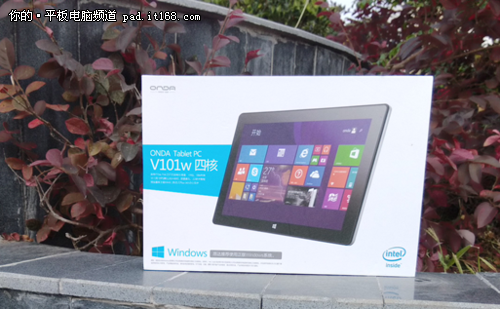 The V101W is ONDA's third Windows 8 tablet.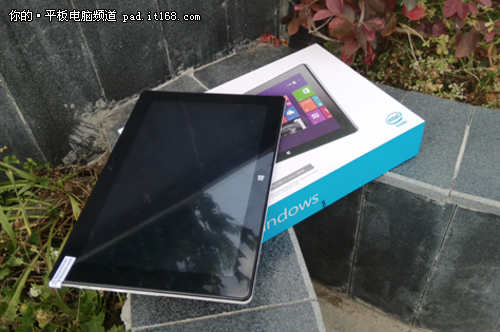 It sports a 10.1-inch IPS display screen with a 1280 x 800 resolution and dual-camera with auto-focus. Its OS is the Windows 8.1 and its processor is the Intel Z3735 quad-core 64-bit chipset (1.83GHz). It also has 32GB eMMC ROM and 2GB DDR3L RAM. It is powered by an 8200mAh battery. It is safe to say that this is a powerful tablet.
Appearance:
The front looks simple yet elegant. It has the classic "Windows" touchkey at the bottom of the screen. The front camera is located above the screen and has 2mp. Beside it is the power light which glows when the device is turned on. Considering the fact that this tablet is mainly for business purposes, the screen resolution is pretty good and the camera specs should be enough to take daily photos.
The rear case feels nice and comfortable. At the top is the rear-camera which slightly points out. It has 5mp and uses an OV lens. It also supports auto-focus and there are speakers on both sides.
On the right side are the ports: 2.5mm DC charger port, Micro USB port, Micro SD slot, Mini HDMI video receptor, 2.5mm earphone jack, and microphone.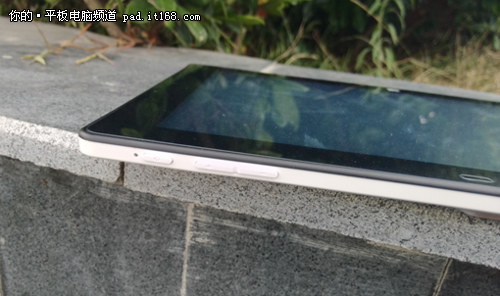 At the top side of the tablet are the volume, power, and reset buttons, as well as the charging light. At first, I did not think plastic buttons was a good idea but after a while, I thought they fit perfectly.
Windows OS: Powerful and easy to use
Actually, I have not had a lot of experience with a Windows 8 tablet, so when I first got this, I carefully studied how to use it. Overall, it is pretty similar to the computers most of us use but with a few differences. After all, it is a tablet with a touch screen.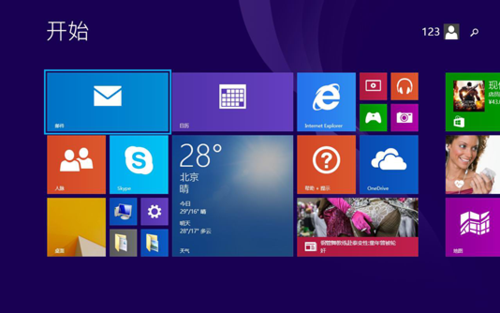 Standby interface
The Standby interface is split into many small blocks. Users can directly access the files they want. At the same time, swiping backwards gives you access to things such as news and the App store.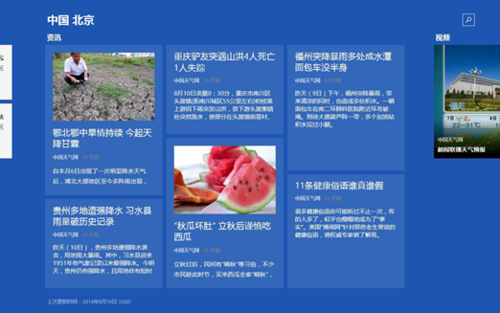 News block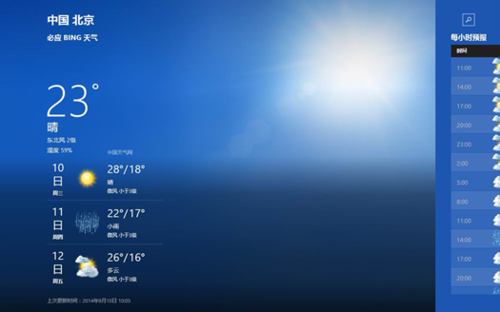 Weather block
  You can scroll to each block by swiping up and down or left and right.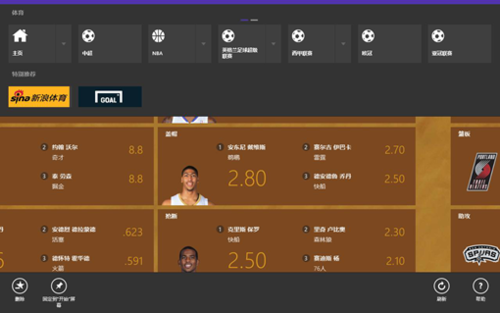 When you tap the desktop icon, we enter the Windows desktop interface that we are all familiar with, but since it's a tablet, we cannot use a mouse or keyboard.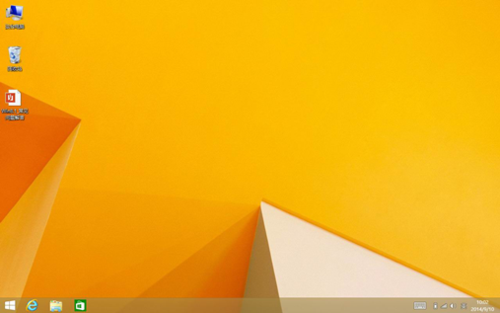 In the photo we can see that ONDA included a touch keyboard icon on the lower right corner of the desktop.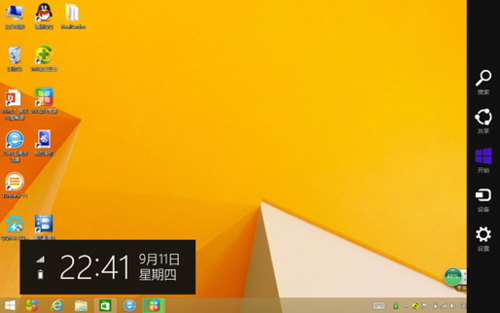 Lightly sliding your finger at the right side of the screen opens the settings bar.
Furthermore, sliding your finger left to right can swap two Apps that are open. Other features are just as what you would expect from Windows. It's just that since you do not have a keyboard and mouse, you would have to hold your finger on the screen to do a right click.
In summary, the ONDA V101W's operating system is very handy since it's Windows 8 except that you have to use it by touchscreen. Once users learn how to use a touchscreen, it should be as easy as using a regular computer.
Performance
As mentioned before, the ONDA V101W quad-core tablet runs on the Windows 8.1 OS, uses the Intel Atom Z7375D quad-core chipset, has 2GB RAM and 32GB ROM (memory card-supported, up to 128GB), and sports a 10.1-inch IPS screen with 12800 x 800 resolution and 2mp/5mp dual-camera. These specifications are pretty standard. First, let's look at its benchmark scores.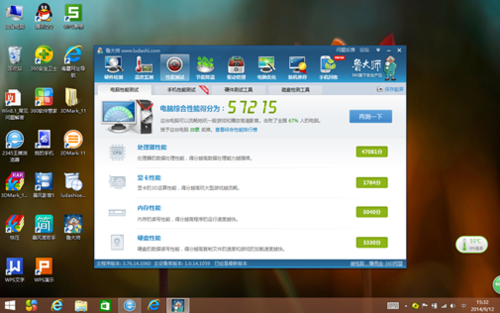 In the popular Dalushi benchmark test, its overall score was high. Its display card got 1764 while its processor got 47081.
PCMark test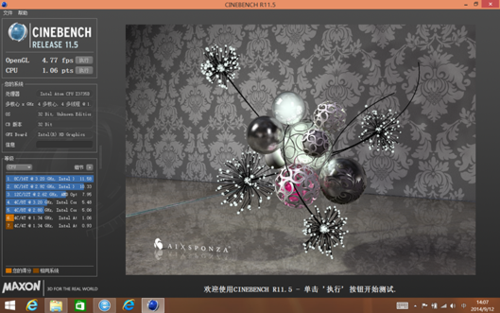 Cinebench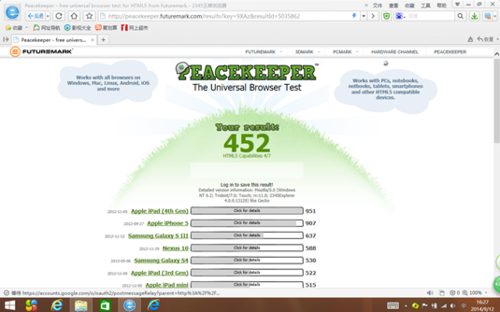 Browser test
Even though benchmark scores do not mean everything, they can reflect several things about the device such as its performance. Since the V101W is mainly a work-related device, it has a lot of office-related programs such as the Microsoft Office 365 Individual Version.
Microsoft Word, Excel, and Powerpoint all work well without any problems.
As a business-related tablet, videos and photo settings are essential. The cameras' resolutions are not bad. They're not great, but they are ok. There is no flash.
Conclusion: Overall, the ONDA V101w is a nice tablet whether you are working or just want to watch movies or play games Besides its high specs, all the programs are neatly organized. You cannot miss such a cost-effective product.
Source: http://www.gizmochina.com/2014/10/07/onda-v101w-review/