This was an awesome game that started being pitched by the Baltimore Orioles pitcher in 93 degree weather, Wei-Yin Chen. Byb the third inning the score was 5-1, leaded by the O's and by the fifth inning the A's had gained one run in but the O's had gained ten more runs!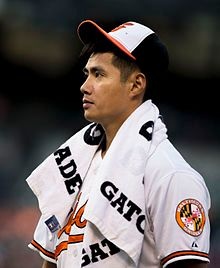 At the end of the following inning the Orioles had gained two more runs to the score and Chen had stopped pitching and replaced by reliever Brian Matusz. Chen had pitched in very hot weather 117 pitches! Usually 117 pitches is done by a pitcher in nine innings not six!Remember now the temperture is hotter on the playing field then it is on the sidelines, dugout and stands. Brian pictched his usual relieving one inning the was replaced by pitcher Jason Garcia who pitched the last two inning and also was up to bat once during the ninth inning, which is unusual for the American league in USA baseball for the pitcher's to bat.
The game ended with the Orioles 18 and A's 2! The Orioles had no errors. Home run's were hit by Gerado Parra, Adam Jones and Caleb Joseph.
See this link to view some of the highlights of the game.https://www.youtube.com/watch?v=TbuL07gQO-c