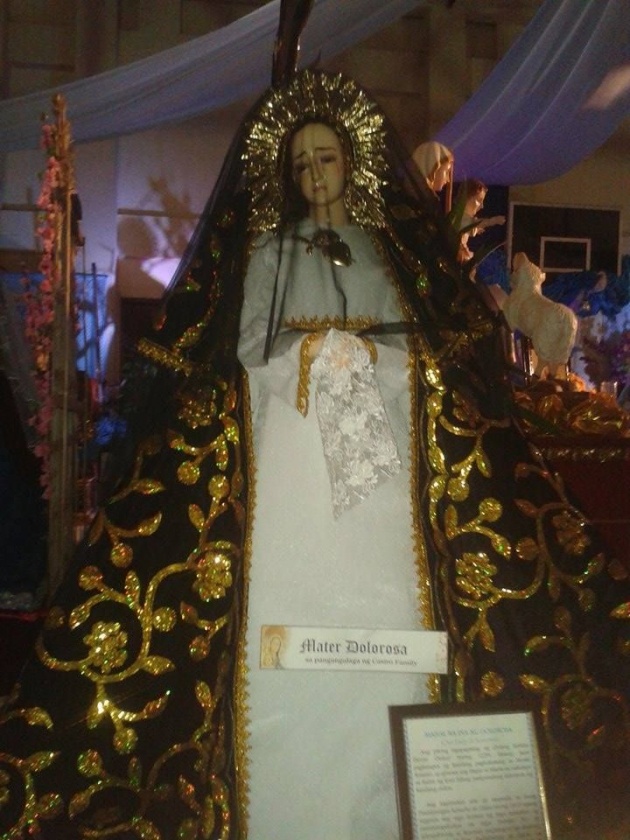 Photo was taken in Balucuc, Apalit, Pampanga in their Marian Exhibit
OUR LADY OF SORROWS "Mahal Na Ina ng Dolorosa"
The 7th creators of Sevite Order in 1239, 5 years after the establishment of Monte Scenario made the image of sorrow of Mary that was built under the cross as the primary devotion of their ordain.
Its Feast day was derived from a Regional Council in Colon in 1413 to suppress the crimes of those Hussite who destroys others faith. It is celebrated during Friday after the third week of Easter under the name of "Commemoratio angistix et doloris B. Marix V". It focuses only on the sorrows of Mary in the crucifixion and death of the Lord Jesus Christ.
The second Feast day was given to the Sevite in September 15, 1668. It is committed on the 7 Sorrows of the beloved Virgin Mary.
These days, we commonly see this image of Mary during the season of the Holy Week. Many organizations were built under this devotion to Mary. Here in the Philippines, we call them as "Dolorosa", a group of women that are devoted to the "Our Lady of Sorrows". These groups commonly do their sacrifices by marching during Holy Friday as their penance and repentance to their sins.