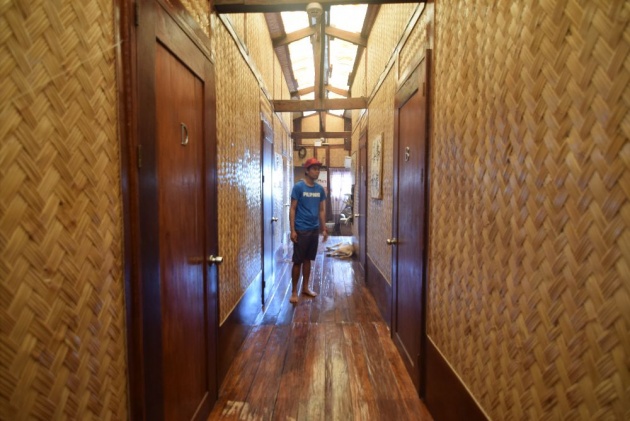 James standing at the middle of the guest house. Image credit: Jean Beltran-Figues via bitLanders.com
Rated as is, the tourist destination has become home to different tourists from all over the world and has become populated too with both the local travelers as well as those from foreign land. Because of this, most resorts and hotels have become pricey. Looking for a place to stay in the island which offers affordable rates is quite a challenge.
However, I was glad to find Patrik and Tezz Guesthouse which was not just affordable but also homey at the same time. Let me share to you how I found it and its benefits to those backpackers and other DIY travelers looking for affordable place to stay within Coron town proper.
Finding Coron's Best Backpacker Inn
Our Coron Ultimate Island Hopping Tour. Video credit: Jean Beltran-Figues via bitLanders.com
I usually plan all any trip beforehand specially if we are going on a group. Most of the time, I'd be making the itinerary one or two months before since our tickets with Philippine Airlines was already booked when they had their anniversary ticket sale promo last January, 2017.
For the place to stay, it seemed indeed that the resorts in Coron are really pricey considering that there are lots of foreigners in this part of the country. So I have to look for alternatives because it would be very costly to travel if we'll stay at an expensive place. The tours in Coron costs starting around Php 1200 for group tours. If one wants a private tour, it would cost more.
Searching online is the best remedy so I have to use the search words:



cheapest guesthouse in coron
Coron cheap inns
Coron affordable rooms
Backpacker rooms + Coron
Coron most affordable guest house



Patrik and Tezz Guesthouse
Video credits: Jean Beltran-Figues via bitLanders.com
I had read blogs and reviews about each guest house and bumped into Patrik and Tezz after some time. It has good reviews, in fact it was hailed as the best in Tripadvisor's site.
For some time, I tried to look for any other backpackers guest house which offers the same thing as Patrik and Tezz Guesthouse but couldn't find any. It seems it has the most affordable guest house indeed.
One more step before making sure that we have a place to stay was to reserve the rooms. We were four and we need one room per couple so I have to reserve two twin rooms. I went on and sent an inquiry email to the email address mentioned on their website. Surprisingly, Patrik who is managing it replied in a very prompt way and advised me that he can arrange it for me.
Happy with the communication, I asked Patrik for his PayPal account so I can send him the reservation fee. I was astonished as he told me there is nothing to pay for any reservation. He will keep our rooms available once we reached Coron. It was a pleasure communicating with the owner himself so I was thankful to him for his customer service.
Why Patrik and Tezz Guesthouse is Highly Recommended
Image credits: www.pinoytravelfreak.com
We reached Coron proper at noon time and was greeted by Ate Raquel who is the attendant of the guesthouse. The guesthouse though is located in a place with sea water underneath it so it is like a floating guesthouse. Its front door has a tripadvisor logo which basically means it is highly recommended by the site.
Aside from Ate Raquel, a fluffy cat also snubbed us, his name is Daddy Cat. He is a Persian cat with a strict personality. But he loves their home dog name Mouchi, pronounced as "mo-shi".
I am enumerating below the reasons as to why I am recommending this place:
1. Affordable at Php 550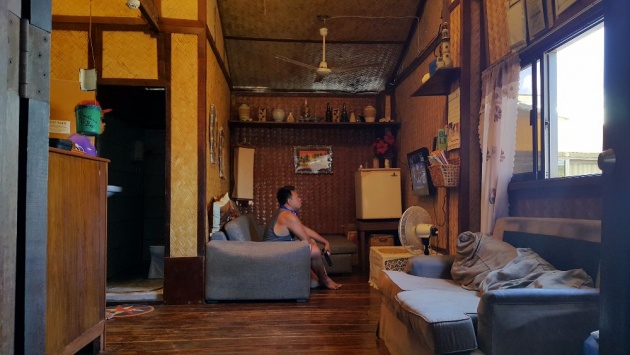 My brother watching the TV at the living room. Image credit: Jean Beltran-Figues via bitLanders.com
During our email communication with the owner himself, I was advised that our room is a fan room which costs Php 550 per night. That for me is already a good deal considering that it is a twin room and that we were in Coron.
The other resorts which I had inquired usually costs Php 1500 per night for an air conditioned room. I was thinking that we are mostly out of the room so there is no need to be on an air conditioned room. And since my companions agreed on the condition and the pricing, I gave it a go.
The room as well has a native feel. The walls are made of weaved bamboos and the flooring is made of wood. There were two electric fans in each room, two beds and a cupboard for our stuffs. There's power outlet available but we have to use our extender which I always do so we can charge our gadgets, batteries and laptop at once.
2. Hands-on Owner
One more thing that I appreciated when we arrived was Patrik, the owner of the guesthouse greeted us and looked for me. He shook our hands, said hello and introduced himself.
Japanese signs hanged at the guesthouse wall made by the guesthouse owner himself. Image credits: Jean Beltran-Figues via bitLanders.com
Patrik, a European came to the Philippines before as a tourist, a backpacker and traveled the country. He came to Coron too as how the common tourists do and fell in love with it. He was actually with his girlfriend at that time when they both came to Coron. They found this spot in this area and bought it under Tezz' name when they got married. They built the guesthouse as a way of making a living while in the country but made it very affordable for all the visitors and guests because they'd like guests to enjoy Coron in an affordable way just like what happened to them when they first arrived in Coron more than ten years ago.
Unfortunately, Tezz and Patrik Guesthouse had separated but Patrik continued the guesthouse and he has no plans of leaving the country. He is hands on in terms of cleaning and washing the laundry, even if he has helpers like in the presence of Ate Raquel, he still prefers to wash the laundry himself through the use of his automatic washing machine.
3. Animal Friendly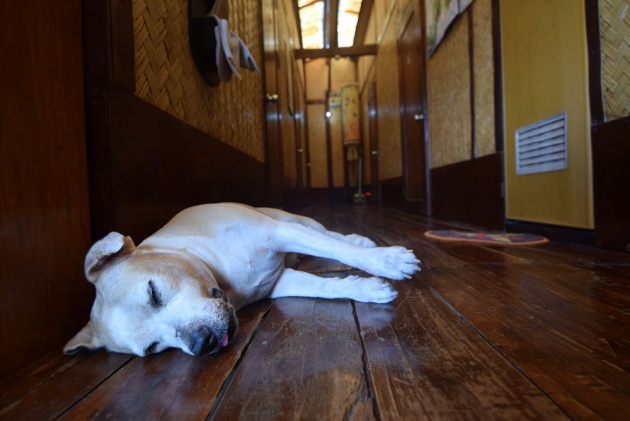 Mouchi, the lazy house dog owned by Patrik. Image credit: Jean Beltran-Figues via bitLanders.com
Animals are very much welcome in the guesthouse. In fact, they own two dogs amd one cat. The dog named Mouchi is living at the living room inside the main guesthouse while Daddy Cat lives inside Patrik's crib together with the other female dog which is an enemy of Mouchi. Both dogs are female and they don't like each other so they are separated by house. However, Patrik has assigned hours in a days for each dog to roam around the town.
Every single day while we were in Coron, we'd see Patrik bringing Mouchi out for a jog early morning. They have their own time together as well as Daddy Cat whom he would pet at all times.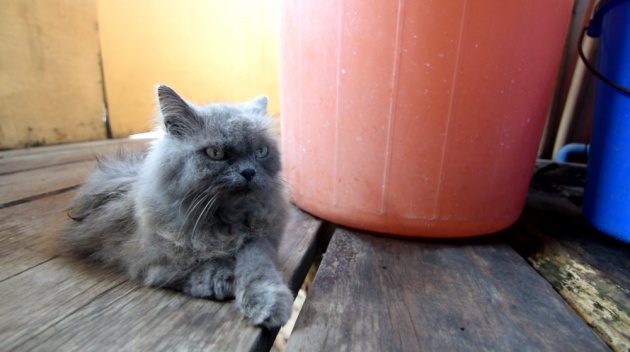 This is Daddy Cat, a Persian cat breed. Image credits: Jean Beltran-Figues via bitLanders.com
As per the owner, any guest who would be bringing with them pets are welcome. They'd be playmates with his pets too.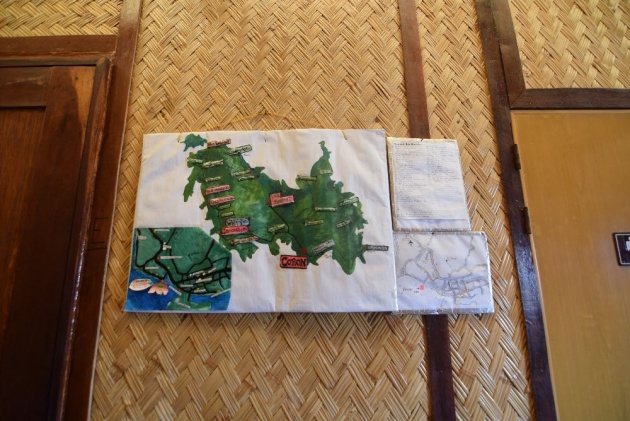 The island of Busuanga hanged at the rest room sides. Image credits: Jean Beltran-Figues via bitLanders.com
I spoke with Ate Raquel, Patrik's helper in the guesthouse and mentioned they are the only backpacker guesthouse which has hot and cold shower within Coron. Although their washrooms are for common usage, these washrooms are definitely functional with the amenities in it.
A sink, a toilet bowl with automatic flush with a bidet. The hot and cold shower is available as well as the hangers for the stuffs you bring inside while I taking a bath.
5. A Mini Swimming Pool / Jacuzzi Available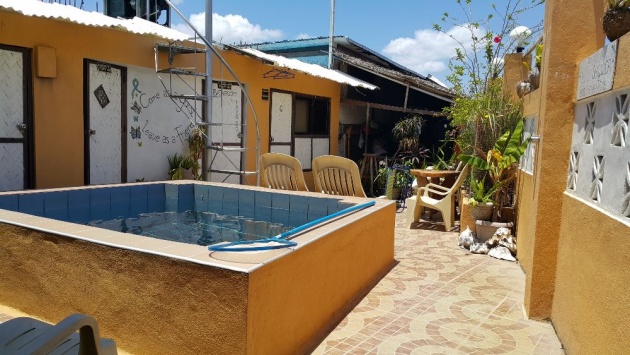 Image credits: Jean Beltran-Figues va bitLanders.com
On our first island hopping which was referred as the Ultimate Coron island hopping, we ended the day having a dip at the mini swimming pool of Patrik and Tezz guesthouse.
It's actually a Jacuzzi for the guests to still be with the water even at night after a certain long day of tours. We had two sessions of Jacuzzi but the bubbling effect was not yet functional however, we didn't mind it. We had long talks over the shining moon and had been interacting with the talking bird of their neighbor.
6. Free Drinking Water and Fridge Usage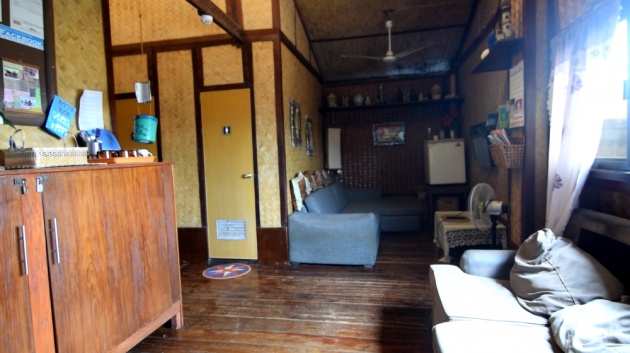 Fridge at the end of the photo. Image credits: Jean Beltran-Figues va bitLanders.com
Another service which I liked in the guesthouse is the free drinking water, free usage of the cups and there's also free hot water for our early morning coffee. We had saved up drinking coffee and having breakfast because they offered free hot water. As a Filipino, we are used to having bread we refer as pan de sal and coffee. This gives us a kick for our everyday life.
Aside from that, there's free usage of fridge as well. They do have this situated at one corner near the living room so any guests who has bought food from the outside can keep them inside the fridge and eat them later on.
Overall, if you're a backpacker who's aim is to save up a lot of cash while traveling and someone who doesn't mind the fan room situation, this guesthouse is for you. It has guests of different skin and race. In fact, they have a board which shows the different guests they had catered who came from all over the world.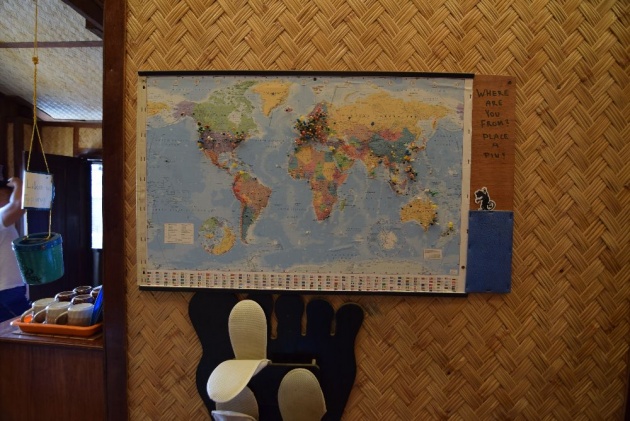 A map showing the guesthouse's guests and clients from all over the world. Image credits: Jean Beltran-Figues via bitLanders.com
Note that because it is a backpacker kind of guest house, it doesn't provide soap, shampoo or tissue. These should be shouldered by the guests but they do provide towels which is a good thing.
Backpackers and DIYers would surely love this place. It would be like home away from home. And speaking of travel, please participate on this Querlo chat bot below:
©Jean Beltran-Figues