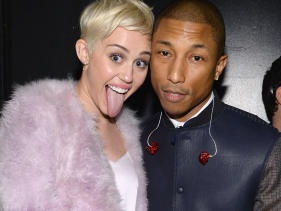 Pharrell Williams is primed to drop his second solo album, G I R L, on March 3, and, according to a newly posted track list, it's going to be a big old reunion for Skateboard P. Yup, the record will include contributions from past collaborators and heavy-hitters including Miley Cyrus, Justin Timberlake, Daft Punk and Alicia Keys.
Noisey posted the track list for Pharrell's new record Friday (February 21), a list replete with girl-referencing titles ("Marilyn Monroe," "Lost Queen," and "It Girl") in keeping with the album's title.
"Women have been so good to me over this entire career and they've done so much for my family," Pharrell told BBC Radio 1 with regard to the title. "Everything I've ever gotten is because they've paid for it, so they're, like, my bosses — indirectly and directly — you guys are like my bosses. So for me, I wanted to analyze that for a second."
Prior to this announcement, we already knew that the album would include "Despicable Me 2" soundtrack hit and Oscar-nominated jam" Happy." We also could have guessed that it would feature tons of guest stars; his 2006 debut, In My Mind, included appearances by Gwen Stefani, Kanye West, Snoop Dogg, Charlie Wilson, Pusha T, Nelly and Slim Thug.
G I R L's track list, however, reads like a "This Is Your 2013" for Skateboard P, reprising match-ups with last year's big hitmakers. The only collaborator missing, it seems, is Robin Thicke. Maybe he'll catch P on the remix?
While we're all waiting for more info to leak through the Internets with regard to Pharrell's female-monikered sophomore record, might I suggest putting a bid in on his legendary Grammy hat? It's currently available for the low, low price of $10,500.
See the full track list below:
1. "Marilyn Monroe"
2. "Brand New" (featuring Justin Timberlake)
3. "Hunter"
4. "Gush"
5. "Happy"
6. "Come Get It" (featuring Miley Cyrus)
7. "Dust Of Wind" (featuring Daft Punk)
8. "Lost Queen"
9. "Freq"
10. "I Know Who You Are" (featuring Alicia Keys)
11. "It Girl"
Source: MTV
Annex News - Music