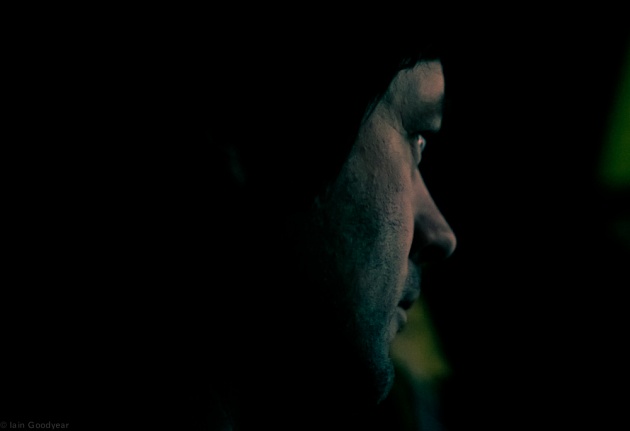 In June 2013 I was asked by Manchester based band Jack Reid & The Black Whip if I could photograph a gig they were headlining. The band was performing at the Castle Hotel on Oldham Street in Manchester's city centre. As a resident of Manchester for nearly 10 years now, I've been to watch live music at the Castle Hotel many times. It is a superbly intimate venue, one that really allows the audience to closely interact with bands and performers. The Castle Hotel has been open in Manchester since 1776 – no mean feat for a venue to reach in terms of its age. I've always felt a very palpable and real sense of history (and pride in said history) whenever I've visited The Castle Hotel. Put simply, it is a great venue to see live music and spend time in.
Jack Reid & The Black Whip describe their sound as 'primarily psychedelic, driving the structures of rock n roll and punk into fields of blissed out noise via motorik rhythms and layers of 12 string guitar. They have been compared to Spaceman 3 and Neu! as well as Johnny Marr and Lift To Experience'
The line-up for Jack Reid & The Black Whip is:
Jack Reid: Fender Jaguar/Rickenbacker 330/Gibson ES 135/Keys/Vocals.
Dan Ibison: Squire Jagmaster/Gibson ES-330/Rickenbacker 330 12 string.
Stu Gibson: Fender Precision/Gretsch Country Gentleman.
James Scholes: Pearl Export Drums/Keys/Vocals
I knew before I arrived at the venue that I wanted to capture the band up close and personal, and predominately use the available natural light. The plan was for my images to reflect the intimate nature of the venue and the intensity of Jack Reid & The Black Whip's performance. To achieve this I opted to shoot with my f/1.8 50mm prime lens, which is a great piece of glass to use when shooting in low light situations. I wanted the edited shots to be a mixture of black & white and colour so that there was a contrast between the final selections. As a photographer, I have less experience of shooting live music performances compared with other events I have covered over the years. While I was a little nervous about how this series would turn out, one particular aspect I think I have conveyed well with my shots is the raw intensity of the performance of Jack Reid & The Black Whip. They are a great band to shoot and I hope to work with them again in the near future.
Thank you for taking the time to read this blog. I hope you enjoy my photographs of Jack Reid & The Black Whip.
To read more of my blogs please click HERE.
If you are new to Film Annex and want to blog on this great platform click HERE to begin.
To receive future updates about my photography and moving image work please subscribe to www.filmannex.com/iaingoodyear.