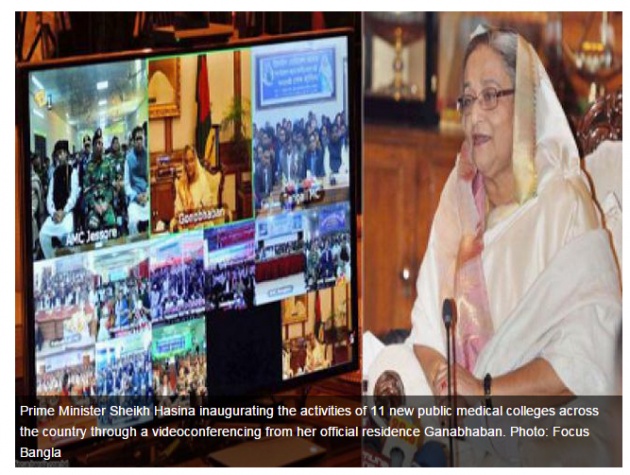 Worried at the poor quality of education and doctors coming out from the country's private medical colleges, Prime Minister Sheikh Hasina on Saturday asked the Health Ministry officials to put these institutions under intensive monitoring and supervision.
"I ask the Health Ministry officials to make sure that these medical colleges strictly maintain the standard of their education so that no patient-killing doctor comes out from there. You must supervise these colleges closely and intensively," she said.
The Prime Minister gave the directive while inaugurating the activities of 11 new public medical colleges across the country through a videoconferencing from her official residence Ganabhaban.
Sheikh Hasina said the officials concerned have to remain vigil about the academic activities, curricula and other related matters of the country's private medical colleges.
The Prime Minister said the doctors who will come out from these colleges will have to be good doctors, not patient killers.
As it puts utmost importance on medicare facilities for the country's people, she said, her government has given approval to a number of private medical colleges during its tenures. "We're giving approval to some more new private medical colleges, too," she added.
According to official statistics, the number of recognised private medical colleges in the county is now 44 while the number of private dental colleges is nine.
Health Minister Mohammad Nasim and other high officials of his ministry were present at the programme.