Potato and egg curry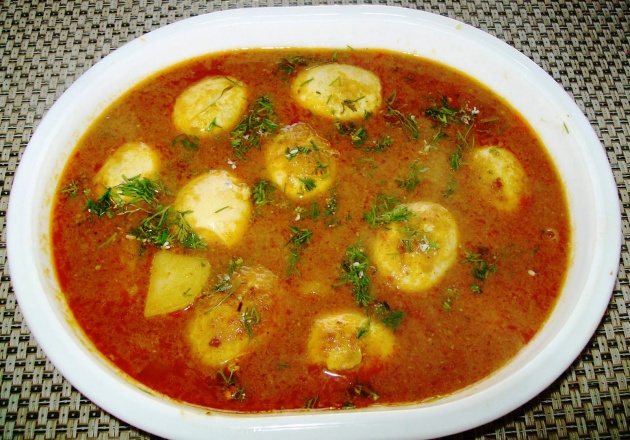 Potato and egg curry is very delicious and easy to make recipe. As there are a lot of methods to make potato egg curry but I will share a very simple recipe I am sure you will enjoy it. I made this curry last night and believe me I was fantastic. Try this at home and enjoy!!!!!!!
IGREDIENTS
Potatoes 4-5
Eggs 3-4
Onion 2 medium size
Tomato 2
Garlic paste 1 table spoon
All spices 1 table spoon powder
Red chillies ½ table spoon
Salt to taste
Turmeric powder 1 tee spoon
Green chillies 2-3
Cumin seeds 1 table spoon
Oil 3 table spoon
METHODE
Take oil in cooking pan add cumin seeds and let them to pop.
Add onion and golden fry.
Now add tomatoes and garlic paste.
After 2-3 minutes now add red chillies, turmeric powder and salt.
When the oil leaves the sides of pan add potatoes and fry for 5 minutes.
Add 2 cups of water sprinkle the crushed green chillies and cover the pan.
Take another pan boil eggs. These eggs must be hard boil.
Slice the boiled eggs.
When the potatoes are softened and oil comes on the surface of curry turn off flame.
Now sprinkle all spices powder.
Add sliced eggs and serve with rice or roti.