Pre-wedding Overnight Stay at B Hotel, Quezon City
Hello fellow BitLanders! I hope you're having a great time today!
Last year, we had an overnight stay at the B Hotel in Quezon City, Philippines for my cousin's pre-wedding shoot. She chose this venue for her pre-nuptial photo op because it was one of the good hotels near UST church, the place were they had made their wedding vows.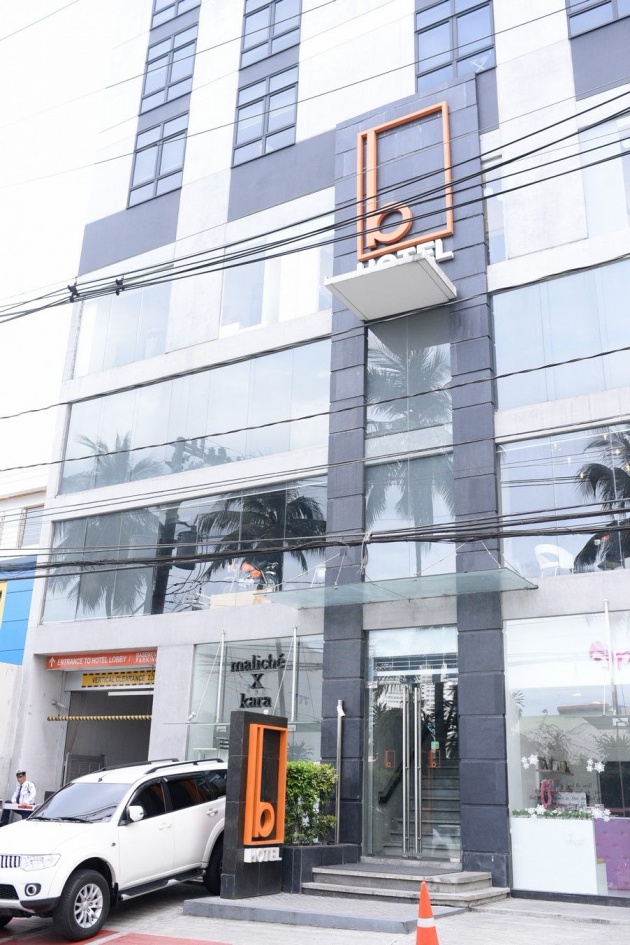 Photo credit: Jenry Villamar
I knew Bellevue Hotel--from the former church I was attending--and was really excited that we were spending one night with free breakfast at one of their hotel chains. Even though B Hotel is regarded to have only a 3-star rating, our experience was really great! We were treated superbly.
About B Hotel, QC
Video credit: PH Resorts TV via youtube.com
From their official site, here's a summary of their functional concepts and artisitc themes:
Slide Into Style

Experience an exceptional twist from the moment the B Hotel Quezon City's unique ambiance envelops you. Slide into a hotel that's a first of its kind with exclusive interiors boasting of elegantly industrialized artistic features, all within a budget-friendly price.

Vintage and Industrial

Step within the pages of a steampunk novel when you set foot in B Hotel Quezon City. Exposed pipes and bike wheels adorn the rooms and hallways. Despite our unique interiors, you can expect standard amenities for a comfortable stay. These include Wi-Fi access, cable TV, and an in-room safe.

Sleek and Snazy

Have a conducive city vacation. If you simply want to indulge on the comforts of the hotel, it's not a problem at all. Beyond the aesthetic that's distinctly B Hotel Quezon City's are the facilities that assure you of a remarkable stay. From recreational facilities to corporate necessities, we make it a point to strike a balance between leisure and formal functions. All these and more are waiting for you at B Hotel Quezon City.

Get a feel of an entirely different concept that's a first of its own only here at B Hotel Quezon City. Modernly artistic, genuinely welcoming, and economically favorable, your stay with us will be one you'd like to tell everyone about. "

- from BHotelQC
Lobby and Pool
You can enter by foot or by vehicle. We entered via the latter so I have no idea how you'd get to the receptionist area by walking in. There were stairts from the picture of the entrance taken by my cousin's photographer, so I guess it'll lead to the same lobby area as the car trail.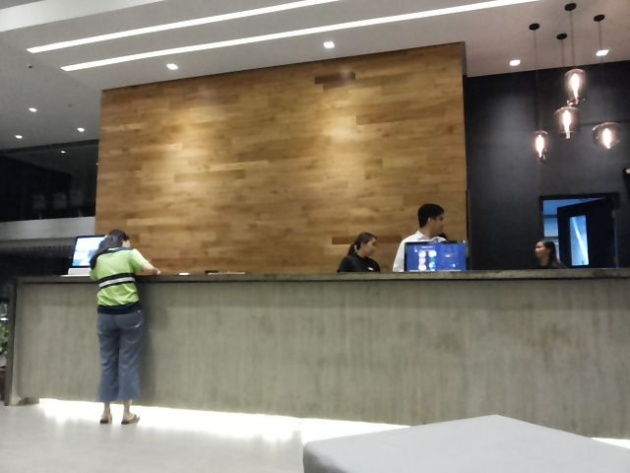 Photo credit: lapiz-lazuli
We were greeted by a bell boy upon entry and assisted us at the main area's entrance while he took our baggage and place it in the luggage carrier while we waited for the receptionist to give our card keys.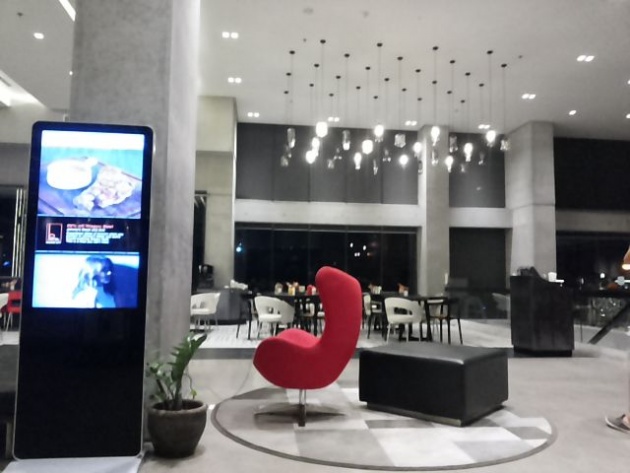 Photo credit: lapiz-lazuli
All I can say is that the lobby area was really spacious and felt luxurious, even though it had modern-ish and simplistic style. The ceiling had very high clearance and the lighting had little warm notes to it while it was majorly whitish. There was ample seating were some guests can take a seat and wait for their buddy to check in.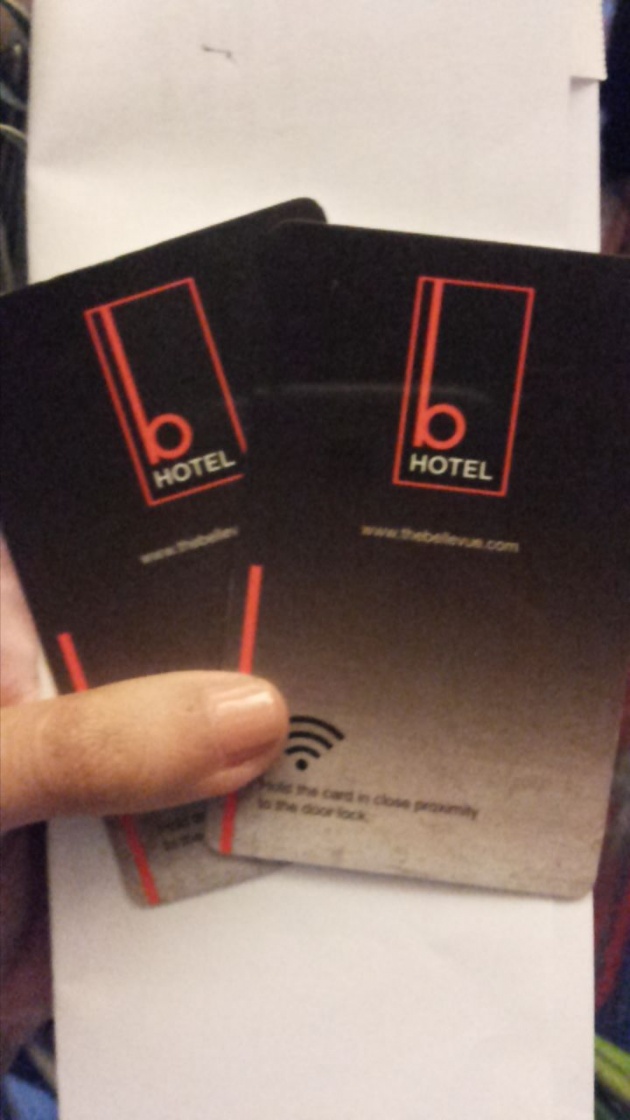 Photo credit: lapiz-lazuli
I find the card keys a little weird but I think it was like that for security purposes. You use the card key in the elevator so you can punch what floor you were going to enter in. But the catch22 was that you can only access the floor were your room was designated, and, if I remember correctly, the floors beneath yours. Say for example, we were given room 905 on the 9th floor; we can only access floors up to the 9th...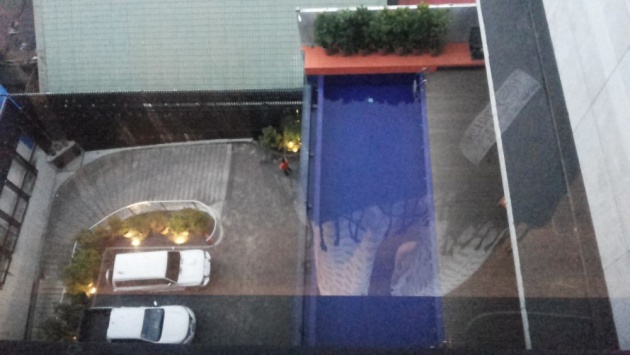 Photo credit: lapiz-lazuli
There was a pool on the lower floors of the hotel. I don't think it was heated and I think it wasn't that deep. I wasn't able to try it out but my cousin did when they extended their stay.
Room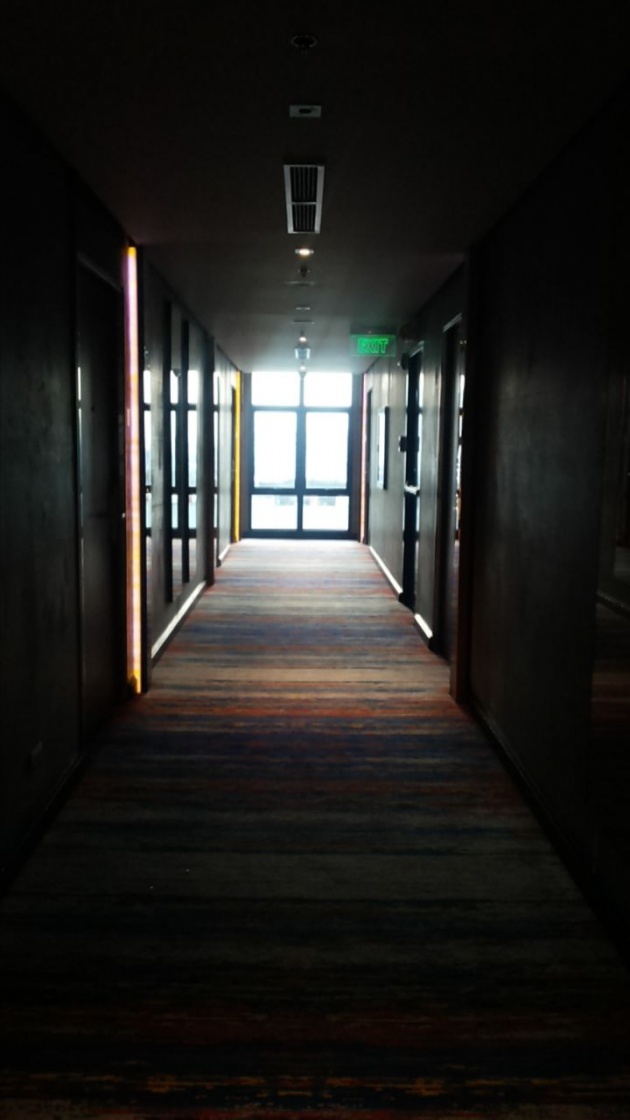 Photo credit: lapiz-lazuli
The walkway adjacent to the rooms were carpeted but it was dimly lit. I found it a bit scary but I think it was just newly built, so ghosts haven't resided yet in the building (hope they would never at all).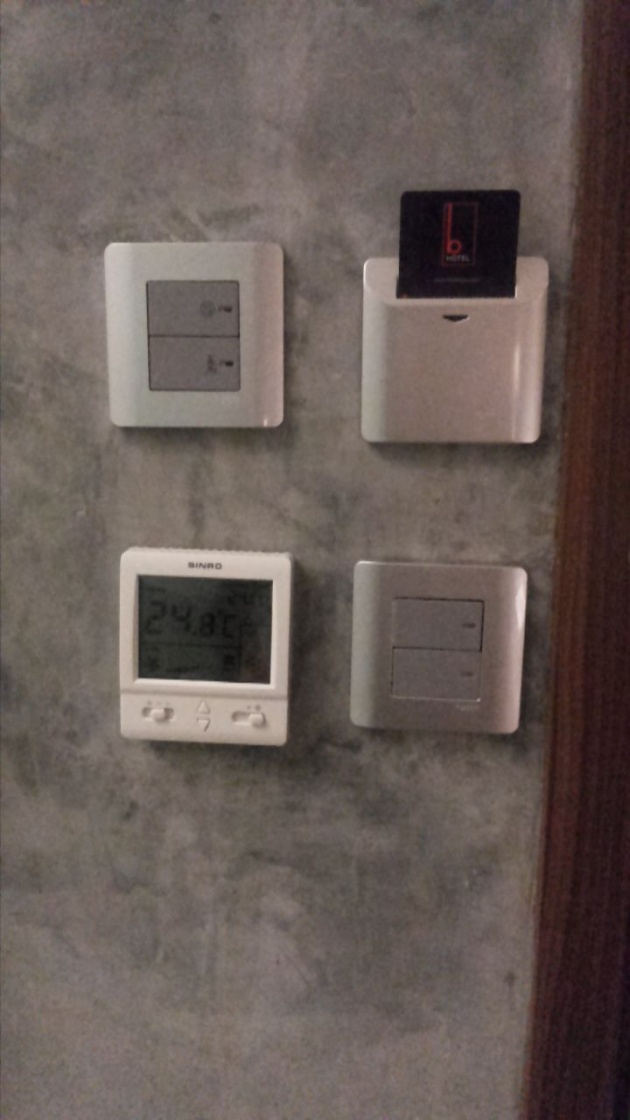 Ringer, air con settings, and electricity switch on an unpainted wall. Photo credit: lapiz-lazuli
The place was really clean, roomy and simple but chic. The room looked cool as the walls weren't painted but I hope they won't degrade as time goes by. There were small details in the room that made the place a bit lively, but the color was still monotonous.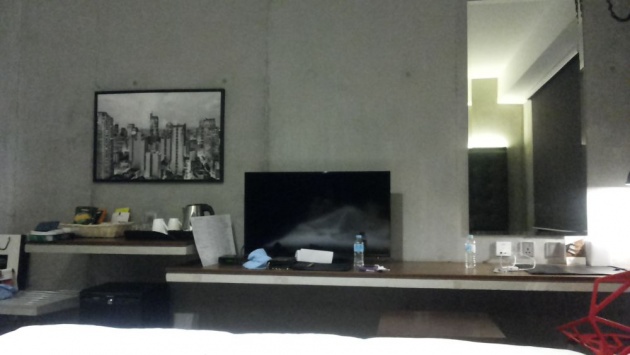 Photo credit: lapiz-lazuli
IIRC (because this was last year), there were efficient air conditioning, fast wifi, small safe, and nice cable LED TV. As I recall, each room didn't have clothes iron and attached-to-the-drawer-door ironing board. They have a small fridge, though. As for the bed, I didn't itch, the sheets felt fresh, the pillows were soft, the head board was comfy, and I had a good sleep.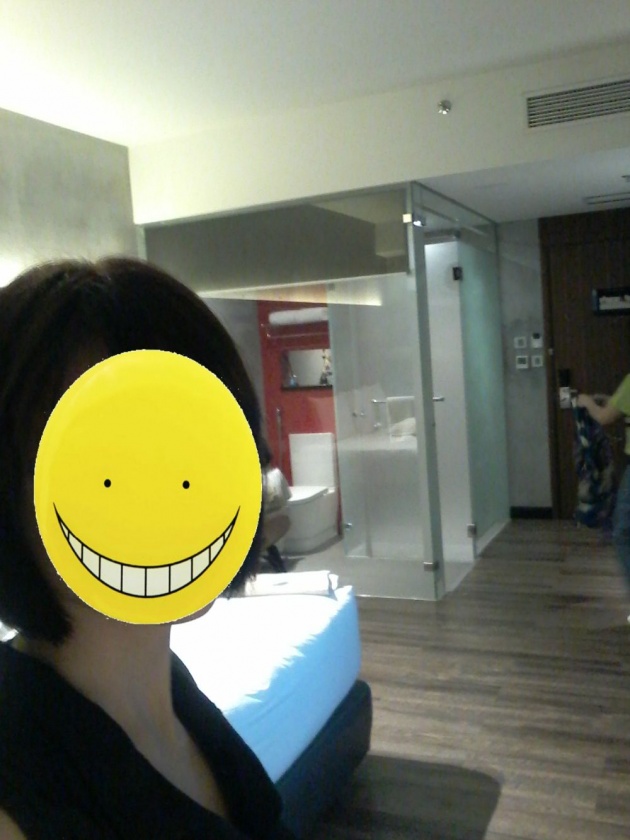 Photo credit: lapiz-lazuli
What I found cool about the room was the spacious bathroom: it was made of transparent glass! It wasn't frosted or anything, it's just plain transparent glass. You can only have privacy when nature calls by lowering the fabric blinds inside. They have a ledge to place your toiletries while you do your thing, and the toilet had a bidet. Another cool stuff about the bathroom was that the door for the shower area was the same door for the whole bathroom.
Buffet Breakfast
Video credit: lapiz-lazuli
We had free buffet breakfast the following day. Mind you, there was a dress code in the buffet area—sleepwear and flops were a no-no. I still found some wearing slippers, though. Many people were eating that time so I remembered sharing a table with one of the wedding facilitators; we had a nice chit-chat.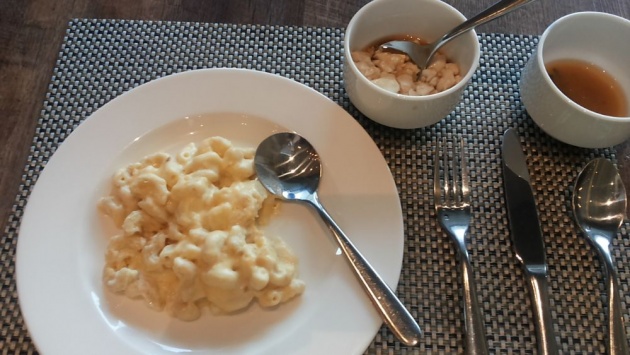 Mac and cheese, with taho in (left) cup. Photo credit: lapiz-lazuli
From soups to fruits, to even heavy protein food, the buffet menu has it. But what's cool about their menu was that they serve taho (pronounced: tah-hoh). I think I had mac and cheese that time, plus taho and a beverage I can't remember now (from the picture it probably looked like tea or gulaman..). I don't remember getting 2nd helpings of the same food, but I think the food wasn't bad at all. It was just that, I need to taste other stuff on the menu.
Staff
They had courteous and very friendly staff. They were assertive but not pushy. I had a little issue requesting for toiletries as it wasn't followed but overall they have an OK management (but I think my cousin had when she accidentally stained their towels with hair dye. Oh man, goodbye deposit for her).
Overall, I had an incredible stay at the B Hotel in QC!
Disclaimer: Pictures, videos and write-up are originally shot/written by lapiz-lazuli, unless otherwise stated. Views and opinions in this blog post are truthful but subjective and are not influenced by sponsorship of any sort.