video credits: Warner Bros. Pictures via Youtube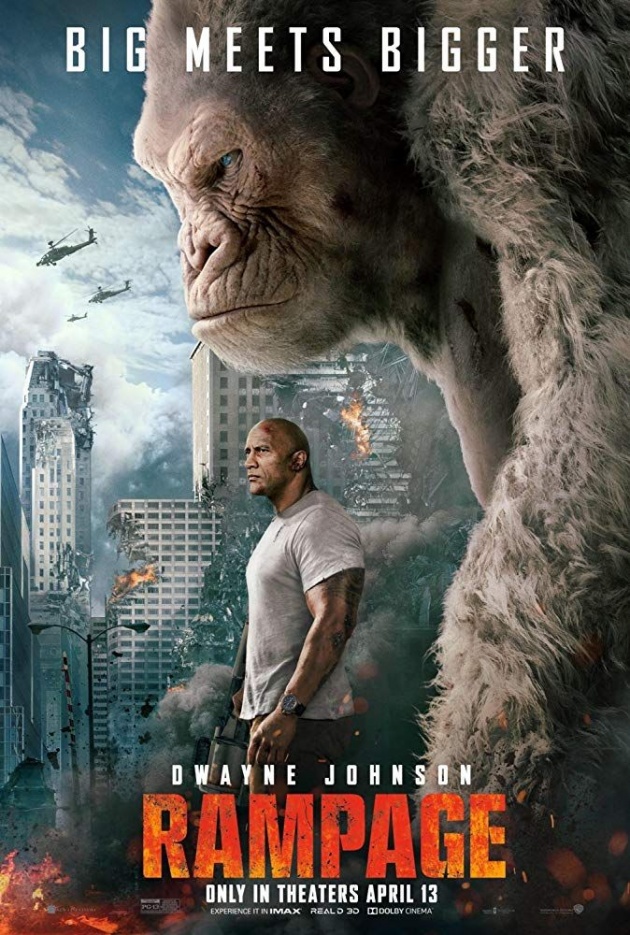 image credits: IMDB
Rampage: A Movie Review Rampage on Bitlanders
Hello, let me start with this simple question. Do you love animals? If you do then this movie is all about animals, people and love. But before I go into details. Let's digress a little. I'm a fan of action movies and also love watching movies of most genres. Therefore, I hardly go a week without watching a movie. The movie Rampage 2018 which hit the cinemas on April 13, 2018, was way better than the Rampage of 2009. It may be because the two movies were produced at different times, with different directors and writers, the messages in the movies are worlds apart.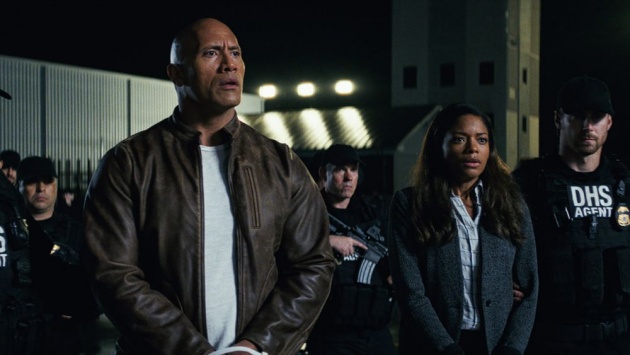 image credits: IMDB
If you haven't seen the movie Rampage 2018 you should do so. Because after watching the movie, you'd agree with me, the 2018 Rampage movie is on a class of its own when it comes to actions, CGI, and plot. It's no surprise since iconic actor & professional wrestler Dwayne Johnson is the protagonist.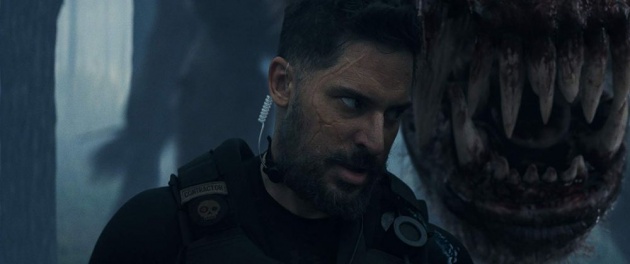 image credits: IMDB
True to its title, conceit and mindless video-game source material, the film has no shortage of death and destruction as three supersized mutants animals stampede through civilization like bulls in a china shop, knocking down buildings and gobbling up bystanders
Brad Peyton went out of his way to give a very exciting viewing experience, making the action we desired and we hope we see a reality. Thus, we accept the film for what it is, not for what critics would have to say.
A movie about an old arcade game starring the Rock? Count me in. I went in with my brain shut off, and got a couple chuckles and, for the most part, everything I expected
Of course, the movie Rampage may not be without its flaws, but from my point of view. I was not disappointed. It is a win for me, the movie which went with the budget of $120,000,000, gained a cumulative worldwide of $426,245,950 by 1 August 2018. Definitely, Rampage was lit!
The Cast
Dwayne Johnson plays Davis Okoye
Davis Okoye is a primatologist in San Diego who is fond of a Gorilla named George. A brilliant Gorilla who understands sign language.
Naomie Harris as Dr Kate Caldwell
Kate Caldwell formerly works for Energyne and the developer of the mutagen responsible for the three animals on Rampage.
Malin Akerman as Claire Wyden
Energyne CEO whose firm is responsible for developing the mutagen in space.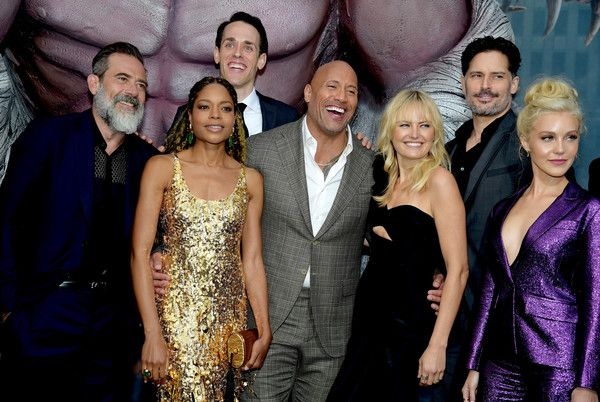 image credits: IMDB
Jeffrey Dean Morgan as Harvey Russell
Harvey Russell a government agent who is responsible for containing the growing threat of animals on US soil.
Joe Manganiello as Burke
Plays the commanding officer (CO) of the military group sent to neutralize the threat of the gigantic wolf in the forest and recovery the mutagen.
Synopsis
A life-changing piece of technology CRISPER was developed in 1993 but was suddenly used for dangerous experiments. Suddenly, CRISPER resurfaces in a space station orbiting the earth. A lab rat was mutated with CRISPER. The rat is on a killing spree in the space station owned by a company called Energyne. The CEO of Energyne ( Claire Wyden ) ignored the request of the single remaining survival (DR. Kerry Atkins) to escape the space station without securing CRISPER samples.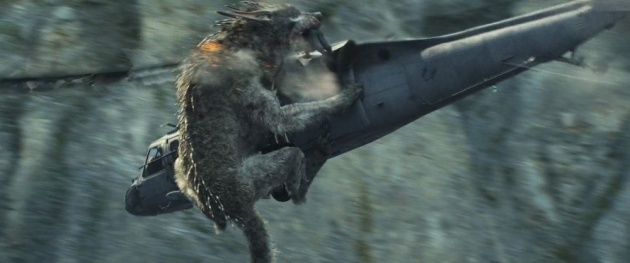 image credits: IMDB
The space station blew up with the rat still inside, the explosion caused the escape pod to crack, depressurize and exploded killing Kerry while the three remaining samples enter into the earth's atmosphere and landed separately.
The first landed in the enclosure of an intelligent Gorilla named George, the second landed in a forest close to a pack of wolves while the third landed in a river in Florida.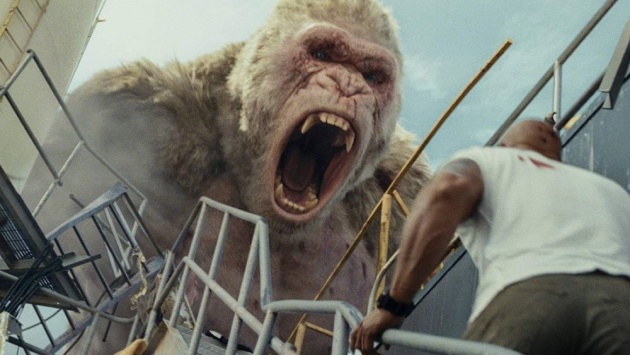 image credits: IMDB
The next morning the zoo primatologist Davis Okoye rushed to work as his co-worker had already left a message for him about something happening to his favourite Gorilla-George. Was more surprised when he was told that the gorilla was in the grizzly enclosure.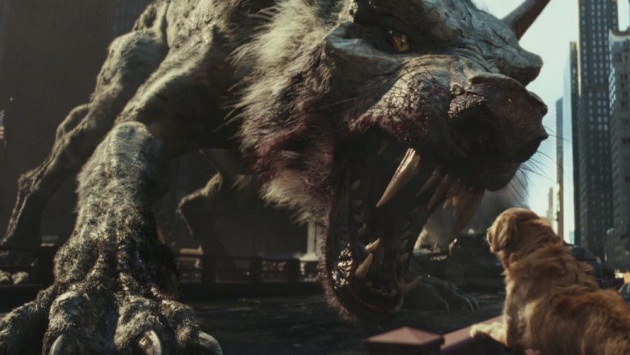 image credits: IMDB
Events unfolded and George was successfully sedated and was being transported in an Airplane by an unnamed governmental unit led by Harvey Russell.
Claire Wyden hires a military group led by Burke to neutralize the gigantic wolf that is already on killing Rampage in the forest, but the whole team got wiped out by the wolf. So, she invites the three beasts into town-Chicago by luring them with a high radio frequency signal that only the mutated animal can hear.
The Gorilla and the wolf team up locking on to the signal, killing & destroys everything in their path just to get to their destination.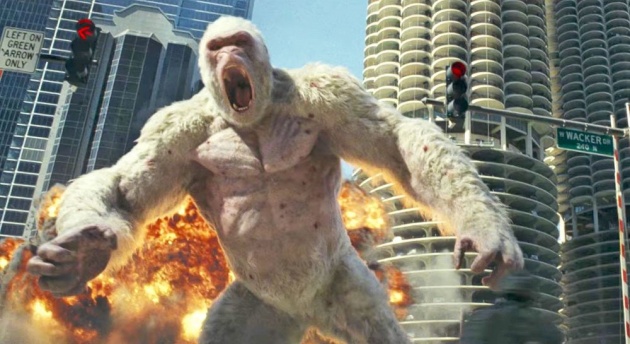 image credits: IMDB
Davis and Kate followed the animals to Energyne headquarter. Claire Wyden, the CEO of Energyne at gunpoint disclosed that there may be an antidote. Unfortunately, the available antidote can only neutralize the heightened aggression of the animals.
With the antidote, George became normal again, his size was not affected though. Davis, Kate and George team up to neutralize the wolf and the crocodile.
The Movie Content
The movie Rampage is one of its' kind in 2018. It does not only depict the life of bravery, courage, trusting a friend and a complete stranger, but it's also about love and having a bond with an animal. Especially when the animal is an oversized Gorilla! Most often, action, sci-fi and adventure genre are limited to little action scene. This is not the case with Rampage.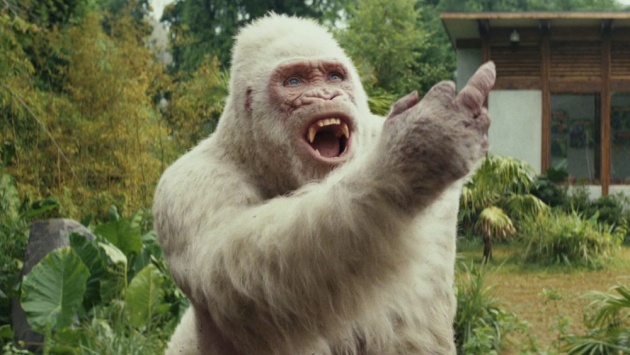 image credits: IMDB
Therefore, the movie Rampage is packed with every humour, action and life-threatening stunts the movie could exhaust. True, the theme of the movie is not just about aggressive large-sized animals on Rampage, its also about bonding with animals and realizing the animals are loyal and will always have your back in times of danger.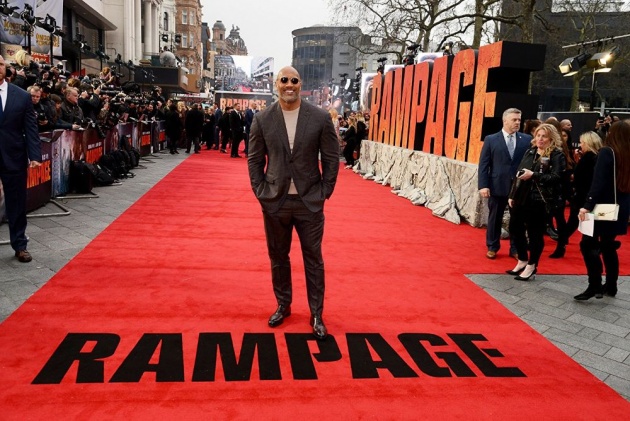 image credits: IMDB
In life accidents happens, they may be fatal or even create an entire species of angry large and mutated animals who can destroy everything in their path, it can also happen to people.
What Dwayne Johnson Said About Rampage
I think Dwayne Johnson and Naomie Harris were perfect for the role they played. Dwayne Johnson is one actor that can fit into many and correct me if I'm wrong any role. Maybe it has something to do with his psychology when acting movie…
I try very hard to only surround myself with hungry, hard-working, smart and most importantly, GOOD PEOPLE. Over and over again. The man on the right is my RAMPAGE director #peytonology. This is our third film together (JOURNEY 2: MYSTERIOUS ISLAND AND SAN ANDREAS). We share the same philosophy: work very hard, raise the bar, be grateful and take the world on an unforgettable and fun ride with our movies. The guy on the right is my friend and a good egg. The guy on the left… lazy asshole
With a mindset like this, no wonder Dwayne played important roles in many movies in the past decade…
And when I say badass, I'm talkin' 'bout bad aaaazzzz.. wait.. hold on.. not that clip dude. #RAMPAGE #NoFear #OhShit WORLDWIDE APRIL 13th
Therefore, when it comes to acting, becoming a character and starring a movie, The Rock does it with a good mindset.
you got to check out these guys reactions as they watch Rampage movie trailer!
video credits: Carnatavr T via youtube
On A Final Note
I am very pleased with the movie Rampage. For the movie's actions scenes, storyline and the selection of the protagonist! I have decided to rate the movie 5/5.