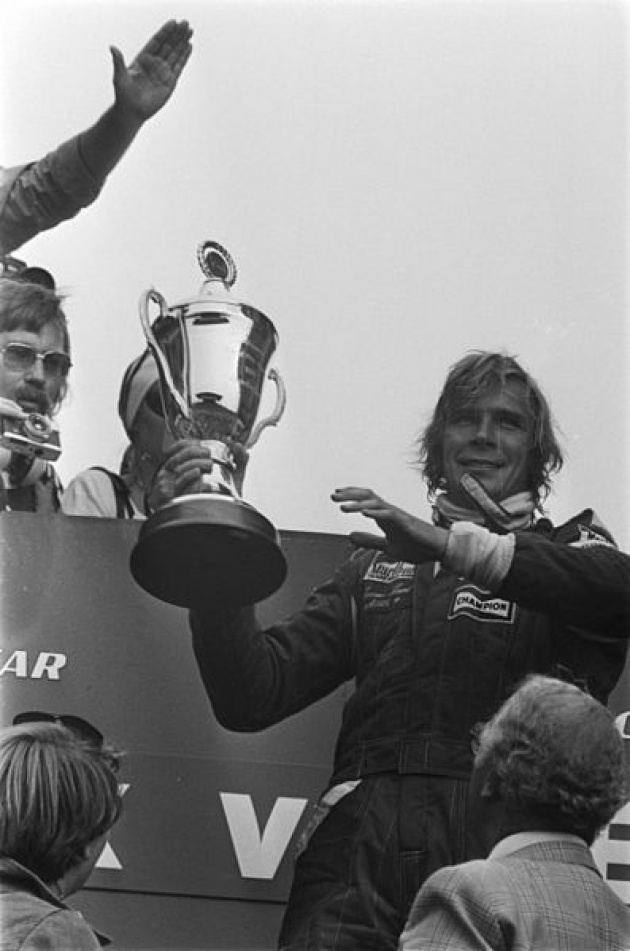 The real James Hunt flashes a victory smile at the 1976 Dutch Grand Prix. Courtesy of Wiki photo: Anefo/Croes, R.C.
Being a fan of drama and true tales made me a likely candidate to watch the latest Ron Howard film, "Rush." At times thrilling and interesting, the movie about racing, rivalry and love, gets you pretty much hooked into the lives of two fiercely competitive racers, James Hunt and Niki Lauda.
The time period is the 1976 Formula One racing season.
What I liked about the film was the earnest acting by Chris Hernsworth who plays Briton James Hunt as a dashing, fun-loving womanizer, and racing professional enthusiast , who is also very much determined to beat the serious, efficient and studious Niki Lauda, played by Daniel Bruhl.
The movie itself is fast-paced and takes viewers into a world of beautiful cars, beautiful women, danger, and even death. And although it seems all too glamorous, car racing is also incredibly dangerous and if you are too cocky, your life could get shorter. Howard is careful to depict both two sides of the car racing world so that the viewer knows that the road to professional car racing is not for the weak and meek.
Even if you are not a fan of professional motor car racing, you may just love the inspirational angle in this story, which later on, focuses on the almost miraculous recovery of Lauda from a near fatal car crash.
You will see plenty of incredibly realistic car racing and at times, it seems like you are quite literally sitting in the driver's seat and tasting the spoils of victory.
On the subject of women, it doesn't take much to realize that the movie depicts mostly women as merely sex machines ---there are plenty of shots depicting lots of skin, boobs and the obligatory sex scenes. Hollywood lovely, Olivia Wilde looks great and makes a good effort to portray Hunt's model-wife Suzy Hunt. There is not much of an opportunity for her to express much acting range in this role, but her part is fine, all the same.
In my opinion, the person who should get an Oscar nod is Hernsworth, .whose portrayal of the charismatic Hunt is incredibly convincing.
Best picture? Rush, the movie, is not quite a tear-jerker and at times, it is just an ordinary dramatic movie, with some action scenes. It is a nice film to watch but doesn't quite stand up enough for me to give it an Oscar nod.