While waiting for my BF to fetch me,I strolled at the basement of Robinson's Galleria in search for a nice finger food. I thought of going for donuts or potato corner but before i reached their booths, i found this shop located just exactly right in front of the Supermarket. It smelled very enticing so i told myself why not give it a try :)
Gamja! Gamja!
Gamja is a Korean term for 'potato'. It is derived from the Korean side dish called . However despite being Korean in Nature, Gamja!Gamja! is not too spicy, there's a slight kick due to it having garlic, but its just very mild, it is very calming.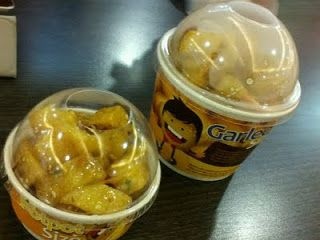 Gamja Gamja's taste is adjusted to the Filipino palette being not too spicy, a little sweet and sinfully flavorful .. Its kinda sticky. The potatoes are also a little bit crunchy on the outside, tender on the inside.(in my opinion it is nicer to include the peel) .
If you visit Robinson's, dont forget to drop by and grab one. Gamja!Gamja! is available in three different sizes: Potpot- PhP39, Jaja PhP49 and Garlee size PhP59.