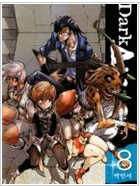 Dark Air is an action fantasy webtoon. If you still don't know what webtoon is, it is a korean comics specifically made for online reading - thus the name.
The story takes place in a world once ruled by mages but their abilities have diminished when a great catastrophe wiped out the mana or blue air in the surroundings. Fast forward to the present, it is a common thing in this world to have teams of mercenaries with each team consisting of different person with different occupations. And as you may have guessed those occupations are the commonly familiar classes in RPGs or fantasy stories.
What makes the story interesting is how team battle plays out. Not often will you see a fantasy story where the main character is a buffer musician(most commonly known amongst fantasy fans as bard). But in this one it works.
Give it a try and enjoy :)