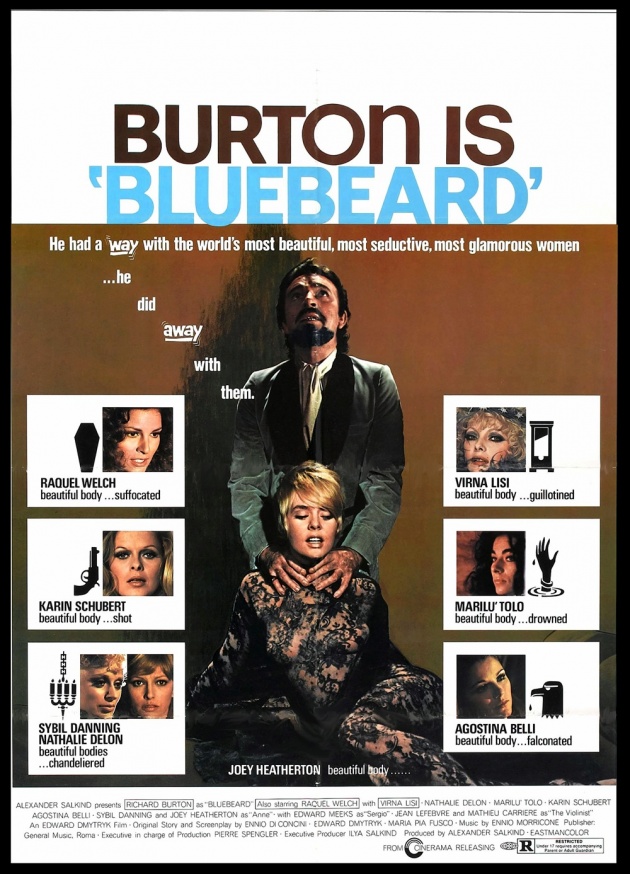 Richard Burton was an actor known for his immense talent with many, many roles thought to be beneath his talent level. He was nominated 7 times for an Academy Award (!!!!!!!) but never won. There was his marriages to Liz Taylor and his epic alcoholism. However, the charisma of the man cannot be overstated. He steals the show. In the 1972 version of "Bluebeard," in which he plays the title role based on a 17th century French fairytale, he is the show, whether you judge it a good performance or not. He admitted that he was trying to emulate Vincent Price for the part of Bluebeard and that said actor was the master of 'immense tongue in cheek.' That is an excellent point of reference for watching this film. I knew nothing of the film before watching it and therefore, knew not what to expect. That is always an excellent way to watch a movie: without knowing a thing! It is harder to be disappointed and much easier to be delighted!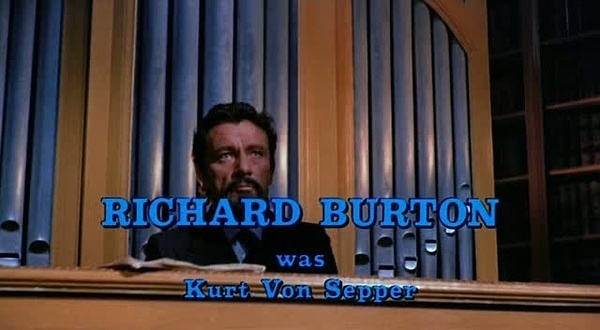 "Bluebeard" was entertaining, if only because Richard Burton was in it. He plays Baron Kurt Von Sepper (or Bluebeard), an Austrian aristocrat, WW1 hero, and murderer of women. The film was directed by Edward Dmytryk ("Murder, My Sweet" & "The Caine Mutiny") who was blacklisted from Hollywood as a result of the HUAC commission hearings. He refused to testify, was thrown in jail, then testified giving names, and was shunned. However, Burton and Dmytryk mean something to me and I was intrigued. I suppose I'm disappointed in that duo producing this film so obviously marked by its date. An international production with a cast of international beauties, almost all of whom appear naked and ultimate tongue-in-cheekness quality fully define the early 70's-ish feel to "Bluebeard."
A long list of absurdities lace this film with what must be intentional non-intentional hilarities. Von Sepper explains to his soon to be next wife/victim that his beard is shaped the way that it is (so perfectly coiffed and blue) due to a fiery plane crash in WW1 which burned his face and left him unable to shave! There is a hunting scene in which various animals (buck, fox, pheasant, rabbit, boar) are shot for real! Von Sepper's latest wife, Anne (Joey Heatherton), stumbles upon the maid combing his deceased mother's hair and catches him in a lie about it later, his defense is, "My mother liked having her hair combed!" But the cumulative best is when he gives Anne the full lowdown on all of his wives and why he did them in. Blink and you'll miss the hilarious recount of the nymphomaniac nun he seduced and wed, played by Raquel Welch. The wives each have their own oddities and annoying features but the best is the singer wife (Virna Lisi). She is a slender blonde woman with an atonal singing voice that would rive anyone nuts over time and she sings all the time. Richard Burton made me laugh out loud with his awesome facial gestures: a simple rolling of the eyes or glazed "Why me?" look. Classic. I was surprised he didn't just look into the camera at some point. Well, there are so many other cues letting us in on the joke that is this film, perhaps a direct look at the audience would've been too much.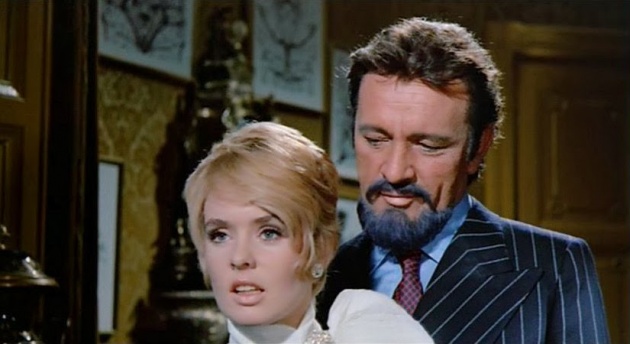 This version of "Bluebeard" is perhaps a pastiche to that 1970s international, anything goes filmmaking style. It certainly belongs in a 1972 time capsule. It's a soft-core-ish horror/black comedy/mystery/thriller. Not only does "Bluebeard" evoke 70's film for me, but the willingness (perhaps out of necessity) of a well known and respected actor to participate in something that could never have guaranteed any kind of critical accolades. I'd have way more respect for Robert Redford, among others, if he'd take a role out on the ledge like that. Most of today's big actors play it safe or take small parts in well-renowned directors movies. They play it safe. Richard Burton may have been going for paychecks but in retrospect, this film viewer is glad he didn't always play it safe!
Please check out my past blogs at http://www.filmannex.com/Baxter_Martin/blog_post and more public domain classics at Baxter Martin WebTv.
For more reading on "Bluebeard," please check out this brilliant write-up at LeCinemaDreams.
This public domain film can be seen on youtube. The 1944 "Bluebeard" is available on Baxter Martin WebTV