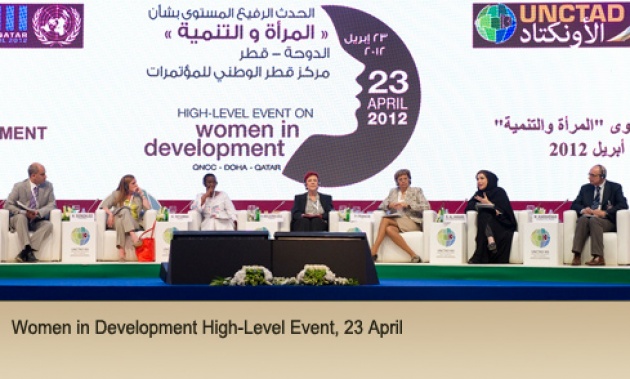 "Mounting financial speculation in commodities and the increasing diversion of agricultural land to biofuel crops has changed the forces underpinning commodity prices, pushing them through a sustained period of increase." Is one of conclusions (per UN News Centre) of the Commodities and Development Report 2012, a study launched at the 13th session of the UN Conference on Trade and Development in Doha, Qatar, (See our Blog for Film Report – Regarding the Opening of UNCTAD XIII - http://diplomaticallyincorrect.org/blog_post/not-out-of-financial-crisis-woods/50998 ). A sustained rise in prices for raw natural resources and basic agricultural goods is defying long-standing patterns and appears to be hurting poor nations through rising food and fuel costs more than it is helping them through higher revenues for their commodities exports.
Ironically Rise in Commodities Prices Hurts Poor Resource Exporters:
What should be a boon for poor nations, especially the globe's 48 least developed countries – whose economies often depend heavily on commodity exports – is on balance a negative development because many of these countries are net importers of oil and staple foods. Since the food crisis of 2008, prices for basic nourishment have been both volatile and high, the report notes – and poor families are acutely vulnerable, as they typically spend 50 per cent or more of their incomes on food.
The report's recommendations include that steps be taken to invest in national and regional food reserves to help food-insecure countries; the recent shift to 'finance-driven globalization,' as it applies to commodities, should be reconsidered; fiscal and taxation policies should be adjusted so that they help developing countries reap stable, long-term economic benefits from commodities exports; and measures should be taken nationally and internationally to improve the situations of small farmers and other small commodity producers in poor countries.
Economic Crisis as Spur to Change:
At the UNCTAD XIII opening ceremony, the Deputy Secretary-General, Rose Asha-Migiro, said it was appropriate that the conference was taking place in the Arab world: The recent unrest in the Arab world has shown that a lack of economic opportunity and political voice, particularly among youth, is not sustainable," she said. "Indeed, growing awareness of social injustice and inequality has also led to protests in several advanced countries."
The Deputy Secretary-General noted that UNCTAD XIII provided an opportunity to address five principal challenges: identifying measures needed to restore growth in the global economy; examining the causes of the crisis, especially those of a systemic nature, and identify measures to prevent its recurrence; identifying trade and developments policies that support efforts to mitigate climate change; making globalization more inclusive; and, lastly, unlocking the full potential of international business. See Blog for Film – "UN: Banks as Masters-Globe Needs New Deal?"
Ambassador Muhamed Sacirbey - FOLOW mo @MuhamedSacirbey

Facebook-Become a Fan at "Diplomatically Incorrect"







Twitter – Follow us @DiplomaticallyX







For many further current news event articles, see our popular video blogs at "International Financial Crisis" Channel
UN Photo from UNCTAD XIII Discussion