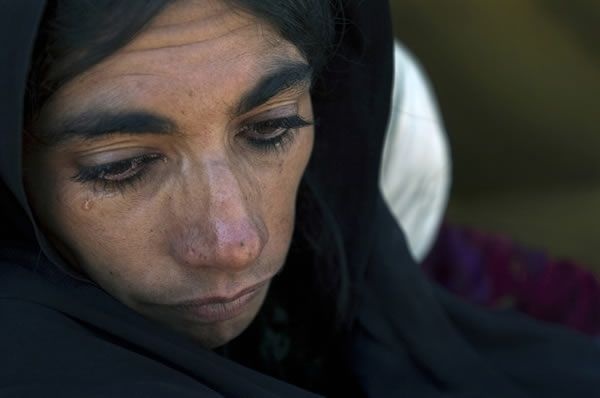 Jamila lives in the north of Kabul. She kept her story a secret for many years for her privacy, but recently Jamila decided to tell her story on radio, hoping others could learn from her experience.
Seven years ago when Jamila was 18 years old, she married a man named Hamed. In the first months after the wedding her husband behaved well with her, but after a few months his behavior changed and he started to hit her. He was a police officer and he would beat his wife, leave her with her injuries, and go to work. Jamila's family knew about the beatings, but to save their pride, they wanted her to stay silent and tolerate the violence. She tried to return to her mother's home but they sent her back to her husband's house.
When she returned to her husband's house, the situation was the same; he was still violent. After some months, she gave birth to a child. The baby was a girl and Hamed began beating her again. He kicked her out of the home, saying to her, "Why did you give birth to a girl? Why is she a girl?" Although he kicked her out, she returned home and became pregnant for a second time. Her second child was also a girl.
When Hamed saw the new baby girl, he tried to kill his wife with a knife, but he missed. He threw the knife towards her and it hit the wall. The beatings increased every day. She became pregnant again and her third child was also a girl. Hamed left his wife and the children in the house, tried to poison them with insecticides, locked them in the house, and went to work. Jamila survived this incident as well, but each day her life became worse.
One day, Hamed came home from work, hit her, breaking her nose, and drove her out of the house at midnight. Jamila didn't know where to go, so she went to the house of her husband's cousin, Sarah. Sarah called Jamila's father and this time when her father came, he saw that his daughter was in a very bad situation. He realized his mistake in letting her stay with a ruthless husband, and brought her home with him.
Jamila and her father then went to the Prosecution of Elimination of Violence Against Women Department (EVAW).
The prosecution turned her case over to a women's support organization that found them a lawyer and her case started officially. First, the lawyer gave Jamila information about her rights, and then took the case to the prosecutor, explaining how Jamila faced violence and a lot of problems in her husband's house. The prosecution researched the facts with the help of her lawyer. When it was time for the case to go to court, the lawyer wanted to base the case on the EVAW law.
This law was created to protect women and punish the perpetrators of violence. The lawyer visited the judge and talked to him about the violence that Jamila faced and convinced the judge that Jamila was innocent. When their day in court arrived, the lawyer attended the session and testified about the many injustices suffered by Jamila. Finally the court, according to the EVAW law's Clause 22 and the Criminal Code Clause 407, sentenced Hamed to three years in prison.
The social worker of the organization visited Jamila's family several times about supporting her. They explained Jamila's rights to her dad and explained that her rights were taken from her. The social worker told Jamila's family about the consequences of not supporting Jamila—she might leave home or she might harm herself. After that, her family was ready to support her and her children.
Now Jamila is living in her father's house with her three children and her family is fully supporting her.
There are many other girls who are experiencing the same problems and challenges as Jamila, some even worse than this, but because of our culture most of them are not reported.
Parents need to support their children, especially their daughters. Their children should be more important than their pride. Parents need awareness programs and the mullahs should talk about women's rights in Friday's prayer (Khutba). The women's support organizations and the EVAW department's judiciary system need to function well to protect women.