Since the KKD STK+BBQ experience, I had been searching out for other restaurants which offer the same type of food options because I want to compare the food, ambiance and the overall experience.
Finally, I found a spot very similar to it in SM Cebu Seaside. Without much effort, my husband James and I were on our way to that restaurant last weekend when James had a team building in the mall's bowling center.
So let me share a comparison between the two restaurants because I feel like I was a bit robbed at Seafood and Ribs Warehouse. Again, this review is based on our experience and no other factor had influenced this.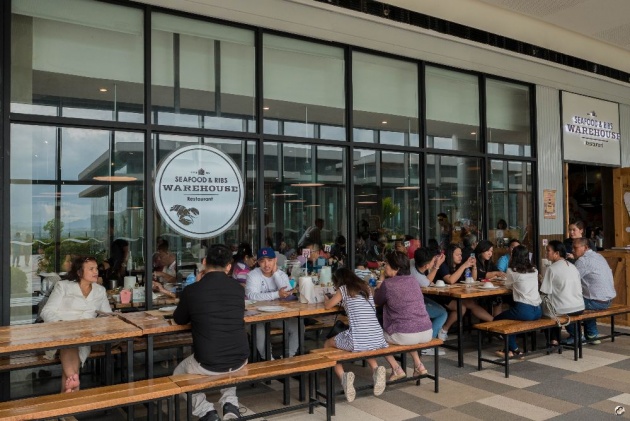 Image credits: Jean Beltran via bitLanders
Seafood and Ribs Warehouse Review
SM Cebu Seaside has a variety of restaurants already operating. I found Seafood and Ribs Warehouse right after I searched for a seafood restaurant in SM Seaside within the Zomato application, that app is really helpful in finding a good place to dine in since it contains reviews direct from those who had really dined in which also includes photos!
Seafood and Ribs Warehouse is very well known for its "Paluto-style" kind of restaurant, it is a type of which you point what you want to eat and they'll cook it for you right after. As per their website, their must-try dishes are as follows: American Ribs, Adobong Pusit, Halabos and Deep Fried Sweet Chili Shrimp, Baked Scallops, Grilled Tuna Panga, Butter-Garlic Chopsuey, and Adobong Sarad.

Ambiance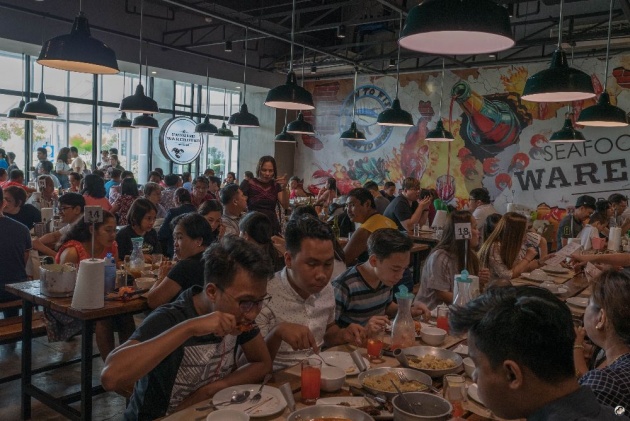 Image credits: Jean Beltran via bitLanders
Seafood and Ribs Warehouse Sky Park, Third Floor, SM Seaside City. It is literally just right beside the Sky Hall and it can easily be distinguished because of their uncooked food display which is visible from the outside. So anyone passing by won't miss it for sure. I believe they are the only ones who are offering that type of service as of this writing.
The interior was really comparable to that of KKD but on the simpler side because unlike KKD which has a huge floor area, they only have a scantier one. Walls were made of corrugated tin sheets painted in white like that of a real warehouse, there were crates used as ceiling decoration placed hanging in front of the black ceiling, tables and chairs were made of wood and that's pretty it.
Video credits: Jean Beltran via bitLanders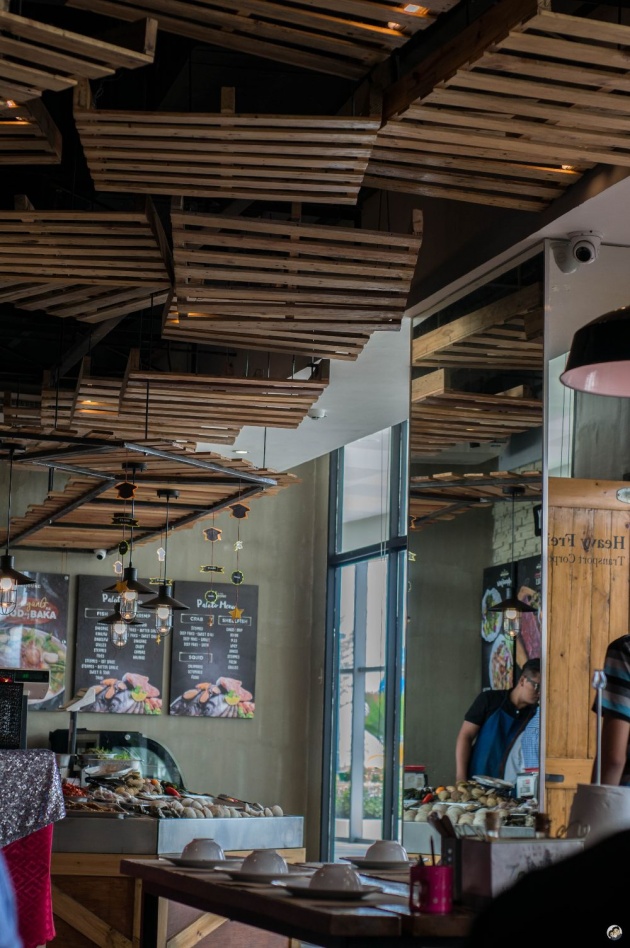 Image credits: Jean Beltran via bitLanders
Aside from the display of uncooked seafood or meat for cooking, there was nothing very much special inside but I definitely appreciate that they have coloring pencils for those guests who are bringing their children in.
The paper table mat can be used as drawing pads which I myself was able to use as well in a different way.
Thick kitchen towels were also available as well as the utensils were already at the table top. There's even a tin container for the condiments. But most importantly, the plates and soup container has been already given in each table.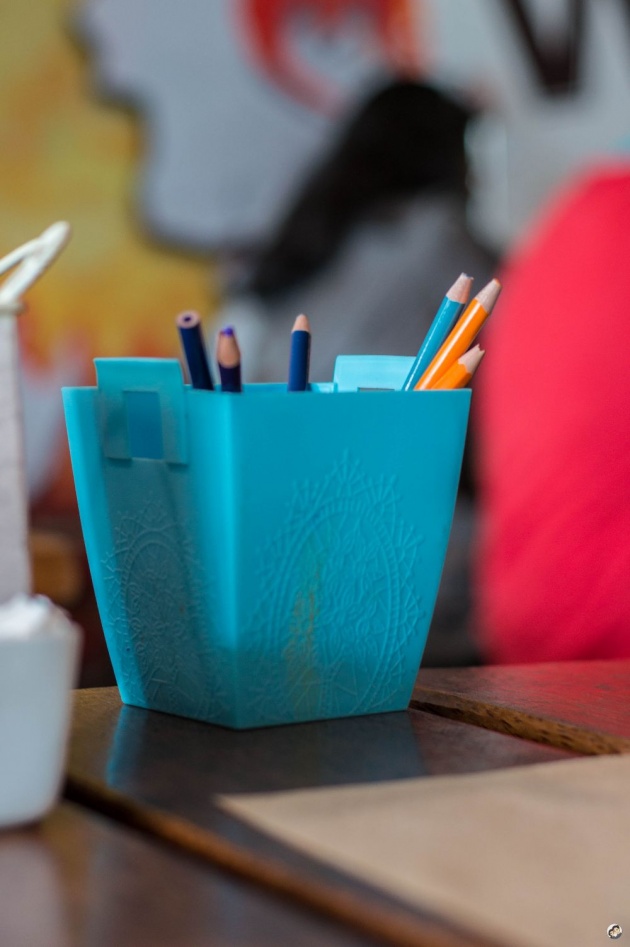 Image credits: Jean Beltran via bitLanders
So far, I find it very very simple and basic. With white tin corrugated walls and a huge mural sticker with its own restaurant name in it.

Food Pricing and Taste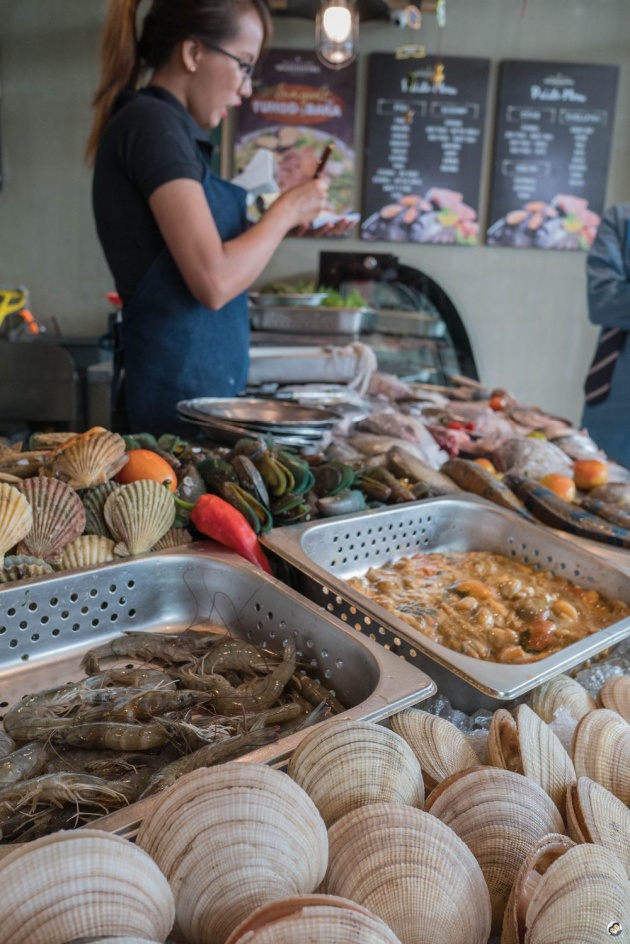 Image credits: Jean Beltran via bitLanders
Personally, I have not much knowledge in terms of the difference between a "paluto-style" and the "ready-on-the-menu" type of restaurant but the former is very expensive! Yes, at first, I want to try a lot of items in the menu but after learning that they have a minimum of 200 grams and their pricing is at Php 100+ per 100 grams, I was a bit discouraged.
I ended up ordering almost the same items I ordered when we dined at KKD - Deep Fried Sweet Chili Shrimp and Kinilaw plus a Leche Flan for dessert. We didn't order any cold drinks but only asked for their service water instead.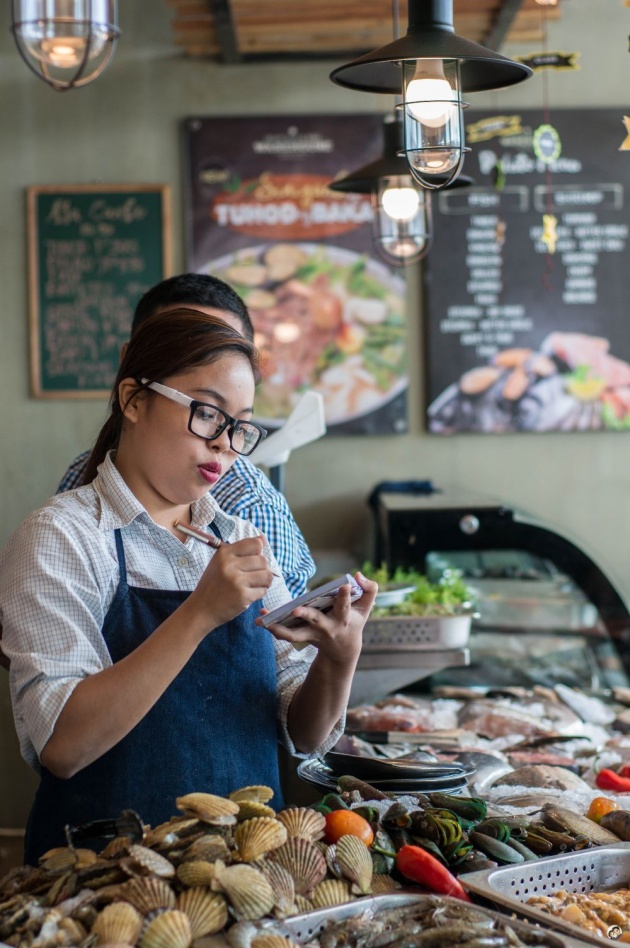 Image credits: Jean Beltran via bitLanders
The uncooked items were, of course, weighed as soon as I asked for it, our shrimps weighed more than 200 grams and the fish was almost the same, we got ourselves the Tanguigue kind of course because that's a very tasty one based on experience when we dined at JJ's Seafood in Tagbilaran City.
When served, the food shrimp looks really delish! The orange and chili look made me want to dig into it right away but of course, we got to take photos first, its mandatory and an SOP for us. It's quite funny how I am not anymore mindful of my surrounding now compared to before. Most of those seated at the next tables would be looking at us with those judgemental looks, some may smile and I know they understand why we are doing what we are doing but there will be times when we get grumpy looks from random people, I am now not minding them at all.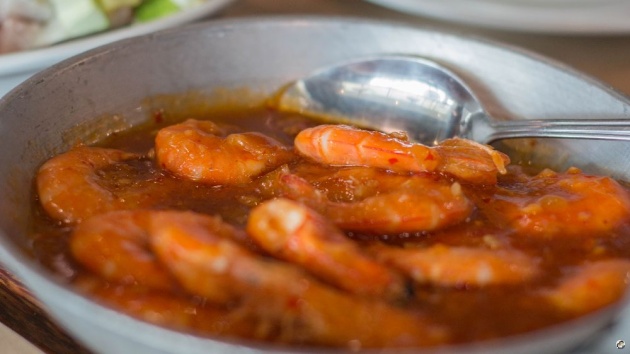 Image credits: Jean Beltran via bitLanders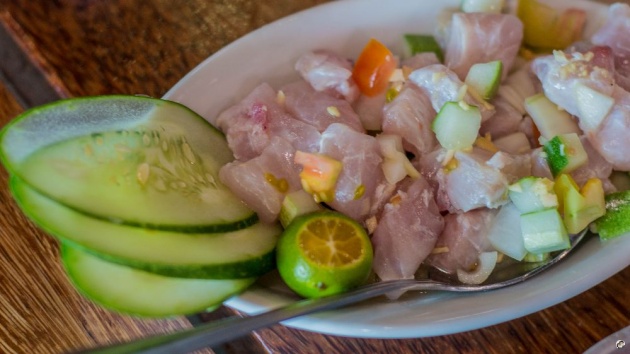 Image credits: Jean Beltran via bitLanders
The disappointment came when we began eating the kinilaw or the ceviche. It felt like it was not properly mixed with the vinegar as how most restaurants would do so I have to spit what was in my mouth and mixed the remaining properly with the vinegar sauce as well as the spices. But after all of that, the taste was still unpleasant that we stopped eating for awhile so the vinegar could sip right through the fish meat.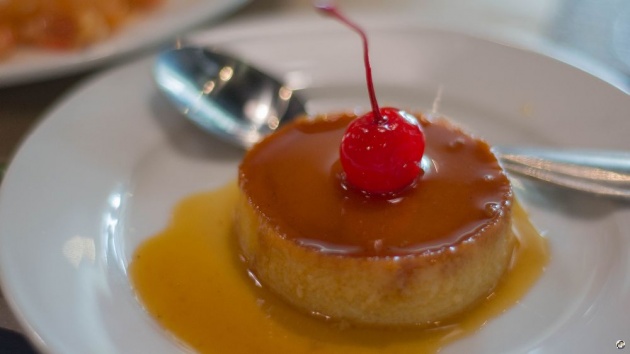 Image credits: Jean Beltran via bitLanders
After waiting for it for more than five minutes, the fish still had this unfavorable taste and for James whose father is a fisherman and who eats fish almost every single day since he was a little kid, this type of fish dish is not acceptable. He is very sensitive in terms of the freshness of the fish so he knew right there that the Tangigue have been iced for hours already which is understandable for this kind of business.

Service
While the food was not exemplary and we really thought KKD has better cooking, we also have based our review on their service. Waiting time for the food to be cooked was fairly okay, it took around fifteen minutes I guess.
I saw a lot of crew moving around the restaurant. There was a force at the "Paluto" display, there were also ones which were at the drinks bar while most of the staffs were on the floor, cleaning tables and taking further orders.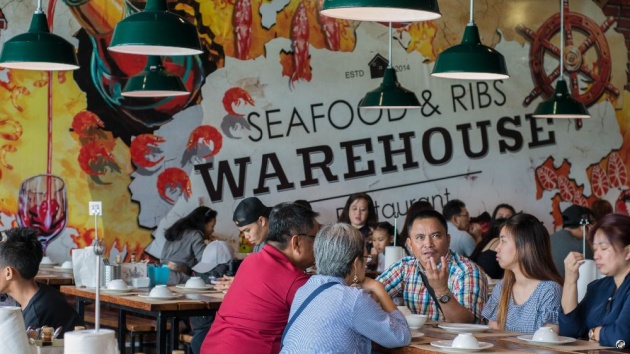 Image credits: Jean Beltran via bitLanders
When we asked for our service water, it took more than 30 minutes before they could provide it. I asked when our food was still being cooked but they only served it after following up three times to different staffs.
Then when we couldn't bear the fish kinilaw, we ordered some soda so we could eliminate that bad taste but I had to follow up twice before they could serve it. The same thing happened when I asked for our dessert. Lastly, when I requested for our bill, I had to tell James to go first as it took another good waiting before they handed it over. I was even able to write a few lines of words in the paper mat before they had eventually given the bill. Good thing I had changed so I was able to give the exact amount.

Conclusion:
Video credits: Jean Beltran via bitLanders
As you may know, I loved KKD STK+BBQ because they have affordable items in their menu, they got fast and approachable staff plus although their location may be a bit of a warm one, they had compensated it with their interior design.
With Seafood and Ribs Warehouse, I spent twice the amount I paid in KKD but the food quality was poor compared to the KKD experience as well as the service. I felt like I was ripped off. When I passed by the Cabalen Buffet restaurant, they offer Php 350 per person and I thought to myself, it would have been better if we went to a buffet lunch rather than paying that amount for two viands only, one of which we can't even swallow!
---- o ----
Blog entry written and published by Jean Beltran-Figues, A Pinas traveler and photography hobbyist, find more travel blogs in my blog section, click here.
---- o ----
Don't forget to join the Querlo Chat about restaurants made for you as follows: