Edited using Pixteller
Image Credit: @arbytes via bitlanders
Story Telling Time
June 17. It's Father's Day! My wife decided to treat me and our sons to a simple family Sundate on Father's Day!
Ever since our second son was born almost 10 months ago, we were not able to get out as a family. Except maybe for a couple of times that we ate breakfast at the beach together with my wife's family this summer, (read Breakfast at the Beach ).
Though it rained early this afternoon, thank God that it did not last long and the weather was good for the rest of the day.
Sunday Mass
First in our agenda was to hear Mass. A few hours before we left, our eldest son, who is almost four years old, was begging that we go to Robinson's Place first before we go to Church. However, he did not complain when we went to the church first. Then we went to Robinson's Place.
We planned to let the kids take a ride in the carousel, but instead, our eldest son requested that he wants to ride a battery-operated toy car. One of his favorite activities whenever we go to Robinson's Place. He rode the police trike for a few minutes.
Driving the police trike.
Video Credit: @artbytes via bitLanders

Oishi Batchoi
My wife wanted to eat at a Japanese restaurant. There was one inside the mall. However, the area where the Japanese restaurant that we went to before is now occupied by Oishi Batchoi. The usherette told us that Oishi Batchoi is owned by the same owner of the previous restaurant.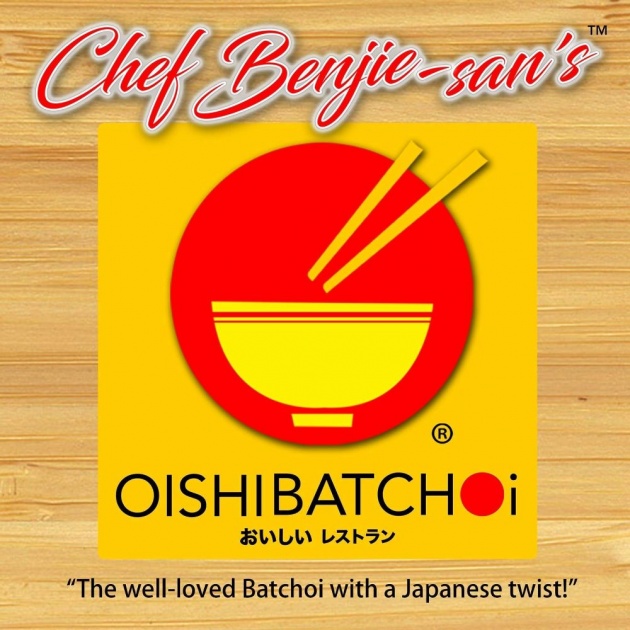 Oishi Batchoi.
Image Credit: Oishi Batchoi via Facebook
As I looked at the menu, I noticed that they are serving different sets of food. Although, they are still Japanese food, what I found interesting is their line of Batchoi. My wife and I were actually looking for the ramen, but I thought this Oishi Batchoi is worth trying out.
Batchoi or Batchoy in our local dialect is a noodle soup made with pork meat or beef, liver, round noodles, and sometimes with pork cracklings. This type of noodles originated from La-Paz, Ilo-ilo city, Philippines
The Oishi Batchoi is like the original La-Paz Batchoy with a Japanese twist. Something like a cross-over between Batchoy and Ramen. So we ordered one and a platter of chicken for our son. Of course, I don't go to a Japanese restaurant without ordering a Maki roll.
The place is almost empty. Except for us, there is another family dining and a solo diner on another table.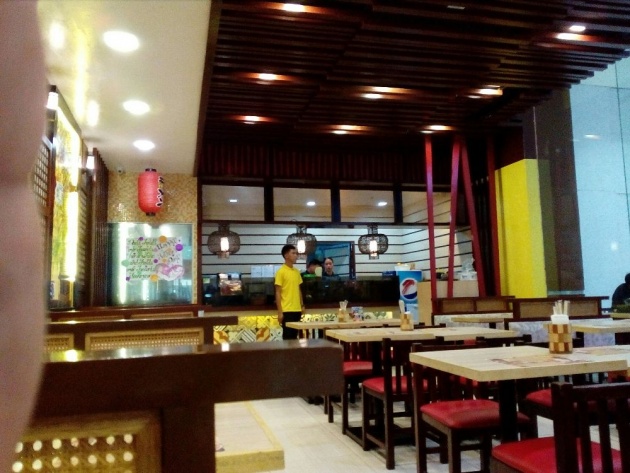 Inside the Oishi Batchoi Restaurant.
Image Credit: @artbytes via bitLanders
Family Selfies
While waiting for our orders I took some photos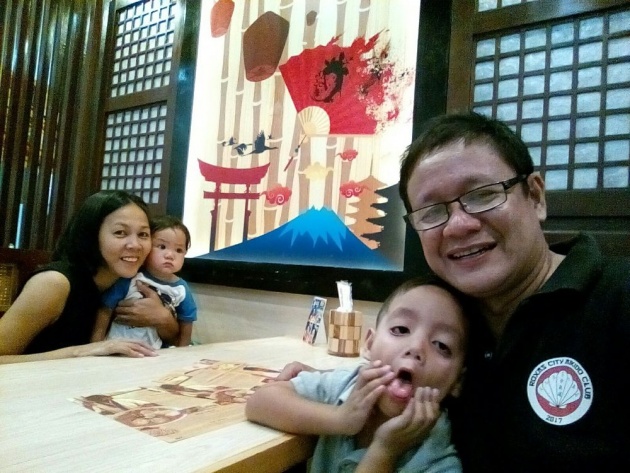 My wife and sons. He loves making faces in front of the camera.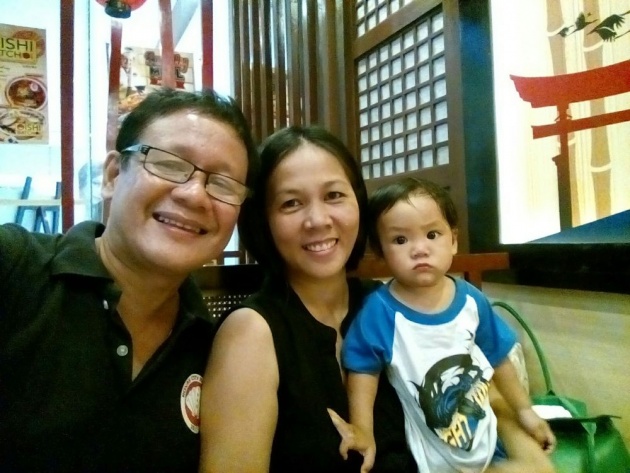 Me, my wife and our second son.
Image Credit: @arbytes via bitlanders
Judging the Food
This is not a food blog or a restaurant review blog. But since I was in a restaurant, I might as well mention my experience and how the food strikes me.
California Maki Roll
The California Maki Roll was served first. It's been a long time since the last time I tasted a California Maki Roll, so I could not specifically compare this one with the others. However, I suppose a good chef could never go wrong with a Maki Roll. This one is just as tasty as I expected it to be.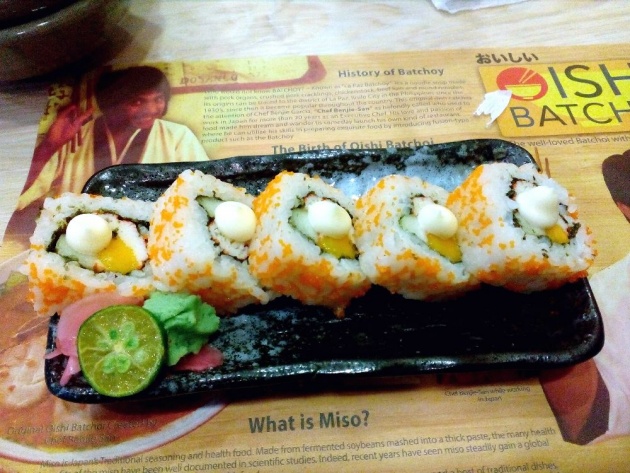 Oishi Batchoi's California Maki Roll
Image Credit: @arbytes via bitlanders
Oishi La-Paz Batchoi
I was right, the Batchoi looked like a cross-over between the Original La-Paz Batchoy and the Japanese Ramen. It was quite too spicy for my wife and son's taste though. I could not compare it directly to the Original La-Paz Batchoy nor to a Ramen. The broth was thick and the texture is a bit creamy. The ingredients are indeed a mixture of the traditional batchoy and Ramen, but the taste is entirely different.
Personally, I still prefer the original Ramen. However, I still could say that the Oishi Batchoi is excellent and unique! Compliments to Chef Benie-San for coming up with this innovative combination.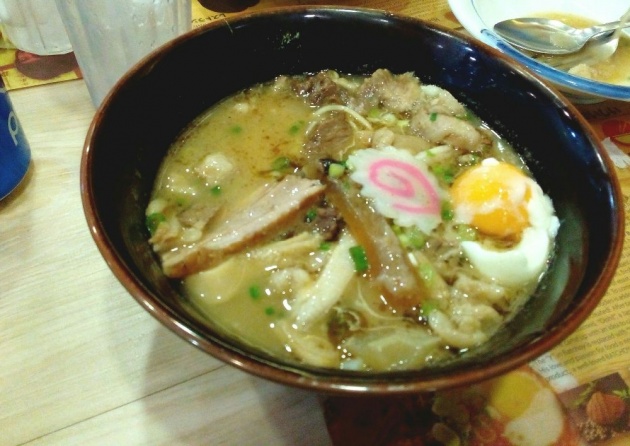 Oishi La-Paz Batchoi
Image Credit: @arbytes via bitlanders
My Son Learning How To Use The Chopsticks
My son got intrigued when I started using the chopsticks. He said he wanted to use them too. I taught him how to hold the chopsticks. I wasn't expecting him to be able to get it though. He is only three years old and it was the only the second time he saw me used it. The first time was when he was only one year old and probably does not remember it.
To my surprise, he was able to hold a piece of chicken-meat between the chopsticks and put it in his mouth.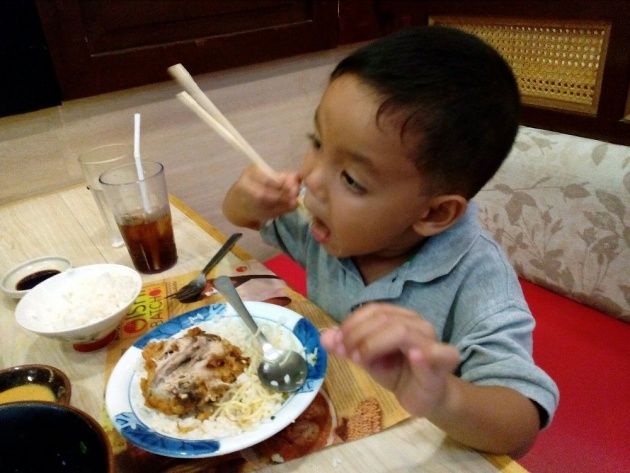 My son put a piece of chicken-meat to his mouth with the chopsticks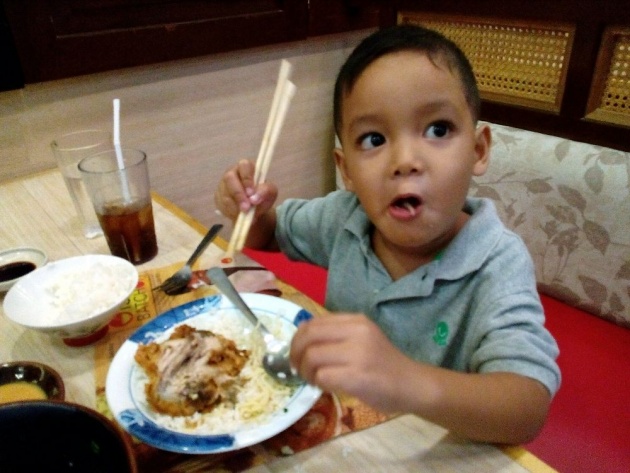 The chicken-meat is gone.
Image Credit: @arbytes via bitlanders
However, he still needs a lot of practice in using the chopsticks to pick up the food using one hand only. Watch the video and see what I mean.

My son trying to pick up the chicken mean using the chopsticks.
Video Credit: @arbytes via bitlanders
Family Photo
After eating, we wanted to have a family picture taken on a photo studio on the second floor. However, our son who was already energized and hyper-active kept running around and the staffs of the studio were quite pre-occupied with other customers (although there were only a few), we decided to forego with the family photo.
However, I think that staffs need a little more training in courtesy. They did not even bother to ask us what we wanted or at least even greet us.
It was rather simple, yet a happy moment and a day well spent for us as a family.
Happy Father's Day.
I know that by the time this is published, it's going to be late, still, to all fathers out here, belated Happy Father's Day.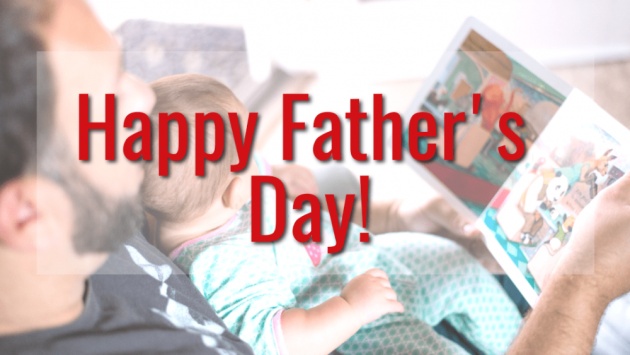 Happy Father's Day!
Image Credit: @arbytes via bitlanders
Thanks For Reading

~oO0Oo~

John Reynold Loberiza (a.k.a @artbytes) is a freelance graphic artist, web developer, and blogger. He is also a licensed Financial Adviser under Insular Life.
The content of this blog post is the author's original work. Proper credit is always given to the respective sources of information and images. Please feel free to check out my other blog posts: http://www.bitlanders.com/Artbytes/blog_post
If you have any reactions or inquiries regarding the subject of this post, please write it in the comment or send the author a private message.
For more information or questions you can also:
Visit my personal blog: https://jrlcentral.xyz
Follow me on Twitter: http://twitter.com/jrlcentral
or email me at jrlcreativeideas@gmail.com

~°~°~°o0O0o°~°~°~

Join Bitlanders
If you are not a member of Bitlanders yet and you are a content creator- a writer, blogger, photographer, an artist or a hobbyist, you can earn from your creations (blog posts, photos, artworks, or videos) by uploading them in Bitlanders.
You can join Bitlanders by clicking this link-> http://bit.ly/Join_bitlanders