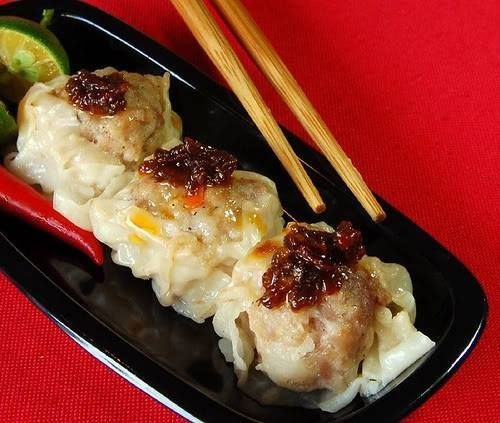 SIOMAI
1/2 kilo ground pork
1 small onion, chopped finely
3 cloves of garlic, chopped finely
1 small carrot, grated
1/2 – 1 Tbsp cilantro, chopped finely
1 regular pack of meaty seasoning mix (I use Maggi Magic Sarap) or 1 regular pork bullion cube, mashed
a pinch of salt and pepper (maybe 1/2 tsp. each – I don't know, I just eyeball it!)
a pinch of powdered chili or cayenne pepper (you can substitute regular finely chopped chili or hot sauce, adjust to taste)
1 egg
1 pack of molo wrapper, plus water to seal the siomai
1. In a bowl, combine all siomai ingredients using a spoon or your hand to season the ground meat. Massage the meat well to make sure everything goes together and all flavors integrate well. Leave it for at least half an hour.

2. Get a piece of molo wrapper. Dip your finger in water and run along all sides of the molo wrapper. Add about a teaspoon of the flavored meat and place it at the center. Gather all the corners and pinch it together on top. It should be round with flares on top.

3. Take all the wrapped siomai and place it on a steamer. Depending on how many you got on the steamer, it takes anywhere from 30-40 minutes to cook.

4. For the sauce: simply combine soy sauce, vinegar, and calamansi (or lime) in a bowl. Add a bit of sugar to taste. Season with pepper and chili or hot sauce.
\\^_^//~