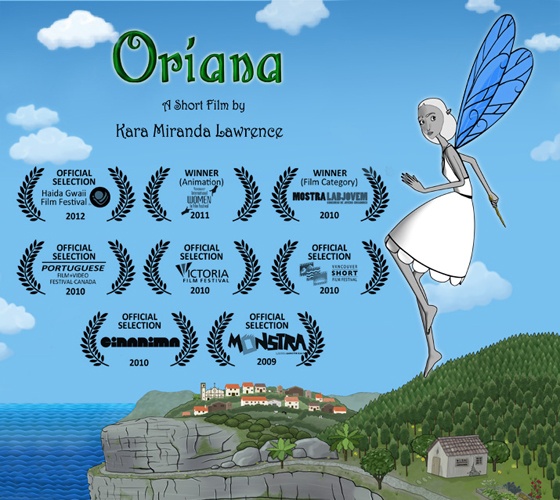 SITE AÇORES 2010 Interview
This interview was originally published on "SITE AÇORES" website, but the website no longer exists so I am republishing it here. Interview by Daniela Gouveia:
"Designer and animation filmmaker, Kara Miranda Lawrence divides her heart and passport between the Azores and Canada. Her other passion, Flamenco, will return her to the islands this September. As a director, she has incorporated this dual identity to win the LabJovem'09 video category."
Daniela Gouveia (DG): Flamenco dancer, designer, director...how do you introduce yourself?
Kara Miranda Lawrence (KML): I would identify myself as an animator and designer first and foremost as I have made the decision to focus on my art career. Flamenco has been my passion for over the last 15 years, so even though it is not my main career, I do see myself continuing it throughout my life. I had to sacrifice my music aspirations (I played piano and alto saxophone growing up), because I believe that in order to reach a higher level at a skill, one must focus their energy. The great thing about filmmaking and animation is that you are able to draw from all these experiences and incorporate them into the work.
DG: You went to the Azores three years ago for the first time to take part in a flamenco workshop. Which islands did you visit? How did it go?
KML: I went with my family to S.Miguel for the first time when I was 12 and I have great memories from this visit: the relatives and locals that I met, the food and the beautiful landscape. For the 2007 "Danca Dos Sentidos - Memorias Em Movimento" Comunidades Dance Workshop I was sent to Terceira for the first time and thoroughly enjoyed the tour the organization provided for us. I am really looking forward to also going to Faial for the first time this September for the next Comunidades dance workshop.
DG: Your mother was born in which island?
KML: My mother Maria de Lourdes Tavares Miranda was born in S.Miguel, Azores in the village Ajuda, Bretanha before she emigrated with her parents to a small North-Western Canadian town called Kitimat at the age of three.
DG: Speaking of your mother. You do not have real memories, literally speaking, about the Azores, but, because of your mother's heritage, you have probably heard all life about this place in the Atlantic, haven't you?
KML: Yes, my mother often recalls her memories living in S.Miguel as well as her experiences growing up when she visited the island. It has been quite inspiring to hear her nostalgic recollections of the way things were in the past when her parents and relatives lived and farmed in the seaside village. Though they worked hard and led a simple life they enjoyed the wholesome natural foods from the land and sea. She speaks of it with admiration and respect for the people and would sometimes cook Azorean meals for us, ones that were past on to her by her own mother.
DG: And after your stay there, has your idea about the Azores changed?
KML: Compared to the stories my mom shared about how the Azorean way of life was much simpler and rural, at times with no electricity or running water, I've observed that it is now technologically on par with the rest of the world. Even though the Azores still has a small community feel, Azoreans live in a much more modern way.
DG: In your point of view what is so special about the islands?
KML: I am particularly taken by the Azores' beautiful green rolling hills, lush vibrant colours, exotic fauna, breathtaking ocean views along and with its picturesque villages. From my experience travelling to other European countries there is something unique that sets the Azores apart. I agree with the description posted on Azores.com that the Azores is "both timeless and contemporary", visiting there refreshes the senses and inspires the soul.
DG: During my Visual Arts studies at Camosun College, "my curiosity about this half of my heritage translated into a series of artwork in which I explored my identity.", you said. Can you tell me more about this series of artwork?
KML: My "Identity" artwork line was directly inspired by fellow Victoria born singer Nelly Furtado's work, someone who embraced and talked proudly about her S.Miguel roots particularly in her sophomore CD Folklore (2003). A signature piece of this line was an acrylic painting entitled "Mundos Distante/Worlds Apart" (2004) featuring a standing self-portrait, half of me over the São Miguel Island with traditional dress, flag and flower while the other half over Vancouver Island with corresponding dressy evening attire and symbols to express my "saudades" for the culture of my ancestors.
DG: You grew up in a Portuguese community in Victoria. How has this influenced you and your life?
KML: Growing up I actually did not know any other Portuguese youth or families so this served to spur my fascination for that half of my heritage. I have channelled this interest in my art as a way of discovering more about the Portuguese culture and sharing with others who are also questioning their ancestral past and how it has influenced who they are.
DG: A young fairy entrusted to take care of an Azorean forest…", "Oriana" was inspired in Sophia's book…and in the Azores. When did you read it?
KML: I knew that I wanted to create a film with Portuguese subject matter and after my mother's friend, a teacher in S.Miguel introduced the novel to me, I was immediately drawn to the premise. Since at the moment I do not speak fluent Portuguese I sat down with my mother and she helped me translate each sentence. Once being granted permission from Sophia Andresen's son to adapt the novel, I paired down the novel's storyline down to just 4 minutes by only keeping its essential parts. Since deciding on the premise, the film took a year and a half to complete as animation is a very time consuming process!
DG: What made you decide to choose the argument of a Portuguese book to direct your debut film?
KML: I entered into Emily Carr University directly following my 2007 dance trip where I left longing to further explore my roots and contribute back to the Portuguese culture in some way. I also feel that "A Fada Oriana" is a powerful story that deserves to be shared around the world.
DG: In which ways was it important to win LabJovem prize?
KML: For me it is a huge honour to receive recognition from the islands that directly inspired the film. In this sense I have accomplished the main goal of my film and I am very happy as I did not expect to receive such an award!
DG: What is exactly going to happen with this nomination?
KML: So far the film has been screened during the February LabJovem opening ceremony in Faial and through them during the Monstra Azores Exhibition at Teatro São Luiz in Lisbon, Portugal, and during a show entitled "Monstrinha - Filmes para Escolas" at the "Museu Nacional de Etnologia" also in Lisbon. In September, all the winners in each category have been asked to be present for an exhibition in the Azores and will be awarded a scholarship towards their area of study. I am looking forward to this event and meeting with the other LabJovem participants.
DG: The Azores were designated 2010 European Region by the European Commission in Brussels… Is there any real possibility you will collaborate with or work in the Azores during this year?
KML: This year my trip to the Azores for the LabJovem festival and the Comunidades collaborative dance workshop in September are all the plans I currently have, but I am open to the possibility of collaborating further and creating more Portuguese themed films, should the opportunity arise.
DG: Any plans for the future?
KML: Besides the aforementioned plans, since recently receiving my Portuguese ID/passport I would love to live in Portugal to study and improve my language skills and perhaps to work in the animation industry there. Otherwise, my current home of Vancouver is a great city to be based in terms of my career with its thriving film, television and games industry.
DG: If some of your Canadian friends came to visit the Azores, which places and landscapes will you recommend them to see?
KML: Judging from my own personal experiences, in Terceira, besides recommending visiting the beautiful beaches, I personally enjoyed driving through the countryside to take in the scenery, walking through the villages to view the ornate tiling, intricate ironwork, well maintained gardens and distinct Azorean architecture, visiting the vineyards and exploring "Algar do Carvão", a deep volcanic cave in the centre of the island. One place off the beaten path that struck me, was a eucalyptus forest that was recommended by a family friend, a serene and refreshing place to relax and cool off from the hot summer climate. For S.Miguel, I would recommend many of the aforementioned activities including experiencing the stunning view of the Sete Cidades twin lakes and sampling the "Cozido das Furnas" dish, a meat and vegetable stew slow-cooked deep in the ground of the natural hot springs. These are just a few things that came to mind but I am sure there are many more places that I have yet to discover!
Also you can check out Irene Maria F. Blayer's interview of Kara Miranda Lawrence on RTP Açores blog here: