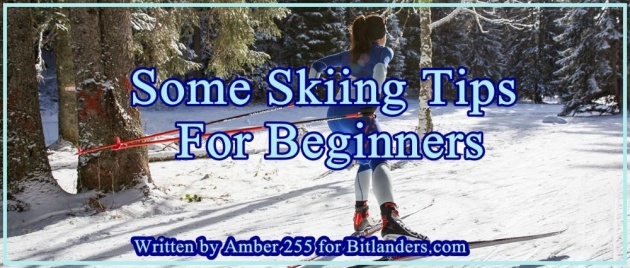 Some Skiing Tips For Beginners - Photo credit: youtube.com, Edition by Amber255 via Bitlanders.com
A lot of people accustomed to vacation only during the warm season - their holidays, first, associates with rest by the sea, sunbathing, and other summer pleasures. However, more and more people are eagerly awaiting the ski season every year, and mountains attract them. Including me.
For us, each descent is a new challenge, an opportunity to test ourselves, to improve and develop skills, to admire the eye-catching beauty of the mountains, to feel the peace of the mountains, and to regain the inner balance.
Some skiing enthusiasts are planning their own trips: they book tickets, plan the route, take care of ski passports, and spend a lot of time and resources on this preparation. Others relate skiing to pure relaxation, do not want to worry about flights or hotels - just sit on the plane, land on the ground, and stand on the skis after a few hours. But no matter how you plan and organize your trip to the mountains, you still need some basic knowledge of skiing equipment, clothes you will need in the mountains and so on. Of course, if it is not a first your trip, you probably know already all nuances, but if you plan your first trip, then you will surely need some advice.
Yesterday I wrote a blog about my trip to Paradiski skiing resort, and today I want to write some tips for new skiers. In order to make the skiing holiday great, first of all, skiing equipment and clothing should be provided in the mountains. Here are some skiing tips for beginners, for those who go to the mountains first time or those who just decided to try one of the coolest winter sports - skiing.
Thanks to the pioneers of the 21st Century, browsing the internet has never been easier. Make the most of YouTube. You will find countless YouTube tutorials for beginners to Skiing. Learning from a pro or instructor for free is a great resource for practicing your winter sport.

Credit: theadventurejunkies.com
Skiing Clothing
Many people believe that wearing natural fibers' underwear and clothing is the best way to do sports, but skiers professionals recommend to choose synthetic fabrics. They do not get wet so quickly. Cotton keeps moisture for a long time. When we wear wet clothes longer time, it is easy to get cold.
Ski pants and jacket are sewn from special air permeable material, but at the same time protect against wind and rain - it is waterproof. Both the jacket and pants should be loose and not interfere with the movement.
Underwear - a singlet with long sleeves and underwear pants are usually made of a special stretch material that absorbs and disperses sweat. If you are not inclined to sweat or ski in harsher conditions (air temperature below -5-10 ° C), you will need a middle layer of clothing. It should also be breathable clothing.
The main requirement for gloves is that they must be waterproof. Important socks: choose more polyamide, polyacrylic, and wool with elastic.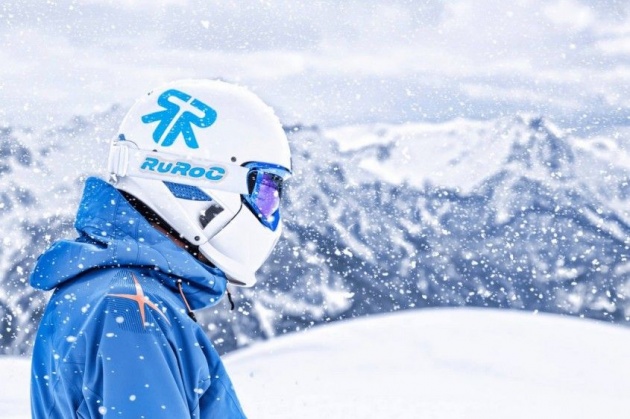 Basic knowledge of skiing equipment - Photo credit: picsnaper.com
For the skiing on the mountains, wind protection is very important. When choosing an outfit, note that it is labeled WindBlock or WindStop. In the mountains, sunglasses will be helpful, which will also protect your eyes both from the wind from snow.
The helmet is recommended for adults and for children is mandatory. Its purpose is to protect the head, which is the most vulnerable part of the body. If you wear a helmet, you may not need a hat, especially if it is not cold. In other cases, however, you need a cap.
Helmets not only protect against injuries but also give with the necessary heat and inner peace when observing how your children ski down from their first track. So do not listen to others arguments about visibility, sound limiting helmets, and learn how to choose the right head protection. Before buying, it is useful to try as many helmets as possible, as manufacturers' models and sizes differ.
What To Wear Skiing - Beginner Ski Tips - Video credit: Sierra via Youtube.com
Skiing Equipment
Carrying your own equipment, on the first day of your holiday you will not escape the discomfort in the airport and resort with the inconvenient luggage. Yes, the joy of waiting mountains will overshadow the little inconvenience, but logistics with small children can become a major challenge. After all, at the airport, you would rather relax with the ski magazines than try to control the four-person ski baggage. To avoid this, you can always rent ski inventory after coming to the resort. Today, many modern skiing resorts offer the delivery of rented equipment for your convenience.
Skiing is absolutely dependent on the tracks' quality, the harmony of your body, and skiing equipment. Uncomfortable trousers or pressing boots, unfortunately, the next day will be the same uncomfortable. And without the comfortable mountain ski boots, you can forget about it at all.
Ski boots - one of the most important elements in skiing. You can buy them or rent. If you go for skiing every year, then better buy your own ski boots because you cannot know what quality boots you will get at the rental points - newer, or maybe broken, with worn out inside. It is important that they are of the right size - not too big and not press too.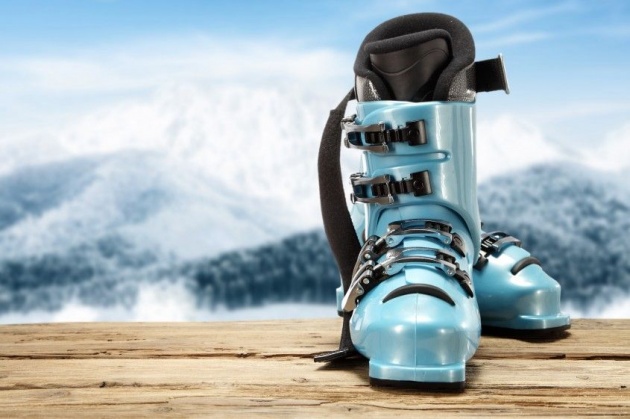 Skiing Equipment - Photo credit: picsnaper.com
Measure, measure, measure, and try your shoes. If you can buy ski shoes not online, don't buy them there. Otherwise, be sure you can return them. All ski boots have a distinctive hardness index, comfort, heat, humidity, and motion characteristics. When measuring shoes, you must try both shoes, because people have different feet, and you will immediately feel the discomfort on the mountain.
When selecting skis, it is necessary to pay attention to many criteria. Skis must correspond to the skier's height, weight and ability to ski. For example, beginners are advised to buy or rent softer skis than advanced ones.
With softer skis, it is easier to make turns that are essential for skiing.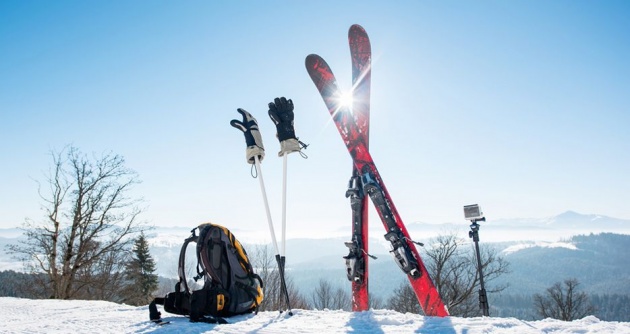 Some skiing tips for beginners- Photo credit:dreamstime.com
Meanwhile, the tougher skis are more stable on the track - this is especially important for advanced skiers who, when skating from the mountain, develop faster speeds.
The length of the skis must be 10-20 cm below the height of the skier. Novice skiers better choose shorter skis - they make it easier to make turns, more manageable. More advanced skiers already prefer much longer skis. Modern ski bindings are adapted to the skier's weight and skill.
Believe me, that for beginners there is no difference on which new or old skis start skiing, the main thing is correctly chosen height.
When choosing sticks, consider the height of the skier. Sticks should be durable, lightweight, and have wristbands. The main principle is the shorter the skis are, the easier it is to begin to ski, and the longer they are, the faster they are. Therefore, if you think what skis to rent, do not waste your money, take simple ones. You do not really feel the difference.
Proper Skiing Equipment - Video credit: livestrong via Youtube.com
Insurance
In my opinion, insurance is a necessary thing to have before you go to the mountains. Remember that skiing, you are responsible not for your health and life only but also for those around you. Skiing or snowboarding is classified as a high-risk group.
The rules of the International Ski Federation define the norms of responsible and safe skier behavior. A skier who ignores them, having an accident, can be brought to civil or even criminal liability. So, buddies, be careful and responsible! Skiing is not just fun and laughter!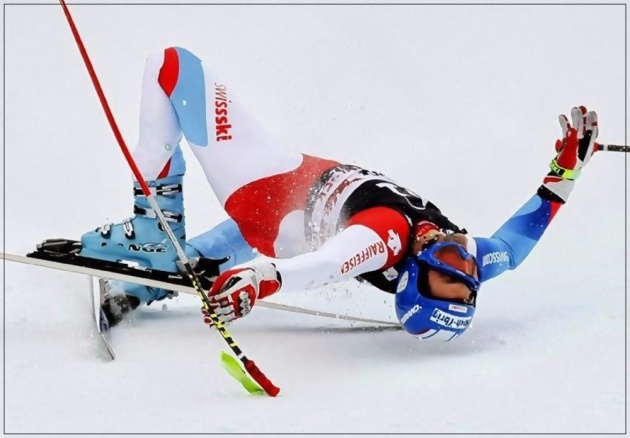 Novice skier - Photo credit: blog.daum.net
Care About Your Health While Skiing
After skiing just one day, some people start to feel muscle pain. Untrained muscles react painfully to unexpected physical exertion. However, this can also happen to those who regularly exercise. Therefore, all skiers better are very careful.
If a person did not ski for a long time and then will ski all day, he will not avoid the muscle pain. Novice skiers cannot get up from the bed at all. Therefore, if you are not an experienced skier, skate for no more than an hour on the first day. Every other day you can add 30-50 minutes more. If the muscles are very painful, use vitamin A and E.
In addition, you need to warm up well. There are two options available here. Either go to the sauna or lie in the hot tub with sea salt for 10-15 minutes. When you get out of the bathroom, you can lubricate any painful muscles with ointment.
In the mountains due to lack of air, a person usually breathes through the mouth, so cold air enters the lungs. As a result, you get angina or bronchitis. Therefore, it is better to breathe only through the nose - then the air gets warm before entering the lungs.
Do not forget to put vaseline in your pocket, which protects your lips against the harsh winds - preventing cracking. When skiing in the high mountains, when the sun is shining, it is advisable to use a cream that will prevent skin burns.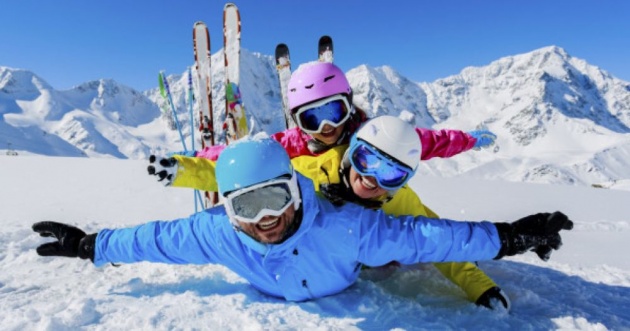 Beginner ski tips - Photo credit: picswe.com
Some More Things To Know For The Novice Skier:
Ski Pass is a ski ticket that allows you to use the ski lifts. Ski passes for various time spans allow you to ski in one or other ski areas and regions. Most often, this is a magnetic card that you need to have with you.
Ski locker - a room for storing skiing equipment. Very convenient because you don't need all the equipment to transport to the hotel.
Ski Bus - buses that run through the resort and carry skiers up to the ski lift or the ski slopes. For those with a ski pass, they are usually free of charge until a certain hour.
Ski Rent - skiing equipment rental facilities where you can store items or dry up shoes.
Fun park - snowboarding slope with artificially formed obstacles such as Half-pipe, big-air, quarter-pipe.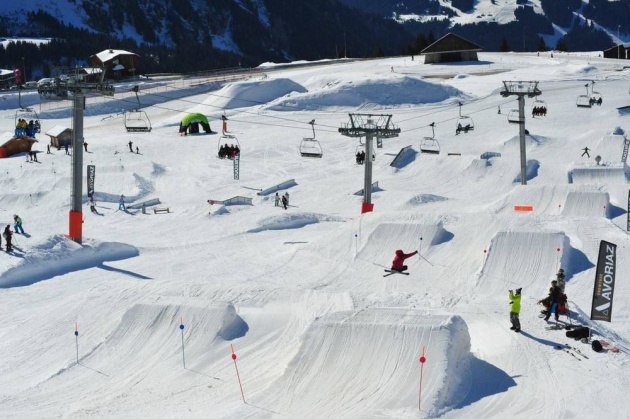 Some Skiing Tips For Beginners - Photo credit: blog.flexitog.com
Ski Safari is a long route (often ring-shaped) that you overcome without taking off your skis, lifting up by different lifts and all-time skiing on another track.
Apres-ski - after skiing. It is a leisure-time venue, a bar or a cafe where, after a day on the slopes, skiers choose to relax and unwind with a ski outfit. In the evenings, it's really fun here!
Chainik - so-called novice skier. Believe me, this term is definitely known by everyone in the mountains.
When choosing a skiing resort, it is advisable to assess your skiing skills. If you are planning your first ski holiday and have not yet been on skis or feeling less firm, it is better to choose a smaller skiing resort. If you are planning to hire a ski instructor, check whether the resort offers services, how much it cost, and if you have to book it in advance.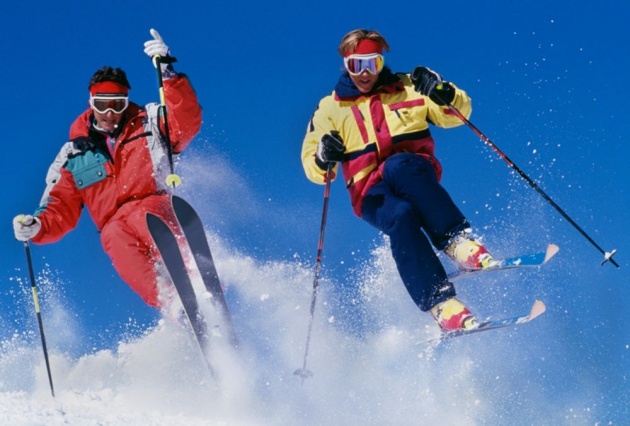 Beginner ski tips - Photo credit: imagenesmi.com
In the mountains, the tracks have their own contractual markings in terms of colors, so it is useful to know that:
BLUE TRACKS are designed for beginner skiers. Usually, it is wide, long and without steep descent. They are both on the bottom and on the top of the mountain.
RED TRACKS are more complex and often steeper. They vary and are broad, narrow, long, or even short. Designed for advanced skiers.
BLACK TRACKS are designed for professionals and experienced skiers. Often such tracks are very steep and narrow, with sharp turns, extending from the top of the mountain to the foot.
I also recommend starting with an instructor for all beginners, as it will help to avoid most of the mistakes that everyone makes when they start themselves. These errors are then very difficult to correct and will learn to skate beautifully. Many people are against instructors. But when we learn to drive, we use the services of instructors to teach us how to drive safely. So here is the same - a good competent instructor will save you from a lot of mistakes and save you from injuries that you can receive at the first stage. Only you need to pick a good instructor who is not only a professional but also knows how to explain well.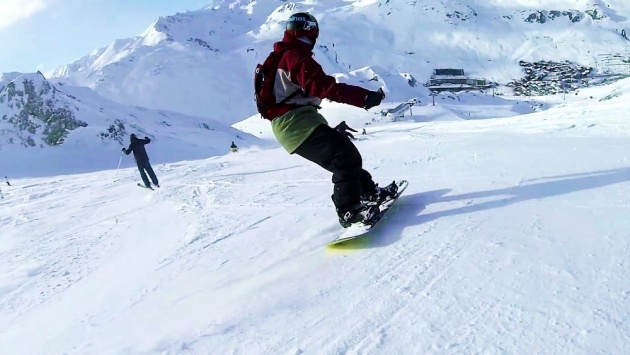 Novice skier - Photo credit: Amber255 via Bitlanders.com
On The Final Note
Everyone in this life always chooses an activity they like. And we decide for ourselves what kind of sport to engage that is close to our soul, and what is completely alien to us. Today, skiing is a popular sport that is available to everyone. In order to get on skis, you do not need to spend large amounts of money to buy brand equipment; you can rent it. And it will not cost much.
Mountain skiing is a wonderful sport available for everyone, and it doesn't matter your gender, age, or financial situation. And then an indispensable breath of fresh air, a sense of freedom and a sense of flight, absolute happiness and speed cannot be compared with anything.
The main thing to start, learn to stand on skis, and then everything will go like clockwork - it just fascinates and involves. For many, skiing becomes just a drug.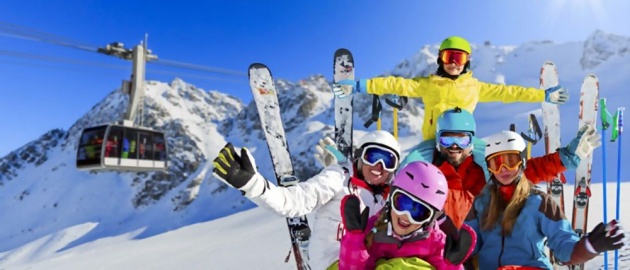 Some Skiing Tips For Beginners - Photo credit: shuttledirect.com
And most importantly, in addition to the feeling of flight, freedom, speed, and adrenaline, I love mountain skiing for beauty and fresh air. It is a rest for body and soul. After all, almost all skiing resorts are in pure, beautiful nature.
So do not be afraid - go for it! Do not postpone to the next year! Let's live in pleasure!
Gliding down a mountain through virgin powder with the sun glistening on surrounding snow covered peaks, all topped with a deep blue, clear sky, has got to be one of the most incredible feelings on earth...

Credit: e4s.co.uk
**************************************************************************************************
Thank you for stopping by and reading my blog.
2019, All Rights Reserved.
You are very welcome to join Bitlanders and share your valuable knowledge and opinion.
**************************************************************************************************