Staycation at St. Giles, Makati City
I'm at St. Giles (for the second time) as I'm typing this entry.
Sister was ecstatic that she bagged a discounted rate at this hotel. Last week, she tagged me and our mom for a two day stay (yes, we were three in a 2-bedroom suite). Right now, It's an overnight stay but in a different room. The scene's still the same: lively, warmly lit and comfy.
She's currently a manager so she often goes to work even on weekends. My sister needed that break from it all so she decided to have a staycation at the Philippines' city that never sleeps. Yes, it's a business district, but it also has a luxurious reputation. It's less than an hour drive from our home when the traffic is forgiving. That's less travel time and more room to relax than going to a provincial leisure spot.
Coming Here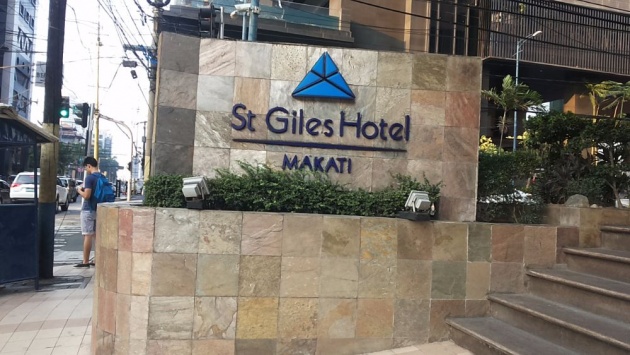 Photo credit: lapiz-lazuli
This hotel is along Makati Avenue. You have better luck going in here via taxi than a jeepney. Jeeps are hard to come by, but they do pass through here.
We found it hard to locate the place at first because the wasn't any name above the main entrance. Dad did a u-turn on the street because we missed it, though not that far. To keep you from making the same mistake, it's just sandwiched between I'M Hotel and City Garden Hotel (not the Grand). In front of the hotel is Northpark Restaurant. City Garden Hotel is easier to locate.
At the Lobby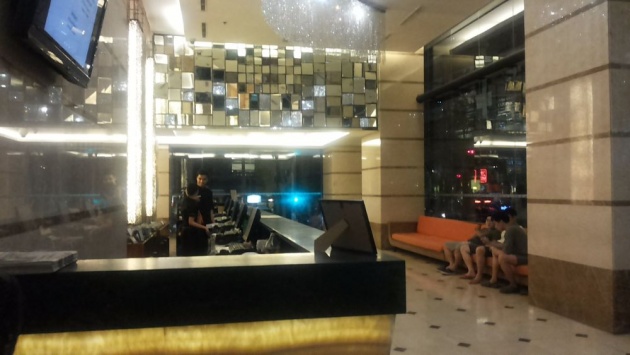 Photo credit: lapiz-lazuli
Checking in took us a while. There were foreigners lined up at the long front desk. I don't know if they ask so many questions or they needed extra verification and paperwork to fill out, but these foreigners were really taking their time at the front desk. Good thing there were three lines so my sister managed to check in before my hair turned white. Don't worry, all was cool back then because they have comfy sofa at the main lobby that can accommodate a handful of people.
In case you get bored of waiting, there's free Philippine Star broadsheet newspaper you can get your hands into. If you don't fancy reading, you can also connect to the internet, but this is until the receptionist hands you the key cards (or you stumble upon this blog post which tells you the wifi username and password…not).
What to Expect
Floors
Video credit:
lapiz-lazuli
This is a 3-star hotel, but rooms are comfy enough. There are 35 floors and you can press any floor level if you have a key card. You can't do this on some hotels, but here at St. Giles, it is allowed. The rooftop is home to the presidential suite, swimming pool and gym. The first few floors are home to function halls and restaurants. You know the rest.
The Room
Video credit: lapiz-lazuli
This hotel has incandescent lighting, so it feels warm and a bit homey and not in-your-face kind of way. The interior designer must like mirrors because there are mirrors on some unexpected places. Vertical clearance is low and rooms are small, it's like a 25-sqm condominium (without the kitchen).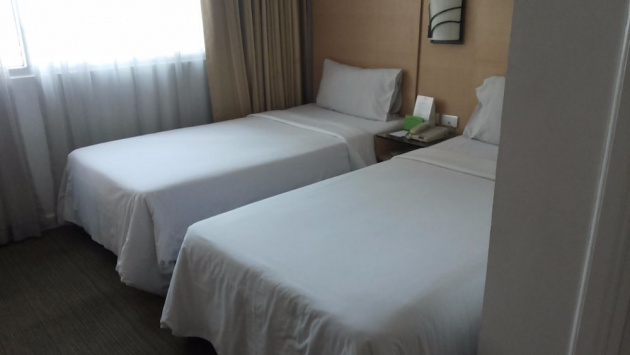 Photo credit: lapiz-lazuli
There are some rooms with two bedside tables, some with one. Our current room (a corner room, beside the fire exit door) has two. It's your pick if you want one big bed or two single beds. Bed is movable (it's heavy though).
Food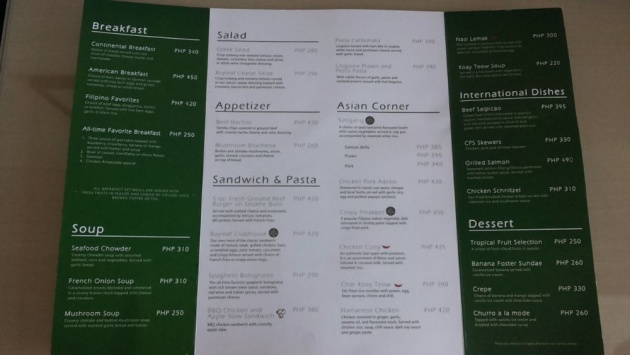 Photo credit: lapiz-lazuli
Food is expensive in this hotel, but it's nothing really special. (big servings though). But if you're a foreigner and want to try out Filipino dish on the double, why not? Food selection is adequate. There's a mini refrigerator for beverages; it doesn't get cold as a house fridge, but it makes your soda palatable. We bought ice cream at a nearby convenience store and left it at this mini fridge overnight… hehe, nothing happened but it was still yummy.
Mineral water is free, but it is by request. It's made by Nature's Spring and it comes in 250-ml bottles. You can boil water; there's 750-ml electric kettle available. Coffee and tea is also provided for, as well as 2 mugs, 2 spoons and 2 glasses.
Electronics
TV has cable and has 70 channels. We often watch movies, but there are tons of foreign channels to choose from (there's a channel guide on the bedside table). Phone has buttons with corresponding labels (for example: operator) so you won't get confused on who to call. There's ethernet outlet and an a few power outlets (with universal three prongs).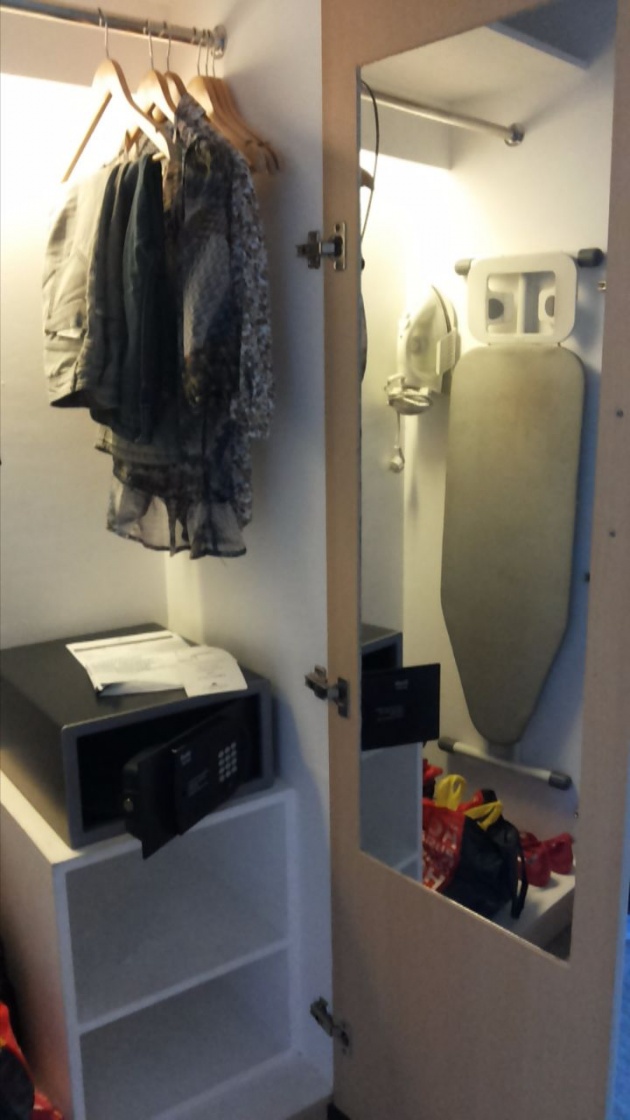 There's a digital safe where an 11-inch laptop fits. There's also a steam iron and an ironing board mounted inside the closet; there's also a few wood hangers with rotating hooks. There's hair dryer on the desk but the cord is magically drilled into the wood table so you can't bring it inside the bathroom (or borrow it and never return it ever).
The Bathroom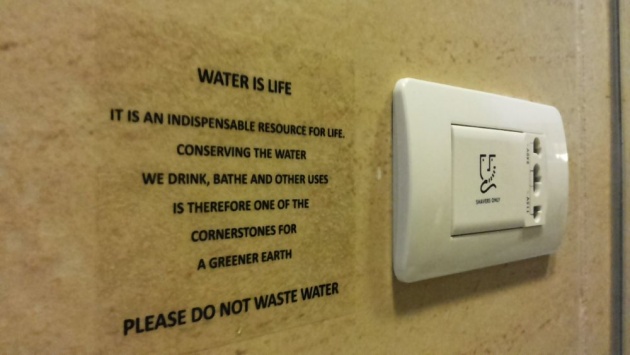 Photo credit: lapiz-lazuli
Bathroom looks ok, press-to-flush is working. Complementary toiletries are already placed (I just don't know if there'll be added cost if you request for lotion, we haven't tried, only tissues and slippers). Hot and cold faucet and shower working fine, though it is really tricky to get that perfect lukewarm water pouring through. Still I like the water warmer because I'm really freezing to death at our room (more on this soon). I'm hesitant to turn the shower off once I opened it because the temps might reset again. Sorry mother nature, but I think I'm not alone on this one because they have signage reminding lodgers to conserve water). By the way, there's no bidet.
The Air Conditioning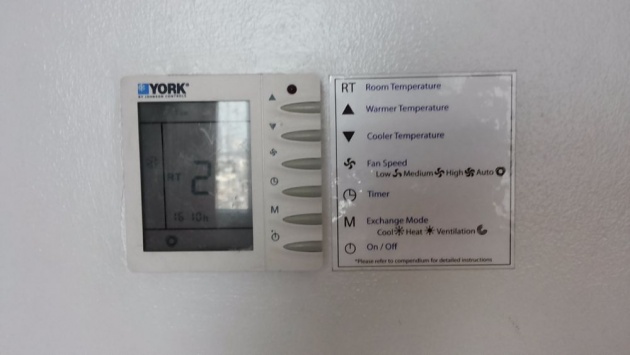 Photo credit: lapiz-lazuli
The air conditioning of St. Giles' superior room is really weak but it can get really cold. I though setting it to 25 degrees would be enough, but no, I needed to lower it down to 18 to feel comfortable temp-wise. My companions, however, were still uncomfy with 18, so they tune it down to 15. I was trembling at that point. It was just a few tweaks below but it can mean life or death for my limbs. On top of that, the controls of the aircon are intellectually challenging.
Facilities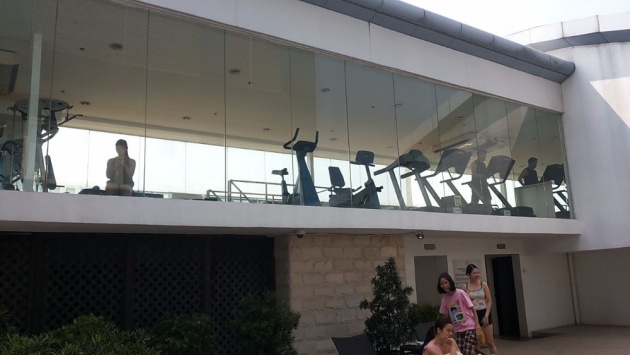 Photo credit: lapiz-lazuli
Gym has sufficient equipment (different sets of weights as light as 3 lbs, exercise chair, treadmills, exercise bike, medicine ball, even yoga mat); it also has water station where you can rehydrate.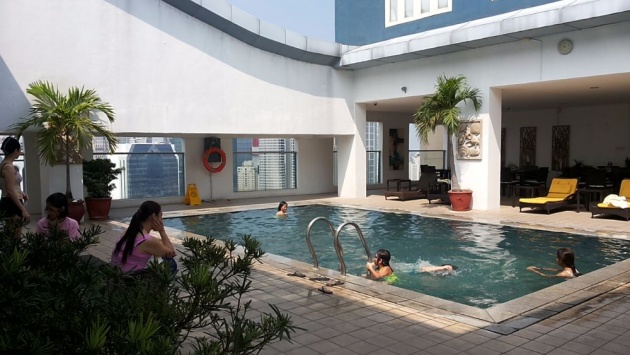 Photo credit: lapiz-lazuli
The swimming pool, however, even though is enjoyable, is quite small, and its floor tiles are peeling off. For consolation, there's free towel but you must surrender it before you exit the pool area.
The Staff
Whenever we go out for lunch (there are tons around the hotel, there's even Jollibee), we press the "Make Up Room" button beside the door and when we get back, our room looks well-kempt again. We were also often greeted as soon as we enter and exit the premises, and somebody attends to us when we wait for the elevator. Thumbs up for their staff.
One Liner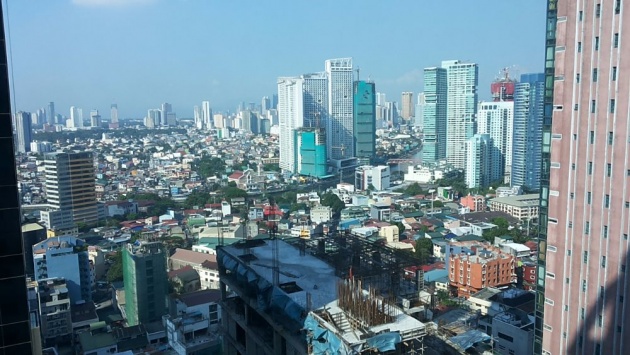 Photo credit: lapiz-lazuli
What else can I say? St. Giles Hotel is a relaxing retreat in the busiest place in the Philippines! Before going here in Manila, here's Querlo chat about travelling:
If you want to know more about St. Giles Hotel Makati, you can visit their official website.
Disclaimer: unless otherwise stated, photos and videos are property of lapiz-lazuli. This is an original write up by lapiz-lazuli (me).